This web site by Carl Carrozza is meant to provide information for those interested in the history of our WWII flying men and the B-26 Marauder.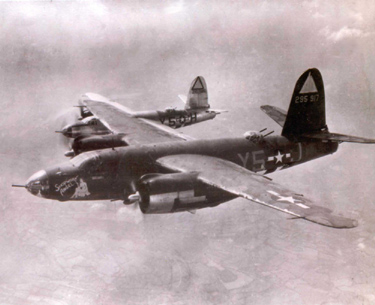 I dedicate this page to my father, Frank P. Carrozza: 495 Bomb Squadron 344th Bomb Group. Click here for a biographic sketch (under development)
The following is an in-depth record of the combat experience of my father and the history of the plane he flew in, The Shopworn Angel. Included are photos, video, and as many firsthand accounts of the story behind this Marauder as I could find.
Please understand that this may forever be a work in progress. Any additional information you may have no matter how small would be appreciated. Please write me at damonbok@hotmail.com.
Come back from time to time to find updates.

.
.
Recently Added Information and Links
.
I would like to thank BJ FitzGerald for providing the stylistic formatting this webpage, and
Evan Shelhamer of Imaginary Number for converting the site to WordPress.