1st Lt. Joseph W. Curley
Joseph W. Curley, 0-743719, First Lieutenant, 497th Bombardment Squadron, 344th Bombardment Group (M).
Click any image to enlarge.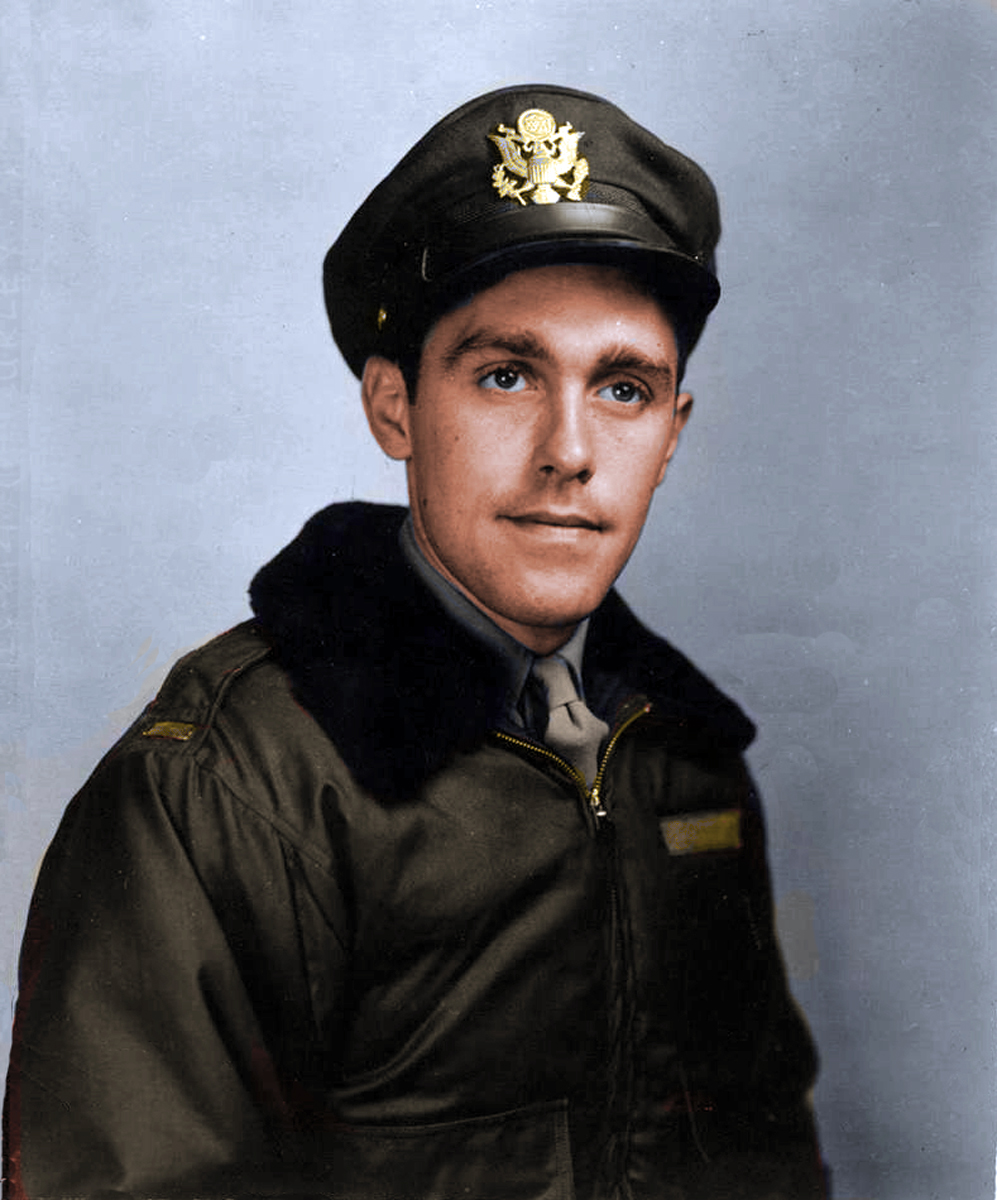 Joseph W. Curley, 0-743719, First Lieutenant, 497th Bombardment Squadron, 344th Bombardment Group (M).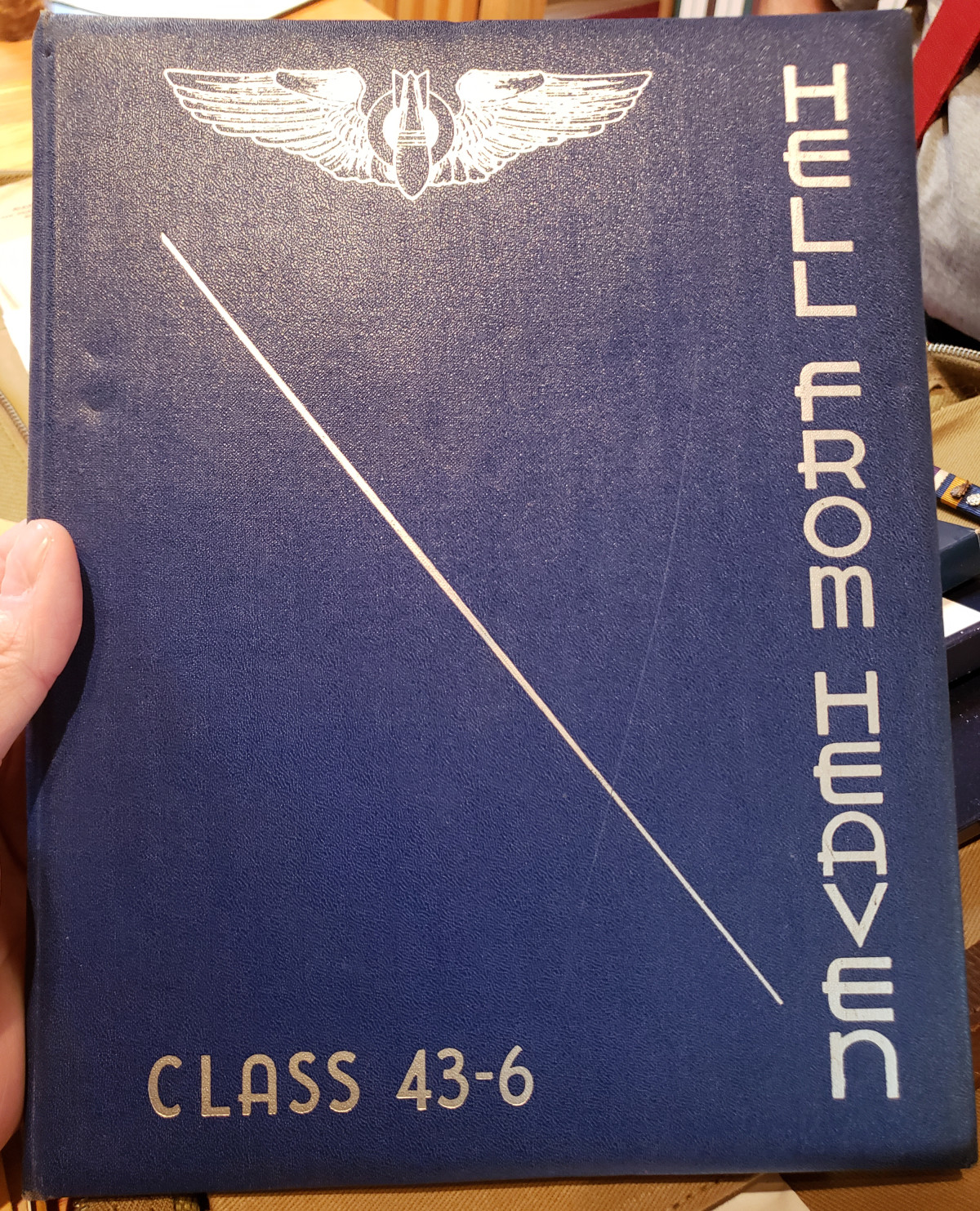 .Joe Curley went to training schools including one for navigation.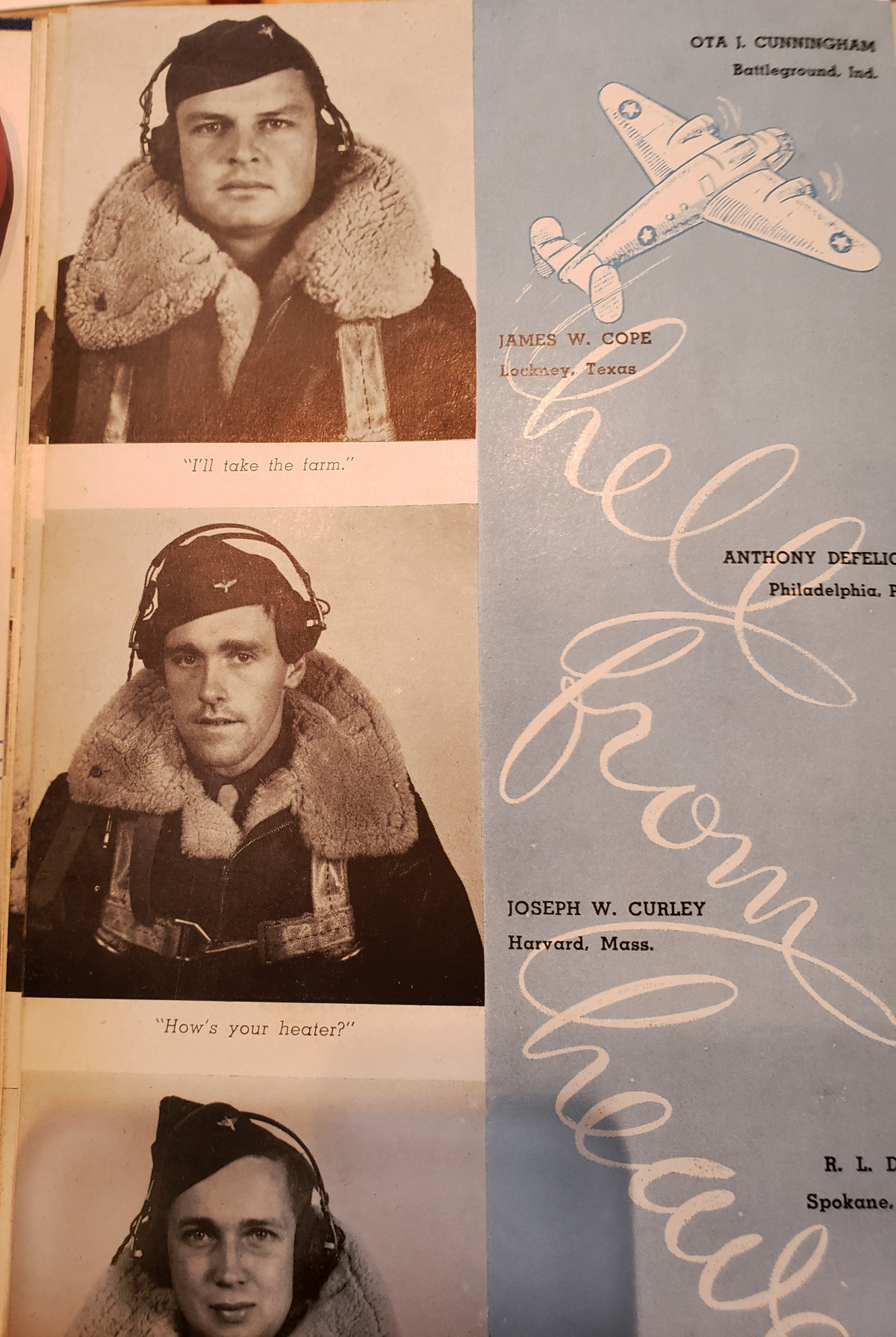 Soon to be Lt. Curley in Navigation School graduation book.
Everyone went to gunnery school.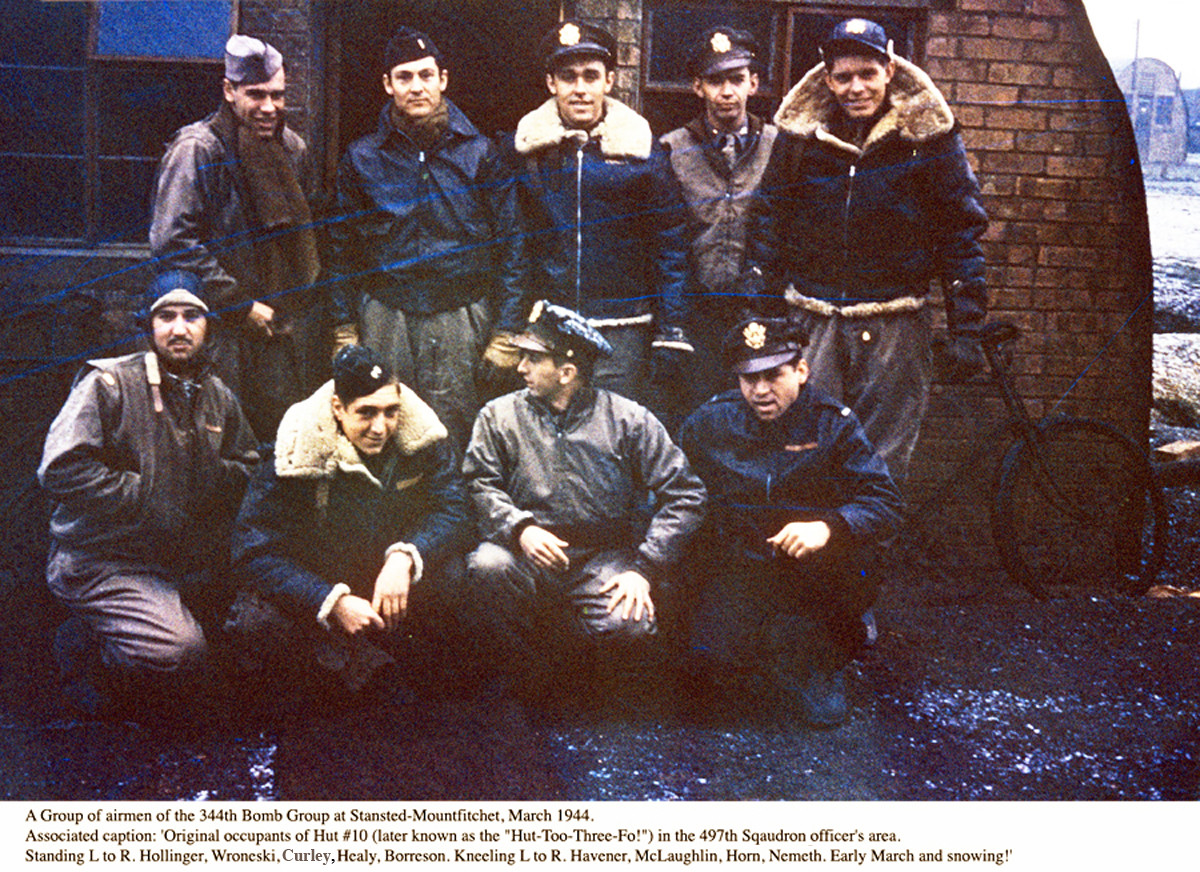 Hut 10, 497th BS, Station 169, 21 Feb 1944. 1st row, L-R: Copilot Havener, Sqd Bombardier McLaughlin, Copilot Horn, Pilot Nemeth Back row, L-R: Copilot Hollinger, Bombardier Wroneski, Bombardier Curley, Copilot Healy, Copilot Borrison
.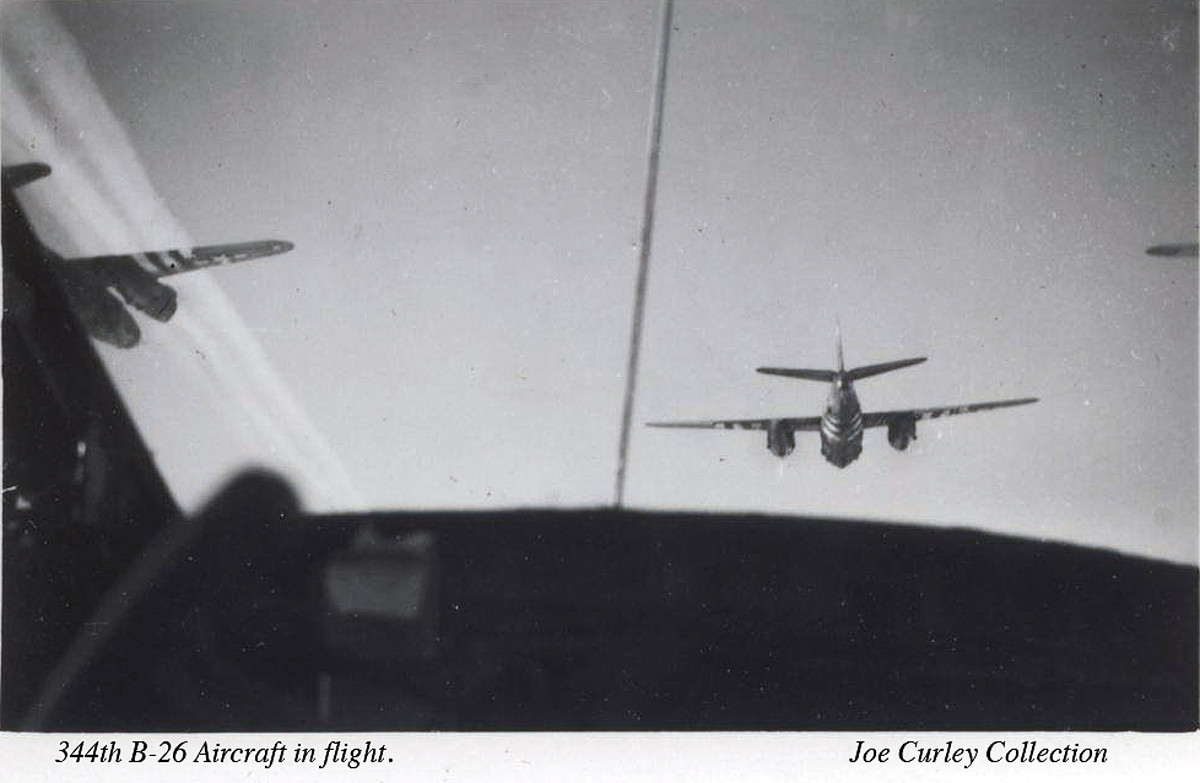 He began combat operations over Europe (Stansted, England) with the 344th Bomb Group (Mediums) 497th Bomb, Squadron of the 9th Air Force.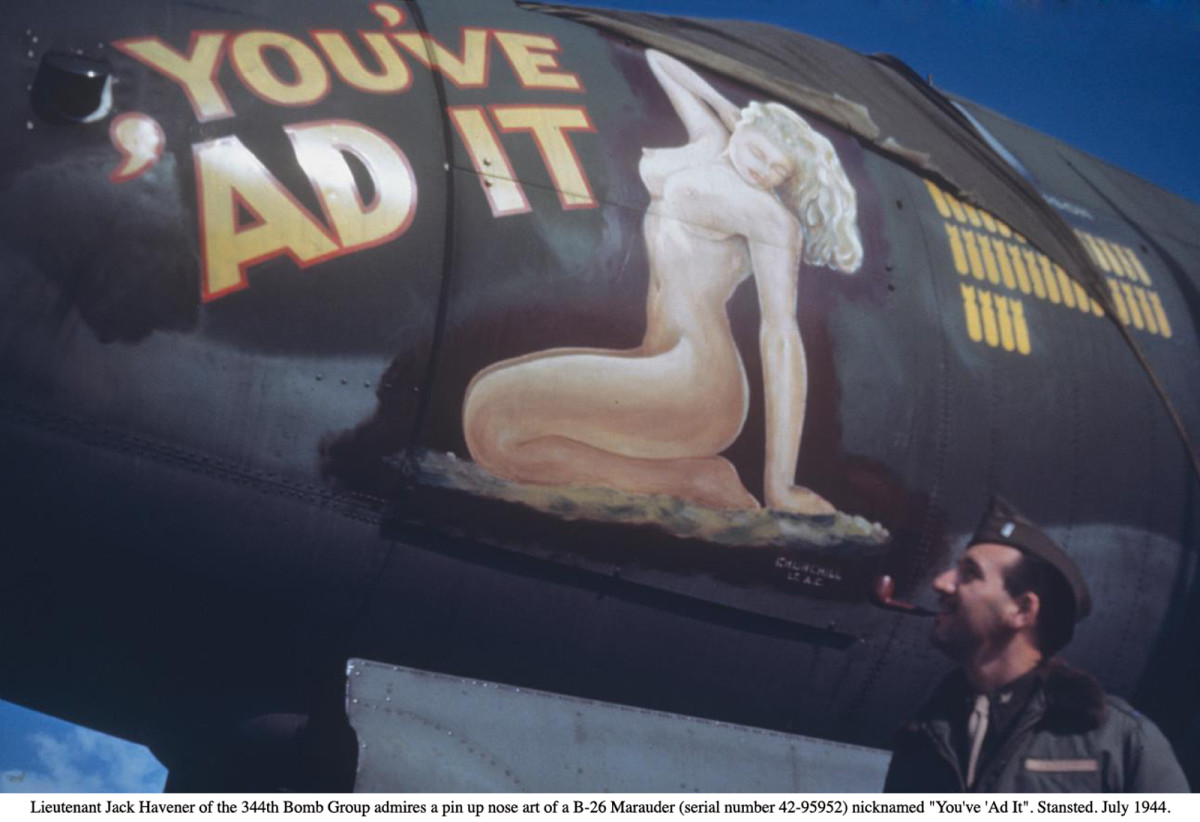 .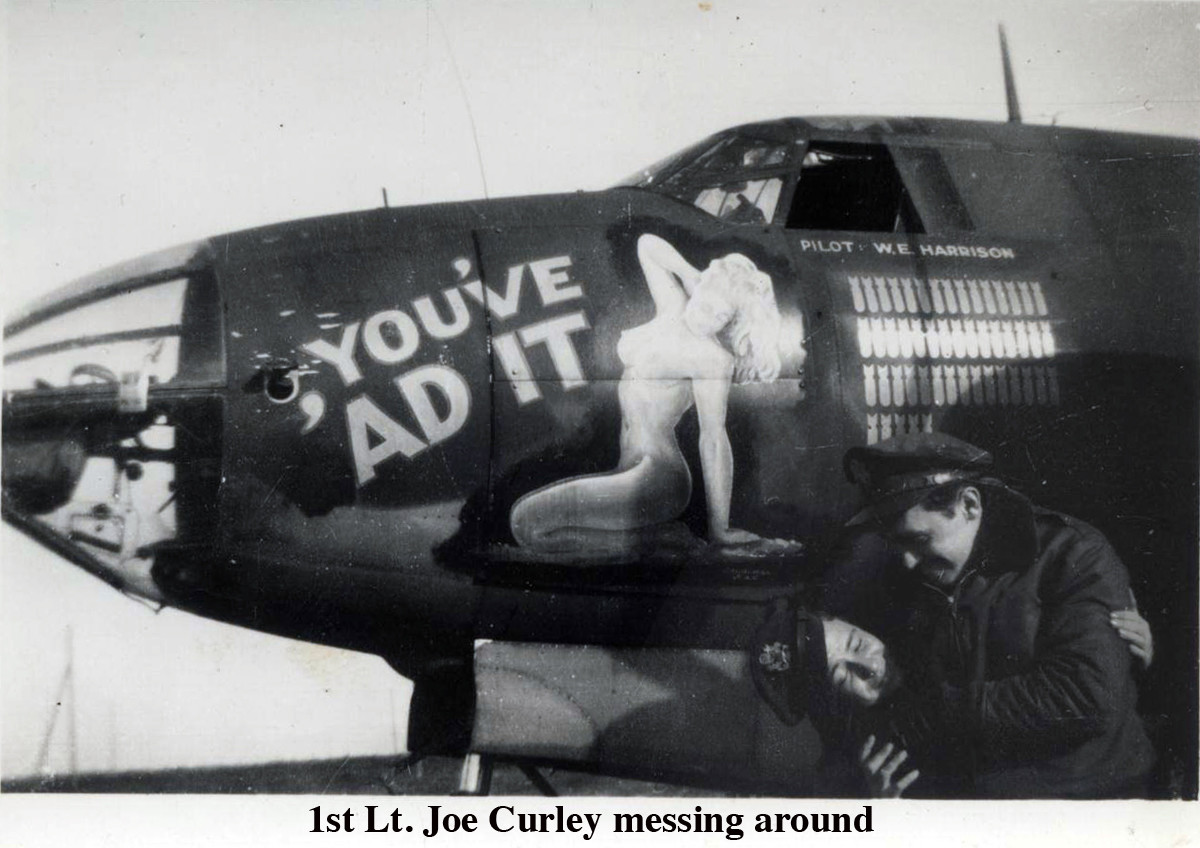 Crews flew in many of the B-26 aircraft assigned to the 497th BG. Curley and a buddy are pictured with *42-95952  You've 'Ad It .
On May 30, 1944 Lt. Curley and crew flew on a mission to bomb a bridge in Rouen, France. The results were excellent but seven planes were battle damaged. Note in the formation diagram below that Joseffy/Curley is in position 1-3-1 in "Lil Audrey" 7I-A.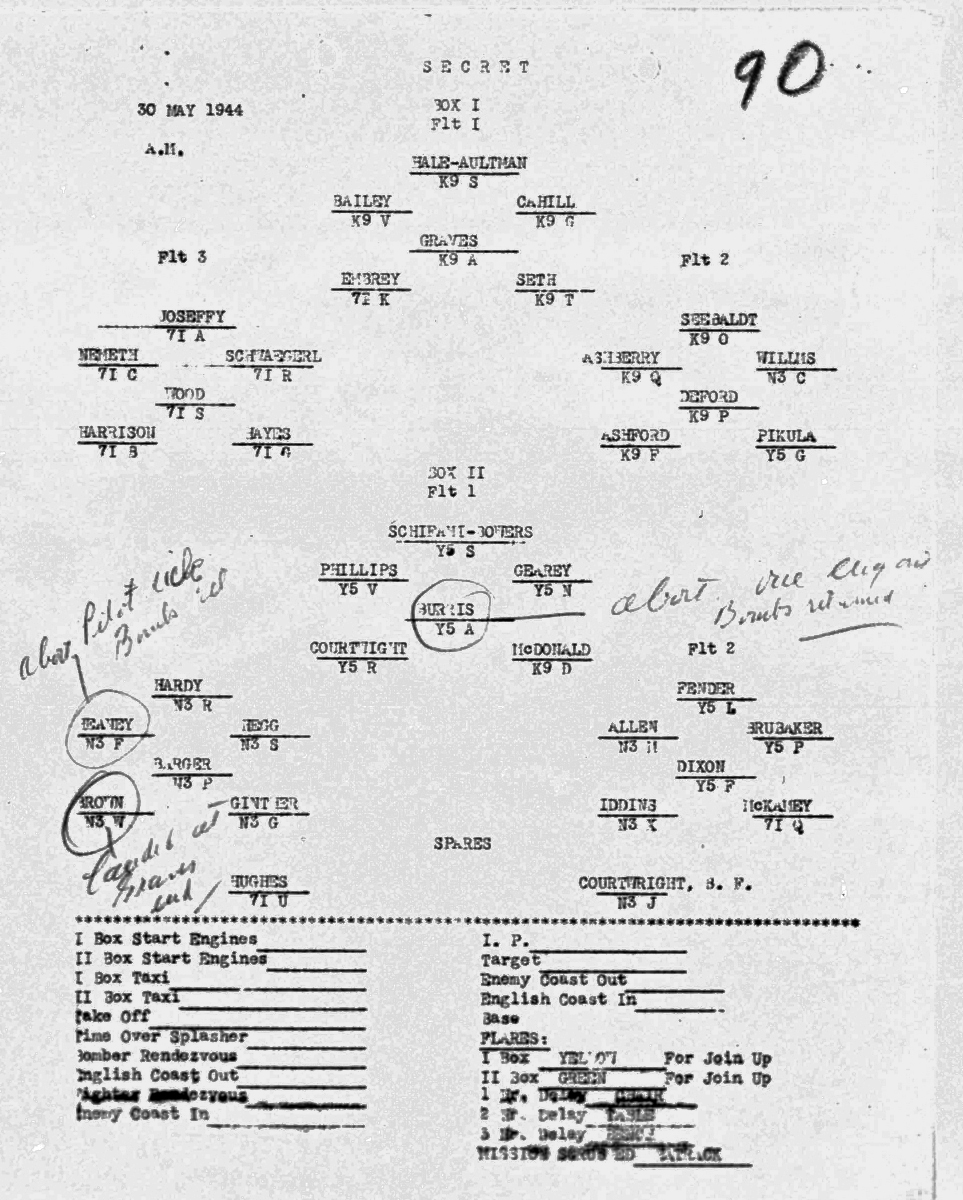 The load list shows Curley as the Bombardier/Navigator for this three hour mission with takeoff at 9:30 am.

________________
On the first mission of D-Day, find Joseffy/Curley in position 3-2-1. The target was coastal batteries on Utah beach, located on the Cherbourg Peninsula including beaches at Beau Guillot, La Madeleine, and Martin De Varreville.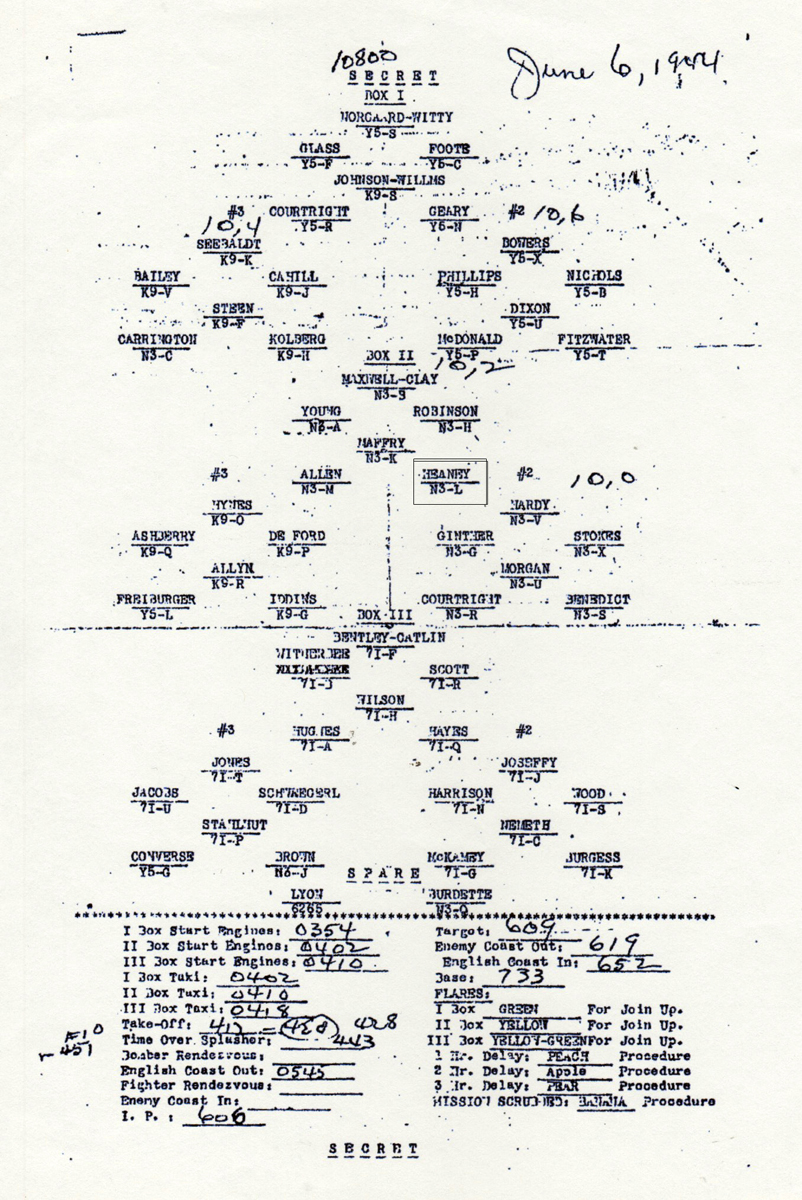 .
Lt. Curley was Bombardier/Navigator in "Shirley Ann" 7I-J and took off at 4:10 am. The mission lasted three hours and 50 minutes.
.

Curley earned many awards for his service. The document below certifies his 9th Oak Leaf Cluster added to his Air Medal. The medal itself was given after five missions and an OCL for each five missions thereafter. At the time of this commendation, he would have flown 5+9×5= 50 missions.
Lt. Joe Curley commendation for Distinguished Flying Cross.
The Distinguished Flying Cross is a military decoration awarded to any officer or enlisted member of the United States Armed Forces who distinguishes himself or herself in support of operations by "heroism or extraordinary achievement while participating in an aerial flight."
.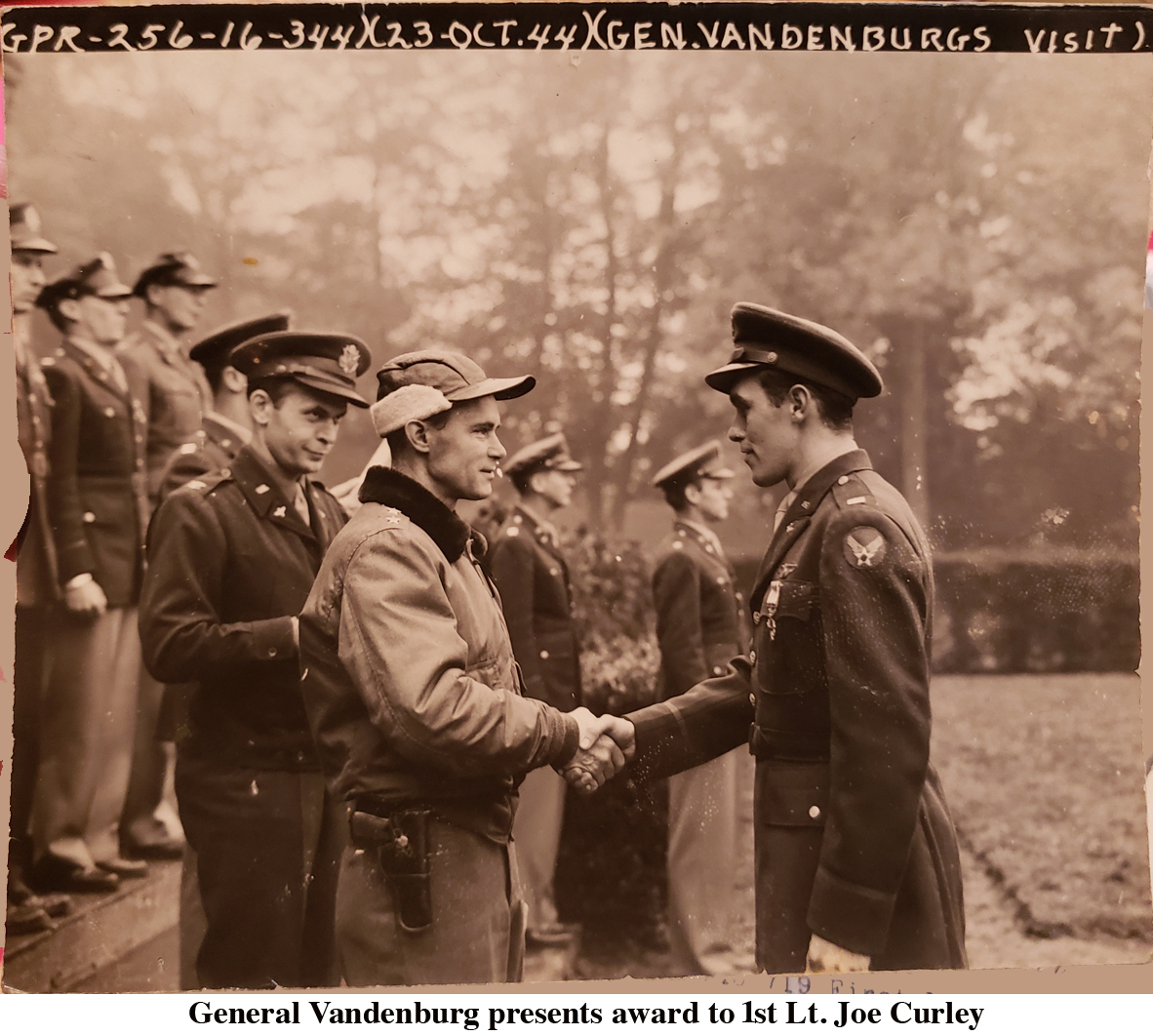 .
Perhaps the most significant award Lt. Curley earned was the Silver Star. The Silver Star, is the United States Armed Forces's third-highest personal decoration for valor in combat. The Silver Star Medal is awarded primarily to members of the United States Armed Forces for gallantry in action against an enemy of the United States.
The award is certified by the document below.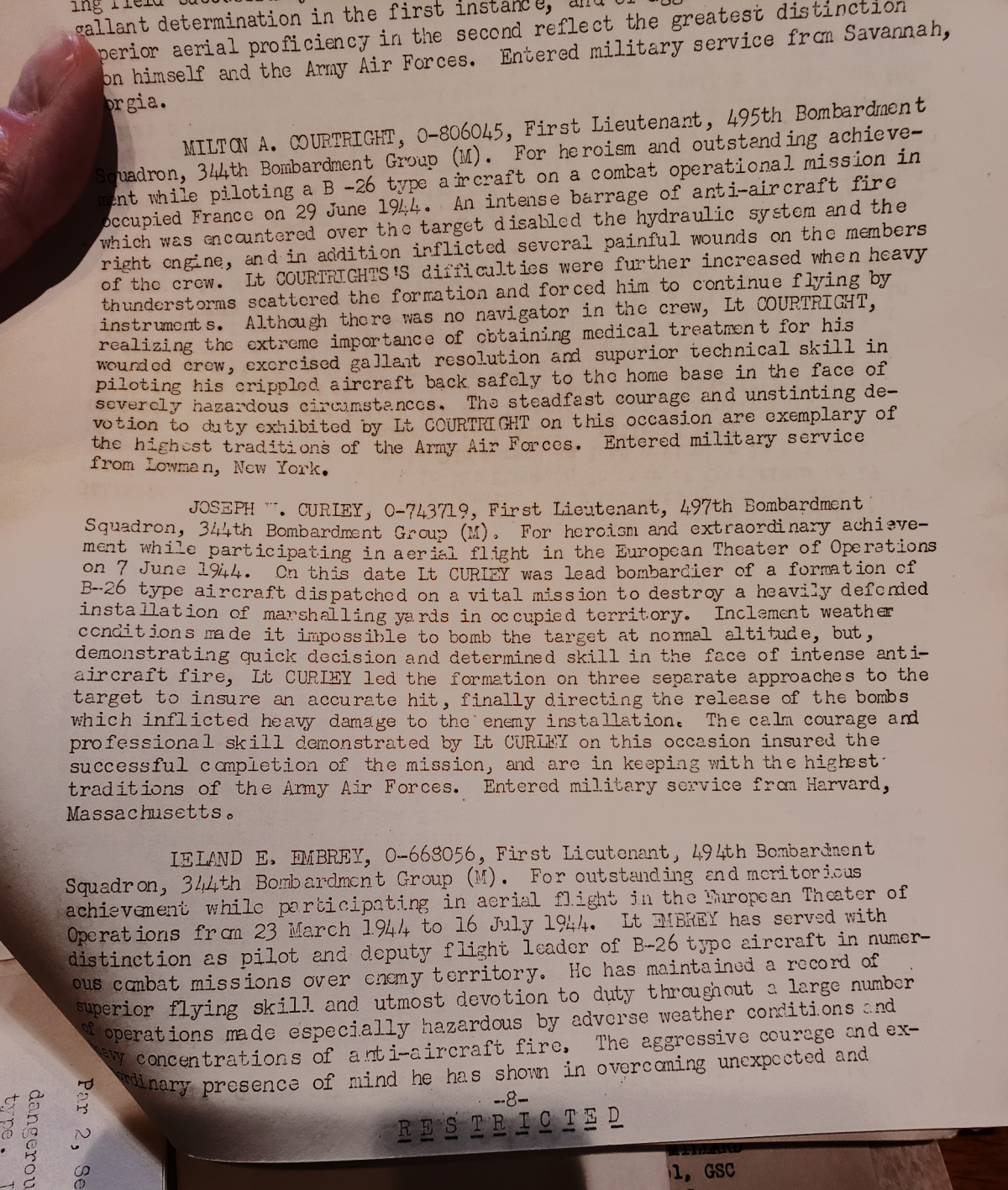 Silver Star Citation
Joseph W. Curley, 0-743719, First Lieutenant, 497th Bombardment Squadron, 344th Bombardment Group (M). For heroism and extraordinary achievement while participating in aerial flight in the European Theater of Operations on 7 June 1944. On this date Lieutenant Curley was lead bombardier of the formation of B-26 type aircraft dispatched on a vital mission to destroy a heavily defended in installation of marshaling yards in occupied territory. Inclement weather conditions made it impossible to bomb the target at normal altitude, but demonstrating quick decision and determine skill in the face of intense anti-aircraft fire, Lieutenant Curley led the formation on three separate approaches to the target to ensure an accurate hit, finally directing the release of the bombs which inflicted heavy damage to the enemy installation. The calm courage and professional skills demonstrated by Lieutenant Curley on this occasion insured the successful completion of the mission and are in keeping with the highest traditions of the Army Air Force is. Entered military service from Harvard, Massachusetts.
Below is a display of all of 1st. Lt. Joseph W. Curley's awards.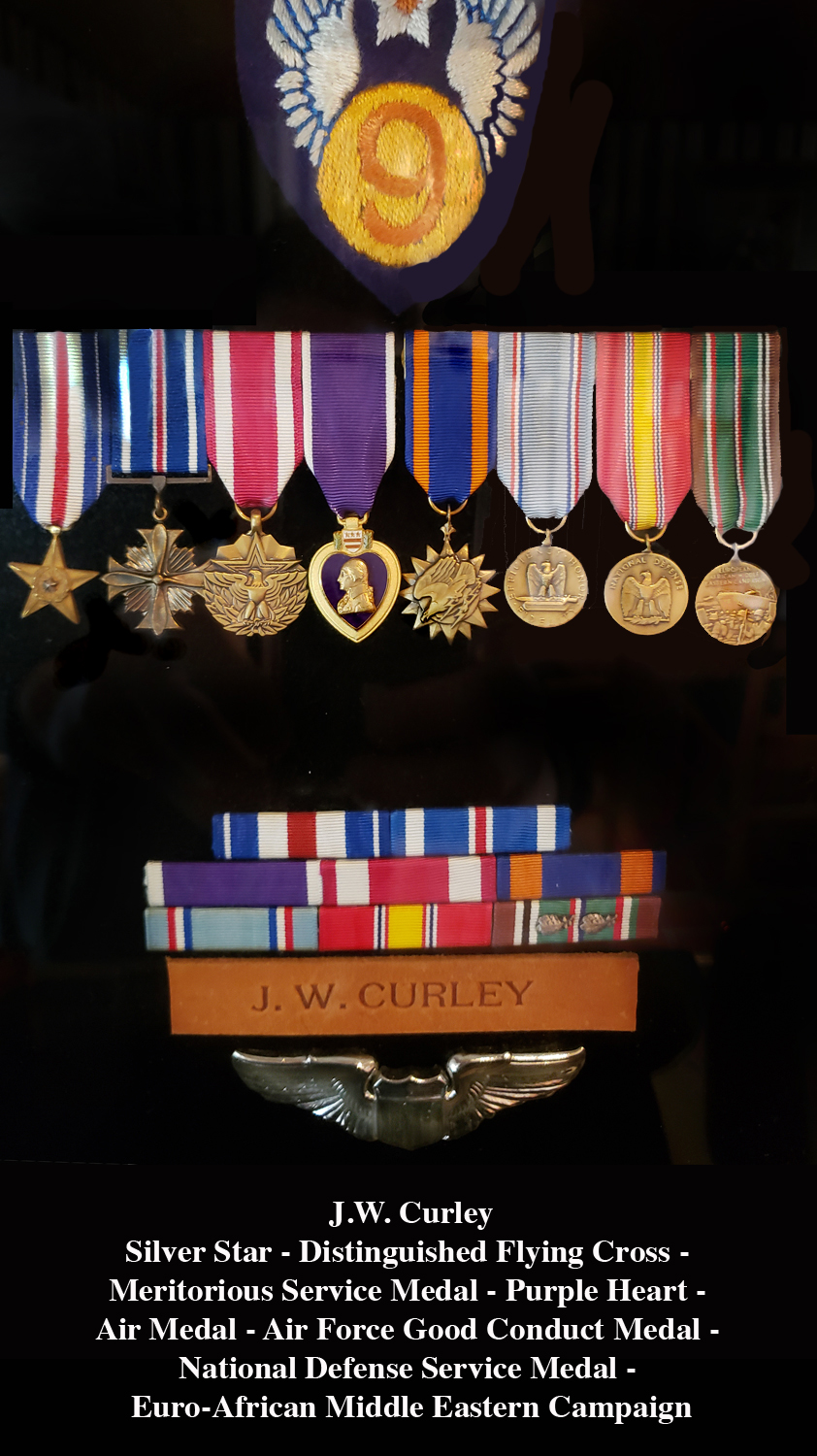 ______________________
After 65 missions, airmen were reassigned stateside.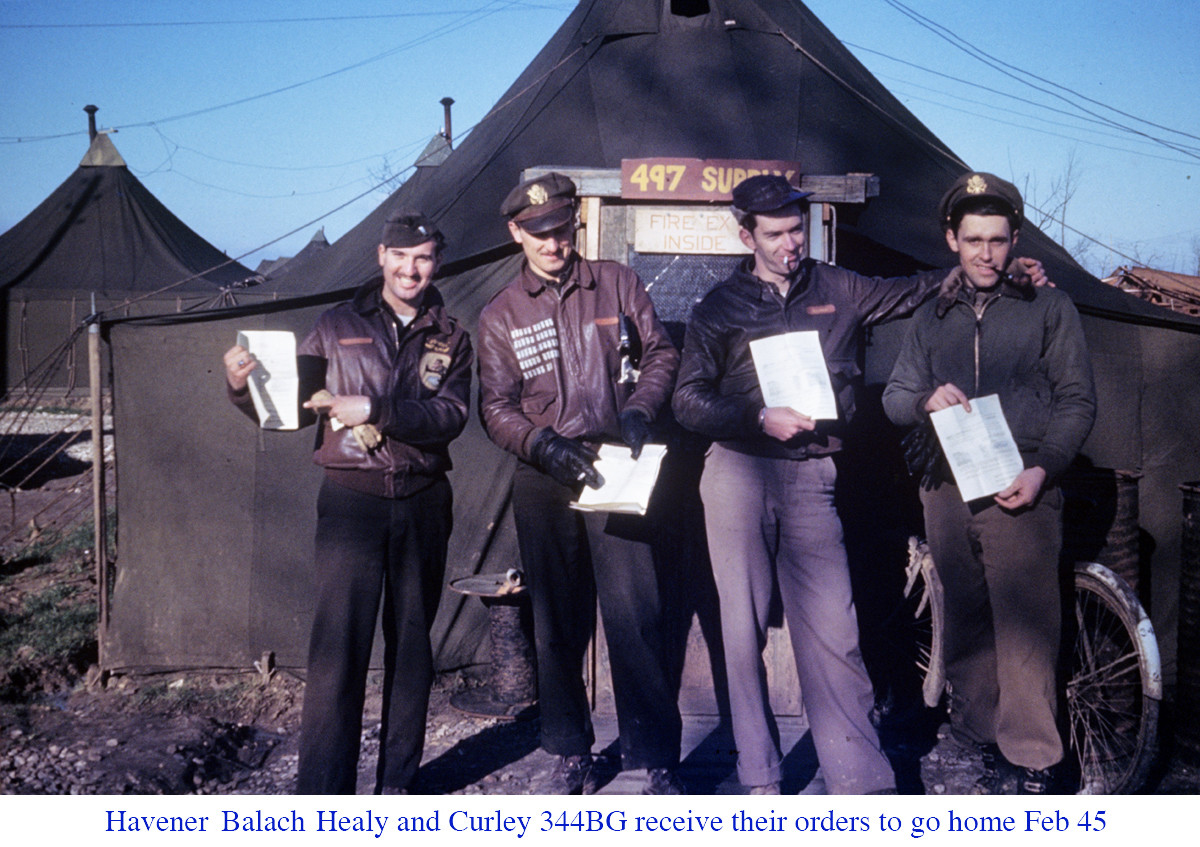 .
After the war, Joe Curley remained connected to his wartime experience. Jack Havener wrote a brilliant article entitled, Superstitions and Talismans, which appeared in Friends Journal Fall 1993 (published quarterly by the Air Force Museum Foundation) and in the Fall 2006 edition of WWII Medium Bombers magazine. In the article, a pre-mission ritual of Joe Curley is featured. Read the article by clicking the link below.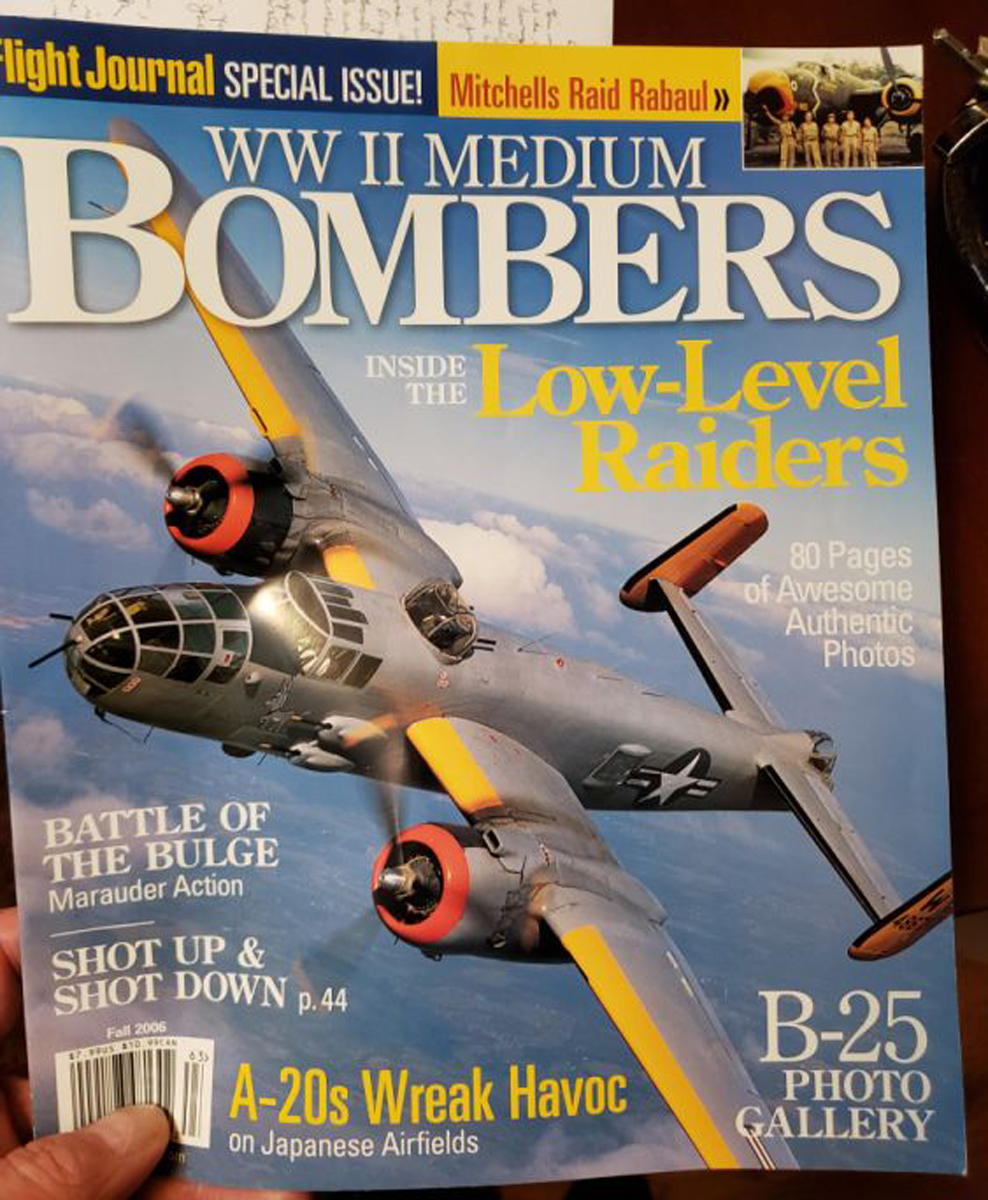 .Joe Curley's article Superstitions and Talismans
.
.Joe Curley and Jack Havener (Also of the 344th Bomb Group) stayed in touch through the years. The note below accompanied an article send to Joe from his friend Jack Havener.
.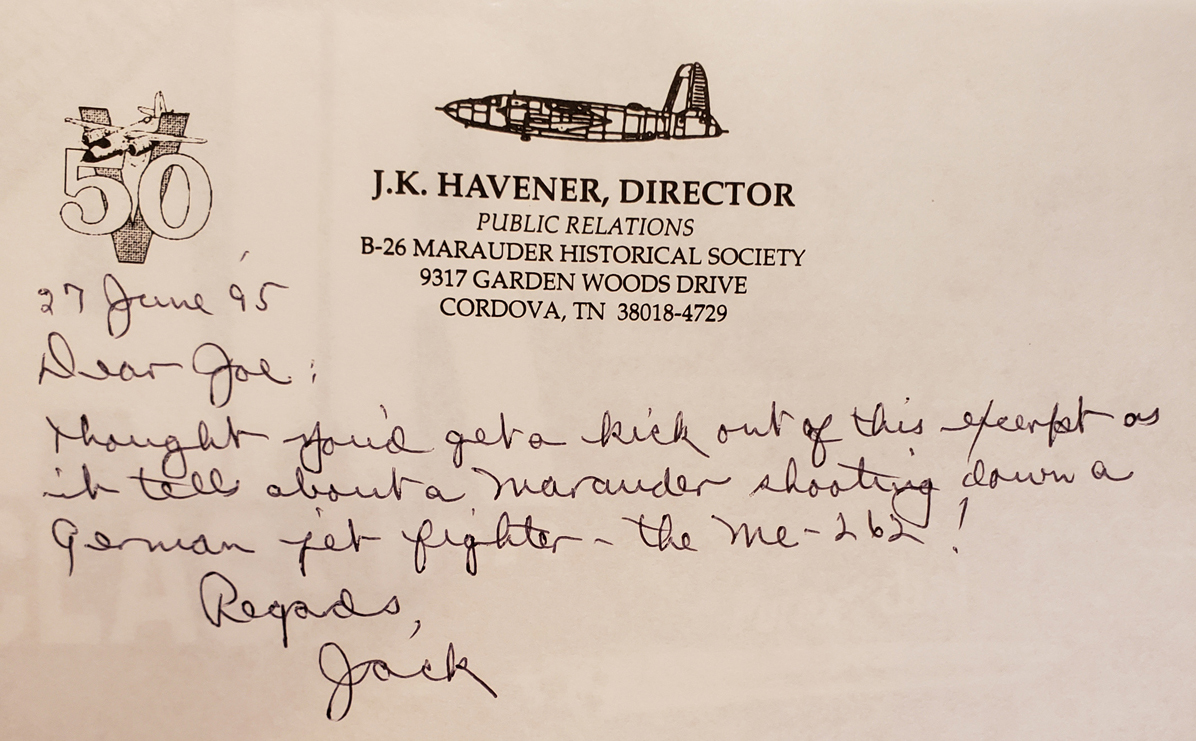 .
.On July 8, 2006, Jack wrote a letter to console Rose, Joe Curley's widow. The letter is shown below.
.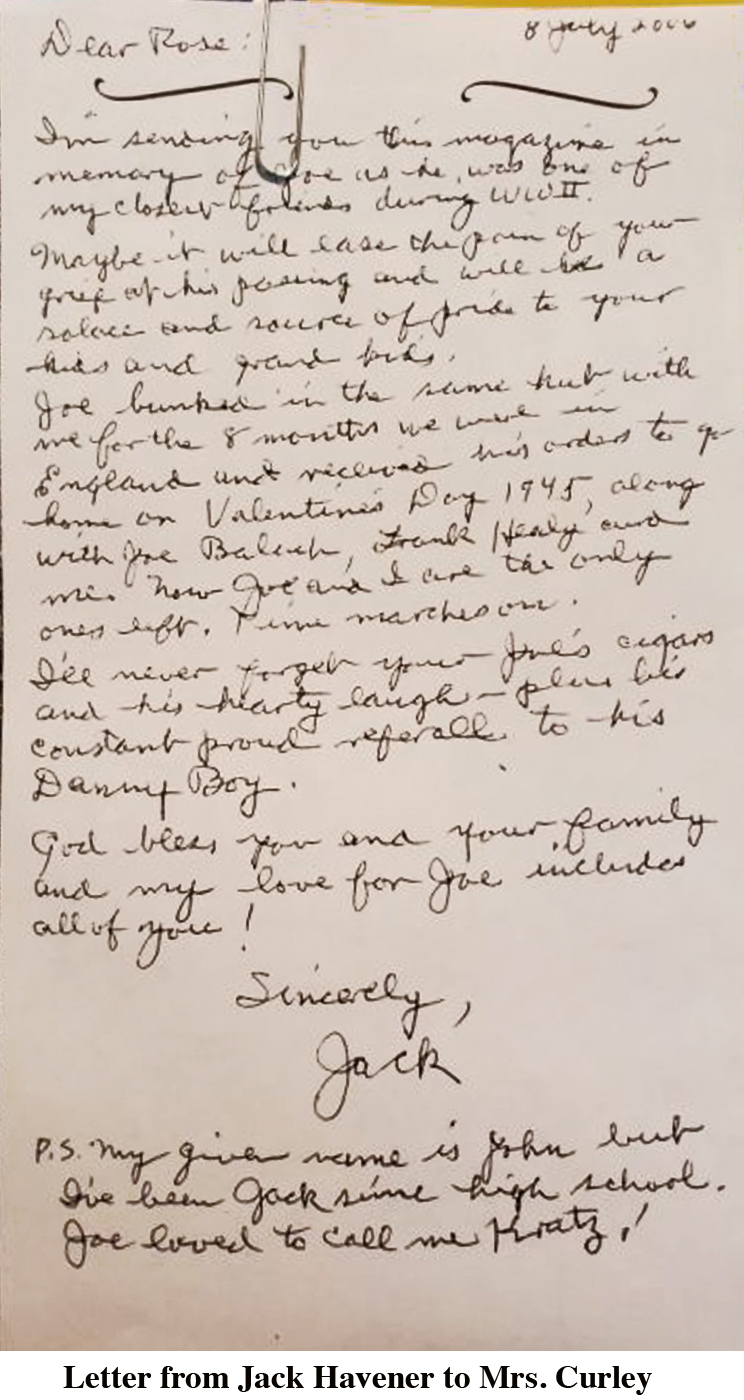 .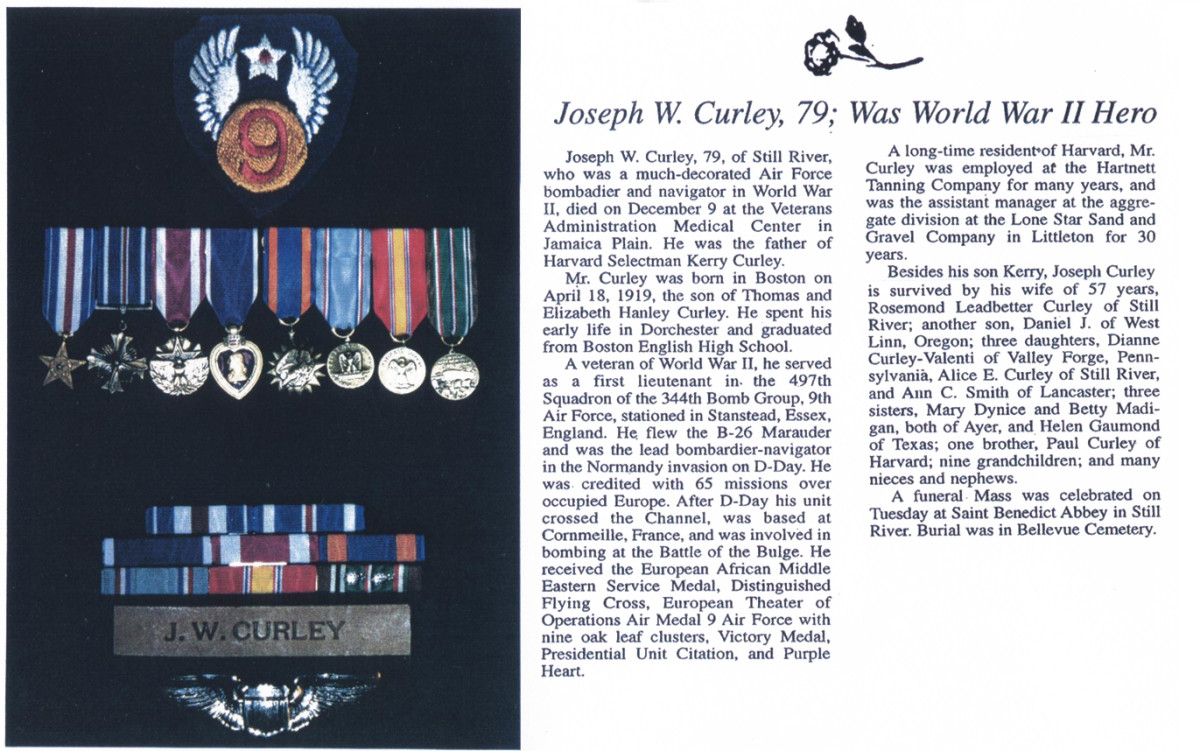 Obituary for Joseph W. Curley