Lt. Leigh Slates: A Transferred 344th Plane and the Me262
Most of the text here was compiled by nephew, Dwayne Goodwin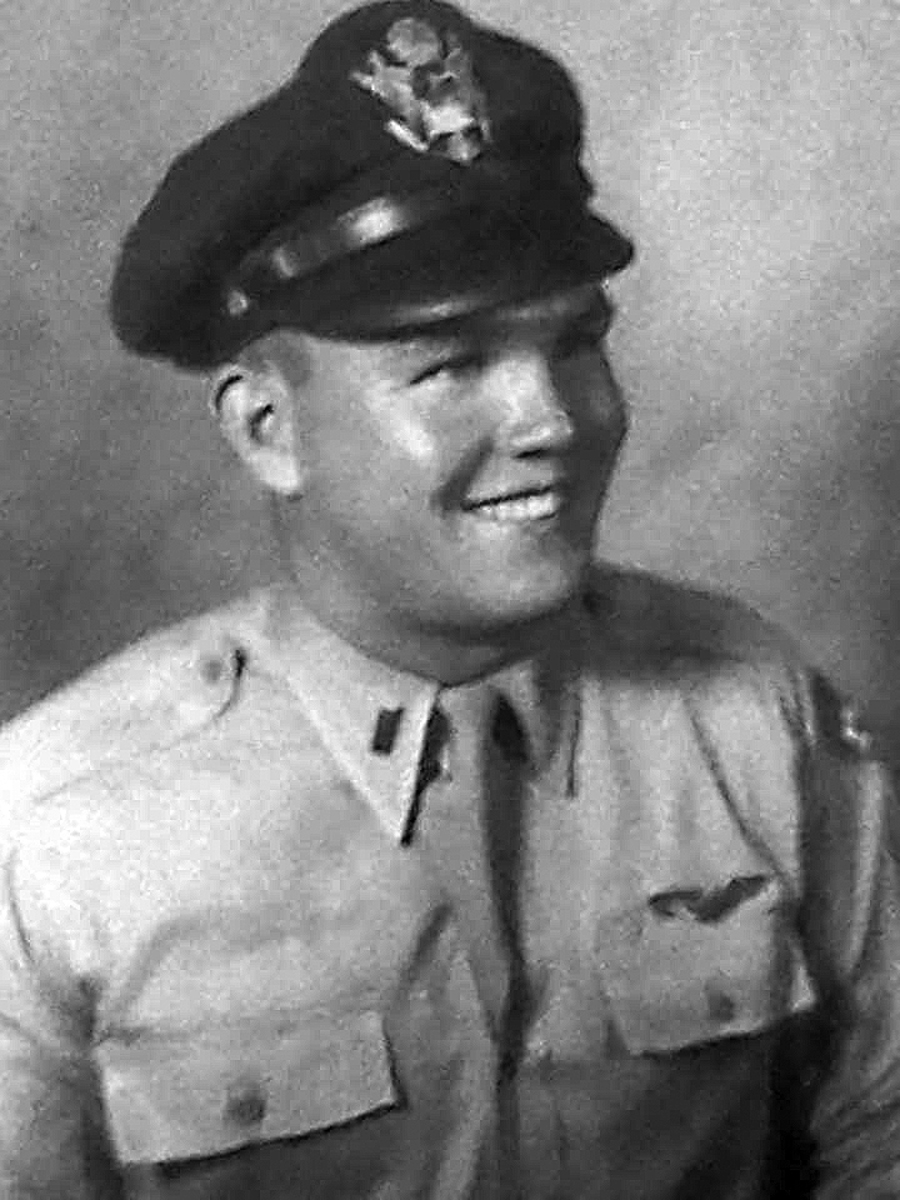 1st Lt. Leigh Slates was born on December 24, 1919 in the small rural Missouri town of Palmyra. He was the oldest of four sons born to Mr. and Mrs. A.L. Slates.
Lt. Slates enlisted in the Army Air Force on January 15, 1942 in response to the Japanese attack on Pearl Harbor in December of 1941. After receiving cadet training at Maxwell Field in Montgomery, Alabama, Walnut Ridge Flying Field in Helena, Arkansas, and Blytheville Army Air Field in Blytheville, Arkansas Lt. Slates was transferred to Barksdale Air Base in Shreveport, Louisiana then to Lake Charles,  Louisiana where he sailed for the European theatre on August 1, 1944.
Lt. Slates was a member 17th Bomb Group, 34th Bomb Squadron where he successfully completed fifty two missions hitting enemy targets in Italy and Germany.
On January 15, 1945 he made an emergency jump after his B 26 was hit by enemy fire. After a successful rescue he was awarded membership in the Caterpillar Club. He was entitled to wear the blue and gold framed Distinguished Unit Badge and his unit received a Presidential Citation for completing over two hundred missions.
On his fifty third mission on the morning of April  24, 1945 Lt. Slates was in the pilot seat of a B 26 Marauder named "Yo Yo Champ", serial number 42-95987 when it took off from an allied base in Dijon, France.
Also on board were his fellow crew mates:
Co Pilot: F/D Howard Menzer Pilot: 1st LT Leigh Slates (my Uncle) Bombardier: S/SGT Floyd G. Phelps Engineer Gunner: S/SGT John Ganhs, Jr. Radio Gunner: S/SGT Robert Tillman Armorer Gunner: S/SGT Lloyd Gauthier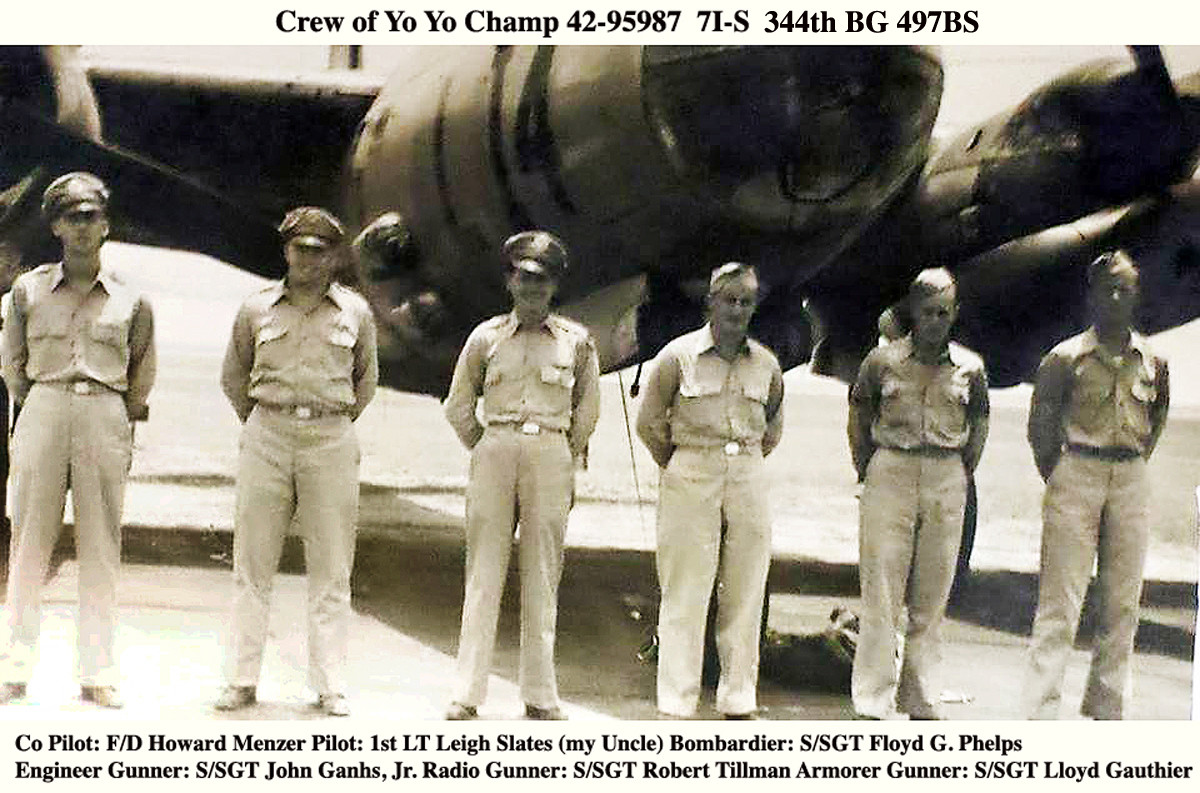 The intended target for this mission was a munitions factory in the city of Schwabmunchen, Germany, but shortly before reaching the target three German ME 262s got behind the bomber and began firing rockets striking the aircraft in its bomb bay causing it to blow up in the air.
Two pilots who witnessed the downing of "Yo Yo Champ" said they saw the plane, missing its left wing, spin out of control until it disappeared in the clouds. (click statements to see enlarged)
Lt. Slates and his crew were listed as Missing In Action until August of 1945 when the wreckage and the remains of the crew were located by American personnel.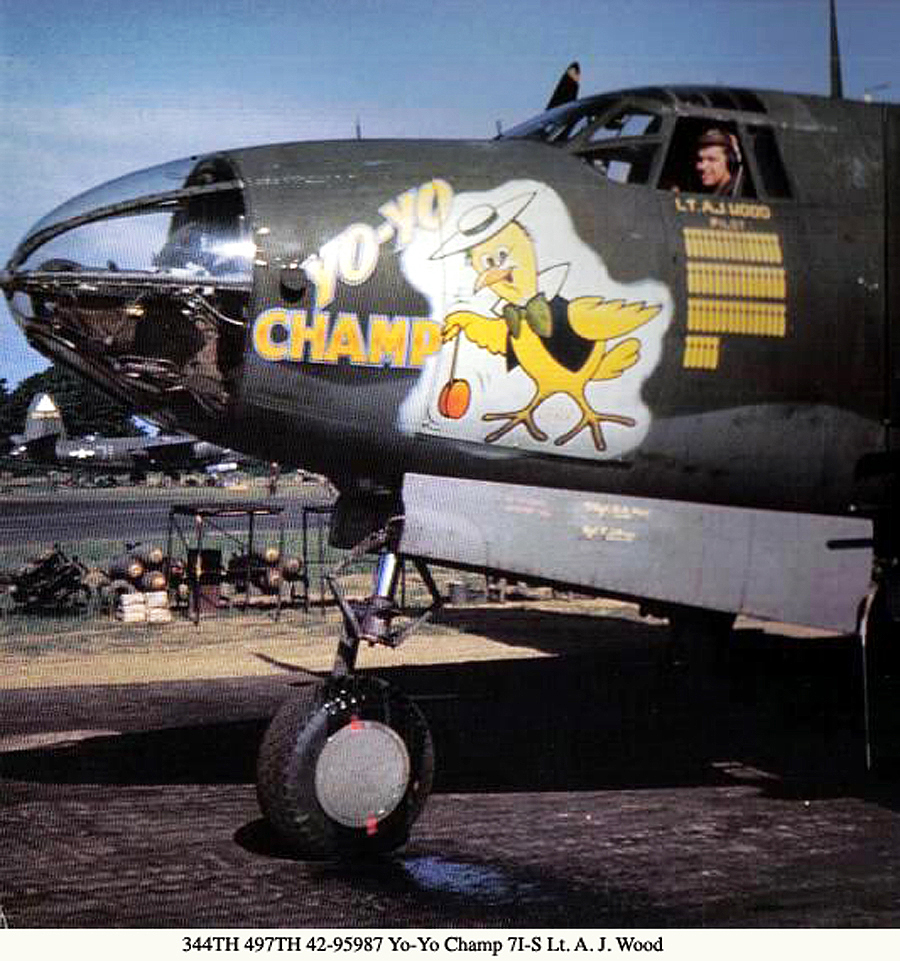 He was initially buried in a U.S. military cemetery in Reutti, Germany until his mother demanded that his remains be exhumed and buried in an American  military cemetery in France.
Lt. Slates' remains were exhumed and transferred to St. Avold American Military Cemetery just outside of Metz, France where he was interred with full military honors.
He is buried in Grave 2670, Row 7, Plot S.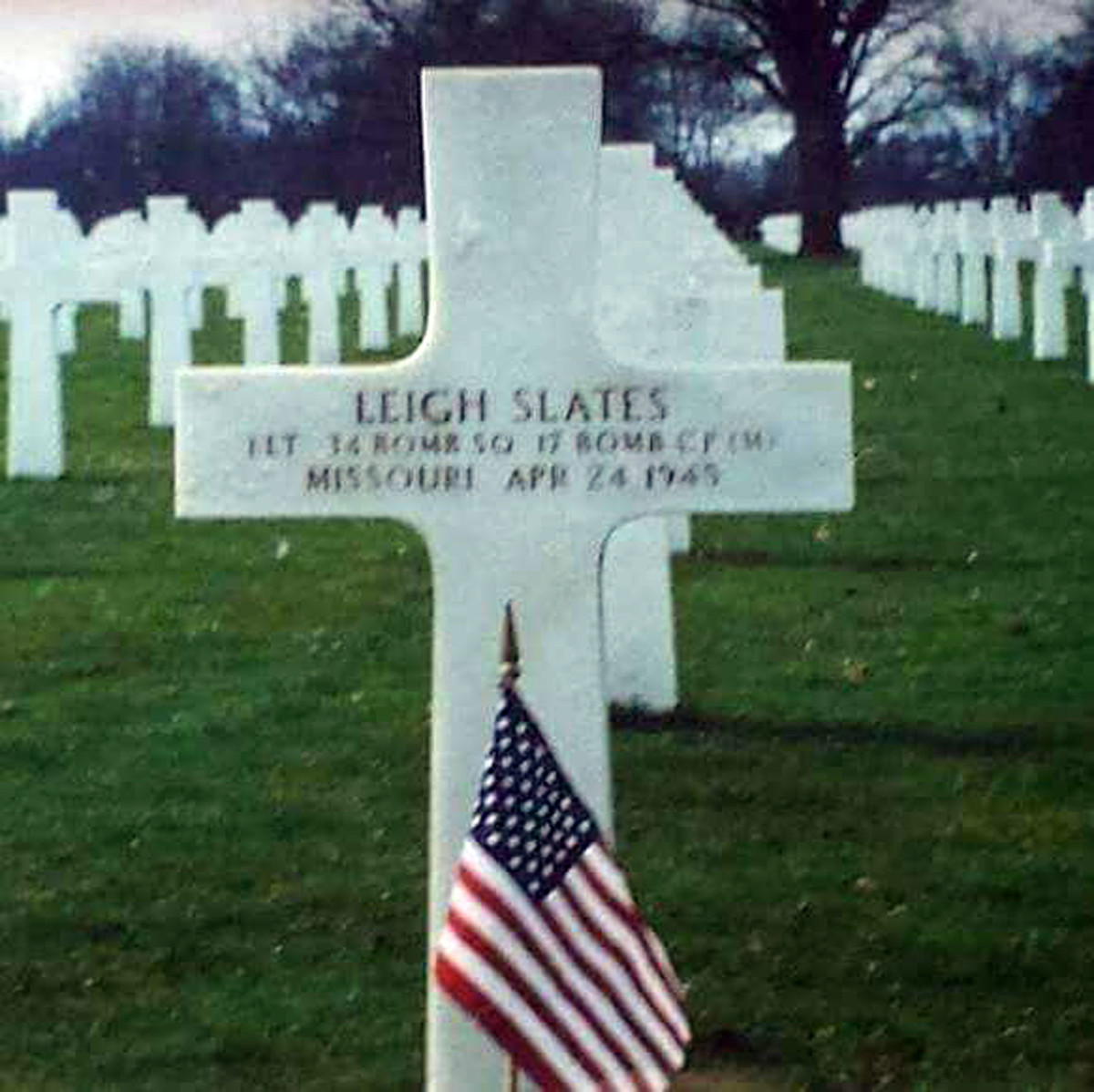 Be Not Afraid, Dwayne, O.F.S.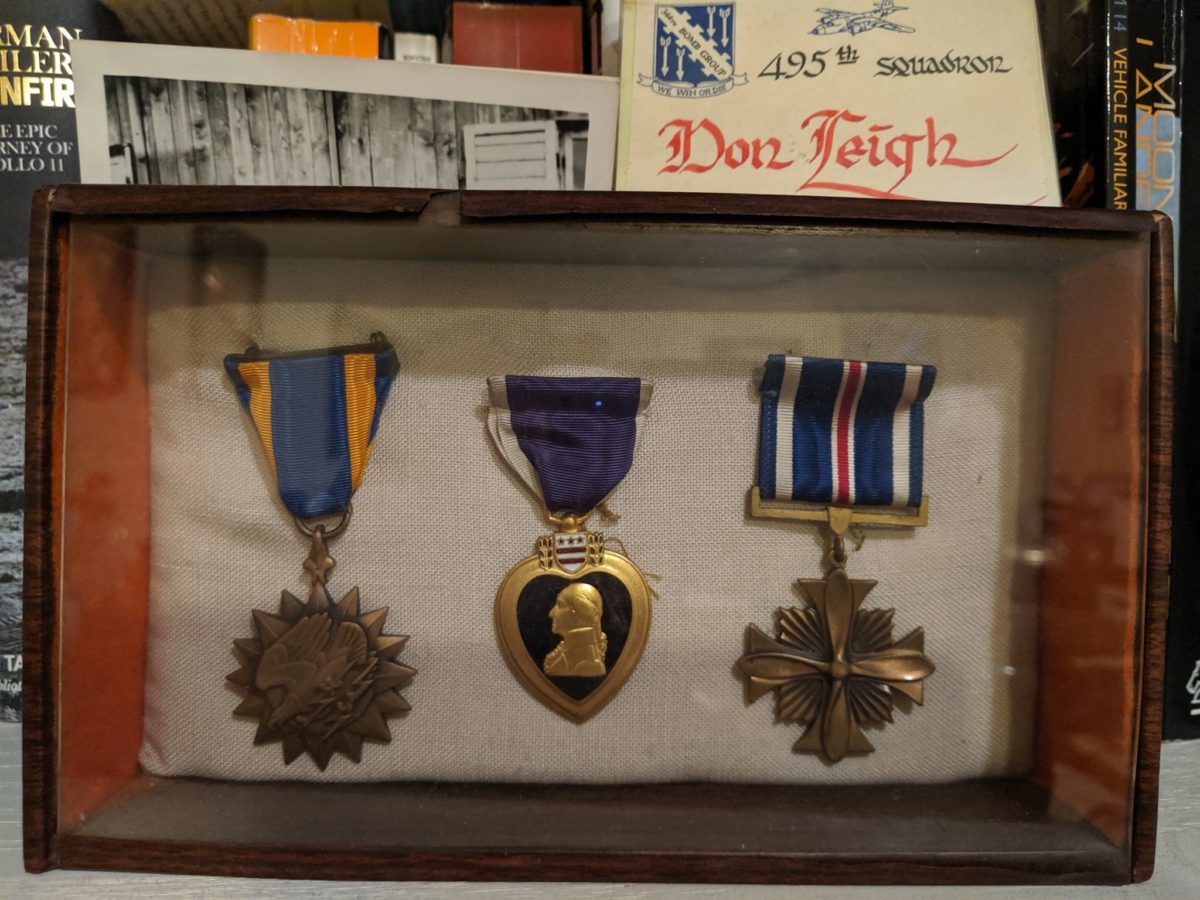 Notes about the plane: Built at the Glenn L Martin factory at Baltimore, Maryland as a B-26B-50-MA. Accepted by the Army Air Force on 18/12/43. Then went to the 3rd AF staging area at Hunter Field, Savannah, Georgia (from 24/12/43). Assigned to the 344th BG at Hunter Field. Flown overseas to the UK via the Southern Ferry Route (Listed as Carribean Wing), departing the USA on 22/1/44. The aircraft record card then lists, SOXO A (Europe – 8th AF) on 22/1/44, and SOXO R (Europe – 8th AF) on 19/2/44. Original group aircraft. Was named "Yo-Yo Champ" after its legendary ability to always return from missions. Severely damaged on 24/7/44 and landed at Thorney Island,England. The aircraft flown by Lt. A Eberhardt suffered Cat.B damage, but was repaired. Transferred to the 17th BG in March 1945. Earlier flown by Lt. A J Wood.