S/Sgt. Norman D. Polk
As is often the case when managing this website, I hear from relatives of a Marauderman. In this case it was Norman Polk's widow and later his sons.  She wrote, "Thanks to you one of the questions that haunted him (Norman Polk) about his last mission has been answered.  He always wondered what had actually happened to his crew.  They were not flying in their regular aircraft that day (Sad Sack), and he would like to have known the fate of the "Sad Sack" on which he had safely flown so many missions. The navigator in his original crew, was not with them on that mission, and Norman wondered what might have happened to him. Thank you so much for your efforts.  You have done a great service to our family."
.
Mrs. Polk and her husband wrote Normans story together long before the Internet and with limited resources. I received the original text from the family but have decided to use a scan of this same autobiographical sketch as published in 344th Bomb Group (M) "Silver Streaks" p266-272 by Lambert D. Austin. Click here to see it. 
.
S/Sgt Polk's crew went down in a plane called the "Shirley Ann." Jeff Polk, Norman's son, located the pilot of the original crew of the "Shirley Ann" with whom he talked at length. His name is Joe Balach. At 92 he has a lot of B26 information.   I called Mr. Balach myself and the call was answered by Joe and Shirley Ann Balach simultaneously on different extensions.  They confirmed that Joe had named his plane after his lovely wife, Shirley Ann. Balach explained that he had just completed his last mission the day before the Shirley Ann went down along with Polk and his crew mates. Interestingly, Balach completed his tour with slightly fewer than the usual 65 missions. It seems he was given some extra service points for flying the lead plane at times. This extra credit may have saved his life.
.
Jeff Polk is making a model of a b-26 and wants to copy as closely as possible the insignia and art of his father's aircraft. His mother, Jean Polk, would prefer he copy the "Sad Sack" on which his dad flew most frequently but is unable to find the number of the plane on any of the pictures in her possession. I am able to help with that. Here is the information;  *42-95978 Sad Sack 7I-Q , *picture 2  *pic 3 in snow,  *pic 4.) Jean said that Norman had always wondered what eventually happened to her (see * below). A lot of planes, including the Shopworn Angel went down on February 14, 1945. The history of the mission and information regarding planes and crew are  included in this website . This mission from his perspective as well as his ensuing experience as a POW  is reprinted from Austin's book here. (see rest of the story). The "MILK RUN", Volume XX, No. I June 2010, a publication dedicated to the 344th BG published an article as well.
I contacted Don Moomaw who flew that mission. He was an eyewitness of the end of the Shopworn Angel. Read the link to his name to see his account of the mission. He also reponded more specifically. I asked Don, "The picture here is one you sent me showing the formation on 2/14 mission. I'm trying to figure out where the Shirley Ann was. It was described as the lead plane of the third box. Excuse my ignorance here. Is each "clump" of planes a box. If so you were in the 2nd plane in the first box? Please confirm and let me know if you remember the Shirley Ann going down.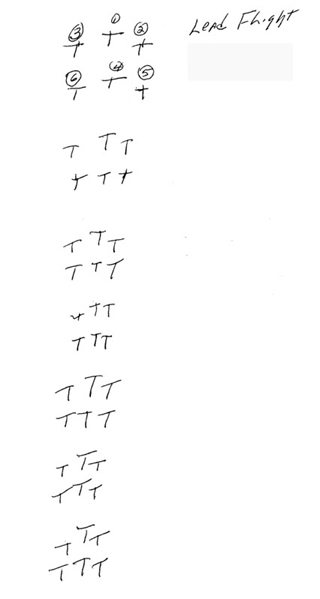 Don replied, "A box is composed of 3 flights, flight is 6 planes, 2 boxes  make a group. we did not bomb in normal formation of 2 boxes, two bombardiers doing the aiming at target, we were in a trail formation as you can see in my sketch, each lead flight bombardier. Six bombardiers taking aim at target, I belief it was the 2nd flight that hit the target [bridge] not necessarily the bombs from the lead plane, but any one of the six planes in that flight.  I was number 2 plane lead flight, the only planes that I could view was # one and three  of lead flight. I have no knowledge of the Sally Ann, it was not a 495th plane. Norman Polk or Joe Balach do not ring a bell. It was a normal mission except the terrible loss on the bomb run and target. On that mission we flew in box formation, upon approaching the target, we broke up the box formation to trail formation on the bomb run, upon completing bombing we again formed into box formation, better control and fighter protection. This the first I have heard of the Sally Ann, she could have been in one of the other squadrons. The names of bombers were just used generically, not on records of any type. Did the 344th bomb group fly near each other, planes  in each flight flew very close together, in order to fly good formation, the closer or tighter, it much easier to do. also it was necessary to get a good bomb pattern on the target."
Here is more information from the declassified Missing Aircrew Report:
EYEWITNESS DESCRIPTION:
Immediately after dropping bombs over target aircraft 42-95914, Piloted by Lt. William R. Jones, was hit in the right wing by a burst of flak.   Aircraft immediately burst into flame and pulled left out of formation, for approximately 1000 yards when the right wing blew completely off the aircraft.  The aircraft spun in and crashed into a brick building or wall and exploded.  I watched the aircraft from the time it was hit by flak until it exploded upon crashing.  I did not see any chutes leave the aircraft.
Tamer R. Ryan
497th Bomb Sq., T/Sgt.,
Radio-Gunner
Date of Report:  18 Feb 1945
Incidentally, this plane also apparently flew in the 344th D-Day Mission to Utah Beach as the lead plane in Flight 3 of Box III with Jones as the Pilot.
(The wreckage of Shirley Ann was discovered during a construction project in May 2010, just across the Rhine from Neuwied, Germany, about 4 miles from the target bridge, where a dog tag belonging to Sgt. Dudley was also found. At the time of the crash there was a brewery at that location.)
S/Sgt. Peter Newton Dudley was Armorer-Gunner and Tail Gunner on this mission.
.
"Remains of US-Airman in Germany found May 2010:"
http://www.rhein-zeitung.de/region/lokales/koblenz_artikel,-Bauarbeiter-finden-US-Bomber-und-verschollenen-Soldaten-_arid,92110.html#.VRRjNEaAKbQ
There is also TV news footage about it, in German, which looks like "B Roll" footage: http://www.youtube.com/watch?v=lOnVPdwe0f4)
(Rhein Zeitung news story translation): Construction workers find U.S. bombers and missing soldiers
Weißenthurm (translation)– When laying cables in Weißenthurm (district Mayen-Koblenz) workers came upon the wreckage of an American bomber. The remains of the crew and the identity of previously missing U.S. soldiers were found. While the owner and architect of the project were completely surprised, a historian quickly identified the case: 65 years after his death, Sgt Peter Newton Dudley can now find his final resting place. From Ramstein is yet to come this Thursday, a delegation of the U.S. armed forces to white-tower, to transfer the remains.
.
After the first metal finds the AWO Senior Center "Old Brewery to Nice" campaign had consulted the disposal team. Five explosive experts working there now, some using brushes like archaeologists to unearth the bones and remains of ammunition. They found live ammunition. An evacuation of the area is apparently not necessary.
.
The disposal team from the battle engaged the Koblenz historian Helmut Schnatz was ready to find the appropriate data. The case goes back to the last weeks of World War II: It is 16.40 on 14 February 1945, when the guns get the air defense of the B-26G bombers from the sky, which was to attack the Rhine bridge at Engers. On board in addition to the 31-year-old sniper Dudley, six comrades. One escaped by parachute over Koblenz, the others died in the plane in Weißenthurm as it bored into the earth. Five crew members are found dead. Only the wife of Peter Dudley Newton only receives distressing news that he is missing, but there is no trace. This changes only when the end of May 2010 Cable to be laid and the workers make the discovery… (Law / agh)
.
(Note: This is an example of a plane that was so disabled by flak over target that it must have been spinning in a steep dive, causing it to bore into the ground on impact. Only one crewman, R/G Sgt. Norman D Polk was able to bail out and was captured.
.
Apparently there is some disagreement on whether TG Sgt. Peter N Dudley had been listed as MIA or KIA at the time of the MACR. The confusion was probably because his dog tags were not found at the crash site at that time. He was apparently buried with his crew members stateside postwar in a single grave. They gathered what remains they could at that time. According to these stories, there were some further remains found in 2010, and Dudley's dog tag.)
*Built at the Glenn L Martin factory at Baltimore, Maryland as a B-26B-50-MA. Accepted by the Army Air Force on 22/12/43. Next listed at Washington, D.C (ATC) from 24/12/43. Then went to the 3rd AF staging area at Hunter Field, Savannah, Georgia (from 27/12/43). Assigned to the 344th BG at Hunter Field. Flown overseas to the UK via the Southern Ferry Route (Listed as Carribean Wing), departing the USA on 22/1/44. The aircraft record card then lists, SOXO A (Europe – 8th AF) on 22/1/44, and SOXO R (Europe – 8th AF) on 19/2/44. Original goup aircraft. Damaged Cat.3 in a mid air collision over A-59, Cormeilles, France on 3/3/45. The aircraft flown by Arthur A Pekkala, collided with 43-34437 flown by John B Riley (also damaged Cat.3). Both aircraft managed to land safely and were repaired. The final entry on the aircraft record card lists, GLUE CON SAL FEA on 26/12/45.