Complete Story of the Bombing Mission to the Engers RR Bridge 2/14/1945
Story of the Bombing Mission to the Engers Railroad Bridge, February 14, 1945, including eyewitness accounts.
First a list of Missing Aircraft Reports (MACR) for the 344th BG (click the blue links to see each official report with my summary page):
MACR# 12344 DATE – 14 Feb 1945
PILOT – Capt. Thomas Gough Brennan, Jr 0-793050 (bailed out, POW)
COPILOT – 2nd Lt. Frederick William LaFountaine, Jr 0-714713 (killed by civilians)
BOMBARDIER- 2nd Lt. Harry William Zuest 0-2068152 (killed by civilians)
RADIO/GUN – Sgt. Roy Fred Pace 38519975 (bailed out, POW)
ENG/GUN – Sgt. Edward Joseph Monahan 12144326 (killed in crash)
TAIL/GUN – Sgt. Willard Alexander Delavan 11108168 (bailed out, POW)
MACR# 12352 DATE – 14 Feb 1945
PILOT – 1st Lt. William Riley Jones 0-760860 (killed)
COPILOT – 1st Lt. Richard Carroll Light 0-822950 (killed)
BOMBARDIER- 1st Lt. Melvin Ray O'Brien 0-712211 (killed)
RADIO/GUN – S/Sgt. Norman Dorwood Polk 33676696 (bailed out, POW)
ENG/GUN – T/Sgt. Uel Milton Myers 36657182 (killed)
TAIL/GUN – S/Sgt. Peter Newton Dudley 19113146 (killed)
GEE OPERATOR – 1st Lt. John Edward Knight – 0-735319 (killed)
MACR# 12385 DATE – 14 Feb 1945
PILOT – 1st Lt. Robert Clyde Meppen 0-410683 (bailed out, POW)
COPILOT – 2nd Lt. Glenn Richard Farthing 0-715172 (bailed out, POW)
BOMBARDIER- 2nd Lt. Gustave Philip Larson, Jr 0-685494 (bailed out, POW)
RADIO/GUN – T/Sgt. Samuel Louis Myers 31133606 (bailed out but killed by small arms
fire on descent)
ENG/GUN – Sgt. James Chiari, Jr 32768604 (seriously injured by flak, killed in crash)
TAIL/GUN – Sgt. Elman Cheramie 38493255 (killed by flak)
MACR# 12386 DATE – 14 Feb 1945
Pilot- 1st Lt. Gordon Kenneth Holm 0-705691 (killed)
CoPilot- 2nd Lt. William Marshall Holman 0-713445 (bailed out, POW)
Bombardier/Nav.- 2nd Lt. Phillip George Mulholland 0-712206 (killed)
Radio/Gun- Sgt. William Arthur Spear 18168356 (bailed out, POW)
Eng/Gun- Sgt. Melvin Bernard Rasalais 38486560 (killed)
Tail/Gun- Sgt. Frank Alton McKenny 17144709 (killed)
MACR# 12387 DATE – 14 Feb 1945
Pilot- 1st Lt. John Paul Nelson 0-706233 (killed when his parachute failed to open)
CoPilot- 2nd Lt. Douglas Thore Bennett 0-1996043 (bailed out, POW)
Bomb/Nav.- 2nd Lt. Walter Phillip Santel 0-2061265 (bailed out, shot in knee by German soldier, POW)
Radio/Gun- S/Sgt. Donald Eugene Brecht 6578282 (killed, possibly chute failed)
Eng/Gun- Sgt. Warren Oscar Severson 17109784 (bailed out, POW)
Tail/Gun- Sgt. Arthur John Sullivan 31373538 (bailed out, POW)
Next, to give an idea of the Medium Bomber missions over Germany on this day, here is a summary:
14 Feb 1945
"In Germany, 600+ A-20s, A-26s, and B-26s attack rail bridges, a marshalling yard, communications centers, an ammunition dump, a prime mover depot, and several targets of opportunity in morning and afternoon missions aimed primarily at obstructing enemy movement and supply; fighters fly armed reconnaissance over wide areas, escort the bombers…"
– Jack McKillop, Combat Chronology of the U.S. Army Air Forces.
Specifically, also taking place on February 14, 1945, this is an account of one of the most harrowing and unforgettable B-26 bombing missions in the European Theater, probably only surpassed by the very first B-26 missions of May 1943, one of which saw all eleven B-26s on a mission lost, and the late December 1944 missions in support of the Battle for the Ardennes, or Battle of the Bulge..
.In a short span of only about 25 minutes, 8 Marauders were shot down over the target, with the eventual casualty totals 43 men downed, 24 killed, 19 captured as Prisoners of War.
Most bombing missions consisted of 36 planes. This was a "Maximum Effort" mission of 54 planes. It was a joint mission, combining planes from the 387th Bomb Group, nicknamed the "Tiger Tails" for the yellow and black stripes on the tail, and the 344th Bomb Group, nicknamed the "Silver Streaks" for the planes' mostly unpainted fuselages.

.
.
.
.
.
.
.
.
.
.
.
The first 3 planes lost were from the 387th, the remaining 5 were from the 344th. The mission number for the 387th was probably Mission 290, for the 344th was Mission 200 . The 387th planes left from Station A-71 near Clastres, France, and the 344th left from Station A-59, near Cormeilles-en Vexin, France.
There are eyewitness accounts of this mission from various sources, which will be included. Some involve planes that were lost, some do not. Some portions of these accounts have been found on this website, http://shopwornangel.imaginarynumber.net. Also there will be some brief official reports for this mission. Each plane will be listed in the order it was lost, with any additional information found about crew members and their fate. The chronology of the planes lost was determined from the times listed in the Missing Air Crew Reports, or MACRs, the MACR sequence numbers, and the cross-referenced witness statements in those MACRs.
.
An excerpt from the book 344th BG (M) "Silver Streaks"  (p45) edited by Lambert D. Austin gives important details:
"Two missions were flown February 14, the morning mission being the 199th for the Group….no losses or damage resulted. In the afternoon of the 14th the Railroad bridge at Engers was attacked. Seventeen (17) Aircraft dropped 34 tons of bombs with generally excellent results, though clouds and haze were rapidly obscuring the target from view. The attack being visually, by flights, on converging axis of attacks and the weather closing in did not allow all of the Aircraft to drop on the primary target. However, on the way out to Base, two (2) Aircraft bombed at Bullay on briefed secondary and four (4) on the Railroad bridge at Ellers, another briefed secondary target, while one plane bombed the town of Burenbach as a casual target.
The attack on the Euskirchen bridge (my note: I suppose it shall be Engers, as the intelligence report said ) was met by severe and accurate flak by enemy defenses, five of our Aircraft being shot down, 21 Aircraft damaged Category "A", seven Category "B" and 31 of our personnel listed missing and six wounded".
.
THE 14 FEB 1945 MISSION TO ENGERS RR BRIDGE
Donald Leigh
495th Bomb Squadron, 344th Bomb Group
Scratch One Bridge At Koblenz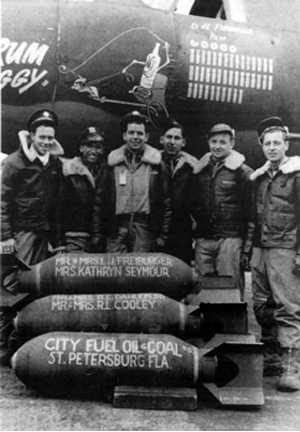 .
.
.
.
The crew of Y5-V (Rum Buggy II, a B-26), 495th Squadron, knew what was coming on that late winter Valentine's Day morning in Belgium. Flak map overlays distributed at briefing showed that on the assigned bomb run, twelve miles along the Rhine River, the 344th Bomb Group would face intense antiaircraft fire. Intelligence reported one hundred twelve 88 millimeter guns along the route and thirty five more at the target, the 1,237 foot Crown Prince Wilhelm Railroad Bridge at Engers, Germany, just outside the city of Koblenz.
Captain J. W. Cotton, Pilot, and 1st Lt. Don Leigh, Bombardier, leading the high flight, discussed the 'prospects' and decided that since flying the usual evasive action to confuse German gunners would be pointless in what was sure to be a solid barrage, to fly a straight-in bomb run taking maximum time for sighting. This tactic would provide greatest bombing accuracy and the quickest possible route through flak.
.
Fifty years later Leigh vividly remembers that the sky was bright blue at 10,500 feet and visibility at the IP was excellent, but despite the customary roar of the Marauder's (B-26) 2,000 horsepower engines there was a strange sense of silence as he called for Cotton to roll out on course for the bomb run. The lull before the storm was sure to come. And it came.
.
.
THE TARGET
.
.
Captain Cotton's steadiness and concentration under unrelenting fire made it possible for Bombardier Leigh to conduct an unhurried and precise sighting operation. The target was hit dead center. Leigh remembers (to his embarrassment, today) announcing on the intercom, "Bombs away," followed by the corny cliché, "Let's get the hell out of here." But never was a diving turn off a target more welcome.
.
Two ships in the flight of six went down on the bomb run. The complete 344th group lost five Marauders and their crews and planes received nearly 100% battle damage. Rum Buggy crew members, in addition to Leigh and Cotton, who shared the memorable mission, were: E.E. Edwards, Co-Pilot; W. E. Gillaspy, Engineer; J. Cirrin, Radio; and D. Ramsey, Gunner. All of them can remember a Valentine's Day on which love was absent. (Leigh was awarded the Distinguished Flying Cross for this mission).
.___________
Information about the 387th Bomb Group and this mission.
The 387th Bomb Group (Medium) of the Ninth Air Force was based at Station A-17, Clastres, France. Clastres was located on the northern edge of the village of Clastres, about seven miles south of the city of Saint-Quentin, France. The 387th Bomb Group (M) was one of eight U.S. Army Air Force B-26 Marauder groups deployed in the European Theater of Operations. Know as the "Tiger-Striped Marauders" or "Tiger Tails" because of the distinctive diagonal yellow and black stripes painted on the tails of their aircraft, the groups was made up of four squadrons: 556th, 557th, 558th, 559th Bomb Squadron (M).
.
The 387th Bomb Group (M) moved to Clastres in early November 1944 to keep up with rapidly advancing Allied troops. The group quickly set up a tent city and lived in tents near the runway. The operations tent was near group headquarters. It was furnished with wooden benches and a large map of western Europe. The map was marked with a grease pencil bomb line depicting the most advanced position of the Allied ground forces. A colored string stretched between pins showed the course to the target.
.
Members of the groups spent their spare time improving their quarters, including building floors, furniture and improving the tent heating systems. Building materials were scrounged from many sources including wood from bomb crates found at a German bomb dump in the nearby woods and nails form the charred ruins of an old German hanger. Crews also had the pleasure to visit local villages which had recently been liberated. Here they were able to meet the locals and purchase souvenirs of their time in France.
.
Wed, 14 Feb 45 – Mission 289: Xanten troop concentration & road junction, morning
Wed, 14 Feb 45 – Mission 290: Engers railroad bridge, afternoon
.
"The Xanten and Engers missions were both flown on February 14th. Led by Captain R. N. Gunn the formation, supporting British troops, laid bombs in excellent pattern inside the target area of the communications center at Xanten. In the afternoon the floor of the heavily defended railroad bridge at Engers was pierced by 1,000 pound bombs, but was not destroyed. On these missions Lieutenants J. P. McClung, G. W. Patterson, Jr. and E. I. Walker showed outstanding flying skill in bringing back their badly damaged planes."
– History of the 387th Bombardment Group (M) AAF, p. xxx.
.
The Kron Prinz Wilheim railroad bridge, that spanned the Rhine River at Engers, Germany, was one of, if not the most notable flak concentrated target that the 387th BG undertook, while conducting combat operations during WWII. The Group's bombing accuracy on the mission was superb, scoring direct hits on the span, but unfortunately, faulty fuse settings prevented this critical target from being destroyed.
.
2nd Lt. Edward Walker managed to fly the battered "Sweatin' Five" back to A-71. He landed the plane, but due to damage to the hydraulic system, the aircraft's nose gear failed to extend properly. Consequently, "Sweatin' Five" ran off the end of the runway and nosed over. Lt. Walker, and his crew, were not injured.
.
– Peter Crouchman, Alan Crouchman, Robert C. Allen, William J. Thompson, Jr., 556th Bomb. Squadron, B-26 Marauder Reference and Operations Guide, p. 30.
Listing of the planes lost in chronological order
.
1.) 41-31710, 387th BG / 557th BS, MACR# 12341 "General Sherman" 4:15pm
2nd Lt. Peter Gregorchuk (P) – POW
2nd Lt. Carl W Heline (CP) – killed
T/Sgt. Philip Philander Griffee (B/N) – POW
Sgt. Dominic Di Blasio (R/G) – POW
Sgt. William Braxton Harbour (E/G) – POW
Sgt. Howard L Nelson (TG) – POW
Apparently the first plane shot down on the mission, the "General Sherman" was probably flying as the Number #5 plane in the #3 flight of the first box. The plane was on its 52nd mission. Most of the crew were replacements that had arrived via the Northern route in early December, 1944. The brutal winter limited missions and kept existing crews from rotating out until late January and February, 1945. For some in this crew it was only their second or third mission.
.
While on the bomb run, very close to the target, a direct hit of flak knocked out the left engine and set it on fire. The unsung hero of the downing of the General Sherman is undoubtedly the Pilot that day, Lt. Peter Gregorchuk. Through quick reaction and teamwork, the two pilots kept control of the plane long enough for them to drop their bombs over the target. Then the order came to bail out, as they broke formation and veered down to the right. First the Tail Gunner Nelson, then the Radio man Di Blasio, then the Engineer Harbour all bailed out the right waist window. Then the plane began to spin and Lt. Gregorchuk put it into a dive to try to extinguish the flames, which he did, and he regained control.
.
During that spin and dive Lt. Heline, the Co-pilot, was having difficulty freeing himself, and the Togglier Griffee was able to help free him. Then Lt. Heline, immediately followed by Sgt. Griffee, bailed out through the bomb bay doors after the plane was brought under control. The plane again began to spin, but Lt. Gregorchuk was able to regain control once more, and was able to make a safe emergency landing in a field very close to the North bank of the Rhine, about 2 km southeast of Neuwied, Germany. He reported having a hard landing and a pretty good bump on the head, but he was OK. The plane reignited and burned, but not beyond recognition.
.
Through the skillful flying of Lt. Gregorchuk, all 5 crewmembers were able to safely exit the plane and parachute to the ground without serious injury, at a time when three planes were shot down within 3 minutes; there was absolute chaos and destruction all around them; bombs falling and exploding, extreme flak, machine gun and small arms fire from the ground, pieces of planes falling, burning, and crashing.
.
I believe all of the crew were captured almost immediately. Some were placed in a stone building on the East bank of the Rhine near Koblenz. Five hours later Sgt. Harbour was brought in, with one broken ankle. 12 days later, they saw Lt. Gregorchuk and Sgt. Griffee safe, all of them in the Prisoner of War camp at Moosburg. With the exception of Lt. Heline, all 5 crewmembers safely returned to the States after the war.
.
Some of the reports in the MACR for the General Sherman are incorrect, specifically the German reports about the plane. Two pages about the General Sherman were found misfiled in another MACR for this mission, with incorrect crewmen listed. From information obtained through personal letters, interviews and inquiries through the Missing Aircrew Research and Investigation Offices after the war, this is what we know about Lt. Heline.
.
We know he parachuted safely and was captured on the ground, within a mile of where the General Sherman was landed, by a German civilian. This civilian issued sworn statements that the flier he captured was positively identified as Lt. Heline. Shortly thereafter an SS trooper took custody of Lt. Heline from the civilian and marched him toward Neuwied, as more bombs continued to fall, which caused the civilians to take shelter. At that same time, as reported by an eyewitness, several civilians who had gathered took shelter in an existing bomb crater. Almost immediately another bomb fell in or very near that crater, killing perhaps a dozen or so civilians. Unverified as yet, but reported in late 1945.
.
Declassified war crimes files in the British Archives in London show that Lt. Heline, immediately after being taken into custody by the SS trooper, was taken by car by 2 SS men about 8 miles NNE to a place between Rengsdorf and Strassenhaus (where the SS/SD had recently set up offices and residence). By this time it was near sundown and getting dark. The car was stopped and Lt. Heline was marched into the woods and executed by one of the SS/SD soldiers with a single gunshot to the back of the head. He was later found and buried in the church cemetery in Rengsdorf. 15 months later he was moved to his final resting place at the American Military Cemetery at Margraten, Holland.
Crash of the General Sherman as told by Sgt. Nelson
On 14 February 1945, the 387th Bomb Group received operational orders to attack the railroad bridge at Engers, Germany.  This was to be mission 289.  From the 557th Bomb Squadron, 2nd Lt. Peter Gregorchuck was the pilot the B-26B-21 Marauder 41-1710 nicknamed the "General Sherman."  The aircraft had identification markings of KS-A.  About 16:00 hours they were over the target and encountered heavy flak.  The pilot called for the crew to bail out.  In an eyewitness statement from Missing Air Crew Report 12341, Sgt. Howard L. Nelson stated that all three gunners bailed out the right waist window.  The toggler left the ship by the bomb bay doors.  The pilot and co-pilot remained with the aircraft and crash landed near Sayen, 9 kilometers north of Koblenz, Germany.  All were captured by the Germans.  Nelson says that he meet Sgt. William B. Harbour, the engineer/gunner and the others about five hours after the crash in a stone building on the east bank of the Rhine at Koblenz, Germany.  One of Harbour's ankles had been broken when he landed on the ground.
2.) 44-67915, 387th BG / 558th BS, MACR# 12342 -plane not named? 4:16pm
1st Lt. Robert J Tobin (P) – POW
2nd Lt. Clayton J Smith (CP) – POW
S/Sgt. Vance R Van Deusen (B/N) – POW
S/Sgt. Harold A Mueller (E/G) – POW
S/Sgt. Robert C Becker (R/G) – POW
S/Sgt. Leo R Mossman (TG) – POW
.
The second plane shot down on that cold Wednesday, February 14, 1945, 44-67915, probably was not named. It is not clear where the crew bailed out, or if they were able to stay with the plane as it tried to make it back to base. The MACR states the plane crashed near Echternach, Luxembourg, which is on a course which would take it back home, but is approx 500 km from the target.
From another on that mission:
Air Combat Diary of S/Sgt. David Castrellon
9th Bombardment Division, 558th Bombardment Squadron, 387th Bombardment Group
United States Army Air Force
#29 Clusters-St. Quentin, Fr. Base A-71
Date – February 14, 1945
Time – 4 Hours
Mission – Crown Prince Wilhelm Bridge at Engers north of Coblenz
Crew – Lt. Fallon, Lt. Moser, Sgt. Reardon, T/Sgt. Bothwell, S/Sgt. Dick, S/Sgt. Castrellon
Remarks – Definitely too Rough for us!! Saw two planes go down in flames over Rhine – 2 chutes opened. Flak heavy & accurate. We got 4 hits. One missed fuel tank by 1 inch. Hit bridge. I really sweated.
Load – 4 – 1,000 Lbs. Demos.
3.) 42-96164, 387th BG / 558th BS, MACR# 12343 -plane not named? 4:17pm
2nd Lt. Eugene P Pucket II (P) – killed
1st Lt. Wayne R Smith (CP) – killed
S/Sgt. Andrew O Wallace (B/N) – killed
S/Sgt. Edward V Wesolowski (E/G) – killed
S/Sgt. William Lynn Peyton (R/G) – POW
S/Sgt. William H Uhlemeyer (TG) – POW
.
Here are two video clips of Sgt. Uhlemeyer recounting his experiences of that mission:
http://www.youtube.com/watch?v=_VaERmEHZq4 part 1
http://www.youtube.com/watch?v=Zw7_vx7ndDc part 2
.
It is interesting to note that his treatment was decent when captured that day, probably because he was an enlisted man, not an officer.
Joseph O. Stevens
559th Bomb Squadron, 387th Bomb Group
A Valentine's Day Mission
It was February 14, 1945 and at briefing I saw the reconnaissance photos of our target – a railroad bridge at Engers, Germany. I was to fly the No. 2 position in my flight and the ship I was to fly was a new one in our squadron named "The Texas Queen." (TQ-G; Serial Number: 44-67916).
I met the co-pilot at the ship. He was from a replacement crew that had just come into the squadron; his name was Lt. McDonough. I'll never forget when he introduced himself to me, because he said, "Boy, at this rate I'll be going home in a couple of weeks!" When I asked what he was talking about, he said he had just gone on his first mission and this was to be his second. I never knew whether he had been on a morning mission this day or was referring to having been on one yesterday.
.
Little did I know what a prophet he was.
.
On the way to the target we got a moderate amount of flak at the bomb line, nothing really heavy. As I was flying in the No. 2 position I was resting my head against the middle window while watching the wing of the lead plane on my left. We arrived at the Initial Point and turned to start the bomb run. The bomb bay doors were opened and we had started toward the target when we took the first direct hit. The explosion of the shell deafened me and blew my sunglasses off. My vision was blurred so I wiped my face and eyes, and taking my hand away, I saw all this flesh and blood.
.
I thought My God, they have shot my face off but I didn't feel any pain. Then out of the corner of my eye I saw McDonough falling between our seats. I saw that about half of his thigh had been blown off. The debris of flesh and blood from his thigh was what had blurred my vision. I managed to get Thorin, my engineer/gunner, up into the cockpit to attend to McDonough. I was doing my best to keep my position in the flight.
.
Since my vision was still blurred, I moved my head forward to the front window compartment to see the lead plane better. Just after my head moved forward, a shell came through the middle window and hit between the top hatches blowing them open, damaging the trim cables, and taking out the radio. (You cannot imagine the speed of a shell until you experience it. It passed so close to my neck that 1 thought my flesh had been burned).
.
If 1 hadn't moved my head to the front glass, I would never have known what hit me. It would have taken my head off. So, McDonough getting hit and part of his thigh being blown onto my face really caused me to move the position of my head, which saved my life and undoubtedly the entire crew.
.
With all that going on, I still managed to keep the plane in a reasonably good formation until our bombs were released on the target. We took another hit just as the bombs went away, and a piece of flak came up through my parachute and between my flight jacket's inner and outer lining. It exited below the collar of the left shoulder area.
.
There was no way I could fly formation and keep up with the lead plane taking evasive action to get away from the target area. I remember going into a dive and seeing the air speed indicator go past the red line. I started to the base as fast as I could go. Thorin and Suders (radio gunner) worked at getting the hatches closed and began administering to Lt. McDonough, using sulpha powder, morphine and bandages.
.
I got back to A-71 ahead of the Group and started a straight-in approach. There was another B-26 just ahead of me and I was closing on him fast. Since I didn't have a radio I had Thorin fire a red flare. When the plane ahead of me did not get out of the way he fired another red flare and this time the plane pulled up, which gave me clearance to go in and land.
.
As I pulled off the end of the runway and onto the taxi strip the ambulances were right there so I killed the engine and the rescue crew brought out stretchers to take McDonough out. Sgt. Suders was also hit, but not as severely, but they took him with McDonough to the field hospital. Our Squadron surgeon, Dr. Thom, did the surgery on them.
-Joseph O. Stevens-
.
Joseph O. Stevens received the Silver Star for the heroism he demonstrated on this mission.
.
Lt. Stevens and Latvala went to visit McDonough in the hospital while he was under treatment. His wounds were so gross to look at that Lt. Stevens fainted, hit his head on the floor and was unconscious for several hours. Eino also was so upset at the sight that he had to go outside and vomit.
.
Joe also commented on an incident that happened after he landed that Valentine's Day, which shows the imbecility of certain persons involved. The procedure after you cut off engines is to turn off the inverters, which in this case he forgot to do. Joe was embarrassed that he was criticized in front of his fellow pilots by our then commanding officer.
4.) 42-95900, 344th BG / 497th BS, MACR# 12385 "Lafayette, We Are Here! II" 4:30pm
1st Lt. Robert Clyde Meppen (P) – POW
2nd Lt. Glenn Richard Farthing (CP) – POW
2nd Lt. Gustave Phillip Larson, Jr (B/N) – POW
Sgt. James Chiari, Jr (E/G) – killed
T/Sgt. Samuel Louis Myers (R/G) – killed
Sgt. Elman Cheramie (TG) – killed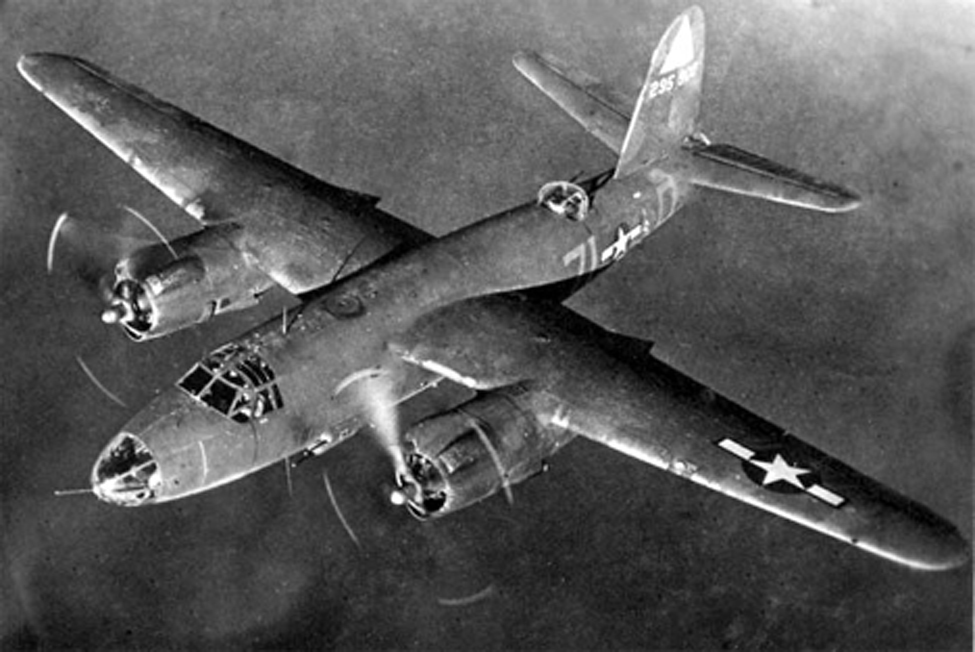 .
EYEWITNESS DESCRIPTION:
I saw an aircraft, directly behind, in what appeared to be Number 4 of Third Flight of Second Box, piloted by Lt Meppin, hit by enemy flak, in the left wing, as it left the target.   The center section burst into flame then turned up on the left wing and spun out to the left.  The aircraft disappeared from my sight after about four (4) seconds.  I did not see any chutes leave the plane nor see the aircraft hit the ground.
David B. Bogie
Sgt., 496th Bomb Sq.,
Armorer-Gunner.
Date of Report:  18 Feb 1945
.
A recent note from the son of Co-Pilot Gustave Phillip Larson says that he was shot down 3 times during the war, this being the last time as he was taken prisoner and was liberated on April 29, 1945.
5.) 43-34332, 344th BG / 496th BS, MACR# 12386 -plane not named? 4:32pm
1st Lt. Kenneth Gordon Holm (P) – Killed
2nd Lt. William Marshall Holman (CP) – POW
2nd Lt. Phillip George Mulholland (B/N) – killed
Sgt. William Arthur Spear (R/G) – POW
Sgt. Bernard Melvin Rasalais (E/G) – killed
Sgt. Frank Alton McKenny (TG) – killed
EYEWITNESS DESCRIPTION:
Aircraft Number 43-34332 piloted by Lt. Holm, was hit by a burst of flak after bombs were dropped over the target.  Flak hit the nose and co-pilots section of the aircraft.  A large hole appeared in the nose of the aircraft and shattered the plexiglass windshield in front of the co-pilot.  Aircraft pulled right out of formation, aircraft maintained altitude and both engines were running.  I watched the aircraft for approximately five (5) minutes after it left formation.  Aircraft appeared to be losing speed but was under control when it disappeared from my view.  I did not see any parachutes leave the aircraft.  I did not see the aircraft crash.
Lowell F. Wessman
S/Sgt., 496th Bomb Sq.,
Engineer-Gunner.
Date of Report:  18 Feb 1945
6.) 42-95917, Y5-J, 344th BG / 495th BS, MACR# 12344 "Shopworn Angel" 4:32pm
Capt. Thomas Gough Brennan, Jr. (P) – POW
2nd Lt. Frederick William LaFountaine, Jr. (CP) – killed
2nd Lt. Harry William Zuest (B/N) – missing/ killed
Sgt. Koy Fred Pace (R/G) – POW
Sgt. Edward Joseph Monahan (E/G) – killed
Sgt. Willard Alexander Delavan – POW
Donald Moomaw, B-26 Pilot
The following is a compilation that provides Mr. Moomaw's eyewitness account of the last mission of the Shopworn Angel.
.
"I was in the 495th BS, 344th BG November 1944 to October 1945. At this time, crews were not assigned planes (there were more crews than planes), so I flew a number of planes, including Shopworn Angel. On this mission I was flying as co-pilot of a different plane.
The Shop Worn Angel was in slot three of the lead flight when she went down,. It is as clear in my mind as if it were two hours ago.
.
This is to best of my memory; the target, Engers RR Bridge, a very well protected target, and lots, lots, lots of heavy flak. This mission we did not go on the bomb run in the regular formation, we went trail formation (see diagram below), all the flight lined up, one back of the other, the flights back of the lead were 500 ft below the flight ahead. I was #2, right wingman of the lead plane, Piloted by Major Clay. Shopworn Angel #3, left wingman. A glancing vision, I saw the right engine on fire, the co-pilot half out of seat, facing the pilot, and I am sure he was saying we are on fire, and generally the fire spreads, Shopworn Angel pulled out of formation to left, no idea of what happened after that."
"I have never heard a thing about the [fate of the] crew, and do not know of anyone who would have any information. If they did not show up as a POW, they died in some manner. The [possibility of] help of escaping with aid from the underground, is just not feasible, we were very deep into Germany, and there was not going to be any help from the civilians, they (survivors) would be fortunate if you were not killed by them. I am not aware of any crews making a report of the incident at the end of the flight. We were under extremely heavy flak, and incidents could go unnoticed. My fleeting glance was second or two, getting hit, and leaving the formation was a matter of seconds, so it could go unnoticed by other crews. I have thought about this incident many times over the years, and any information would be very welcome.
.
.Attached is a sheet showing the formation of the flights as we were on the bomb run, after leaving the target we joined back up in regular formation. Any information you might have I would appreciate. I only knew the pilot and co-pilot, I believe the pilots name was Lt. Sanders. If you have additional questions, I will try to answer."
-Donald Moomaw – Pilot.

Captain Thomas Gough Brennan, Jr. and his five crew members were training as a replacement crew at Lake Charles, LA. The photo was taken on 11 October 1944. Standing l to r: Pilot – Capt. Tom Brennan; Co-pilot – Fred LaFountaine, Jr.; Bombardier – Harry Zuest. Kneeling l to r: Engineer gunner – Eddie Monahan; Radio gunner – Roy Pace; Armorer gunner – Willard Delavan.
.
Brennan and his crew were the third crew to fly the B-26B 50, serial number 42-95917, nicknamed "Shopworn Angel." They were assigned to the 495th Bomb Squadron. "Shopworn Angel" had previously suffered a crash landing as shown below.
.
The 495th Bomb Squadron, also known as the Silver Streaks because of the distinctive aircraft markings, was tasked with the bombing on Valentine's Day 14 February 1945. The mission that day was to be the railroad bridge crossing the Rhine River at Engers, Germany. Five aircraft were shot down that day and a total of 31 airmen were listed as either missing or killed in action.
.
Captain Thomas Gough Brennan, Jr. (O-793050) was the pilot for the six man crew of the B-26. At approximately 1632 hours and just minutes before reaching the target, "Shopworn Angel" and the crew suffered a direct hit from German flak. The aircraft was at 11,000 feet when anti-aircraft flak hit the plane and caused a fire to break out in the bomb bay. Several gunners were wounded and Capt. Brennan shouted "Bail Out!" to the crew. Co-pilot Frederick LaFountaine, Jr. and bombardier Harry W. Zuest bailed out. Eyewitnesses saw two parachutes drift away as the aircraft went into a spin, making a left turn off the target. Pilot Brennan was able to gain control of the aircraft and crash land in farm fields 1½ kilometers southwest of Kruft, Germany.
.
LaFontaine and Zuest were captured by civilians and hung to death. Buried in a local community cemetery, the bodies were later interred in the Margraten Cemetery in Holland. Sgt. Edward J. Monahan, the engineer, was killed in the crash. The remaining crew of three were slightly wounded and attempted to evade capture. However, Brennan was captured, put into the back of a truck with a noose around his neck. The aging truck was coal fired because of lack of gasoline and would not start. A Luftwaffe officer happened along and saved Brennan's life from the angry mob.
Sgt. Willard Alexander Delavan managed to evade capture until the afternoon of the next day. He was finally caught at about 1600 hours in the neighboring village of Ochendung, Germany. Missing Air Crew Report 12344 was filed when the aircraft failed to return to base.
From: Dorothy Zuest DiNunzio
.
My brother, Harry W. Zuest, enlisted in the Air Force in June, 1943 (6 weeks before high school graduation) instead of waiting to be drafted. I believe he trained in Jefferson Barracks, MO, Texas, and attended Knox College in IL. After flight school he was sent to Bombardier School. When he finished that training he was made a Bombardier/Navigator on a B26. After graduating in August 1944, he had a week of leave and in November 1944 was able to come home for 12 hours before shipping out. He then went to England then to France and flew his mission from there.
.
On February 14, 1945 he was on a bombing mission when their plane was hit. Capt. Brennan told Harry & the co-pilot LaFontaine to bail out to lighten the plane. Neither one had been wounded. He wanted to bring the plane down to save he wounded gunner(s). Capt. Brennan was able to land the plane but was captured. He was put on the back of a truck with a noose around his neck. They couldn't get the truck started because they were using coal for lack of gas. A Luftwaffe officer came along and saved his life. He told him some of his buddies were not so lucky. Harry and LaFontaine were captured and hung by civilians.
.
Capt. Brennan contacted my mother and told her about the mission after he returned. Harry was missing for a year then declared dead. A friend of his was in Germany during the Occupation and was able to confirm the information on his hanging, where he was buried and then moved to Margraten Cemetery in Margraten, Holland. My daughter, Debbie, and I were fortunate to go and visit Harry in August 1995, fifty years later.
My brother was only 20 years old when he died and I was left with a very big void in my life.
.-Dorothy J. Zuest DiNunzio
11/11/2005
Walter P. Santel (Watch video of retell at 35:35)
496th Bomb Squadron, 344th Bomb Group
Bail Out and Capture
.
7.) 43-34196, 344th BG / 496th BS, MACR# 12387 -plane not named? 4:38pm
1st Lt. John Paul Nelson (P) – killed
2nd Lt. Douglas Thore Bennett (CP) – killed
2nd Lt. Walter Phillipp Santel (B/N) – POW
Sgt. Warren Oscar Severson (E/G) – POW
S/Sgt. Donald Eugene Brecht (R/G) – killed
Sgt. Arthur John Sullivan (TG) – POW
.
(Lt. Santel's account of this mission is found in the book "Bombardiers of WWII, Volume 2")
February 14, 1945
.
Did I ever get a Valentine present- shot down, wounded and a prisoner of war!
.
We were to bomb a railroad bridge in Engers near Koblenz, Germany. We were briefed that we would use a maximum effort of 54 planes; usually there were only 36. Flak will be extremely heavy and we were told to take no evasive action. I left my original crew that day to fly with another crew as lead bombardier.
.
Shortly after takeoff I heard my original crew call the base that they were experiencing engine trouble. I wondered if their number was up, and I was the lucky one. I later learned that they returned safely to base.
.
Our briefing was correct; the flak looked like a black storm cloud without any openings. We managed to drop our bombs and did considerable damage. As we turned from the target we received a direct hit in the right engine. We were in trouble: the B-26 Marauder glides like a rock. Losing altitude. Then a direct hit in the tail gunner position and another one ruptured the oil line in the left engine. Bail out time!
.
I crawled from the nose of the plane and when I picked up a chest chute pack it was soaked with hydraulic fluid. I thought it would never open. When I got to the rear of the plane the three gunners, who were to bail out first, were arguing who would jump first. I told them if they weren't gone in 10 seconds, I would be!
.
Due to the delay I later learned that we were so close to the ground that the pilots chute did not open and he did not survive. When I bailed out I was wearing my fifty mission crush cap. Of course, it blew off. With all the trouble I faced I worried about my cap!
.
Much to my relief my chute opened. I next saw tracer bullets whizzing by—that was a no no. You don't shoot at a man hanging in a chute.
.
When I touched ground I detached my chute and headed for the nearest woods as instructed in training. I was pursued by many of the enemy and received a gunshot wound in my right knee. That was the end of my running. I had my 45 pistol and debated about returning fire but thought better of it. I decided to wave the white flag of surrender. No luck. All I had was a khaki issue handkerchief; I waved it anyway and they finally stop shooting.
.I was taken to a German field hospital where my wound was treated and a cast applied. We were to be moved further into Germany on a hospital train. I had a vision of a nice bed and sheets. Guess what? I got a box car with straw on the floor. The crowning touch was getting lice in the cast on my leg. No way to reach them and they had the ball aggravating me.
.Our troops were on a roll, especially General Patton's Second Armored Division, and as a result we were moved several more times further into Germany. Our diet during captivity consisted of a bowl of potato soup twice a day supplemented by a piece of dark rye bread with lard at supper.
.One of the towns where I stayed was the town where we were to drop our bombs as we returned to our base if the primary target was weathered in. Needless to say I prayed for clear weather every time I heard our planes headed for the target.
.In the same town I was being moved from one building to another on a stretcher. A little old German lady slipped an apple under my blanket. A real treat. I guess mothers are the same all over.
.We were finally liberated by General Patton's troops and returned to allied control.
.An interesting thing happened in 1995. I received a letter from Hans Hauprich who lives in Trier, Germany. He plans to write a book about all planes shot down near his hometown. He asked if I was the bombardier on a B-26 shot down February 14, 1945. Fifty years ago. I could hardly believe it. In further correspondence I learned that he requested and received from the war department a questionnaire I completed after I was liberated. He also had reports from German anti-aircraft batteries that described the flak that hit our plane and the estimated crash site. A good piece of detective work. I plan to visit Trier this year and plan to meet with Hans.
8.) 42-95914, 344th BG / 497th BS, MACR# 12352 "Shirley Ann" 4:40pm
1st Lt. William Riley Jones (P) – killed
1st Lt. Richard Caroll Light (CP) – killed
1st Lt. Melvin Ray O'Brien (N) – killed
1st L. John Edward Knight (B) – killed
S/Sgt. Norman D Polk (R/G) – POW
T/Sgt. Uel M Myers (E/G) – killed
S/Sgt. Peter N Dudley (TG) – missing/ killed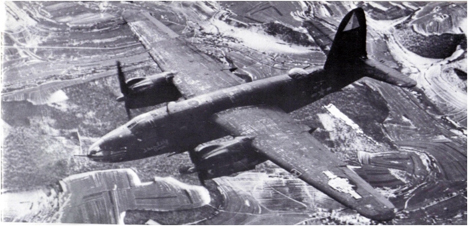 .
.
The only survivor of the "Shirley Ann", S/Sgt. Norman D Polk, tells his story of this mission.  As found in the Official Newsletter of the 344th Bomb Group Association, "MILK RUN", Volume XX, No. I June 2010
Norman Polk's 344th BG / 497th BS War Diary – February 14, 1945
February 14, 1945, a Ninth Air Force Bomber Command directive ordered the 344th BG of the 99lh Bombardment Wing to participate in a bombing raid over Engers, Germany. The target was a bridge spanning the Rhine River over which the Germans were supplying their front line troops.
On that date, the ground forces were fighting on a line some 30 miles west of the Rhine River. The briefing was held at 12 noon where we learned that Lt. Jones and his crew were to fly the lead position of the low flight in the third box.  The bomb load consisted of four 1000 lb. General Purpose bombs with instantaneous fuses in both nose and tail.
We were expecting the worst as we left that briefing room. We all looked around as if it were to be our last time.  There was an unusual quietness as we neared our plane. Each man went about his duties in much the same way, but the usual joking was absent as we waited for takeoff time.  The reason for this tenseness I can't explain.  It wasn't that we hadn't been on rough missions before, and we had bombed targets in the Ruhr before, and we'd crossed the Rhine at some of its hottest spots.
The flak suits were checked.  Dudley, the tail-gunner, had checked all the machine guns.  Meyers, the engineer and top-turret gunner, had checked our gas supply and had taken care of his other duties.  Knight, the navigator, was in the radio room plotting the course.  O'Brian, the bombardier, and Light, the co-pilot, were in their respective positions.  After I'd finished checking the radio equipment and coding instructions, I started for my position at the waist gunner's station.  Jones, the pilot, tapped me on the shoulder: "It won't be bad Polk", he said. I couldn't find an answer, so I just nodded.
In five or ten minutes our engines were checked and we were set to go.  Dudley and I always made a habit of shaking hands just before we started down the runway.  I could tell from his eyes that he knew that something was to happen.
At 2:45 pm we had crossed the bomb line and started for the Initial Point.  We hadn't experienced a burst of flak until we made a left turn at the I.P. some five minutes south of the target.  We were flying straight up the middle of the Rhine as all hell broke loose.  In all my previous 47 missions, I'd never seen flak so intense and so accurate. Our left wing plane received a direct hit and went down in flames, then the number 5 plane followed by the right wing plane.  Half of our flight was gone and we had at least two minutes left before our bomb release.  By this time our waist and tail were perforated with holes ranging in size from a penny to 3 inches in diameter.  The interphone silence was broken by O'Brian's voice informing Jones we had just seconds to go before bomb release.  At that instant, I felt a stunning blow on the back of my head.  Unconsciously, I raised my hand to my helmet to discover a dent of at least four inches wide.  Directly above my head just aft of the turret was a hole in the skin of the plane just about that same size.  Bringing me back to the present, O'Brian's voice exclaimed: "Bombs away!"  Immediately, Jones racked the ship on its left side beginning our evasive action – but not soon enough.  A muffled explosion and a sudden jar and I saw our left wing go by the waist window in flames.  It was missing up to the engine nacelle.
I knew there was no time to take my flak suit off or even pull the guns free of the window.  Fortunately, I always fastened the one side of my parachute pack to my harness when I got scared, and I don't mind telling anyone I was plenty scared.  There was only one thing to do – take that one chance in a thousand that I could squeeze through as I wore my flak suit, helmet, and my pack still only half fastened.  Luckily, I could force my head and shoulders out before the plane started spinning.  I was pinned there while the flames from the engine licked my face.  The plane fell some 5000 feet.  Only by an act of God was I flung free some 9000 feet above the ground.
The horizontal stabilizer clipped me on the calf of my leg just as I fell off to the side. Seconds later, the plane I was just in blew into a thousand pieces.  I felt positive that I was the only one alive out of an original seven crew members.
Evidently my shrouds were torn loose as I cleared the plane, because my pack was floating above me about six feet.  I managed to pull the pack down to me and pulled the rip cord.  It opened immediately with a tremendous jerk.  As I viewed the formation many miles up ahead, I could see that not one plane remained of our original flight of four, and our squadron of 48 was decimated.
Editor's note: Norman Polk passed away 15 Sept, 2009. He was the only survivor of his plane's crew. 4 other planes were shot down on that mission:  Capt. Brennan's plane (495th), Lt. Holm's plane (496th), Lt. Nelson's plane (496th), and Lt. Meppen's plane (497th).
From the declassified Missing Aircrew Report:
EYEWITNESS DESCRIPTION:
Immediately after dropping bombs over target aircraft 42-95914, Piloted by Lt. William R. Jones, was hit in the right wing by a burst of flak.   Aircraft immediately burst into flame and pulled left out of formation, for approximately 1000 yards when the right wing blew completely off the aircraft.  The aircraft spun in and crashed into a brick building or wall and exploded.  I watched the aircraft from the time it was hit by flak until it exploded upon crashing.  I did not see any chutes leave the aircraft.
Tamer R. Ryan
497th Bomb Sq., T/Sgt.,
Radio-Gunner
Date of Report:  18 Feb 1945
Incidentally, this plane also apparently flew in the 344th D-Day Mission to Utah Beach as the lead plane in Flight 3 of Box III with Jones as the Pilot.
(The wreckage of this plane was discovered during a construction project in May 2010, just across the Rhine from Neuwied, Germany, about 4 miles from the target bridge, where a dog tag belonging to Sgt. Dudley was also found. At the time of the crash there was at that location a brewery.)
S/Sgt. Peter Newton Dudley was Armourer-Gunner and Tail Gunner on this mission.
"Remains of US-Airman in Germany found May 2010:"
http://www.rhein-zeitung.de/regionales/koblenz_artikel,-Bauarbeiter-finden-abgeschossenen-US-Soldaten-_arid,92110.html
There is also TV news footage about it, in German, which looks like "B Roll" footage: http://www.youtube.com/watch?v=lOnVPdwe0f4)
(Rhein Zeitung news story translation): Construction workers find U.S. bombers and missing soldiers
Weißenthurm – When laying cables in Weißenthurm (district Mayen-Koblenz) are working on the wreckage of an American bomber, and the bones and the brand recognition of a previously missing U.S. soldiers encountered. While the owner and architect of the Fund were completely surprised, a historian could quickly classify the case: 65 years after his death, Sgt Peter Newton Dudley can now find his final resting place. From Ramstein is yet to come this Thursday, a delegation of the U.S. armed forces to white-tower, to transfer the remains.
.
After the first metal finds the AWO Senior Center "Old Brewery to Nice" campaign had consulted the disposal team. Five explosive experts working there now, some with brushes like archaeologists to unearth the bones and remains of ammunition. It has been found live ammunition. An evacuation of the area but is apparently not necessary.
.
The disposal team from the battle engaged the Koblenz historian Helmut Schnatz was ready to find the appropriate data. The case goes back to the last weeks of World War II: It is 16.40 on 14 February 1945, when the guns get the air defense of the B-26G bombers from the sky, which was to attack the Rhine bridge at Engers. On board in addition to the 31-year-old sniper Dudley, six comrades. One can escape by parachute over Koblenz, the others fall off with the machine in Weißenthurm it bores into the earth. Five crew members are found dead. Only the wife of Peter Dudley Newton only receives distressing news that he is missing, but there is no trace. This changes only when the end of May 2010 Cable to be laid and the workers make the discovery… (Law / agh)
.
(Note: This is an example of a plane that was so disabled by flak over target that it must have been spinning in a steep dive, causing it to bore into the ground on impact. Only one crewman, R/G Sgt. Norman D Polk was able to bail out and was captured.
.
Apparently there is some disagreement on whether TG Sgt. Peter N Dudley had been listed as MIA or KIA at the time of the MACR. The confusion was probably because his dog tags were not found at the crash site at that time. He was apparently buried with his crew members stateside postwar in a single grave. They gathered what remains they could at that time. According to these stories, there were some further remains found in 2010, and Dudley's dog tag.)
.
Finally, here are the other B-26 aircraft officially lost on February 14, 1945 over Germany, probably the Xanten rail target:
42-107613
41-31859
43-34286
42-96226
41-31811