Lt. Clyde Donald Chaney
Lt. Clyde Donald Chaney
Clyde Donald Chaney
Over and Out
by Don Chaney –
My dad, Clyde Donald Chaney died at the age of 92 on October 1, 2014 at his home in Chester, West Virginia. He served as a pilot in the 494th Squadron of the 344th BG. His first mission was D-Day +1 and he went on to fly 65 missions. He was 23 years old when he came home to marry his childhood sweetheart, Mary. Together they raised 7 children who gave him 24 grandchildren, who in turn gave him 36 great grandchildren…so far. He and Mom celebrated their 69th wedding anniversary in heaven on October 27.
Dad loved his flying buddies and always looked forward to seeing them at reunions. He enjoyed their poker games and their camaraderie during that long, cold and dangerous winter of 1944-45. He maintained lifelong friendships with many of the guys, most of whom are gone now. In 1995 after a visit to old Station A-59, he started the ball rolling to have a monument placed at what is now the Cormeilles-en-Vexin Aerodrome, near Pointoise, France.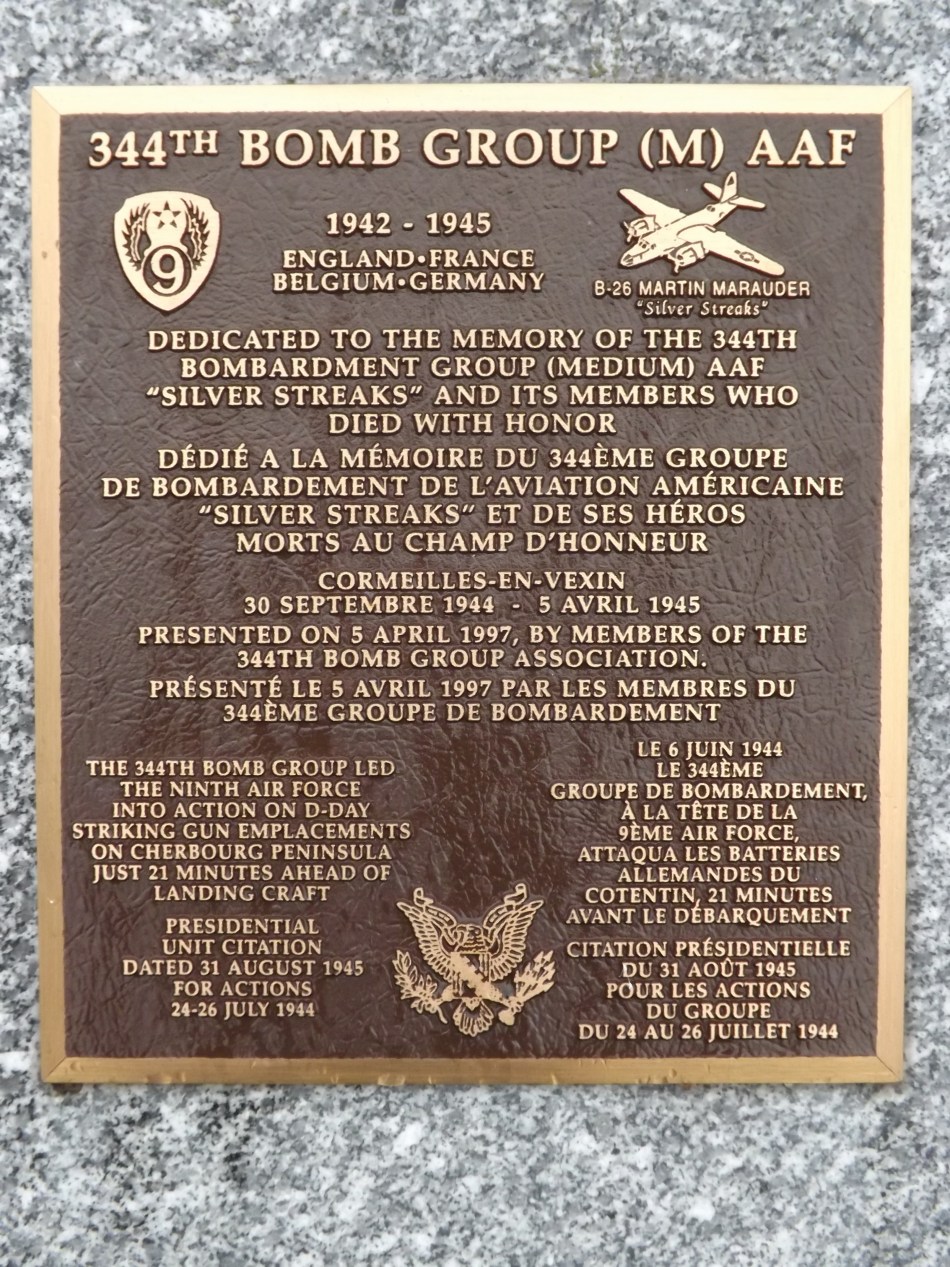 A wonderful ceremony was held at the airfield in April 1997 to honor all of the brave young men who risked and lost their lives in the cause of freedom. Many members of his bomb group and their families attended the moving event along with mayors of surrounding villages and their citizens who promised never to forget the men who spent time in their neighborhoods so long ago. Dignitaries from the French military as well as free French aviators and their families were also present.
Dad's time at Station A-59 was not without mishap. On February 6, 1945, his bomb group had finished a mission attacking the Rheinbach ammo dump. Dad was co-pilot. Returning home, their plane was diverted to Station A-73 Roye/Amy Airfield due to bad weather conditions. They were eventually ordered to return to home base. The weather was so bad at A-59 that the plane was again diverted to another airfield, Station A-60 Beaumont-sur Oise. According to the accident report, one of the pilots reported that visibility at the field was zero straight ahead. The field could only be seen by looking out the side window while banking to the left. Radio reception at that time was reportedly very poor and unbeknownst to either crew, both B26s were circling the field in the same pattern attempting to land. Both planes suddenly loomed out of the clouds. Both pilots attempted to avoid a collision but the wing of one plane hit the tail of the other plane, severely crippling both aircraft. Dad's pilot managed to get their plane up to about 1500 feet and all crew bailed out safely. Dad said that right after the mid air collision, the crew came toward the cockpit. Dad said that he put the wheels down, opened the hatch and they bailed out through the nose wheel-well. The other pilot got up to around 3500 feet and the entire crew parachuted to safety. The incident was chalked up to bad weather conditions. Both planes were totally destroyed. About ten years ago, at a reunion of the bomb group, Dad and I met the 18 year old waist gunner from the other plane. He was from Ohio and went home to have a large family like Dad's. On page 345 of Lambert D. Austin's book, there is a picture of Sergeant Patterson, one of the other crew members from the other plane. He's standing there with his open parachute, on February 7, 1945 the day after the collision.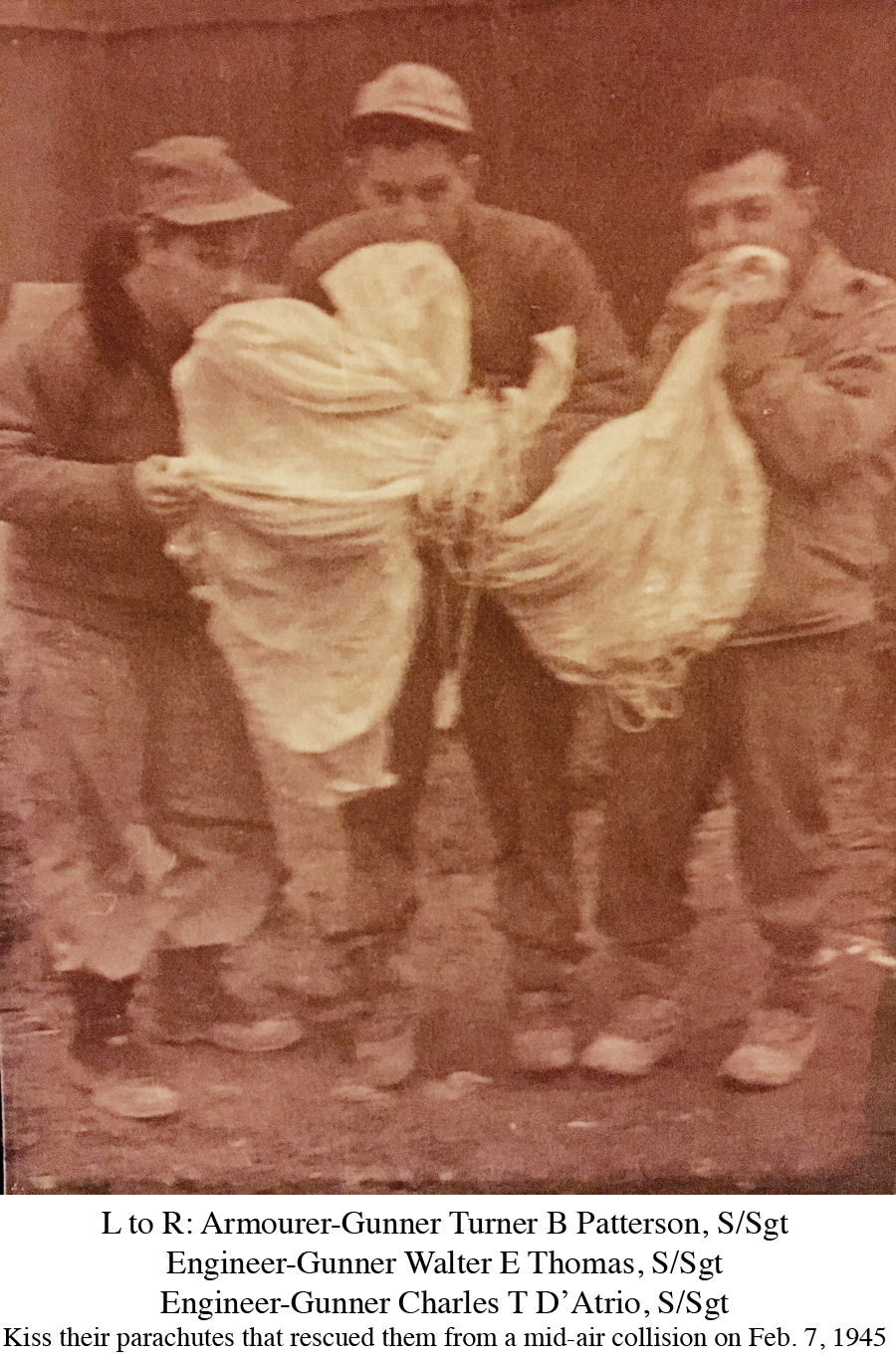 According to the report, the crew lists for the two planes were:
494th of 344th
Pilot Edward M Cain, 1st Lt. (Dad called him "Sugar" Cain)
Co pilot Clyde Donald "Don" Chaney, 1st Lt. (My Dad)
Bombardier Allen W Arneson, 1st LT
Engineer-Gunner Carroll Sowers, S/Sgt
Radio-Gunner Calvin A Van Zile, T/Sgt
Armourer-Gunner Clarence Robertson, S/Sgt
494th of 344th
Pilot. Conrad C Oberg, 1st Lt.
Co-pilot Robert D Conrad, 2nd Lt
Engineer-Gunner Charles T D'Atrio, S/Sgt
Engineer-Gunner Walter E Thomas, S/Sgt
Radio-Gunner William R Skinner, Jr., S/Sgt
Armourer-Gunner Turner B Patterson, S/Sgt
Awarded to flyers who had to parachute out to save their lives. Dad wore his proudly and gratefully.
In October 1995, we were in England and paid a visit to Station 169 STANSTED MOUNTFITCHET , now the site of a busy international airport. We were given a tour around the field in a jeep and saw remnants of some old Quonset huts and bits of old runway. The manager of the airport showed us through the facility and led us to a glass case in the main hall. The case was full of World War II memorabilia commemorating the anniversary of D-Day. Suddenly, my Dad leaned over the case and exclaimed "there's my name!" He was pointing at an old journal. A closer look revealed the journal to be the log of the airbase's commander. The journal was opened to June 6, 1944 and the commander's entry reported the welcome arrival of a replacement crew who had arrived from Ireland. Among the men listed was the name of Clyde Donald Chaney! What a serendipitous moment.
Dad would tell you that he led a wonderful life and that he considered himself to be a very blessed and lucky man. I can't disagree.
Donna Chaney Bell
Don Chaney, 2014 9/12/1922-10/1/2014 RIP
Clyde Donald Chaney, March 1945
Pilots Don Chaney and Don Korkowski, Le Bourget Airfield, Paris April 1997
B-26 being restored by free French airmen
Memorial Ceremony at Cormeilles-en-Vexin, April 1997
Presented in ceremony at Station A-59, April 1997
.
.
.