Frank P. Carrozza: Bio
(As per hand written notes of Frank P. Carrozza)
T/SGT. Frank P. Carrozza
Brooklyn, N.Y.
Inducted February 6, 1943
Basic Training at Miami Beach. After basic training I was made P.F.C..I was assigned to the Air Corps and graduated from Sioux Falls, South Dakota as  Radio – Operator and Mechanic September 1943. I attended Gunnery School at Laredo, Texas and was promoted to Sgt and received Aerial Gunners wings in november 1943. I was sent to Shreveport, Louisiana for phase training on B-26 and sent overseas March 1944.
I flew three missions before D-Day from my base in England located 30 miles from London. I pulled two missions on D-Day one on the beaches at Cherbourg and Marshaling yeards at Amiens. My worst mission was at Tours, France.
In October 1944 I was moved to France (35 miles from Paris). Bombed Germany and Belgium and flew a total of 65 missions. The last mission was on January 22, 1945 and was sent home on rotation. In 65 missions I miraculously had no single-engine or crash landings or shot any enemy fighters. Went by plane from Paris to La Guardia Field, Long Island (arrived February 9, 1945. I received the Air Medal and 12 Oak Leaf Clusters, also European theater of Operations ribbon with four battle stars. Also promoted to Technical Sgt.
I was stationed in Georgia when I received orders for discharge on points of which I had 123. I spent eleven months overseas, one year 6 months in the states. Total two years five months. Discharged from Fort Dix, N.J. 0n July 20.
First civilian job at the laboratory at Radio Development and Research Company.
495th Bomb Squadron – 344th Bomb Group
February 4, 1945
Missions flown from Stansted, England : June 4 – Sept. 6, 1944
Missions flown from Courmeilles, France : October 7 – Jan. 22, 1945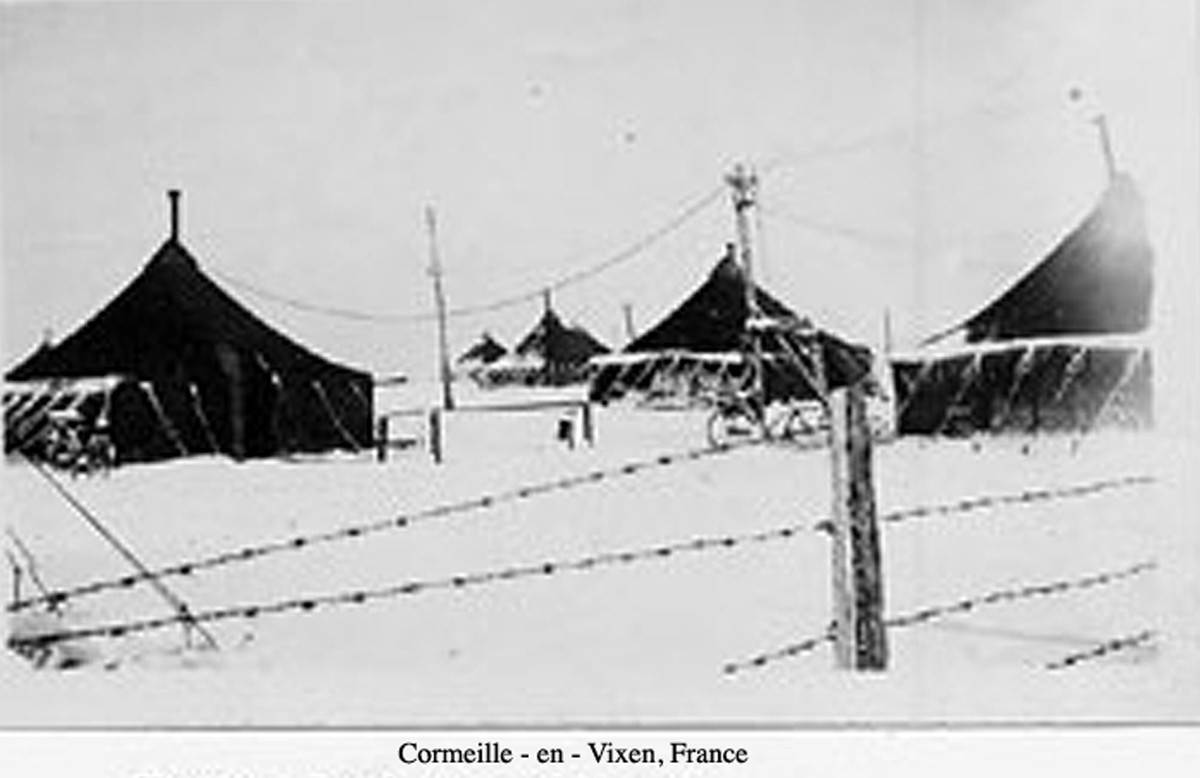 Education: Abraham Lincoln HS, Brooklyn, NY
Graduate of Hefley's Business School, Brooklyn, NY
Army Service: 1943 to 1945
Rank: Tech. Sgt.- 9th Air Force stationed in England and France
Duties: Radio Operator/Mechanic and Waist Gunner on B-26 Marauder medium bomber 65 missions
Schools: Radio Operator Mechanic – Chicago, Illlinois (discrepancy with above)
Gunnery – Laredo, Texas
Honorable Discharge
Medals:
European Theater of Operations
Air Medal
Victory Medal
Good Conduct Medal
N.Y. State Conspicuous Service
Jubilee of Liberty Medal (France)
At a school assembly in 2000 Frank Carrozza said the following;
"I was born in Manhattan, then the family moved to Brooklyn. I met my wife on Coney Island Beach and we've been married for 59 years (at that time). I have two brothers and three brother-in-laws. My brother and I were drafted on the same day. I could choose the Army or the Navy and I choose the Army. I entered the Army Air Corps. Due to my business training, I was offered a desk job. I declined because I wanted to do something different. My basic training was in Miami, Florida. I was tested in a compression chamber to see what altitude I could tolerate. At a certain point I had gas pains so it was decided that I should fly in a medium bomber rather than a heavy bomber like the B-17. To become a radio operator I was cent to schools in Chicago and Sioux Falls, south Dakota. I went to Gunnery School in Laredo, Texas. Next we formed a crew of six men to crew a B-26 Marauder. This included the Pilot, Co-Pilot, Bombardier, Navigator-Engineer, Top Turret Gunner, Radio  Operator – Left and Right Waist Gunner, and the Tail Gunner. We flew our planes to England via Souther Route: Souyth america, to the Ascension Islands whic was just a rock in the Atlantic that was beyond the point of no return (in regard to fuel), to French Morocco, Africa and finally to Stansted, England.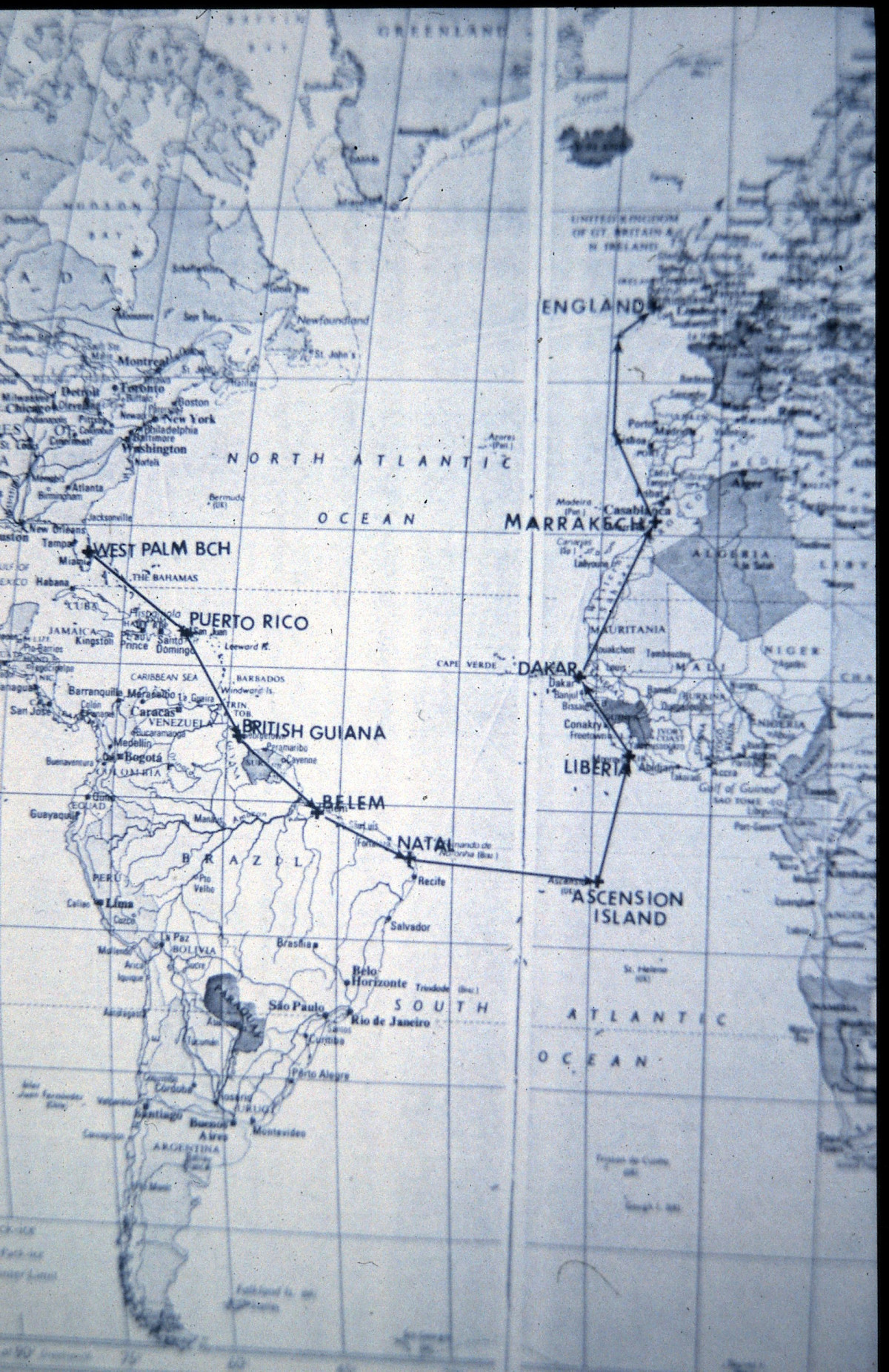 I saw the B-29 Superfortresses. One of them dropped the atomic bomb. I remember the V1 and V2 pilotless planes. They were called buzz bombs. When they stop making a noise they fall and explode.
My third and fourth bombing missions were on D-Day. Thousands and thousands of planes were painted with Zebra Stripes so we could easily identify planes as our own. I looked down and saw thousands of invasion vessels and warships on the English Channel. Our target was to bomb the beaches and create fox holes for the troops.
Later we bombed marshalling yeards, bridges, German troops and headquarters, and the chutes used to catapult V-1 bombs.
One day I was asked to use a camera to take pictures of our target. I just missed getting hit as I leaned back and forth to aim the camera.
One day 2 German ME109s attacked us but were chased away by P38 fighters. The Germans were afraid of the P38. Ohter fighter escorts were the P47, P51, and the Spitfire.
One day two of our 1000 lb bombs broke loose from their shackles and laid on the bomb bay doors. They were disarmed (replaced pins) and we were able to land safely with no other planes around. They made us land last. (WE were short of fuel by then)!
One Response to "Frank P. Carrozza: Bio"