LT. Carlson BOMBARDIER – NAV.
After posting the mission log book I interviewed my dad. I had a lot of questions about the occurences and the people involved. Dad didn't enter certain kinds of information in his mission log when he wrote it. He just kept to the facts. On the log I have created hyperlinks to the information below.
Lt. Carlson was a Bombardier/Navigator on dad's crew starting June 3, 1944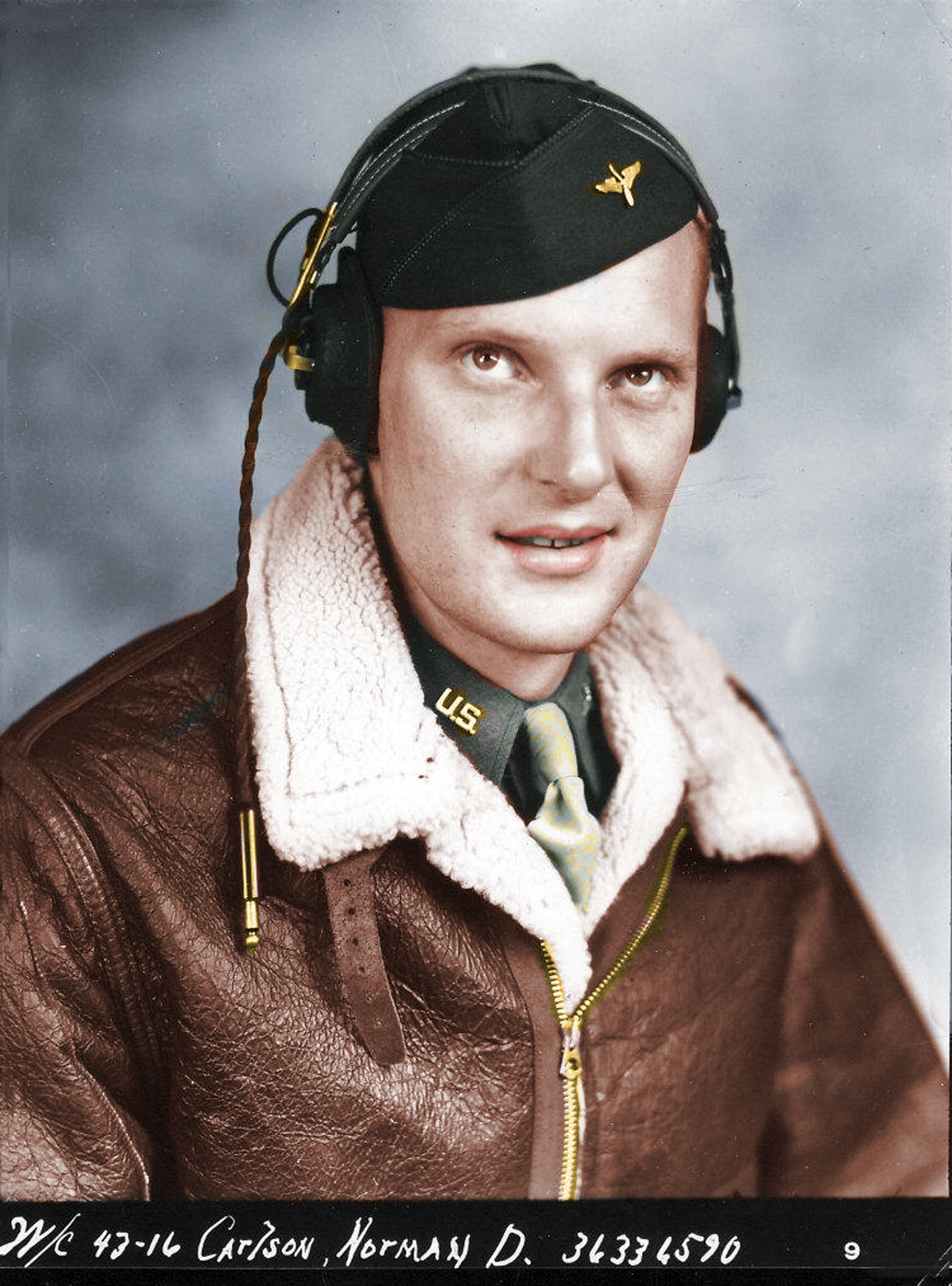 "Lt. Carlson flew with another crew one day when the rest of us had "the day off". It seems he wanted to catch up with the rest of the crew in regard to the number of missions. We wanted to all be "retired" with 65 missions at the same time."
Dad's account of his death proved to be incorrect but here it is.
"Carlson was a bombardier and served as such with the crew of his "extra" mission. According to the story they told me, he had been having trouble with his helmet. It was loose and kept falling in front of his eyes when he tried to look down into the bomb site. Finally, he took the damned thing off. Soon after a piece of flak hit him in the head and killed him." "It seems like I heard of similar things happening to guys who took an extra mission. It was a jinx I guess."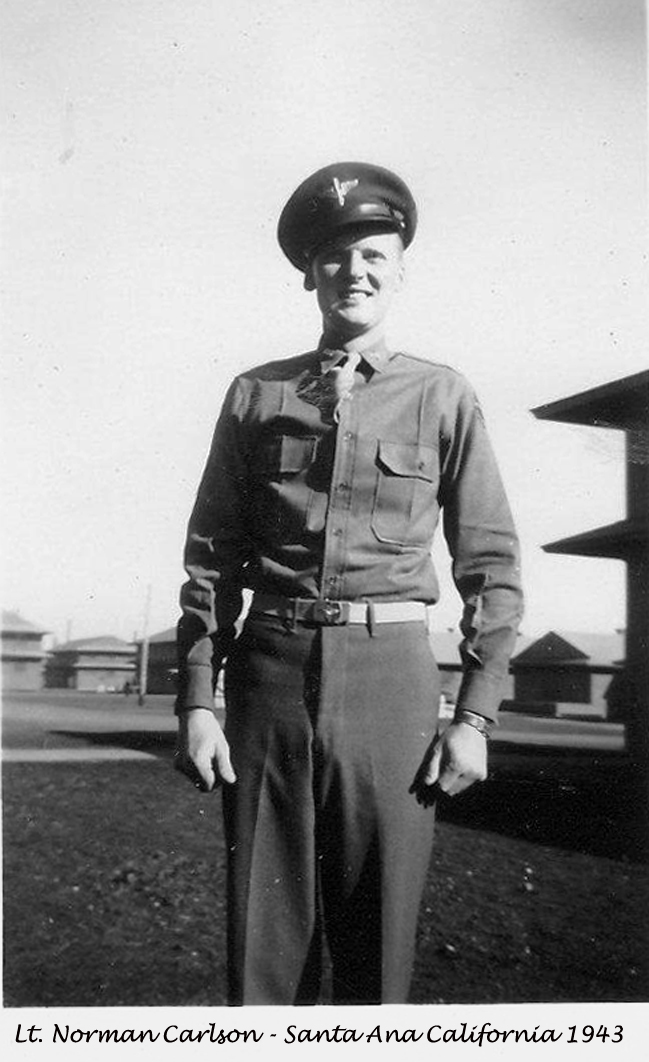 I've since been able to contact pilot/co-pilot Harold Aiken who has better information. I've also been contacted by Lt. Carlson's daughter who asked me to see if I could get parse out the correct story.
The correspondence with Ms. Sandra Carlson wheeler went as follows;
Sandra Carlson Wheeler <dnswheeler@shaw.ca>
Hi, My father is mentioned in your website and I'm wondering if I can contact you to find out more information, Any information. Thank you most sincerely,
Sandra
———————–

Sandra, I am happy to hear from you. I don't know what part of my website you found his name in.
I have a roster list page, a mission log, and a description of how he got killed. Did you see all of these?
Your father was Lt. Carlson the navigator? Carl Carrozza
———————–
Thank you for responding (so quickly) to the inquiry about my father.  If you could direct me to the links you mentioned I'd appreciate it.  I've heard two different versions of how he died and would like all information I can acquire.  I was 22 months when he died and he only saw me when I was nine months old.  When my mother died four years ago apparently our youngest son (Steve Wheeler) made contact with you but I was not aware of that until yesterday.  He suggested I contact you to find out all I can.
Thank you again for the work you've done/are doing.  It's a great service.
————————
I'd favor Lt. Aikens (see bottom of last link). Dad's memory wasn't great toward his later years.
I'd love to see any pictures you may have or other memorabilia or items of information. I would add them to the web page.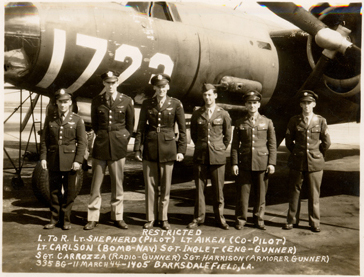 Please note that this picture has now turned up in three places. The Carrozza, Aiken, & Carlson families have all referred to their copy!
Carl Carrozza damonbok@hotmail.com
————————-
Hi Carl,
Thanks for the links.  The Co-Pilot H.V. Aiken's account is more like what my mother told me.  She said the the plane was shot on a mission over Germany and limped back to the air base in France.  The pilot gave orders for the non-com.crew to bail out and then to my dad and the co-pilot who were too close to the ground for the chutes to open, and the pilot went down with the plane.  She assumed the three officers died.  Was Lt. Aiken the co-pilot on that plane?  If so how many of that crew died?  Was my father not with his original crew at that time?
Again thanks for your patience with my questions,
Sandra
——————————-
I forwarded this e-mail and a request to Lt. Aiken to retell the story as he remembered it. The following is our conversation in this regard;
I hope all is well with you.
I have recently been contacted by the daughter of Lt. Norman Carlson. I'm trying to reconcile to different stories regarding his death.
Can you tell me what you have on that?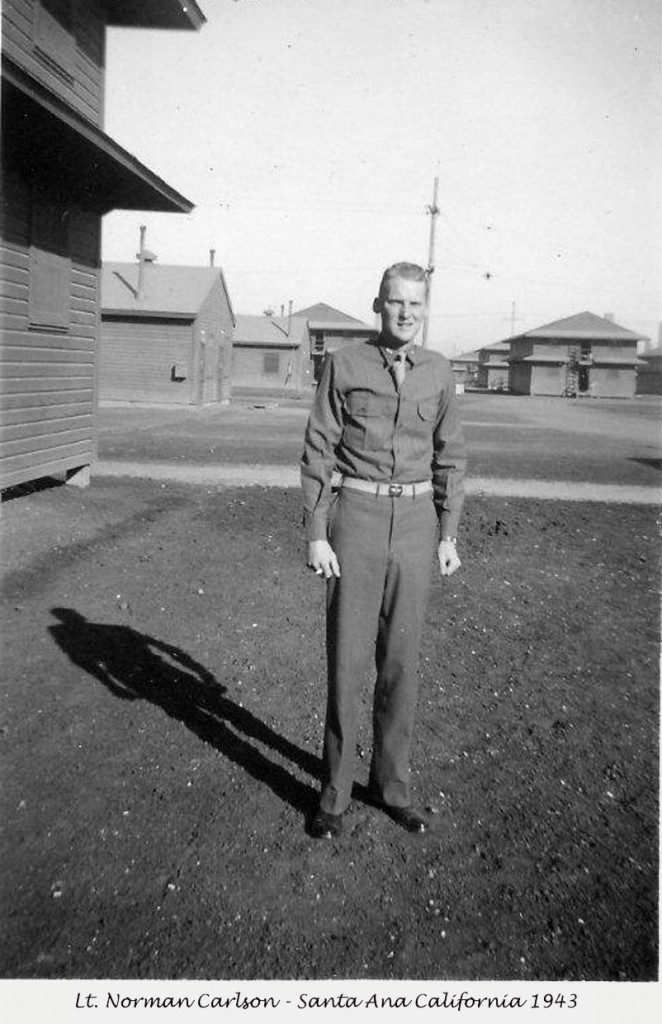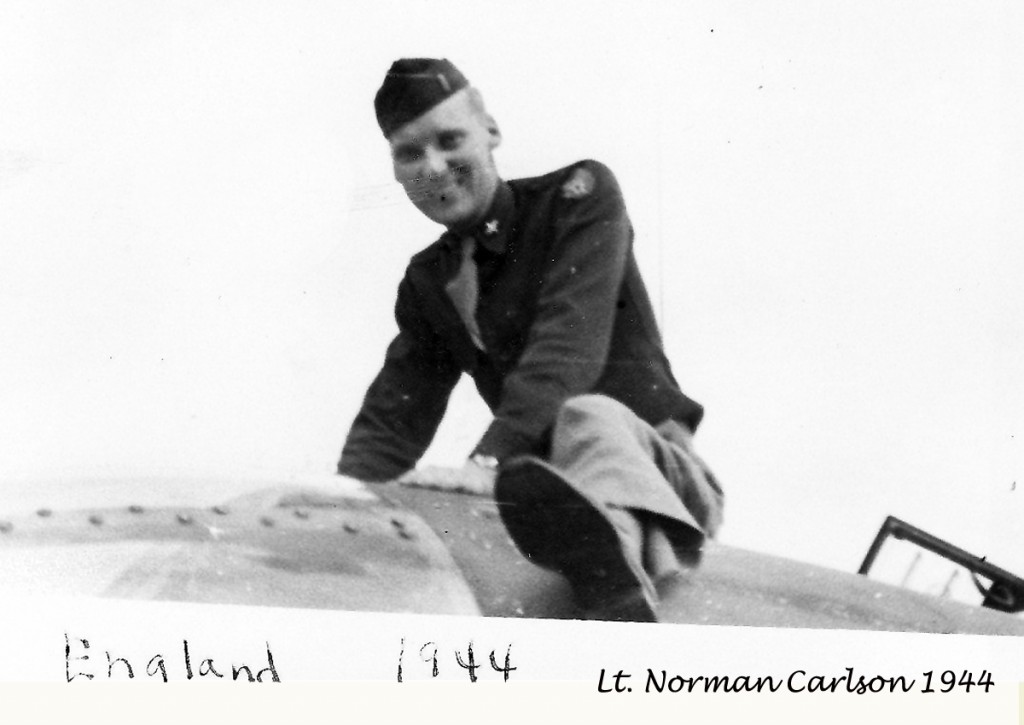 Correspondence with Lt. Harold Aiken
Harold,
I hope all is well with you.
I have recently been contacted by the daughter of Lt. Norman Carlson. I'm trying to reconcile to different stories regarding his death.
Can you tell me what you have on that?
Thanks,
Carl Carrozza
Harold Aiken Responded;
" Apparently Carlson died 27 Dec. 1944. I find that I was on that mission. A railroad bridge at Ahwider   My diary indicated no flack The weather was bad and I elected to land at Coulemiers and remain over night. It was next day that I got the word from the co-pilot about Carlson. The pilot held the airplane so that all crew members exited the plane. He died in the crash.
Carlson was the bombardier on a mission.  Weather was not really good at the base. In trying to find a safe approach, the pilot made several passes at the field. The plane ran out of gas. The pilot sounded the warning bell for the crew  to bail out.  Those in the tail area bailed out. Carlson left via the bomb bay. The copilot followed him. The copilot later said that he pulled his ripcord as soon as he left the airplane. His chute deployed and when he swung down his feet was on the ground. Carlson had time also to deploy his chute It was not clear whether Carlson was late pulling the ripcord or whether the chute did not deploy. The pilot rode the airplane to the ground.  He was found 30 feet in front of the crashed plane. There was no fire. I did not know that there were any other story about the crash.
The pilot stayed with the plane until it crashed. All other crew members bailed out. It was only  Lt. Carlson's chute that did not open. Pilots on the B26 were protected from flack via a bath tub like steel envelope. When the plane crashed the mass of the envelope plus the weight of the pilot forced the pilot and his envelope through the windshield to a point 30 feet ahead of the crashed plane.
I did not know that Carlson had any children. I knew that he had a wife but I did not have her address. What can you furnish me about an  e-mail
or mail address."
Corresponance with Paul clouting
     Words cannot express my gratitude for the information you've provided.  I'm going to email Mr. Aiken right now to introduce myself and ask him about my father.  It's almost like receiving someone back from the dead to be able to talk to someone who knew my father as a peer.
The account Mr. Aiken gave in the email was much closer to what I was told as my mother may not have had all of her information correct.  She said he bailed out and his chute did not open.  However it could have been also as suggested that it wasn't pulled fast enough.
There are some pictures I can send.  I don't know how to do it but my husband does I'm sure.  I will keep in contact with you.
_____________________
I have been able to get Sandra and Harold in touch with each other. . . one of the joys of producing this site is to connect people and the history.
Thanks to a suggestion from
Mark Styling
, I found the full story of Lt. Carlson's final mission in page 40 and 129-130 of Lambert
Austin's book, 344th Bobm Group Silver Streaks.
I have posted them in pdf format here;
Correspondence with Paul Clouting:
Paul,Please see the inquiry below. The woman who wrote to me is the daughter of Lt. Carlson. The incident was a crash landing in which several died. Would there be a MACR or some other document regarding this? Would you have anything else other than what is in
"Silver Streaks"
book?Thanks,
CarlResponse from Paul Clouting;Carl,
This would be aircraft 43-34426, coded Y5-Y of the 495th BS.
This aircraft entered service with the 495th BS on 27th September 1944. It crashed seven miles south of A-59, Cormeilles-en-Vexin airfield, France, returning from the mission to the Ahrweiler railroad bridge, Germany on 27th December 1944. The aircraft returning from this mission found their base closed in due to bad weather and after circling the airfield were ordered to find alternative landing strips that were still open. This aircraft was dangerously low on fuel, and it was during the attempt to head for an emergency field that one of the engines quit. The aircraft began to lose altitude rapidly. The order was given to bail out, as the other engine stopped due to fuel starvation, but the aircraft was already down to only about 500 feet. All the aircrew except the pilot, 1st Lt. Lamar Fleming III, jumped, but because of the low altitude two of them were killed when their parachutes failed to deploy in time. The pilot who had stayed with the stricken aircraft attempted to carry out a crash landing, but this failed and he was killed. Other crew were: 1st Lt. Carl J Gouge (bailed out safely), 1st Lt. Norman D Carlson (killed when his parachute failed to deploy in time), T/Sgt. John Chevalier (bailed out safely), T/Sgt. Arthur J McNulty (killed when his parachute failed to deploy in time), and S/Sgt. W E Farley (bailed out safely). The aircraft had flown 15 combat missions when it was lost.
Carl, there was no missing aircrew report for this loss, as the aircraft came down in friendly territory, but there would be an accident report.
I don't have this one, but you can buy a copy from http://www.aviationarchaeology.com/src/reports.htm
Best regards
Paul
——————————————————————————————————
Sandra Wheeler was able to send more pictures and poignant letters and documents of her father, Norman Carlson.
Paul Clouting was able to get his hands on the
MACR
for this crash. Take a look at it. It settles a lot of issues;
1. The bomb bay doors were not stuck open
2. The stuck bombs were not salvoed because lack of visibility caused a risk of dropping those bombs on our forces or populated areas of liberated France.
3. Carlson's chute did not open because it was not put on correctly.
Other noted facts from MACR.
4. The pilot flew the plane at high RPM to have enough power to stay in formation. This used extra fuel.
5. Clay determined that the crash was caused 100% by the weather. Higher command levels determined 50/50 weather vs pilot error.
My B-26 veterans had some reactions about and peripheral to this MACR. They are very interesting to note;
Harold Aiken felt that the pilot was running the engines at a higher RPM then necessary or efficient:
I appreciated  the accident reports on Carlson's death. I was surprised with the power settings that were reported. Most of the bomb runs were made at 190 mph. It was not uncommon on the return from a mission I would be pulling 1900 to 2000 rpm and staying with the formation. There was once on the return from a mission that a pilot asked to land early as he was low on fuel when I had enough left for an hours flying.
I do not remember where in the return flight of Dec. 27, I decided (or was directed) to go to the alternate field . There was no question of suitable fuel for the alternate site. Incidentally, my log shows a total length of that flight of 4 1/2 hours.
In follow-up e-mails Harold wrote:
The lead plane flies at 190 mph so that the ones in formation could make corrections and stay in formation. A higher rpm is like driving in second gear. It makes it easier to get back in formation but uses more fuel. A careful pilot that reacts instantly to changes in the lead plane flight pattern doesn't need to have that capability. Yes, the pilot wasted fuel if Gould's account was correct. I flew 4 1/2 hours on that fatal mission and did not feel stressed to get on the ground for lack of fuel.
I had a couple of flights where I brought the bombs back. On 8-27-44 the flight lasted 3.10 hours. On 12-6-44 the flight lasted 3hrs 35 min. Neither mission caused any urgent need  to get on the ground.
About the parachute- I have no comment. The Bombardier usually removes the chute when he crawls into the nose position. Then puts it back on when he is in the crew room. There were never any advisories about checking the chute position
.
The more I think about the fatal mission the more questions arrive.
With the change in power settings reported in Gouge's testimony, think of the problem that planes No 5 and 6 would have had.( they were flying on the wings of plane No. 4, Fleming's plane) There has been  no mention of those two planes having a fuel problem or when  and why they left the formation.
Flying through clouds in formation occurred occasionally.
When and why did the formation break up. I was on the mission and I cannot remember whether I left the formation or whether I followed the leader to the alternate field. ( I was in No. 3 position, left wing of the lead plane. ) I don't  think I even knew where the alternate field was located.
Harold
Don Moomaw agreed with the 50/50 fault designation. He also mentions his high regard for Lucious Clay. Frank Carrozza often expressed his high regard as well:
I did get the report up thanks. I will accept the report as written, Major Clay was the 495th Bomb Squadron Operations Officer, a very intelligent, knowledgeable and fair person, I would follow him any time anywhere, and flew on some of the same missions he did. I have to agree with the 50% pilot error, if they were aware of a fuel problem, he should have stopped at  another base and refueled, this was acceptable practice. Pointing fingers at this time has  no value. I do not understand the problem with Lt. Carlson's parachute, the pilots wore a different type than the rest of the crew. It was so disheartening. to read this report.
Pictures taken from MACR;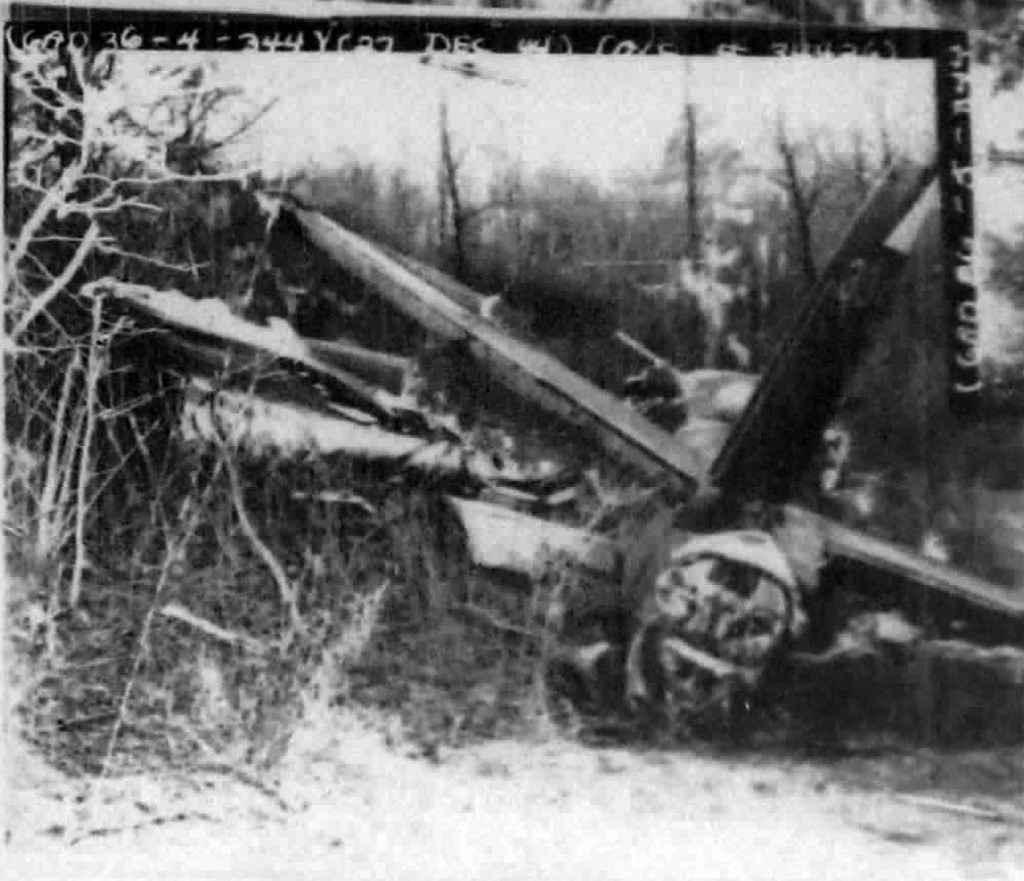 43-34426