2nd Lt. Edward Wadleigh Borresen
.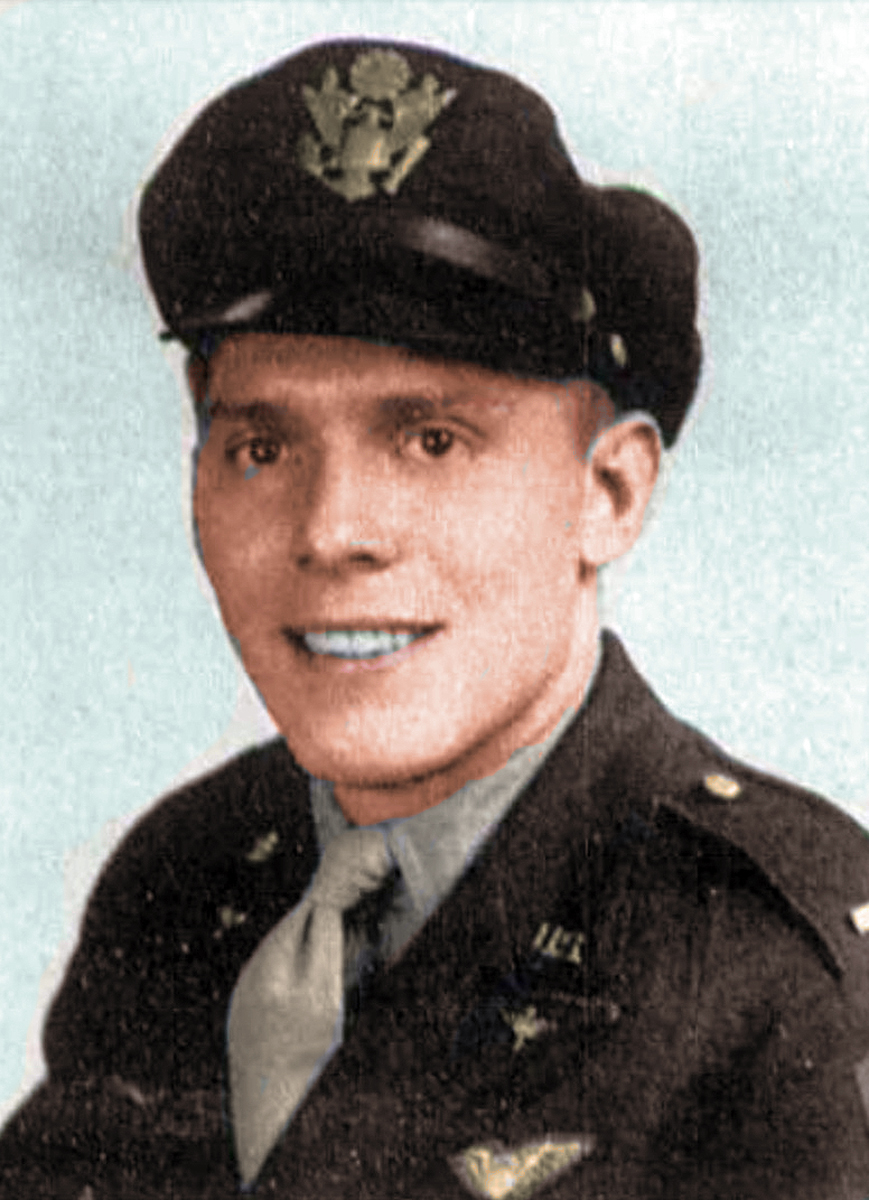 .
Edward Wadleigh Borresen
Bill Borresen BombGp: 344
Squadron: 497
Years: 44 to end
Class: Location: MacDill.
Borresen was an original member of Hut #10 while in Stansted, England.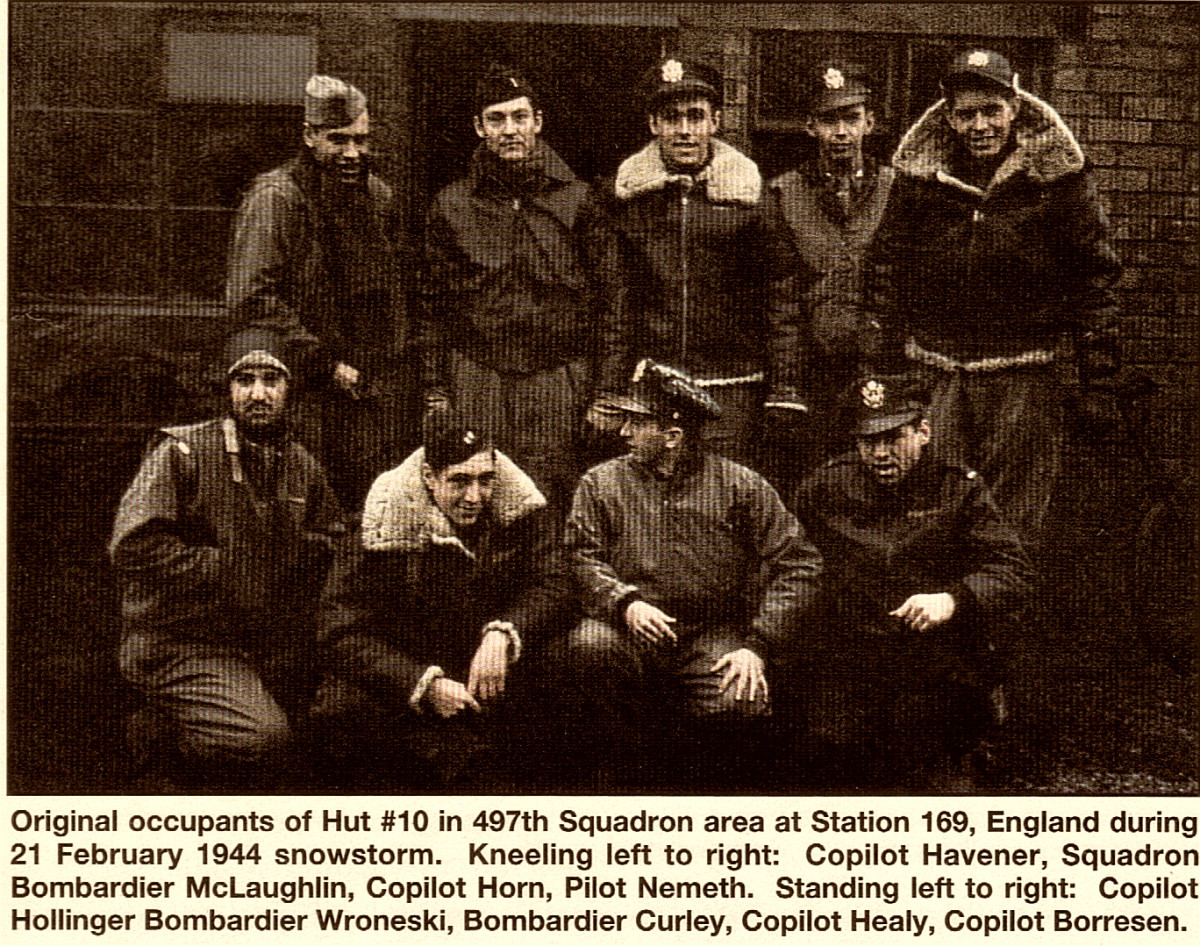 He was co-pilot on 7I-A, 295856, flew 22 missions, shot down over Brussels May 10 1944. A major error by the squadron navigator put them in harms way. On his plane there were three survivors and three dead. One plane returned to Manston. Borresen spent the rest of war in Stalag Luft III. Lt. Borresen was liberated at Mooseburg. His most usual plane was named Fertile Mertile.
344th Spread Sheet Info: Shot down by flak on the 10/5/44 mission to the Mons Marshaling yards. The aircraft flown by 1st Lt. Frederick Mackay Morrison took a direct hit between the forward bomb bay and the right wing, and exploded in mid air. Three of the crew managed to bail out of the aircraft which broke into several pieces, and survived. The pieces of the shattered aircraft came down in Brussels. A navigational error had taken the formation over a heavily flak defended area close to Brussels.
Below submitted by his son, William A. Borresen
Assignment: 344th B.G., 497th Sqdn., 9th AF.
Station: 169 Stansted, England.
Service #'s: 13098625, A0816407, FR25786.
Plane: B-26 Marauder, FERTILE MERTILE, 7I-A, 22 missions complete , 85 combat hours.
R TU: Lake Charles, LA, 14 ov. – 28 Dec. 1943.
Pilot Training: Moody AAF, GA. Nov. 1943.
A/C#: 295856, B-26-B50.
Pilot: Lt. Fredric M. Morrison (KIA).
Copilot: 2nd Lt. Edward W. Borresen (RTD-DEC).
Toggelier: Staff Sgt. John G. Ericson (KIA).
Eng/Gnr. Sgt. J. L. Gussman (RTD).
R/Gnr: Tech. Sgt. R. H. Fitch (KIA).
Tail Gnr: L. M. Glover (RTD).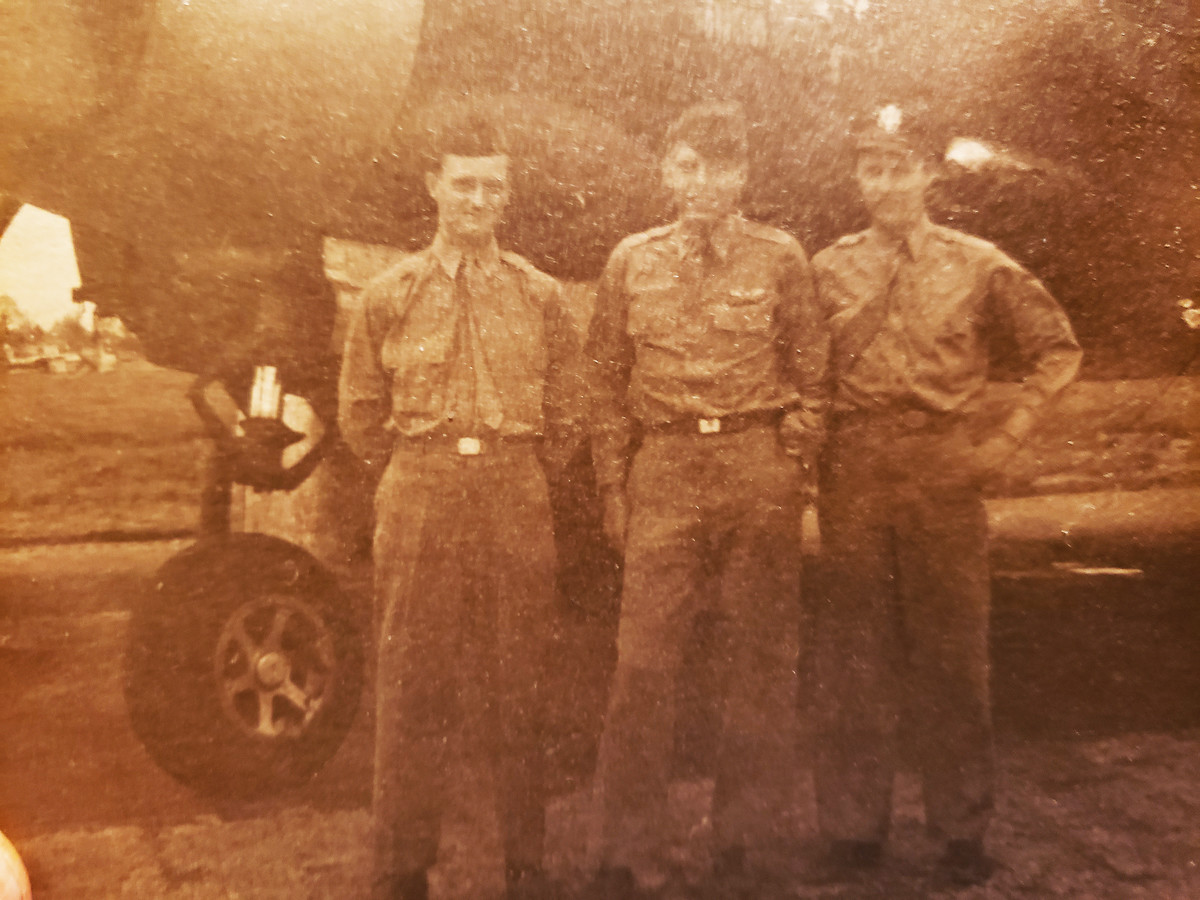 Shot down: May 10, 1944.
Mission: Mons Marshaling Yard, Belgium.
From 344th Silver Streaks:
On the morning of May 10, our planes were dispatched to Mons to destroy the marshaling yard, flight bombing to be the method of attack. The enemy defenses at this yard we re strong and accurate, and of the 38 planes participating, 25 received battle damage, and one plan e was shot down, bearing a crew of six.
Five crewmen were wounded. The plane destroyed at the target was piloted by Ist Lt. Fredrick M. Morrison, of the 497th Bomb Squadron, and his crew were 2nd Lt. E. W. Borresen, Co-Pilot; S/ Sgt. John G.Erickson, Bombardier; Sgt. ]. 1. Gusmann, Engineer Gunner; T/Sgt. R. H. Fitch, Radio Gunner and Sgt. 1. M. Oliver, Tail Gunner.
Cause: Direct hit, 88111111 between forward bombbay compartment and right wing.
Effect: Plane exploded in formation , six pieces fell to earth.
Notes: Two or three chutes seen to open.
MACR: Full details of crash
Nearest City: Brussels , graves of crew were found after the war by EWE in Liege, Belgium.
Witness: Lou Bollman, observer tail gunner, Ma's Blasted Event and Miss Pill.
POW Camp : Stalag Luft III West Camp.
Liberation date: April 29, 1945 by General G. S. Patton, from Mooseburg.
Last Assignment/Rank: Col. E. W. Borresen, 89th
Mil Alft Wg, Spl Air Missions, Andrews AFB, MA.
Retired: January 31, 1971
Total active service: 28 years
Passed away: February 16, 1975.
.Lt. Borresens son, William A. Borresen designed a replica A-2 Jacket commemorating his father's WWII experience.
.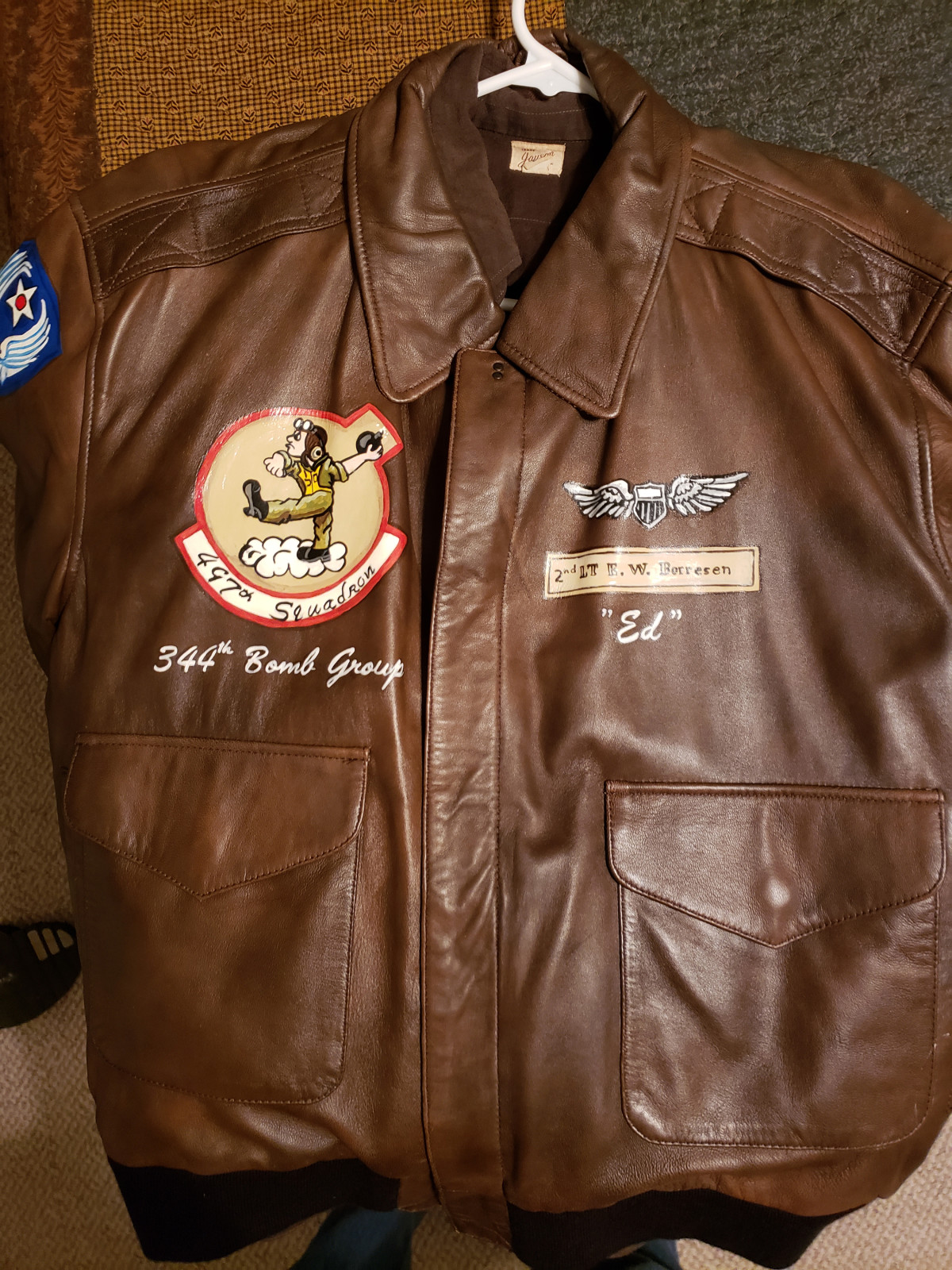 .