Captain Gerald C. Corrigan
.Click any image to enlarge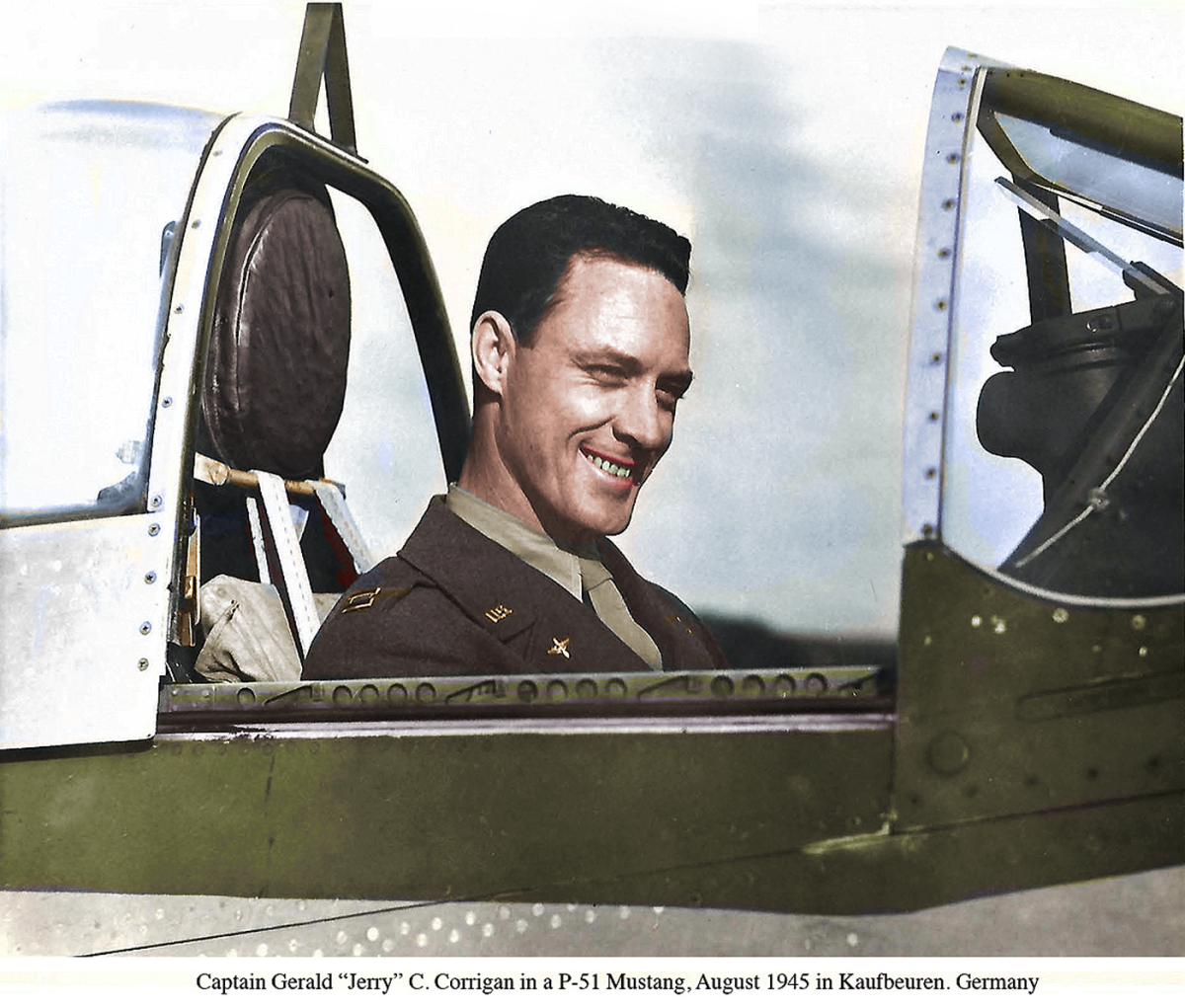 Captain Gerald "Jerry" C. Corrigan, was a member of the 495th Bomb Squadron, 344th Bomb Group, Ninth AAF. He died in 2005 at age 93.
.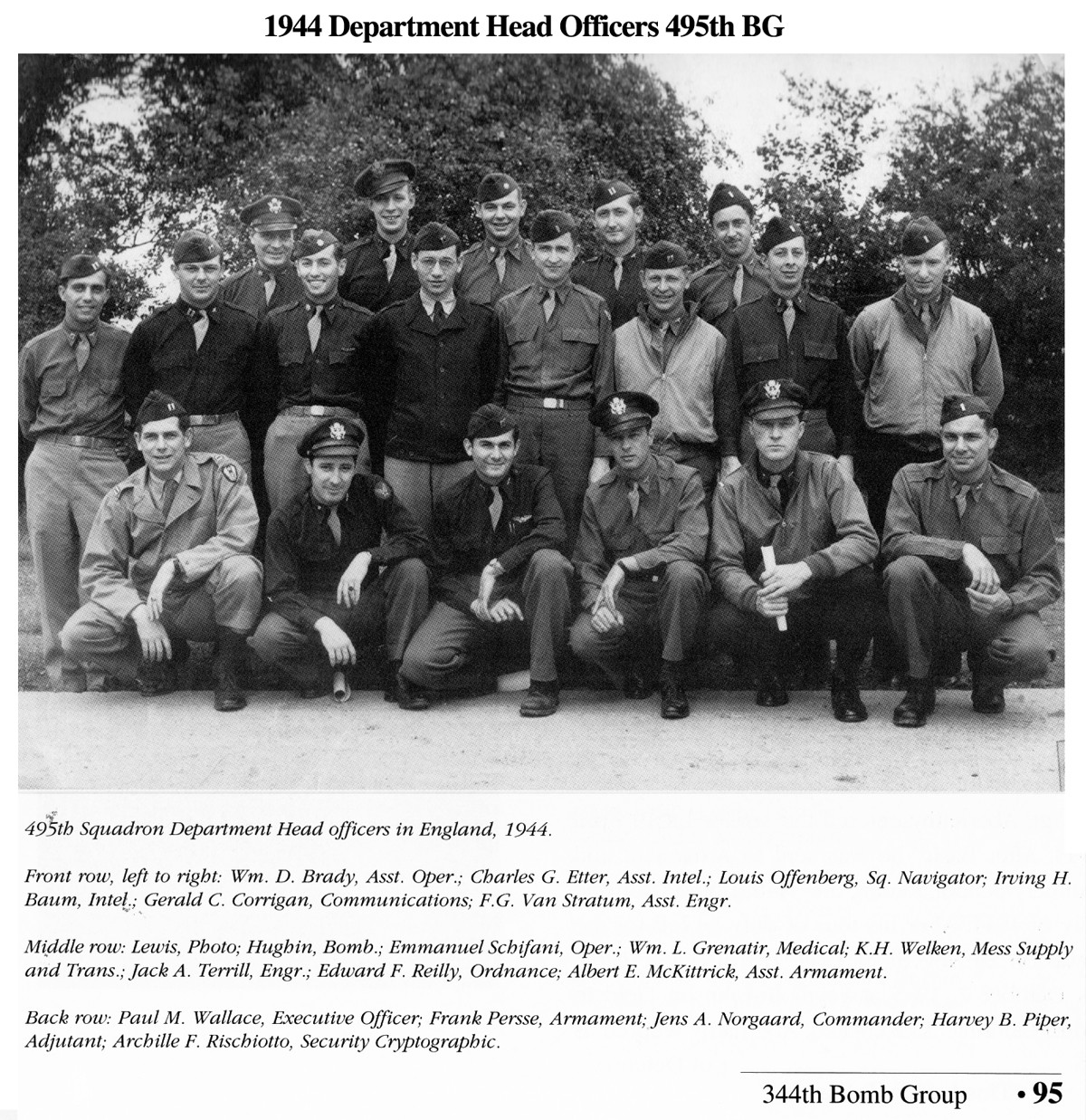 His son, E. P. Corrigan found his "Pilots Navigation Kit" which contained his photos and documents from WW2 and was kind enough to share this material with the 344th Bomb Group.
.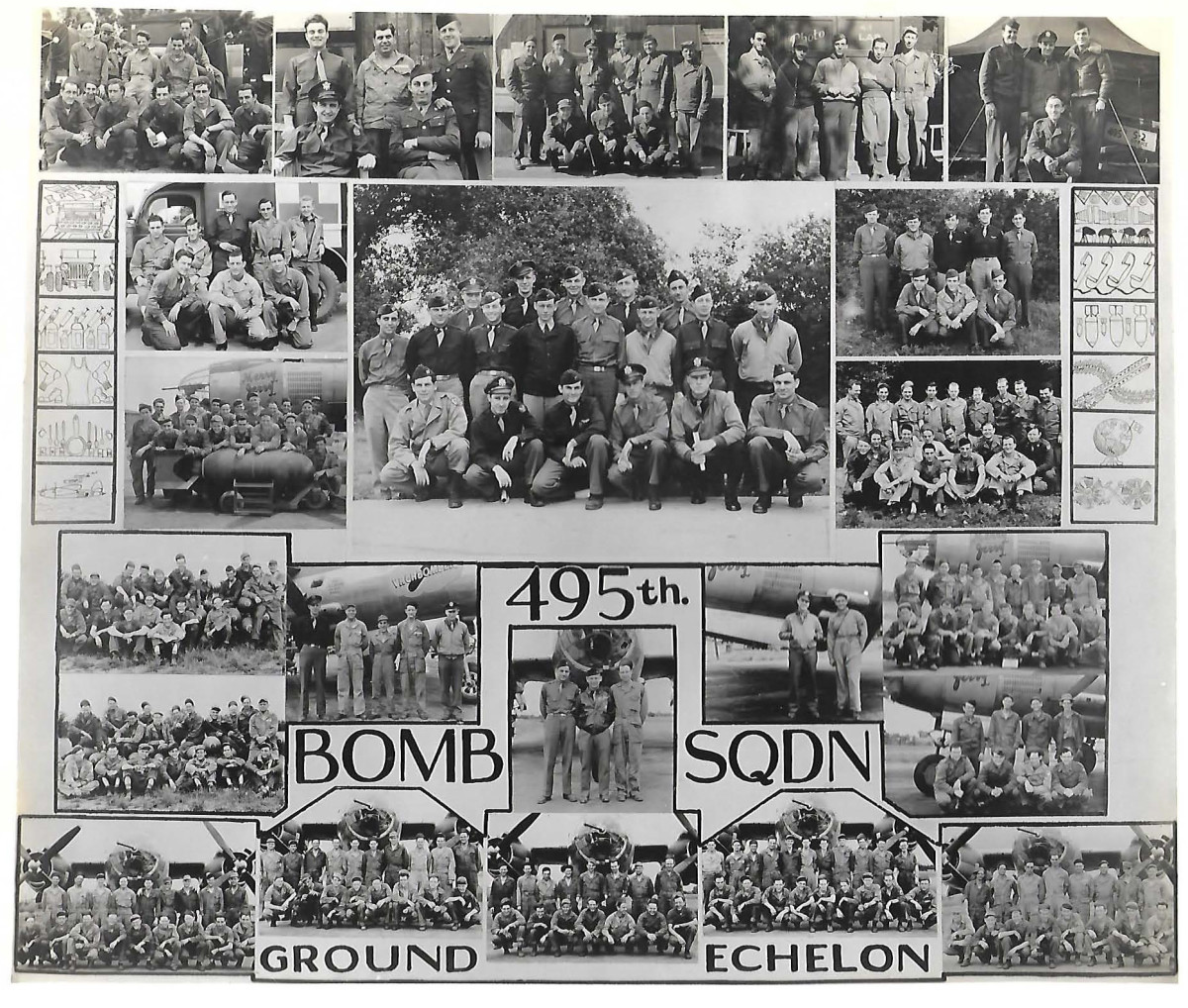 From 1938-1941 Gerald Corrigan was one of the original eight members of the Iowa Air Guard and learned to fly WWI and pre-WWII aircraft. He joined the U.S. Army in 1941 and was promoted to Tech. Sergeant in 1942. Later in 1942 he left the Army to go to the Army Air Force Officer Candidate School.
Corrigan was trained to fly B-26's at Fort Myers, Florida in 1942. He then became a flight instructor at Avon Park flight school in Florida. He might have done that for the rest of the war. In fact, his son found a letter from another instructor, chewing him out for putting himself in line to go into combat in Europe.
.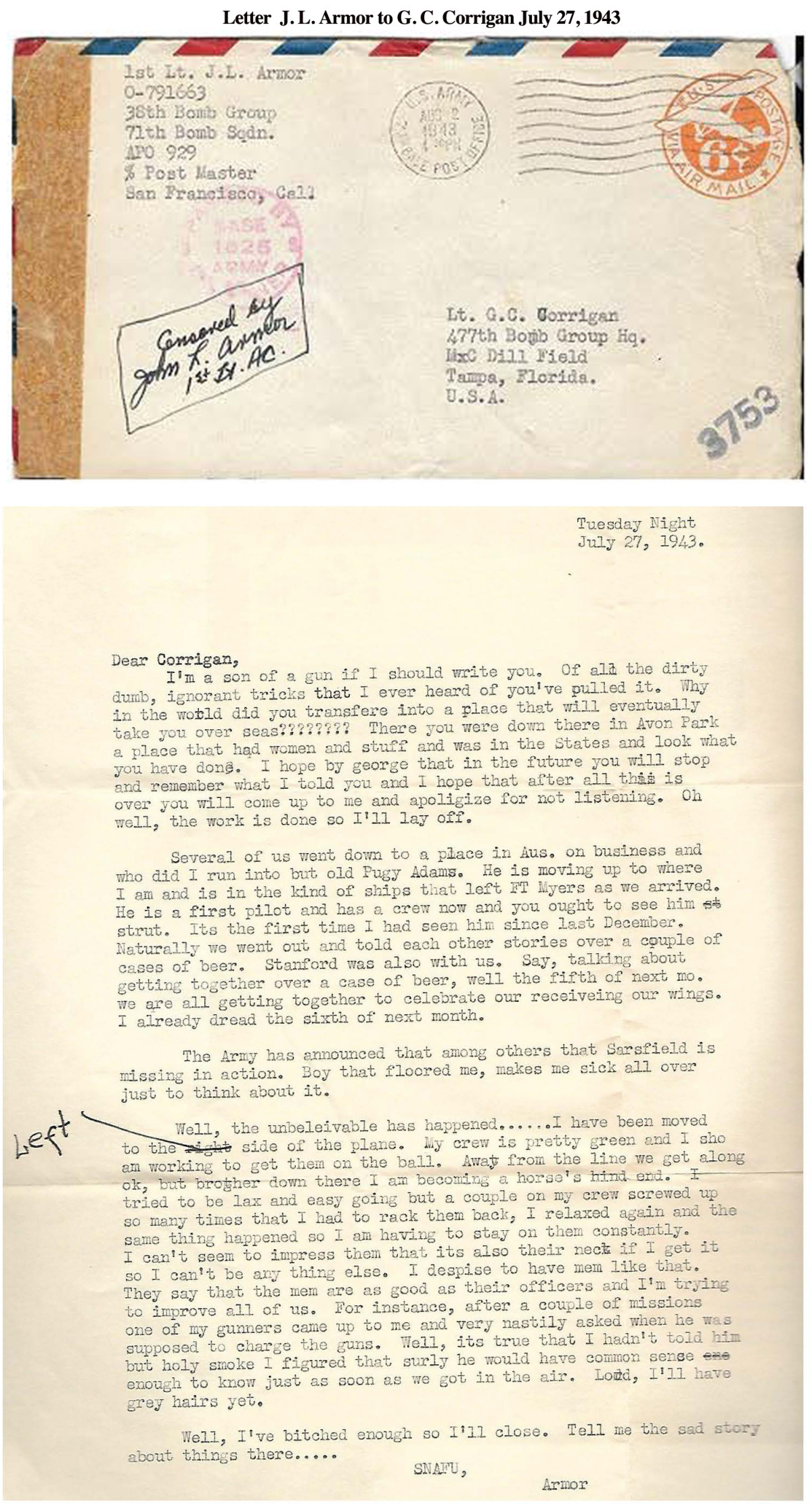 Gerald Corrigan was commissioned as 2nd Lt. in August, 1942 and promoted to 1st Lt. February 20, 1943
.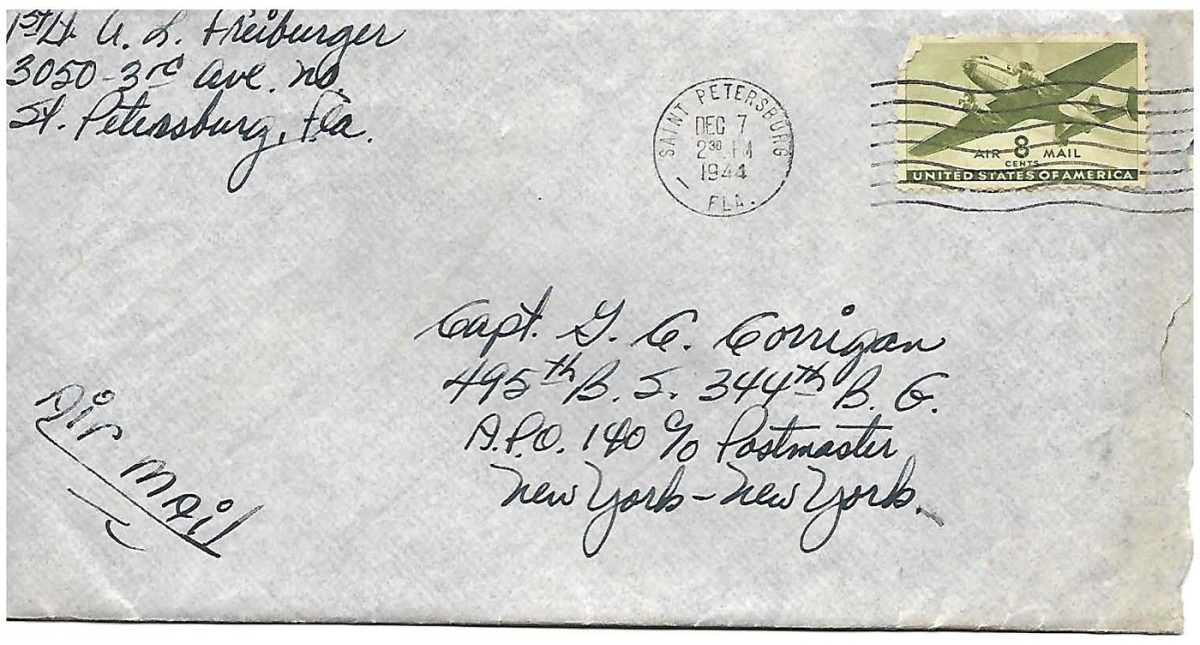 .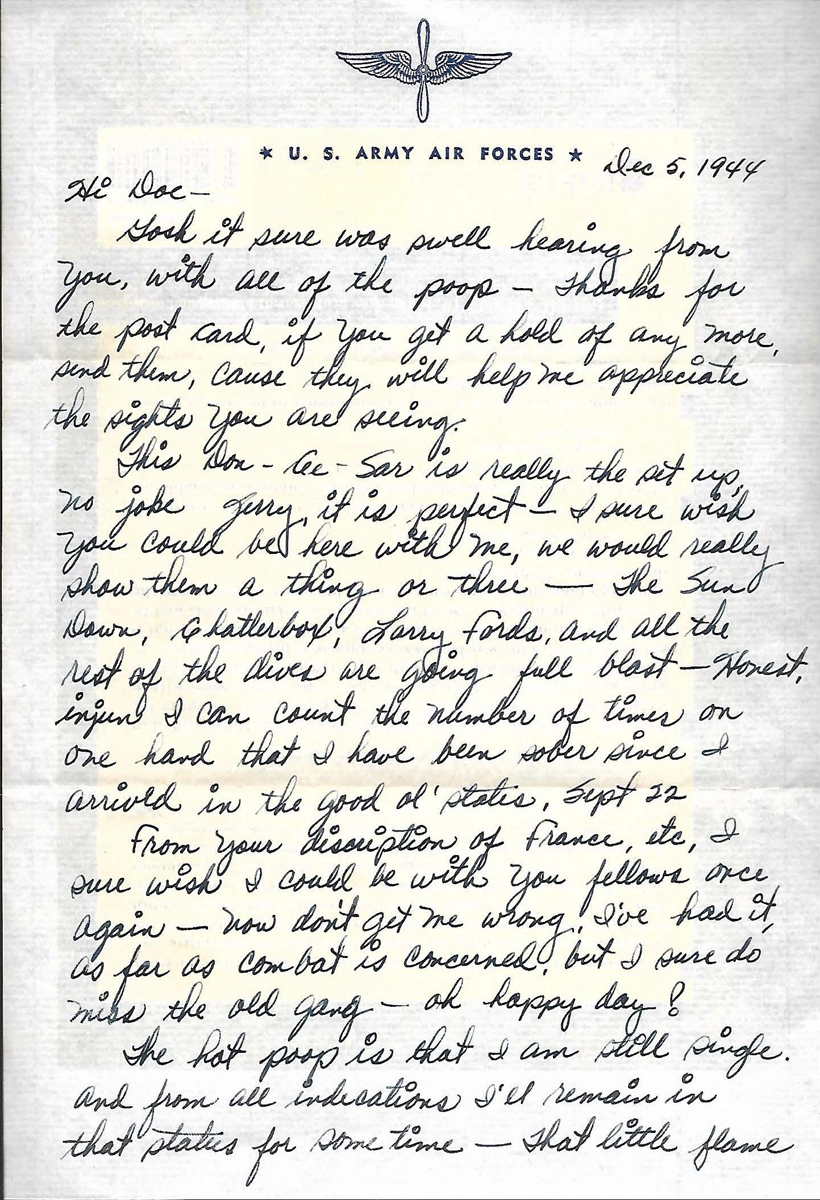 .
.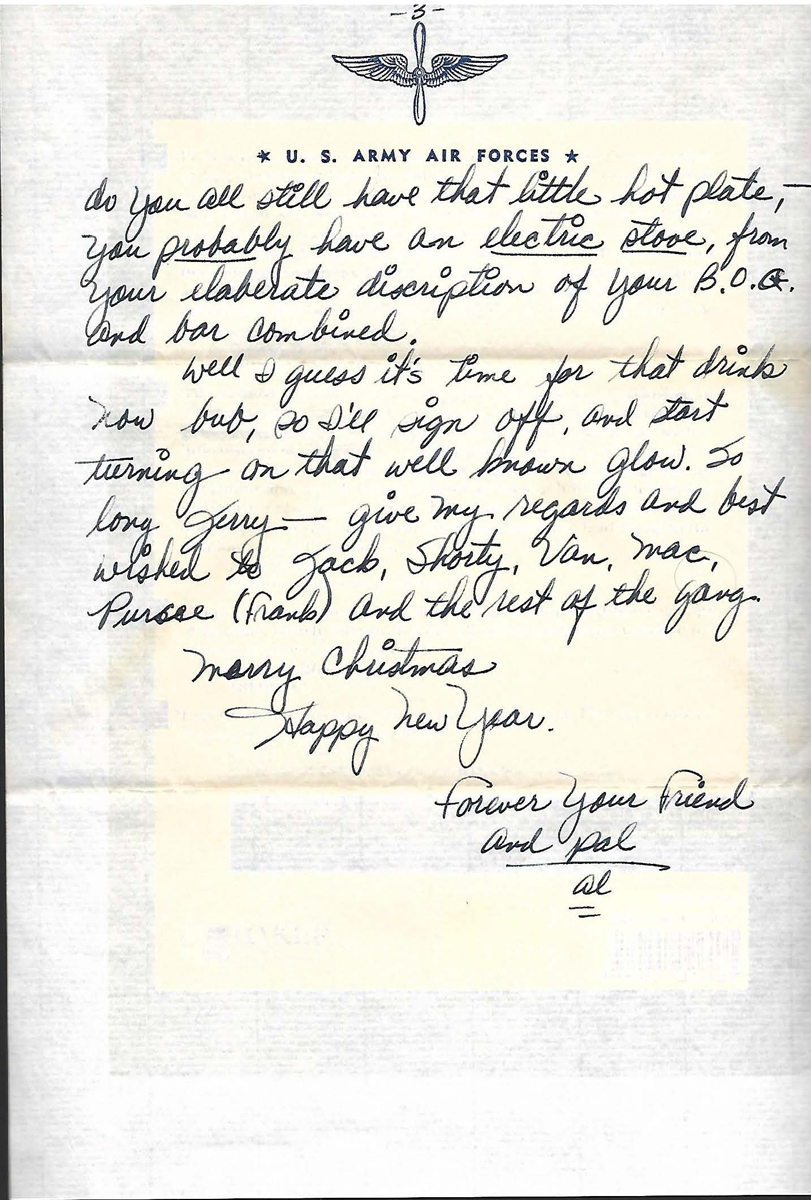 He wound up in England Feb. 2, 1944, and flew 52 missions before the war ended. That required roughly 52 missions in 52 weeks! He was awarded the Air Medal May 27, 1944 while still a 1st. Lt.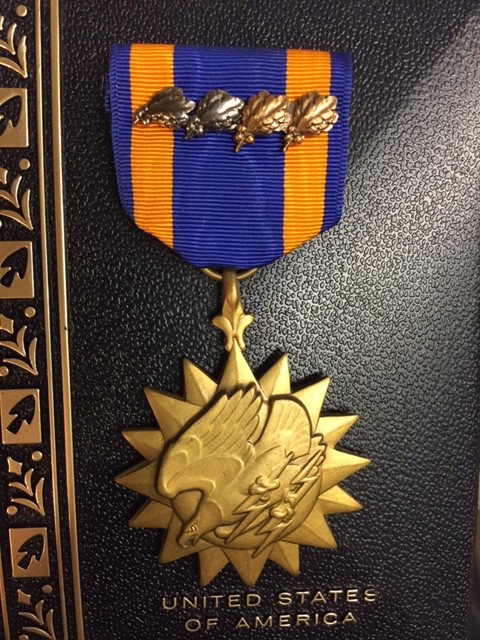 Corrigan was wounded in action and received a Purple Heart July 8, 1944.
.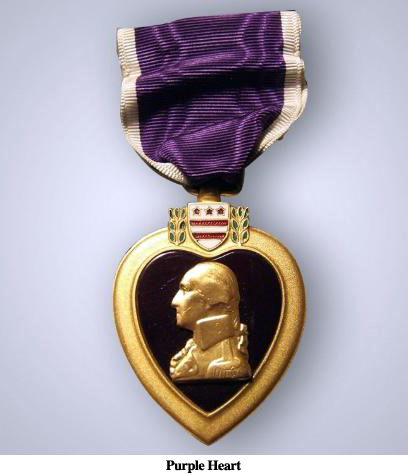 Later that month the 344th BG received a Distinguished Unit Citation with Corrigan receiving a second Purple Heart.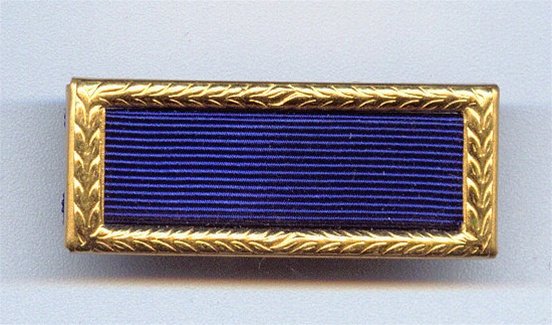 .News clippings around the time of the D-Day invasion
On December 1, 1944 Gerald Corrigan was promoted to Captain.
.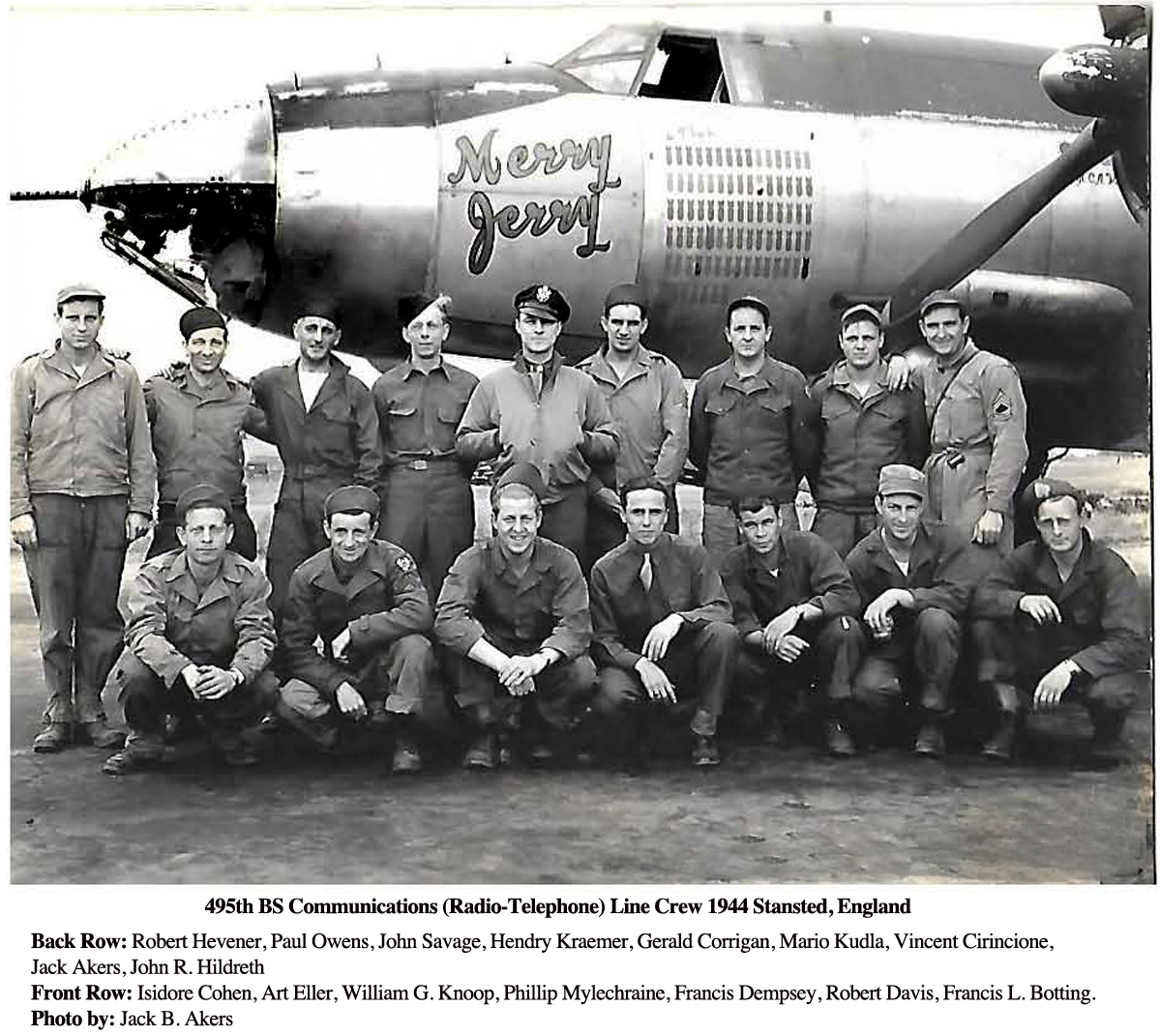 Corrigan's son states that his father flew in at least two different B-26s. One was severely damaged and put out of commission on one of the missions. He wasn't shot down, but the aircraft was unsalvageable.
Corrigan named one his B-26 (It is not known if it was the first or second one) "Superblaster." No images of it have been found nor is it listed in a spreadsheet of 344th aircraft. His son recalls a photo of Gerald Corrigan standing next to it, but hasn't been able to locate it.
.
Corrigan told his son that his co-pilot was named Adams and that he flew lead flight on a good many of the missions, which would be functionally the squadron commander, except when a guy named McGuire was flying. But, I haven't been able to find a McGuire in the 344 BG. The co-pilot named Adams, was Richard P. Adams, but that was in training school in Ft. Myers, FL. Adams wound up in another Bomb Group.
.
Corrigan lost many "brothers" in combat, and was reluctant to talk about it; particularly "Wild Bill" Geary and a pilot named "Sly" Foxx. "Sly" Foxx was: Harrell L. Foxx of St. Louis, IL. Here is the story Dad related to me:
.
"Sly" and crew were on their 25th mission, which was, at the time, the limit. They could go stateside after that. Unfortunately, they took massive fire, and multiple witnesses saw them in a spinning nosedive, with both engines on fire with no chance for the crew to bail out. Dad said the mood on the base that night was very somber. Dad wouldn't cry, but his voice would trail off, and then silence.
.
Records show a this story: May 31, 1945 43-34395 Y5-M 495th: The fatal accident occurred May 31, 1945 when a six-ship formation flew to the Blankenburghe gunnery range in the North Sea for splash gunnery practice. 1st Lieutenant Harrell L. Foxx, 495th bomb squadron, led the formation out over the water to within sight of the range to see if it was clear, then ordered the planes to echelon to the right and follow him in as briefed. 2nd Lieutenant James A. Lawrence, co-pilot in the number two plane, stated they followed Lieutenant Foxx at a 30 second interval as briefed, which placed Lieutenant Foxx about 4 miles ahead and slightly to their left. About eight minutes down the firing line, Lieutenant Lawrence reported that Lieutenant Foxx called on the radio transmitter, stating his gunner had shot up his aircraft. Lieutenant Lawrence's airplane immediately maneuvered along side of Lieutenant Foxx and could see that all but 4 feet of his right horizontal stabilizer was shot off. In addition, there were a number of holes in the base of the vertical stabilizer, and the left stabilizer was almost shot in two. Lieutenant Lawrence call the Lt. Foxx and reported the damage to him and Lieutenant Foxx replied he would land at the first available field. The plane, despite the damage, seemed to be under perfect control and had been able to lose or gain altitude at will and had maintained an airspeed of 165 mph. On reaching the coast line inbound, Lieutenant Foxx's craft was approximately 1000 feet when he started a slight turn to the right. He straightened out from the start and almost immediately went into a sharp right turn, apparently out of control. The left stabilizer was seen to have broken off about 4 feet out from the fuselage, where it had been shot through, and the airplane nosed down in a steep dive from which it never recovered. The airplane exploded on contact with the ground. No one survived the accident. Besides Lieutenant Foxx, the other members of the crew were: 1st Lieutenant Richard E. Robinson, co-pilot; 2nd Lieutenant Don P. Malchiodi, bombardier; 2nd Lieutenant John J. Dimitre, navigator; T/Sgt. John E. Doyle, engineer; S/Sgt. James J. Dunn, radio/gunner; and S/Sgt. Robert P. Stout, aerial gunner. Lieutenant Foxx joined the 344th bomb group September 20, 1944, and had completed approximately 35 combat missions up to the end of the war.
.
While researching the reels of 344th missions, I (Carl Carrozza) have only been able to find Corrigan on one mission. This would make sense if he were with the Pathfinders most of the time. Pathfinder records will need to be reviewed. Interestingly, one mission where the records were found, Corrigan bumped Frank Carrozza from his usual crew as radioman for that mission. Corrigan's son also thinks he may have been a pathfinder, and that he talked about the technology. (Perhaps he was a GEE or Oboe operator.)
.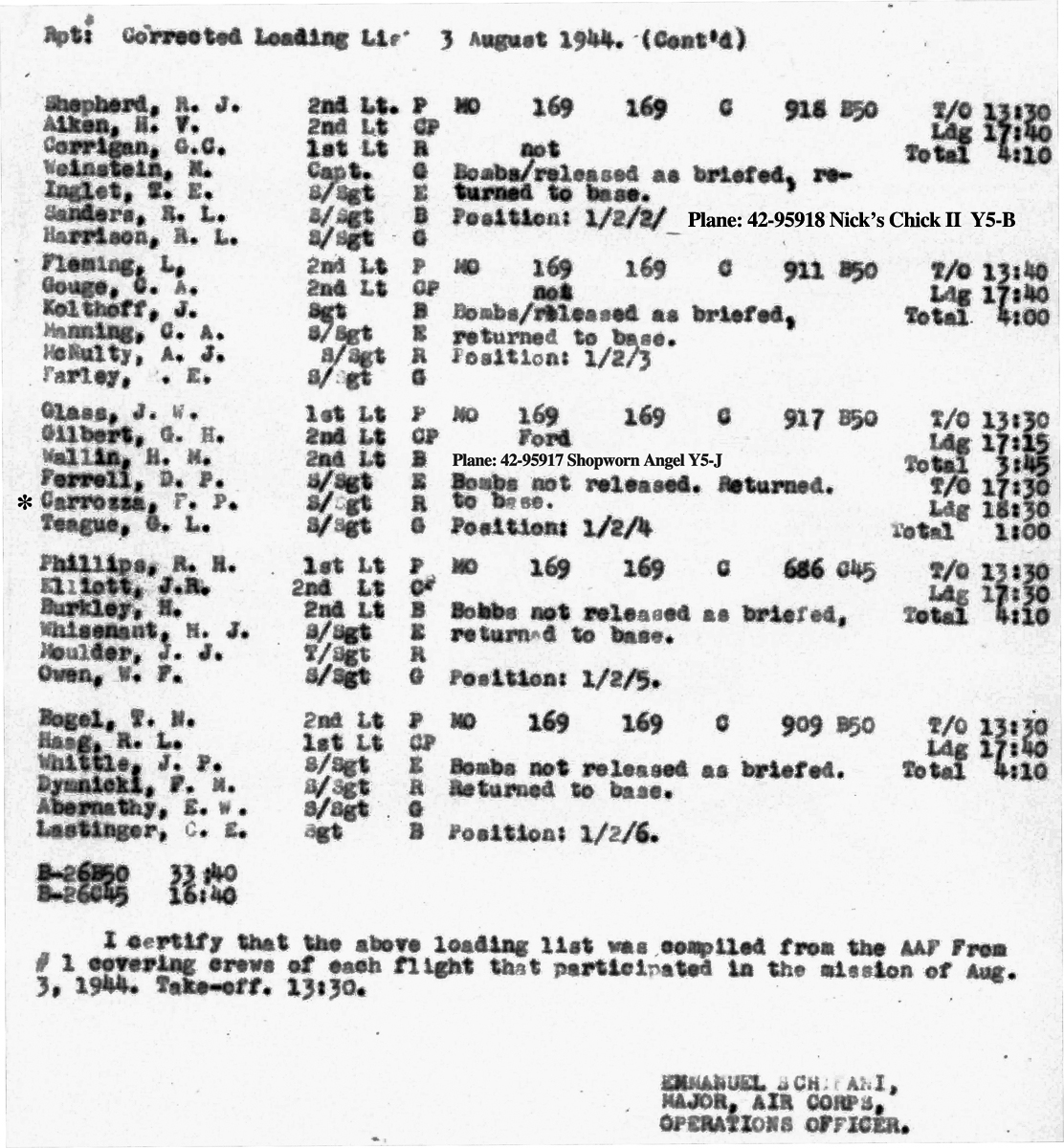 The above is from archive reel B0292 p1334 Aug 3, 1944 LL.
According to historian, Brian Gibbons, "The Load List seems to imply that he was listed as the Radio Operator. One could speculate that maybe he was a Gee Navigator, with the "R" actually representing "Radar", rather than the normal "Radio." (Note: He replaced Frank Carrozza that day and flew with 1st Lt.Glass instead.)
Gerald Corrigan remained in Germany for the occupation from June until Sept. 1945 as a B-26 pilot trainer. At some point, while part of the occupation forces in Germany, he became high-point man in the 9th AAF, probably because many other pilots had already left for the states. The calculation involved rank, number of flights, flights where you were lead, etc.
From his collection are several pictures of Gerald Corrigan's wartime buddies:
Gerald Corrigan was discharged from the military on Jan. 10, 1946. On May 21, 1947 he was appointed Commanding Officer of the Air Service Group of the Iowa National Guard. He left the group in 1950.
Corrigan died at age 93 in 2005.
.Captain Corrigan had a nice collection of photos taken of bomb results for several missions:
.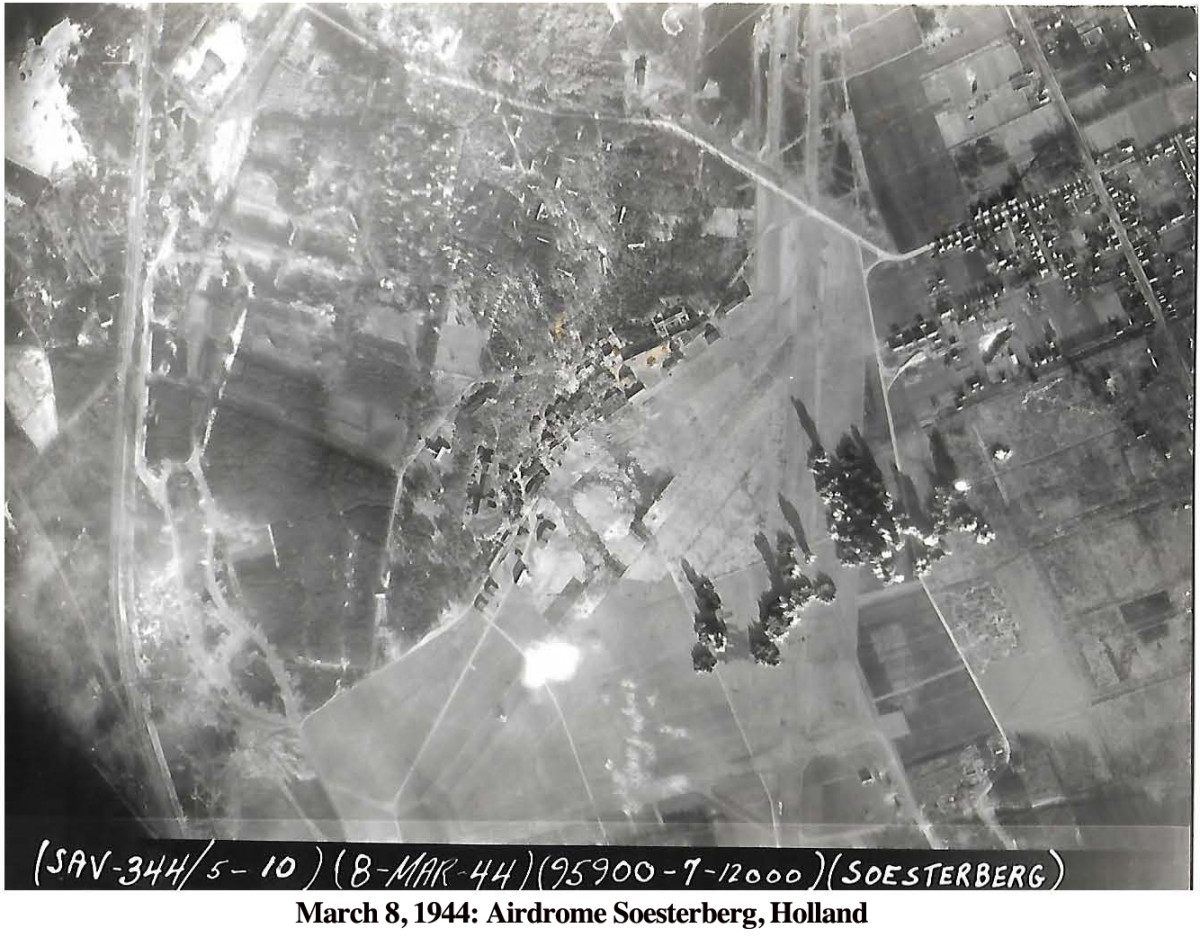 .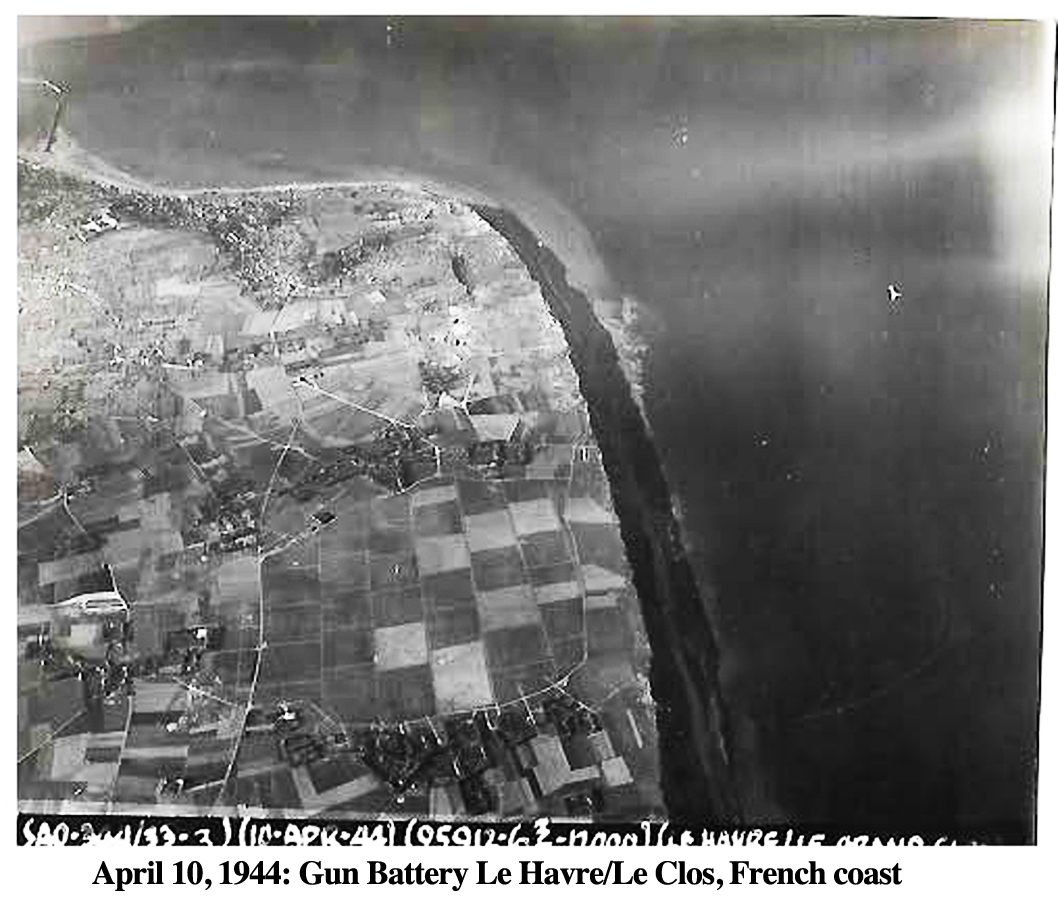 .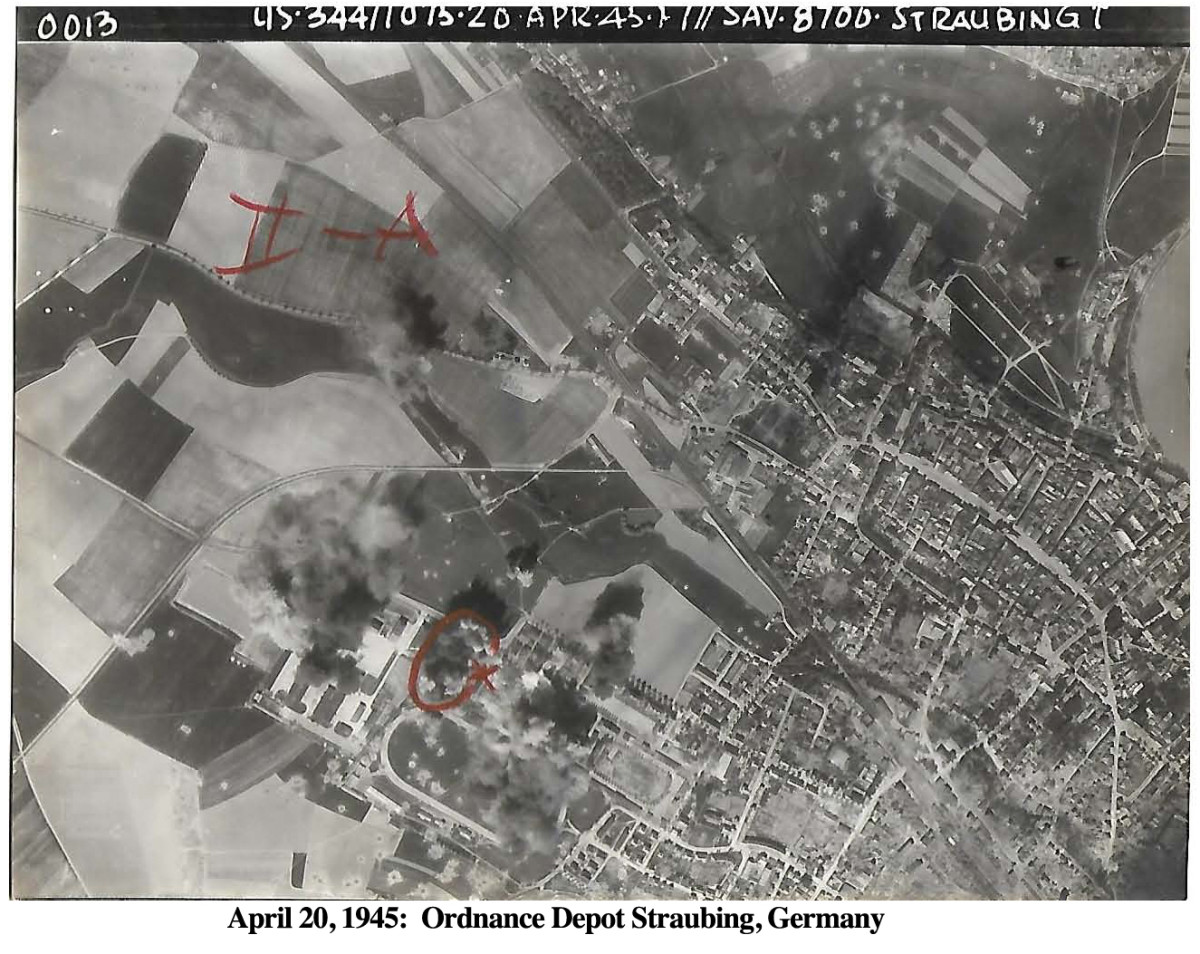 .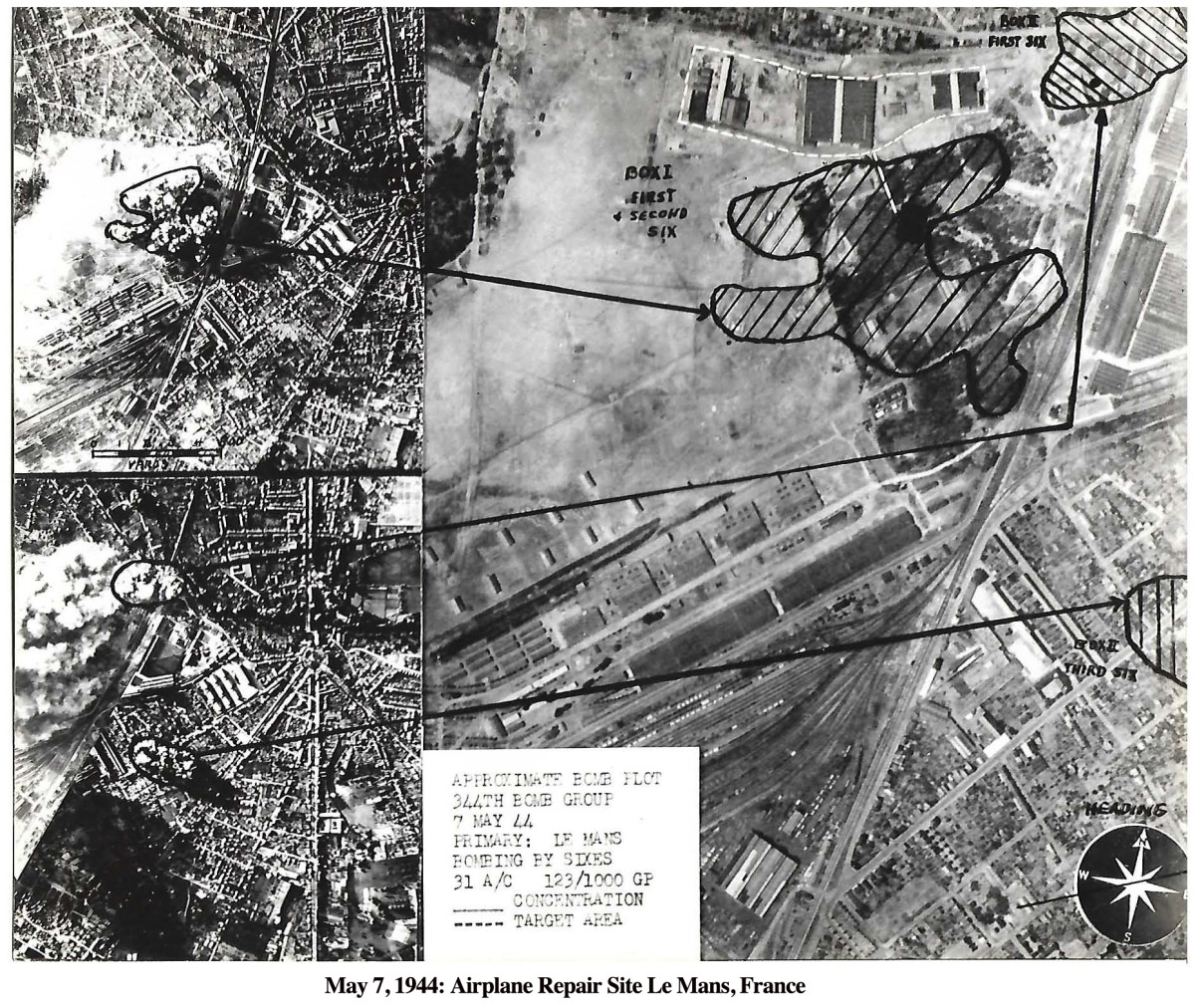 .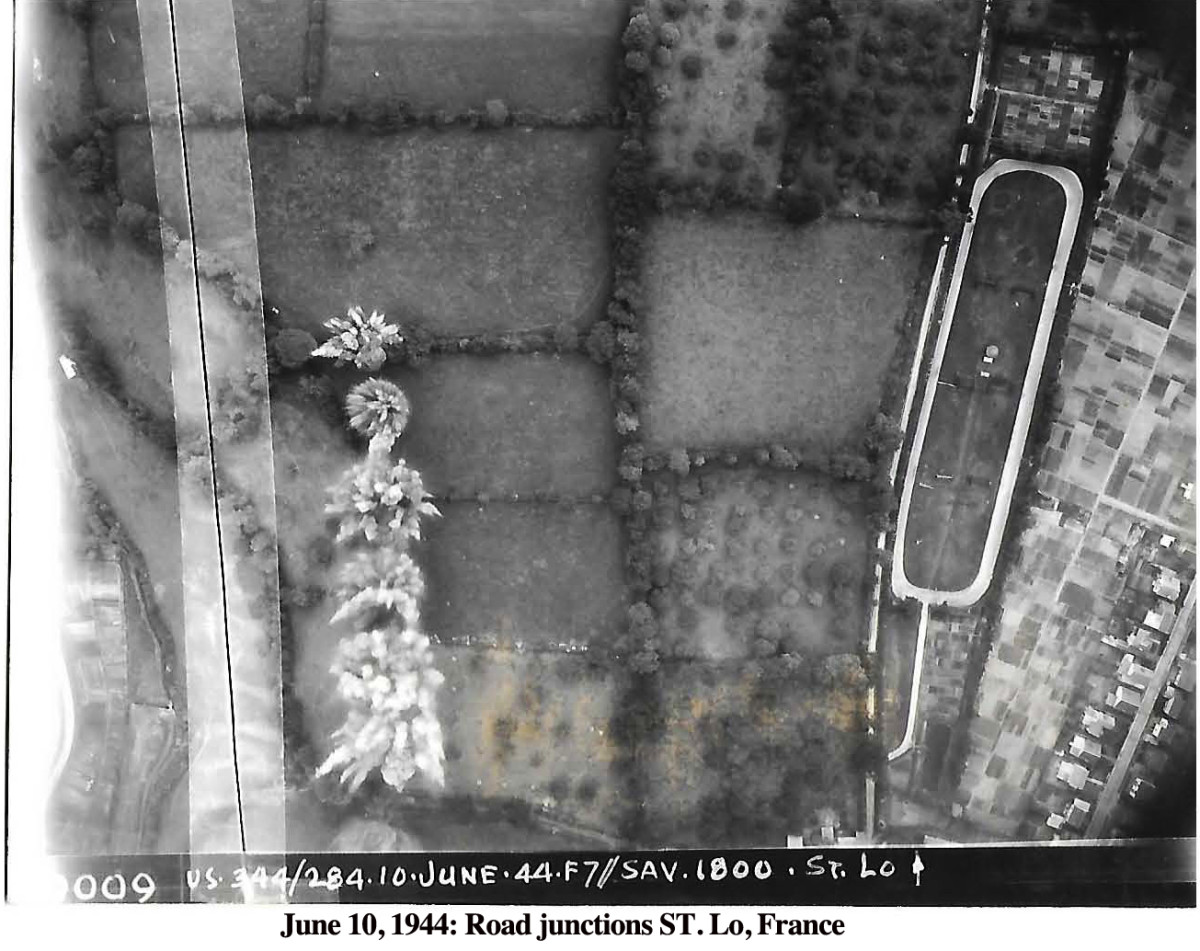 .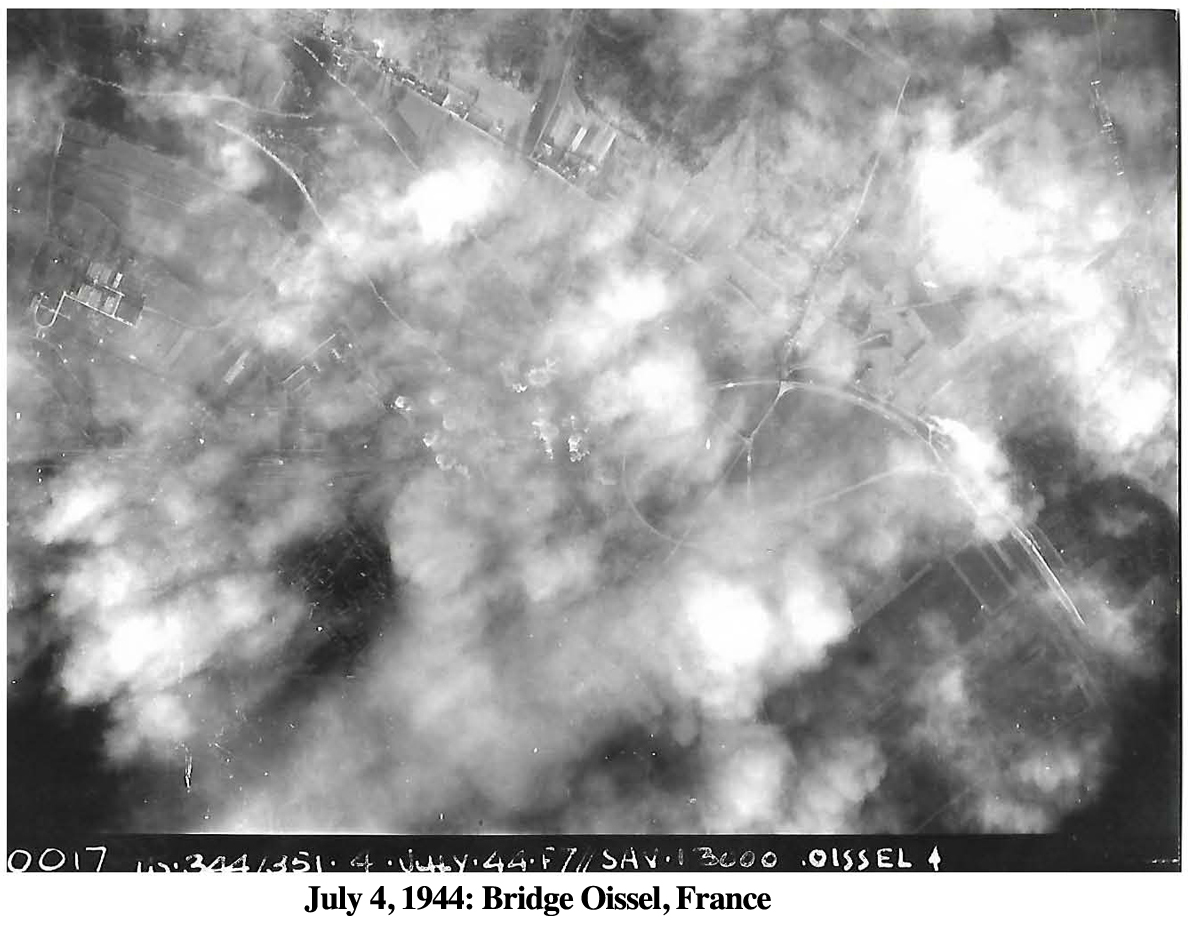 .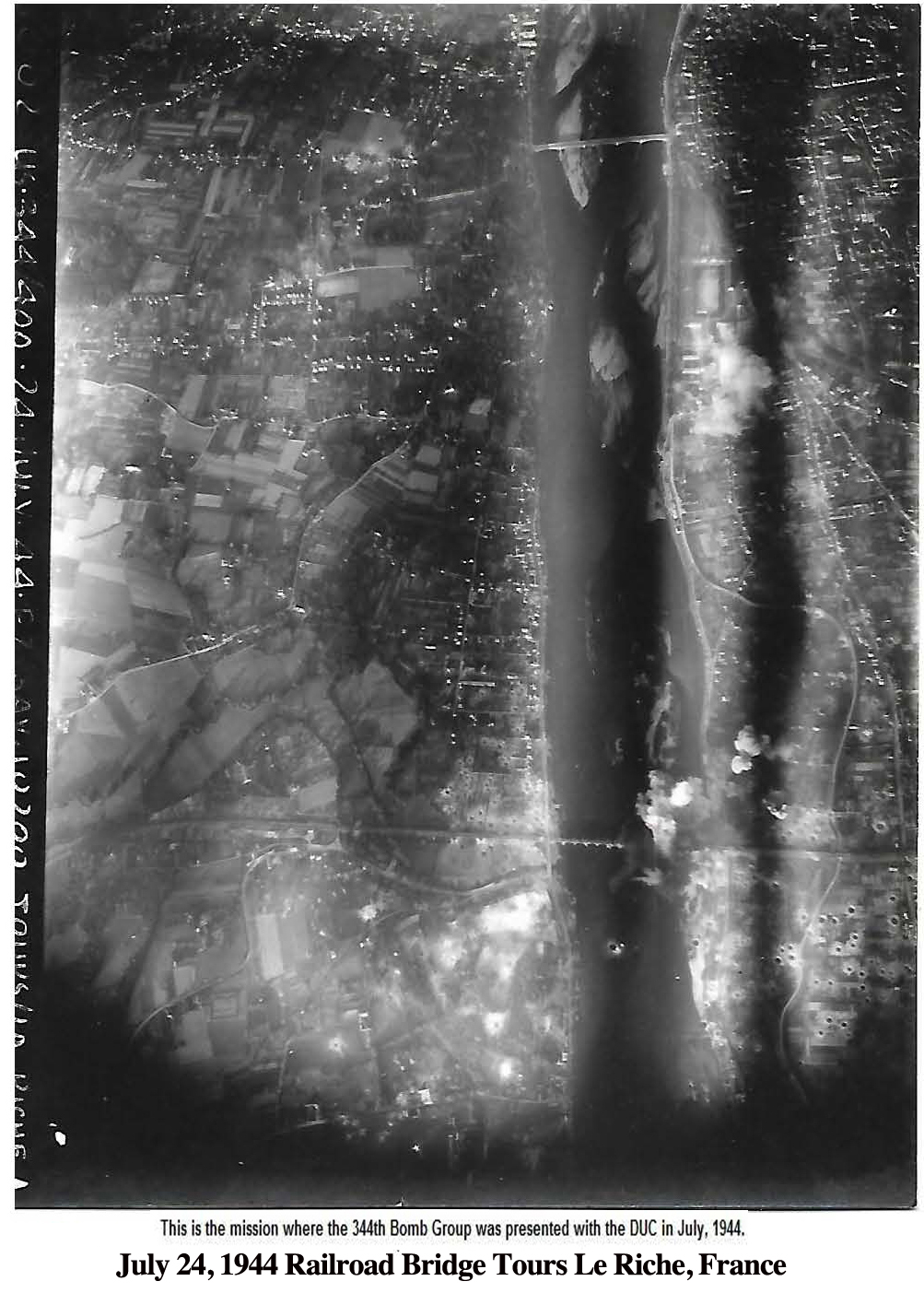 .
Info as per historian Brian Gibbons;
I found Gerald C. Corrigan in the personnel database, but only as a 1st Lt in the 344th BG. I cannot find him in the 1st Pathfinder Squadron, of which I have most, but not quite all, of the Load Lists in a database. I have found I am missing some Individual Mission Records data files.
I can find a Harrell L. Foxx, who was apparently killed in a training flight accident, with the 344th. The Co-Pilot seems to be Richard E. Robinson, who is buried at the ABMC Cemetery, Margraten, D-9-31 on the 31st May 1945. A runaway gun shot off an elevator over the North Sea. The aircraft crashed on land. I am not sure of all crew fates however.
I can also find a 'McGuire' who was killed, but he was with the 452nd BS, 322nd BG. I cannot find a 'McGuire' linked to 344th BG.
I can only find a John Adam's in the 496th BS, as a Co-Pilot. With a Pilot of Thomas E. Morgan; and an Armorer, John Moscatiello. Maybe you can confirm these as linked.
Perhaps Corrigan was actually assigned to either the Wing or Air Force HQ, as a Navigator / Trainer or possibly even with one of the other A-20 Havoc Group's? Again, pure speculation, until something more solid comes up! Time, effort and resources are needed to get much further.
.
.