2nd Lt. Mark Pritchard Bratton, Pilot
.
Mark Pritchard Bratton born 20 August 1924 to William A. Bratton and wife Faye Pritchard in 1 Dalhart, Texas, died 9 February 2004 in Corpus Christi, Texas after a gallant four month struggle to regain his health following a plane crash near San Antonio, Texas.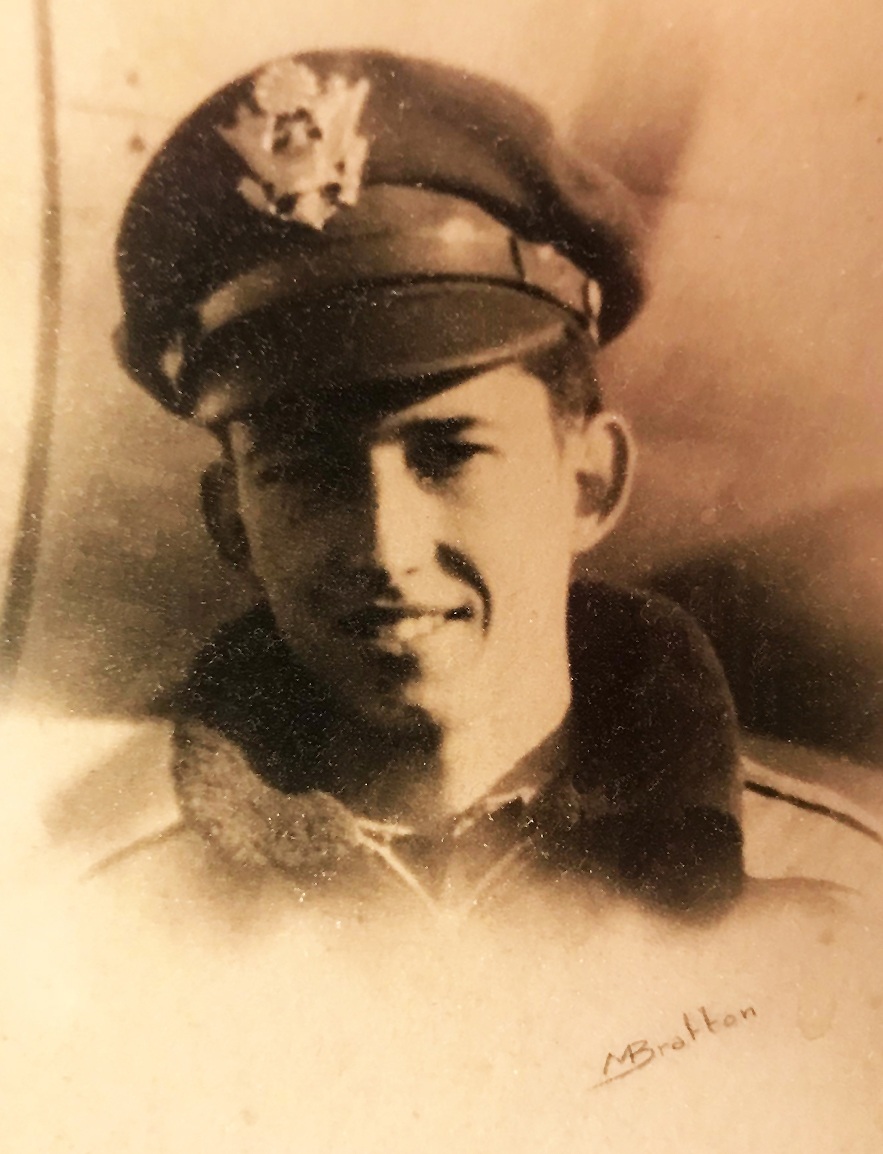 After arriving in Corpus Christi, Texas, Mark became involved in sail boating. In 1959 he won the international competition in the Highlander Class of sailboats. Later Mark became involved in Go Kart competition. He continued to build model airplanes and also became a skilled aircraft pilot with multiple ratings. His endeavors extended to other activities such as flying Young Eagles for the Century of Flight celebration.
Click any picture to enlarge.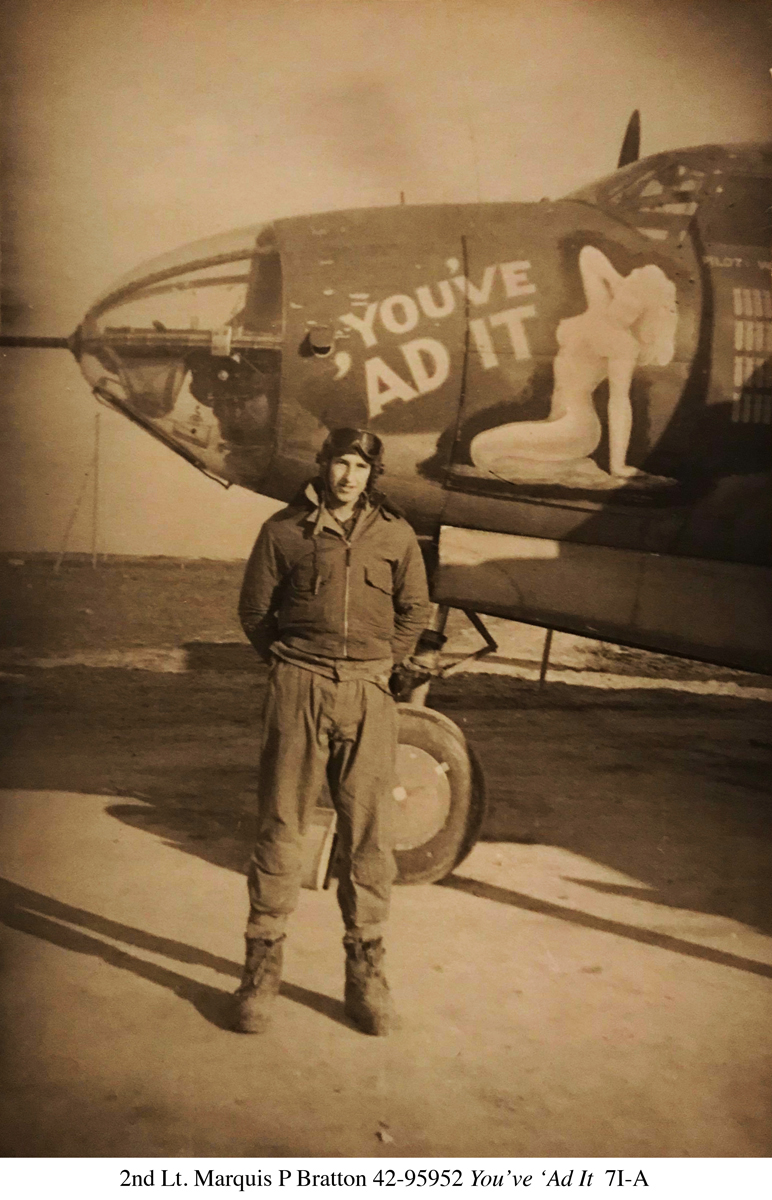 Following Mark's graduation from Pampa High School in 1941, he enrolled at Texas University in Austin. When Pearl Harbor occurred in December 1941 he immediately volunteered for duty with the Army Air Corp as an Aviation Cadet. He was found to be an exceptional pilot and by 1943 he had earned his pilot wings and commissioned a second lieutenant at age 19.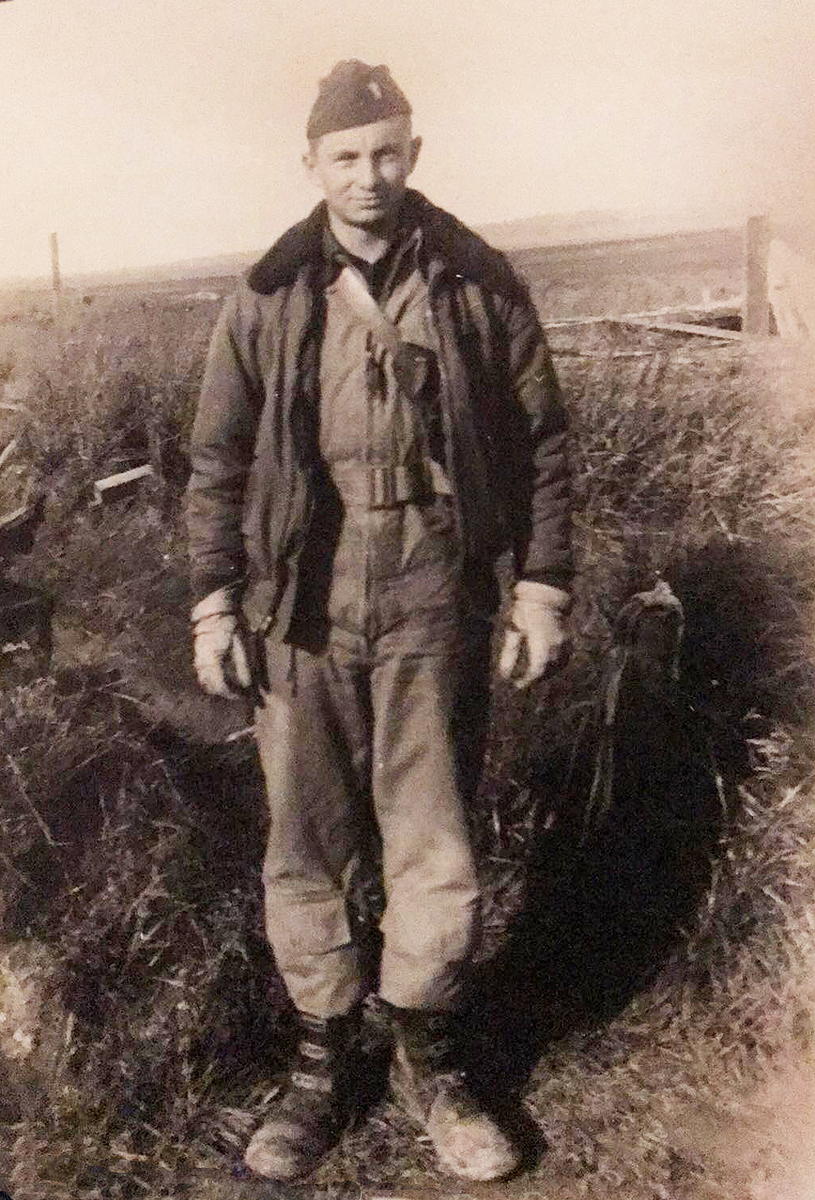 Mark and an Air Corps captain flew their aircraft, a B-26 Medium Bomber from the United States to England. Mark piloted and completed 43 missions over enemy territory with the 344th BG 497th BS before May 1945 when Germany surrendered.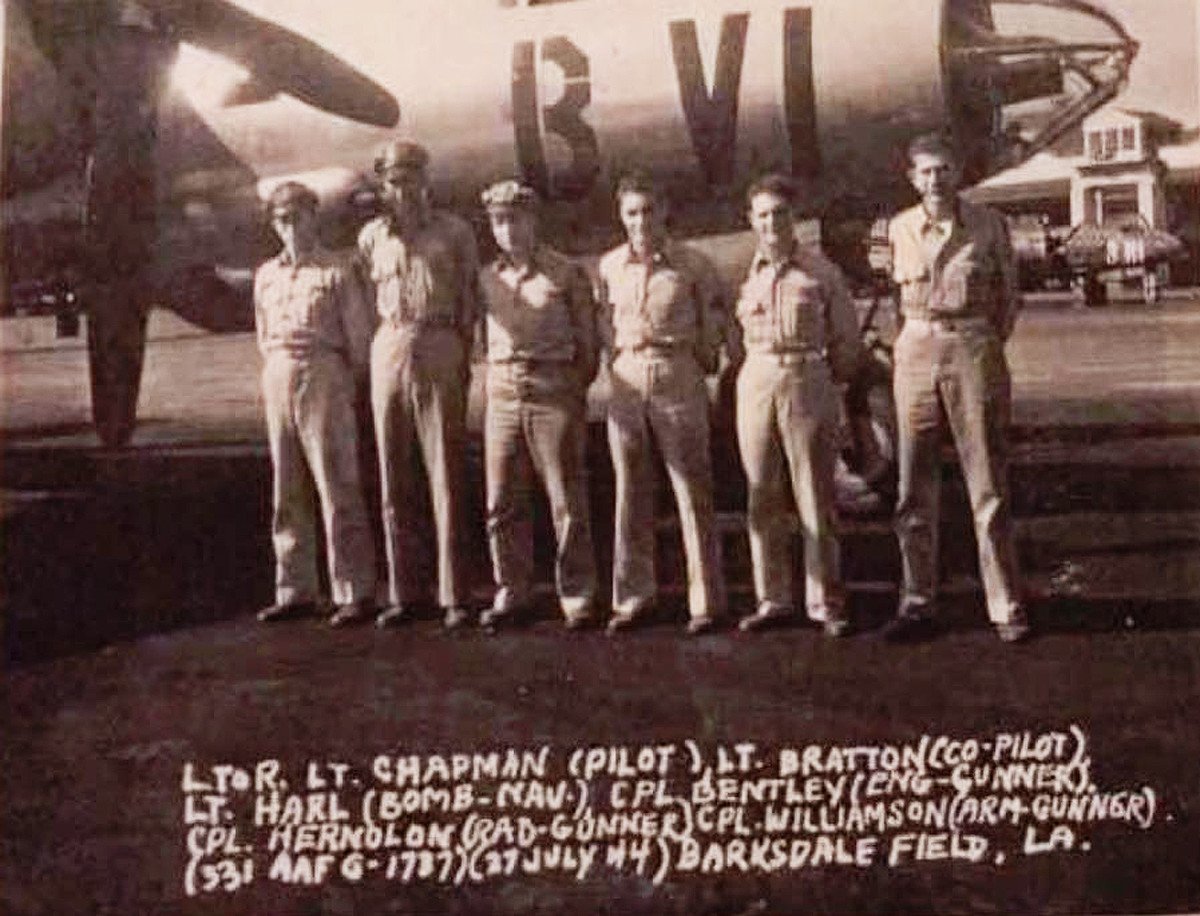 Mark Bratton flew missions during the "Battle of the Bulge." The following is a formation diagram for 1/16/1945, showing the location of Lt. Chapman's plane.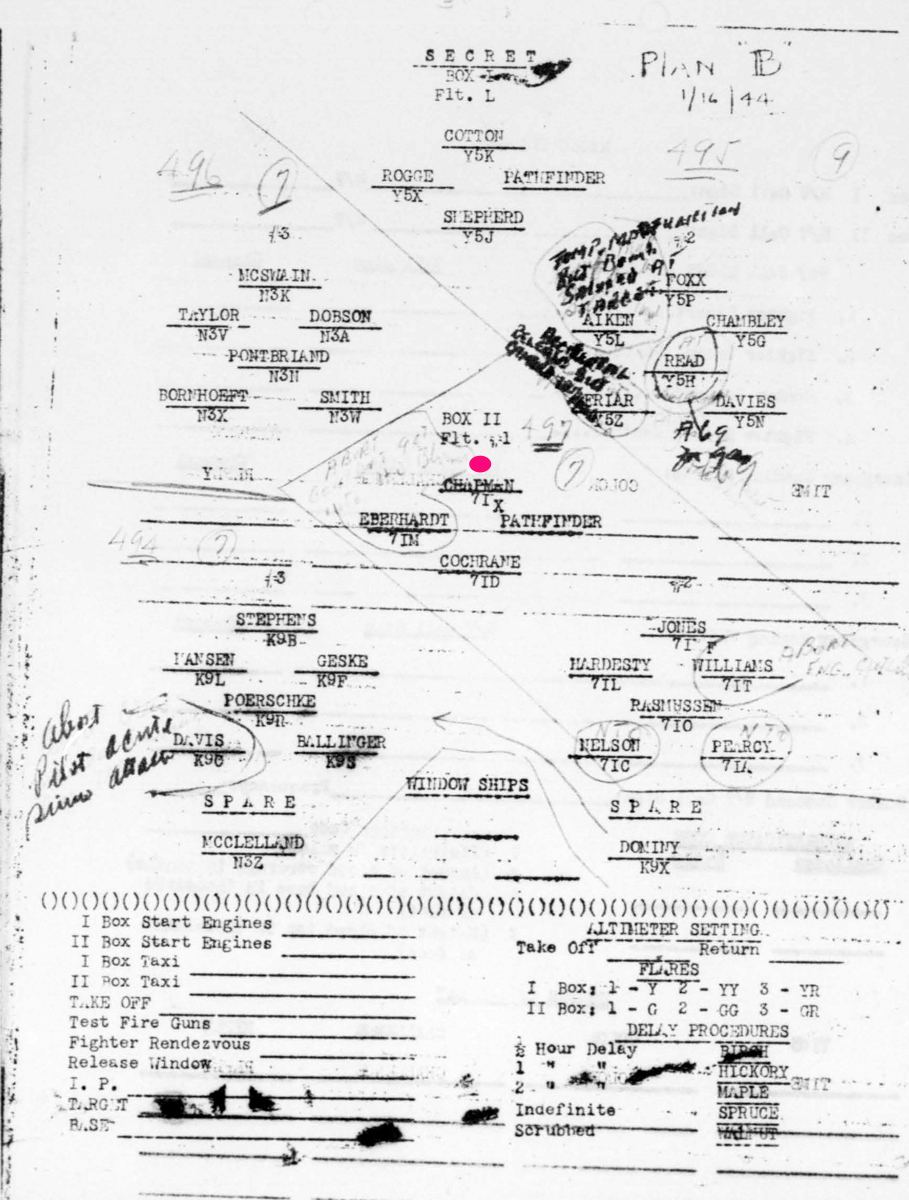 The Load List shows Bratton as the Co-Pilot ducing this mission as well as the other members of the crew.

Mark Bratton kept an extensive scrapbook of his WWII experience. Enjoy the pictures below.
After WWII Mark re-enrolled at the University of Texas. Following college he became the owner of a lumber company. In 1948 he met and married Ann Hardy of Corpus Christi. They were parents of four children. Mark became a partner with his father, father in law, Nat W. Hardy and John Zerr, in East Cliff Residential subdivisions. At the same time, Mark started building and marketing his houses in the Corpus Christi area.
Since then Mark has continued in land development.
One of Mark's hobbies was design and construction of automobiles for his own use. Later he designed and built a series of competitive racecars winning regional championships.
Mark's interest in flying model airplanes continued as well as his fascination with flying developed in WWII. Eventually he bought and restored older planes making them airworthy. This led to him building a Swearingen SX300, which he flew for the next 14 years throughout the United States. He won the Sun N' Fun in Florida in 1990. In 1999 the plane was flown in the Reno Air Races.
Bratton was flying until he was 79 when the propeller broke. He was flying an SX-300 he had built. They were at 10000 feet and he landed it. While sliding on the ground in tall grass the hit a hole and dug in.
He and his wife who was also a pilot flew all over the country in it for 13 years before the accident. He also raced it at Reno and Sun and Fun in Florida. Bratton and his wife were injured and my Mark didn't recover.  This happened in 2003. The SX-300 was a very fast airplane. It was the one he flew to Houston at the B26 get-togethers.
His son, John Bratton really misses his dad. They used to have a lot of fun racing karts or building stuff in the garage or laying around watching the Dallas Cowboys.
The 344th thanks him for providing the pictures for this profile.