2014 New Orleans Reunion 344th BG 495th Bomb Squadron
On Wednesday, Sept 21, 2014 WWII veterans representing the Another one from Ed Horn 344th bomb group 497 bomb squadron met in New Orleans, LA for their annual reunion.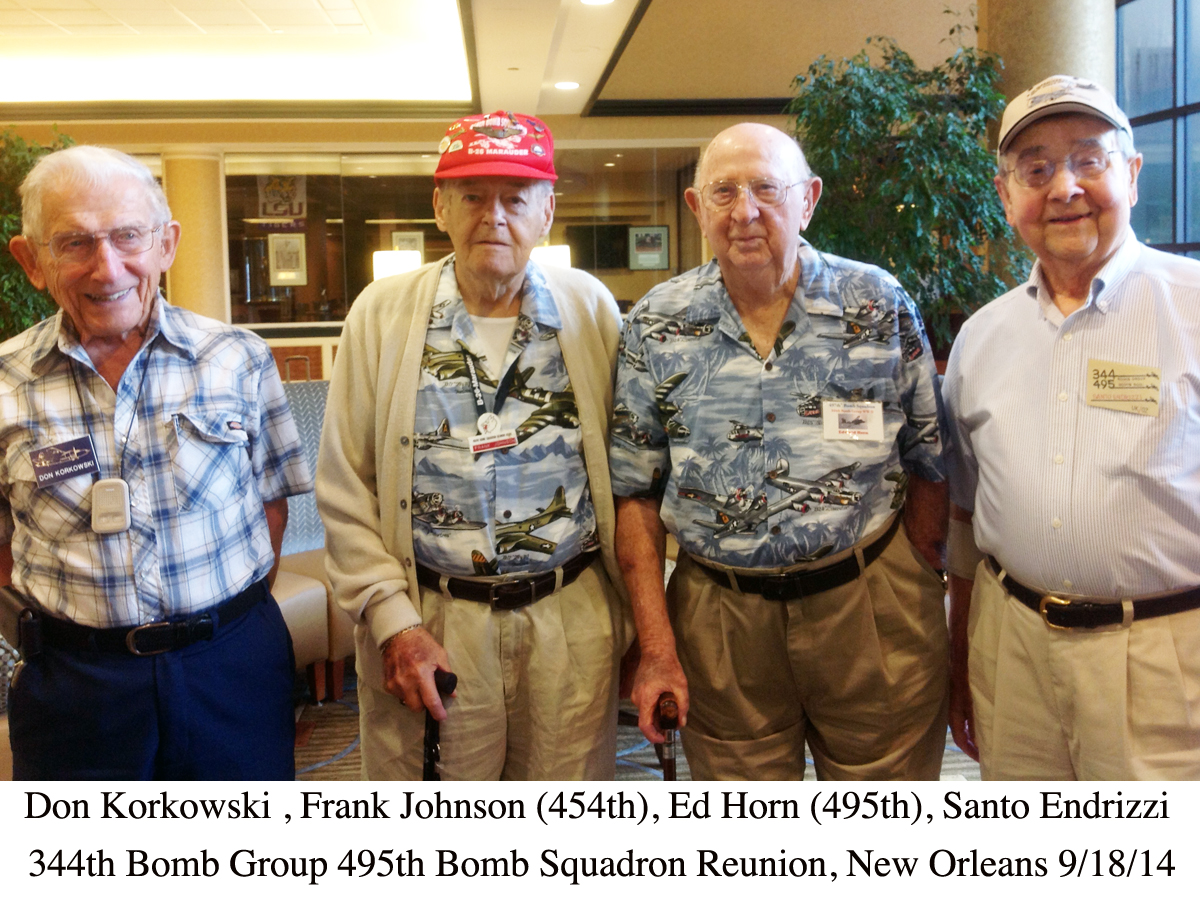 Thursday morning the group departed the hotel for a tour of the WWII museum followed by a tour of the city. At the museum the veterans were greeted as they entered the building and thanked for their service.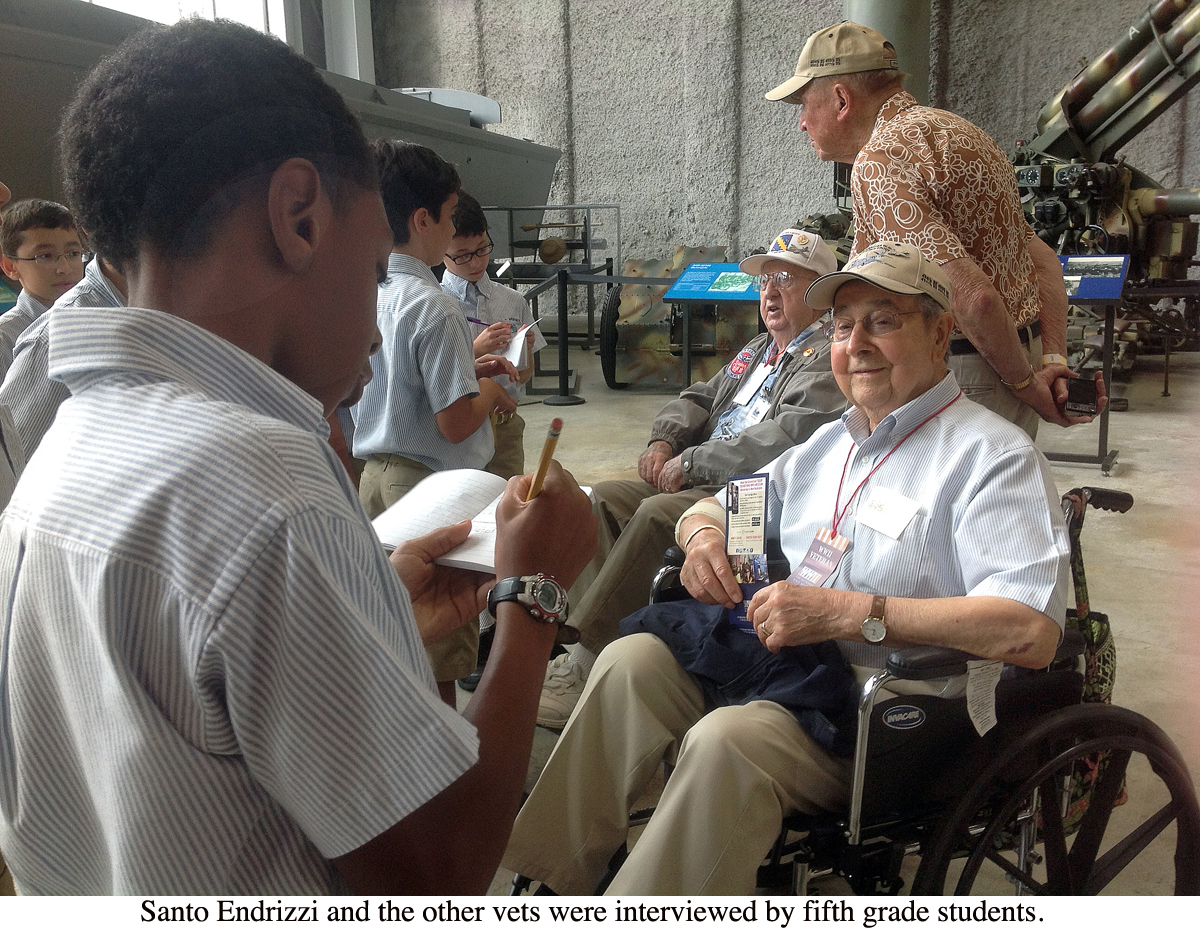 There was a fifth grade class of boys who interviewed the veterans asking them questions about their time in the service. After spending a couple of hours in the museum the group crossed the street to another building where they watched the Tom hanks movie, "Beyond All Boundaries." It was shown in 4D! The effects included vibrating chairs as the bombs exploded, smoke rising from the ground and even snow flakes falling from above. Everyone enjoyed the movie.
Following the movie everyone enjoyed a delicious dinner that included "Po' boy" sandwiches, gumbo and jambalaya.
Friday started with a cruise on a riverboat on the mighty Mississippi followed by time in the French quarter
As you would expect at such a reunion, old stories were remembered and shared.
Here's a story told by the son of a veteran who passed away four years ago who attended this reunion. Fred Cross, a bombardier was in the 454th squadron 323 bomb group. His son, Howard, met his father's pilot, Frank Johnson years ago at oureunion. Frank told Howard about the first time he met Fred. Frank was on the flight line by their B-26. A jeep came up and Fred who was about 25 yrs old, jumped out of the jeep wearing a felt hat with a cigar in his mouth and his boots untied. Frank said to himself "What kind of crew have I got here!" They flew five missions together. When Fred passed at theage of 90 Frank wrote Howard a letter that Howard treasures to this day.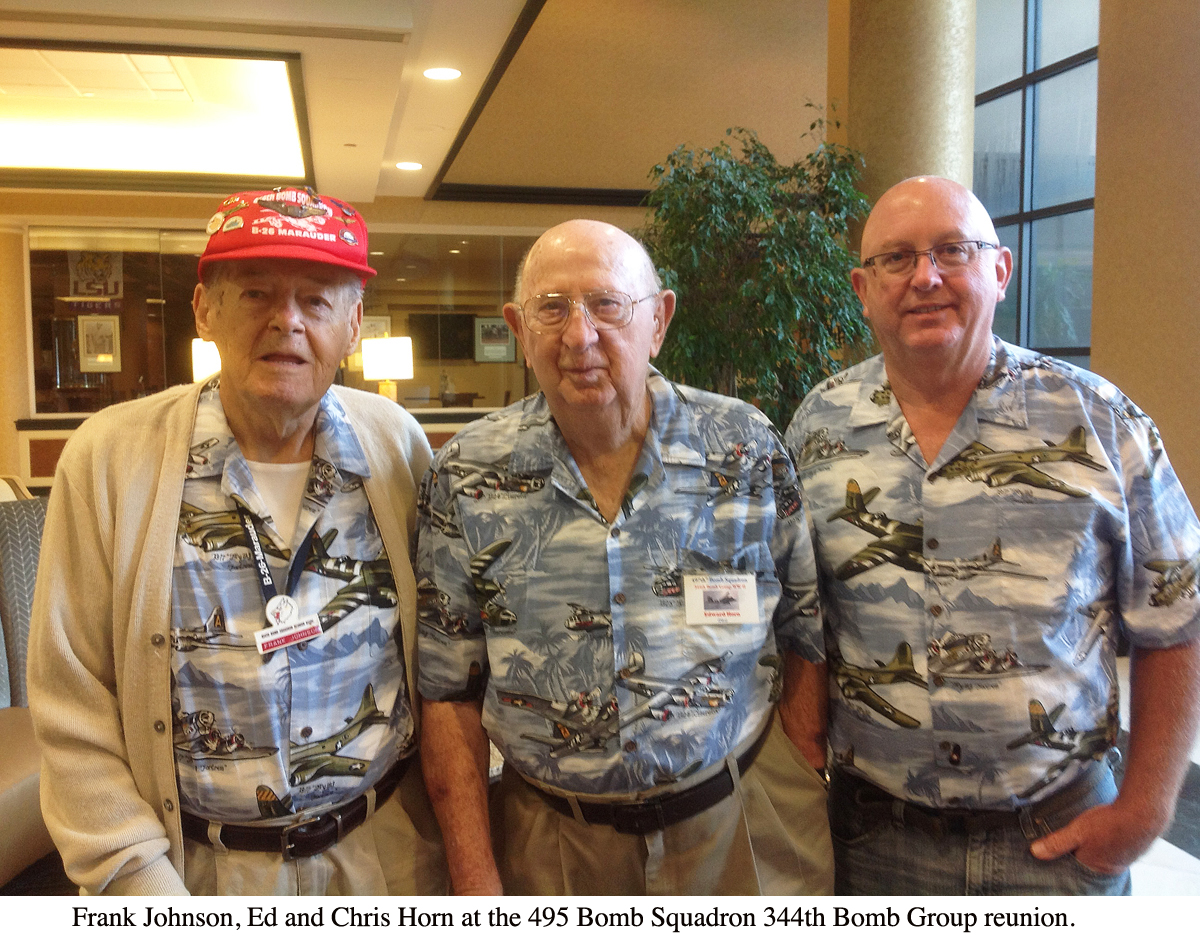 Another one was told by Ed Horn of the 344th bomb group 497 bomb squadron
Ed Horn started out in Lakeland, Florida and flew to Georgia to pick up his new
B-26 Marauder. The 19 year old at Gunter airfield was told he had to sign a chit documenting receipt for one
Martin b26 medium bomber with two Pratt and Whitney R280 engines. This document stated plane cost $192,000.00! Ed asked the supply Sargent if he was responsible for the plane. The Sargent replied the airplane is
expendable and so are YOU!
Next he flew to Morrison Field in West Palm Beach, Florida where Ed now lives. It is now called Palm Beach
International Airport. He flew 9000 nautical miles across the South Atlantic to England. With a range under 1900 miles the B-26 required several stops including finding the 36 square mile Ascension Island. The trip took one month! He reached his destination to his permanent base at Stansted, England. We started flying missions to France Belgium and
Holland in February of 1944.
On his 23rd mission to France his plane was shot down and Ed Horn became a German prisoner of war. Of his
6 man crew, the first pilot was machined gunned while descending in his parachute and his tail gunner is still MIA. Twoof his crew were picked up by the French underground and evaded capture by the Germans. Three months later they were returned to England. Ed was in four different prison camps including Stalag Luft 3 which was the basis for the movie, "The Great Escape." Ed was liberated on April 29,1945 by General George Patton and the Third Army.