Relics and Awards
The following is a collection of awards and artifacts I have gathered regarding Frank Carrozza's service. Some of them have a story to go with them.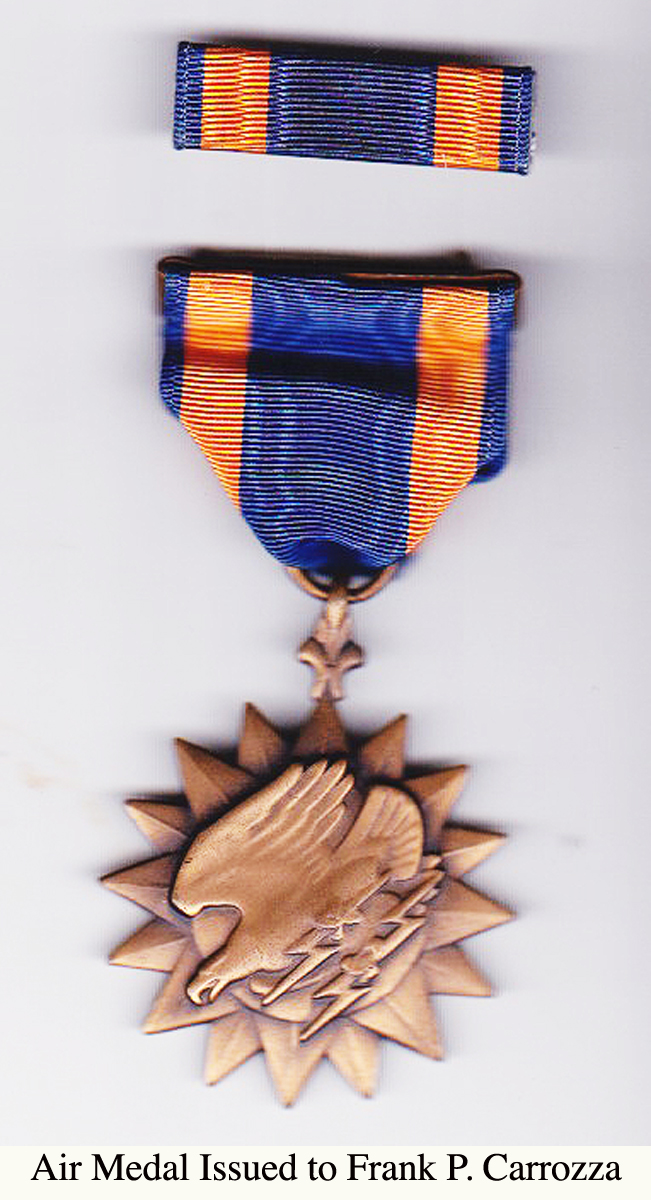 The Air Medal was established by Executive Order 9158, signed by Franklin D. Roosevelt, on 11 May 1942. The Air Medal was awarded retroactive to 8 September 1939. The medal is awarded to anyone who, while serving in any capacity in or with the Armed Forces of the United States, have distinguished themselves by meritorious achievement while participating in aerial flight. [2][3][1]
During World War II the medal's award criteria varied widely depending on the theater of operations, the aircraft flown, and the missions accomplished. In Europe some bomber crewmembers received it for five sorties; elsewhere, the Pacific and CBI much higher criteria were used.[4] The Distinguished Flying Cross would be given to a commissioned officer where the Air Medal would be awarded to an enlisted man.
The Air Medal may be awarded to recognize single acts of merit or heroism, or for meritorious service. Award of the Air Medal is primarily intended to recognize those personnel who are on current crew member or non-crew member flying status which requires them to participate in aerial flight on a regular and frequent basis in the performance of their primary duties. However, it may also be awarded to certain other individuals whose combat duties require regular and frequent flying in other than a passenger status, or individuals who perform a particularly noteworthy act while performing the function of a crew member but who are not on flying status. These individuals must make a discernible contribution to the operational land combat mission or to the mission of the aircraft in flight. [5]
Examples of personnel whose combat duties require them to fly include those in the attack elements of units involved in air-land assaults against an armed enemy and those directly involved in airborne command and control of combat operations. Also to include personnel performing "Dustoff" Medevac operations. Awards will not be made to individuals who use air transportation solely for the purpose of moving from point to point in a combat zone.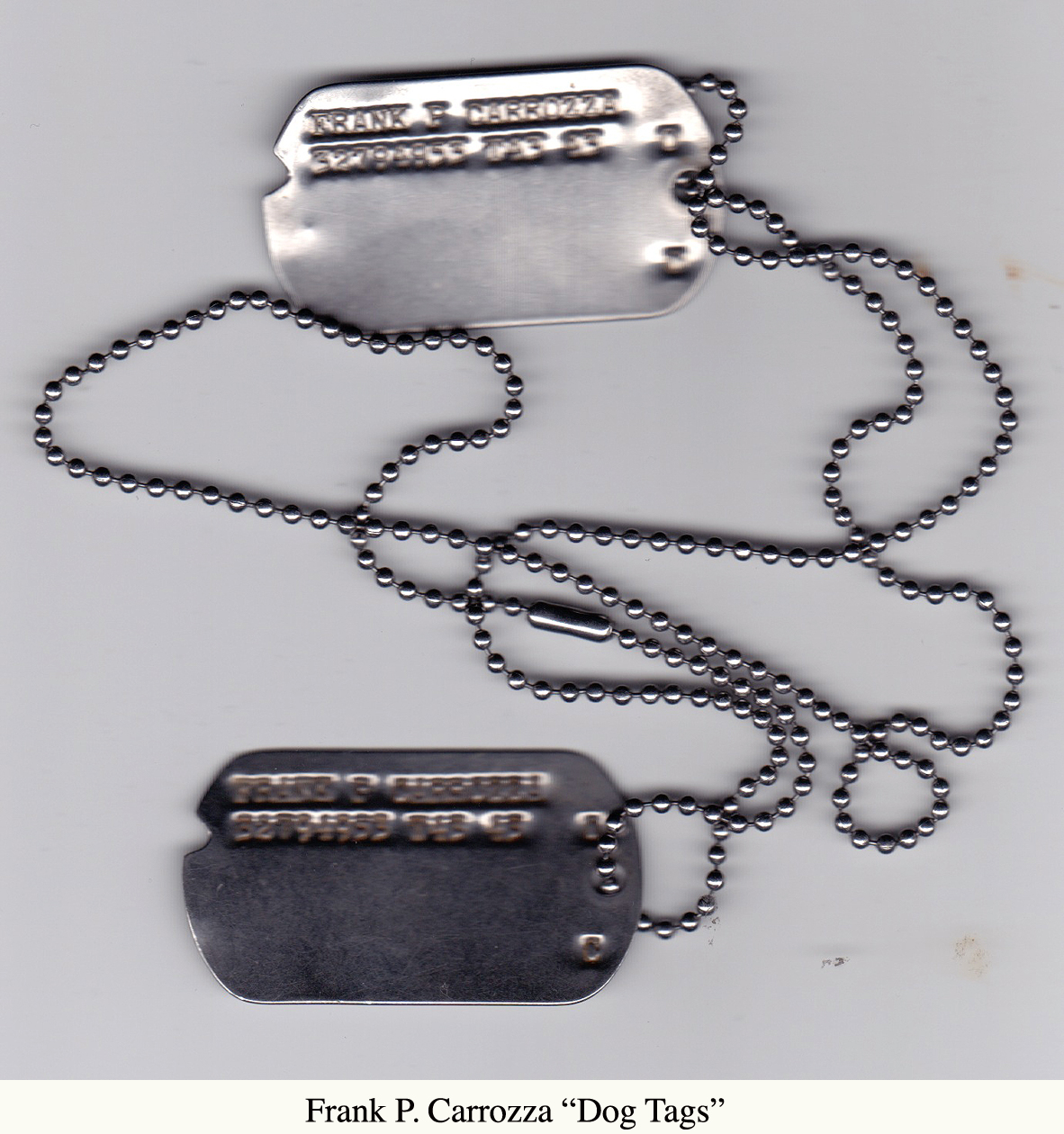 A dog tag is the informal name given to the identification tags worn by military personnel, because of their resemblance to actual dog tags. The tag is primarily used for the identification of dead and wounded and essential basic medical information, such as blood type[1] and history of inoculations, along with providing religious preference. Dog tags are usually fabricated from a corrosion-resistant metal although, they have been made from whatever was available.
It may contain two copies of the information and be designed to break easily into two pieces. Other nations use two identical tags. This allows half the tag to be collected from a soldier's body for notification while the other half remains with the corpse when battle conditions do not allow the body to be immediately recovered.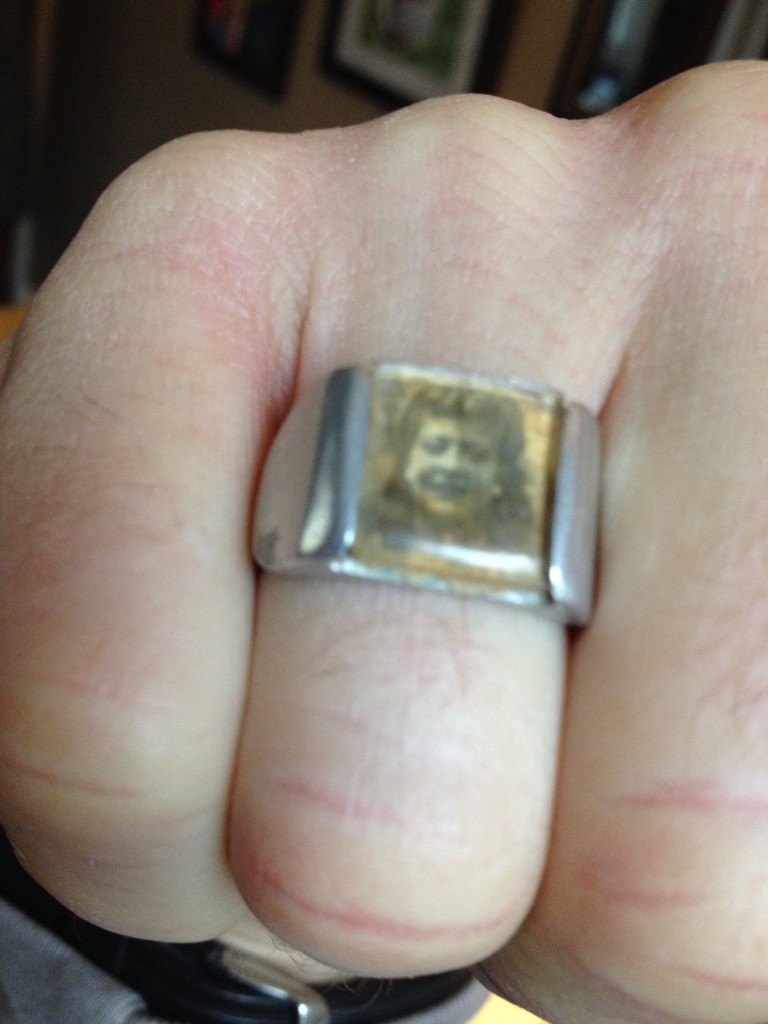 Dad came to the European Theater when his crew flew the "Ferry Route" from Georgia to England. Because of the B-26 range limitations the route went from Brazil, to the Ascension Islands, to Morocco, to England. When in Morocco my dad had the chance to talk to some Italian POWs through the fence. My father's first language was Italian so communication was no problem. Dad says he made a deal with a captured craftsman in which he fashioned this ring which includes Lucy Carrozza's picture in return for some t-shirts.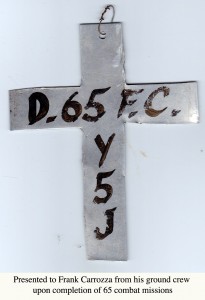 Upon completing 65 missions, Frank Carrozza completed his tour of duty. A lot of airmen never survived to enjoy that accomplishment. When he landed from his last mission, the ground crew presented Frank with this cross, fashioned from aircraft aluminum. Painted on the cross is a 65, dad's initials, and the letters of the Shopworn Angel (y5-J).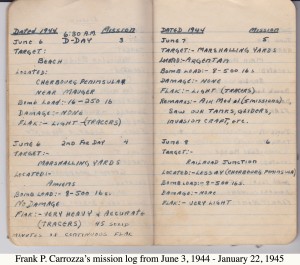 Frank Carrozza kept a mission log from June 3, 1944 through his last mission on January 22, 1945. This log has been of great value to me while doing research for this web page.