A Controversial Picture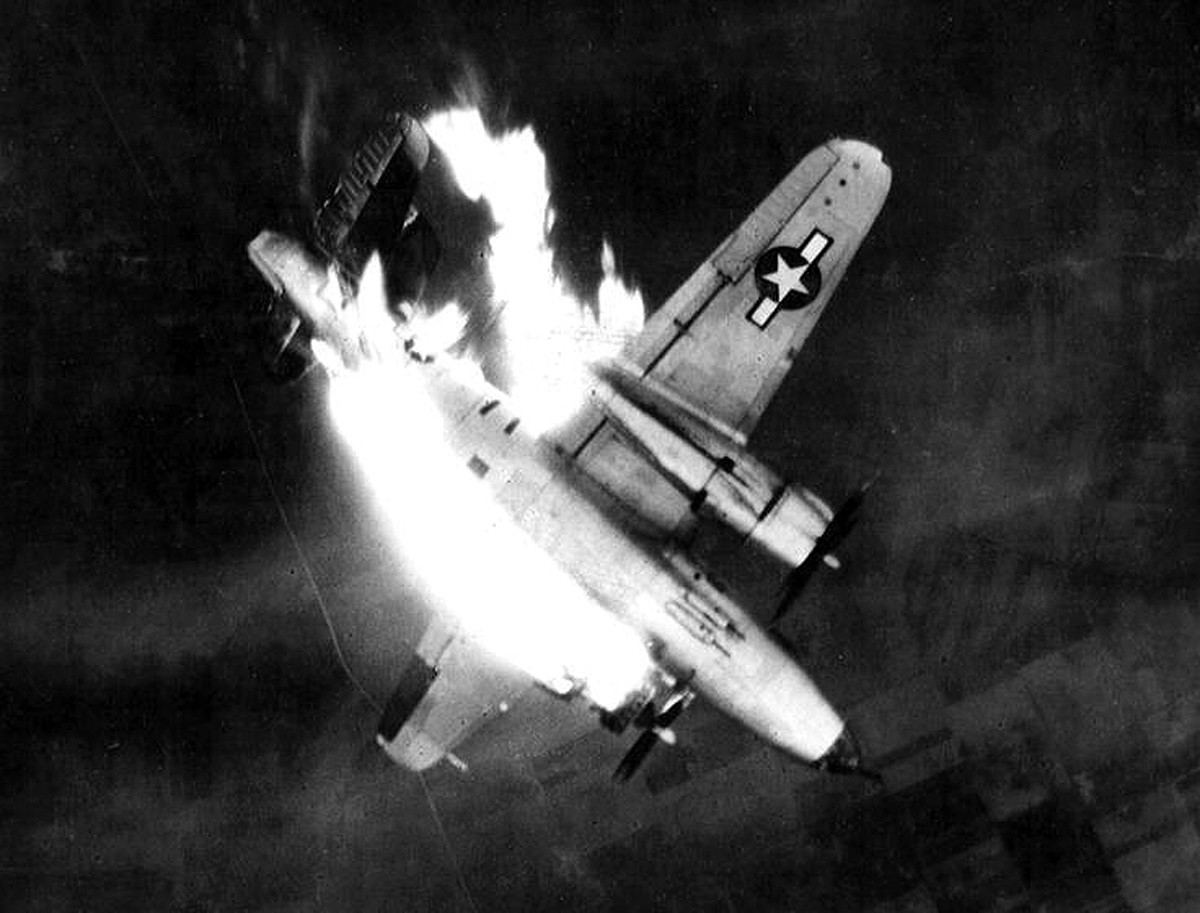 As webmaster for the 344th Bomb Group, I gather information, photos, and am in contact with some of the remaining veterans. My problem comes with the famous picture shown here. It is commonly identified to be:
"Official" record of above: Bomber "Marauder" B-26, serial number 43-34565, Gratis Gladys, 7I-B, 497 Squadron, 344th Bombardment Group, 9th U.S. Air Force is crashing to the ground after receiving a direct hit in the left engine during the bombing of a Erkelenz, Germany, 23 Feb 1945. MACR 12649
Capt. Carl Franklin Chapman (killed) Pilot
1st Lt. John Jack Sheehan (killed) Co-Pilot
2nd Lt. James Richard Harl (killed) Bombardier
1st Lt. Kenneth Gordon Bowdish (killed) Navigator
T/Sgt. J P Herndon (killed) Radio/Gunner
S/Sgt. Ballard James Bentley (killed) Engineer/Turret
S/Sgt. W T Williamson (killed) Tail Gunner/Armourer
1st Lt. Frederick Darwin Storey, Jnr – GEE operator (killed)
The problem comes from a conflicting story from an eyewitness! Don (Corky) Korkowski tells me that his plane's camera took this picture on February 13, 1945. His story goes as follows.
"The camera was intended to record our bombing results. I helped to develop the film and we were surprised that the exploding plane happened to be right in the camera's view. Two planes were shot down at almost the same moment. Yeager's plane (MACR# 12221 DATE – 13 Feb 1945) to his left and Williams plane (MACR# 12305 DATE – 13 Feb 1945) in front of him. It was hit and rolled over and went under my plane as the picture was taken. You can see shrapnel in the picture and possibly the trails of rockets that I believe were shot at the formation."
So I would like to ask the historians who come to this FB page to advise me. Korkowski who is still with us and in very good shape has gone over this me several times and has mailed me copies of this picture from his collection. He is sure this photo is of Williams plane (42-107679 7I-M). How should I label this picture or do I just provide the controversy as outlined here?
Click to enlarge