March 28, 1945 Collision Over A-59
On March 28th 1945 two B-26B Marauders (#42-95974 N3-S), piloted by 2nd. Lt. Walter H. Hedstrom and (#42-95861 N3-A), piloted by 2nd Lt. Arthur M. Williamson were involved in a mid-air collision over their air base at Cormeilles-en-Vexin, France (Station A-59) .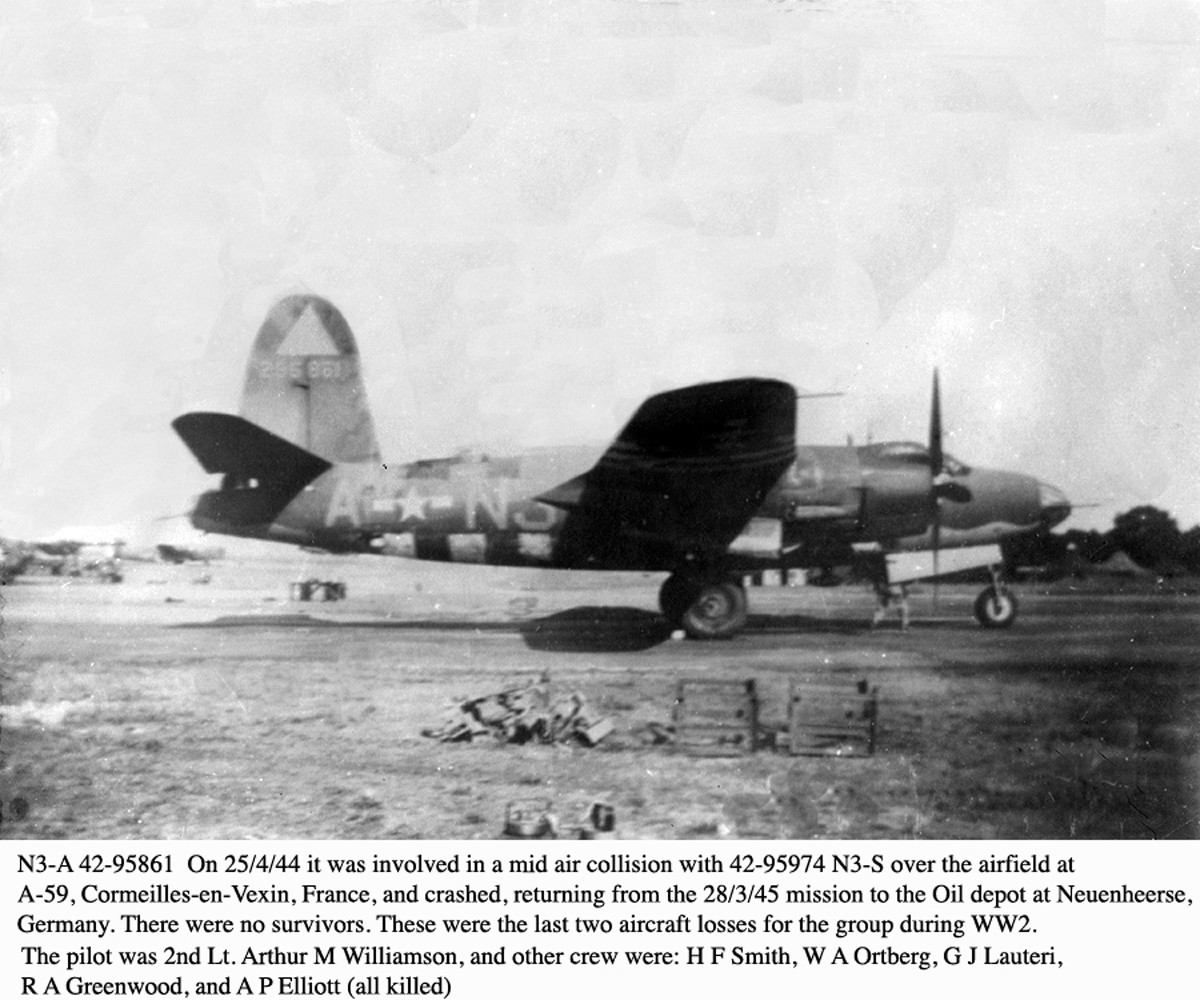 Both crews died in the collision; 2nd Lt. Walter H. Hedstrom, 2nd Lt. John R. Gersting, 2nd Lt. Quinn L.Smith, Cpl George I. Burton, Cpl Henry F. Cavaveste, Cpl Bernell B. Barney (all crew 3); 2nd Lt.Arthur M. Williamson, 2nd Lt. Henry F. Smith, F.O. William A. Orthberg, Cpl Gelgo J. Lauteri, Cpl Robert A. Greenwood, and Cpl Albert P. Elliot Jr.
Notes:
There are accident reports available for both aircraft, you will find the websites for getting these reports if you Google the aircraft serials. Unfortunately, the 344th BG history book does not mention these accidents, as far as I can see. The mission list in the book have no mission listed for March 28th 1945, but the text says mission #240 to Neuenhersee Oil Depot in Germany, the mission list have this for March 29th. A third 496th BS Marauder Man, 2nd. Lt. John R. Gersting is also buried at Epinal Cemetery, date of death March 28th 1945.