1st Lt. George W. Eldridge
Bombardier 1st Lt. George W. Eldridge flew with the 344th Bomb Group, 494th Bomb Squadron.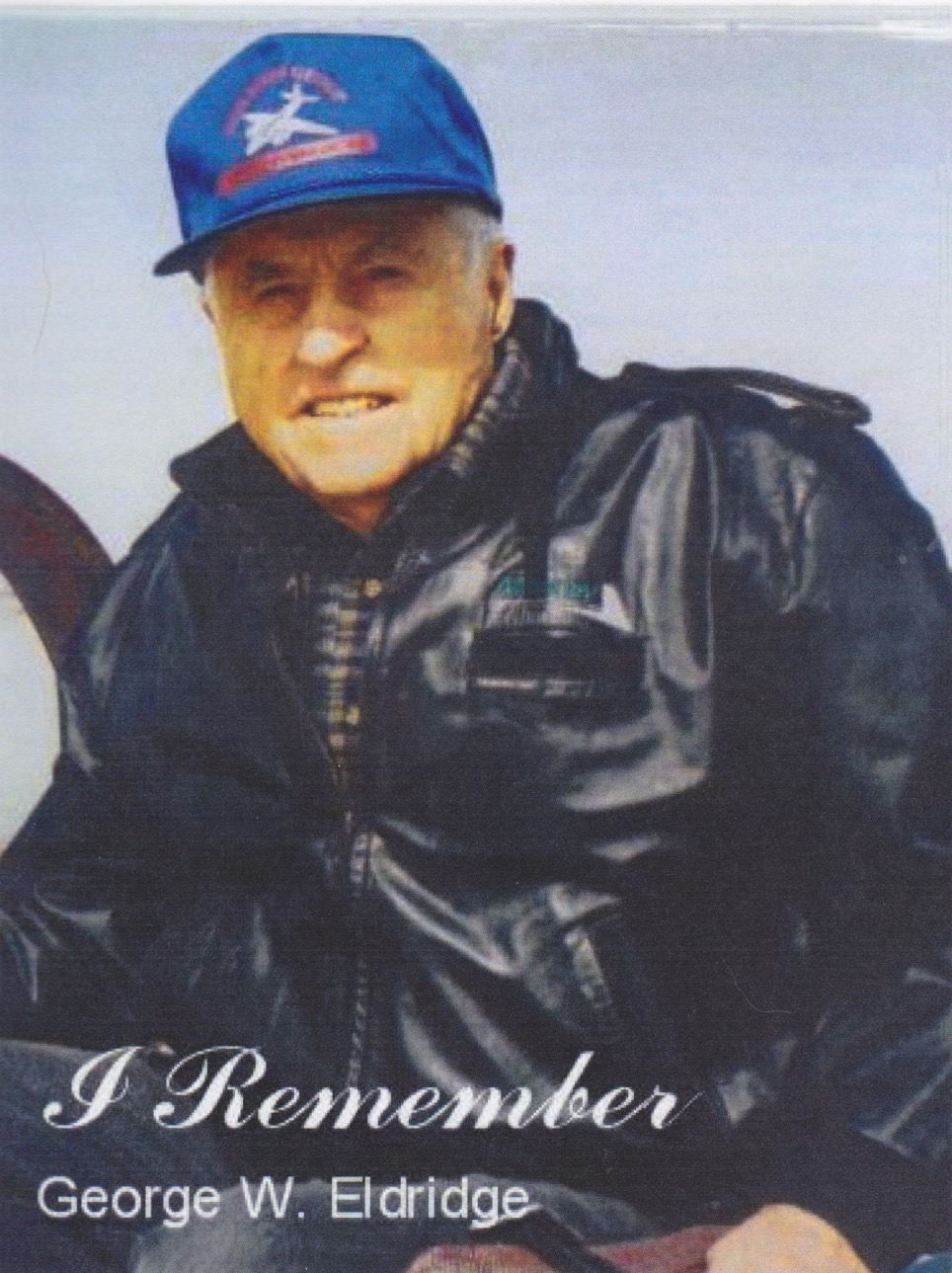 He was part of the Crew of Tom's Tantalizer II 42-107573 K9-B and K9-H. He flew as bombardier in the ETO from March 1944 until April, 1945. He remained in Belgium and then Germany until after VJ Day.
George Eldridge's Wartime Memoirs
I interviewed the nearly 99 years old George W. Eldridge by phone. I enjoyed talking to this WWII hero who flew on many of the same missions as my father even though they didn't know each other at that time.  When doing research and collating this web entry, I discovered some questions that I hoped he could answer. The following is paraphrased from our conversation;
Q. Were you often the lead plane on missions?
A. Yes. I was the lead bombardier many times. A bombardier was an officer who was able to use the Norden bombsight. The toggiliers behind me were able to arm and release the bombs manually. In the group the bombardier in the lead plane released his bombs using the bombsight. All other planes released their bombs when they saw the lead ship release.
Q. Did you operate the secret Gee or Oboe navigation systems?
A. Our navigator Carl Moore used Gee for navigation. ( Gee was the code name given to a radio navigation system used by the Royal Air Force during World War II. American bombers were allowed to use it as well. It measured the time delay between two radio signals to produce a "fix", with accuracy on the order of a few hundred meters at ranges up to about 350 miles.
.
Q. What was your opinion of your Pilot Tom Johnson?
A. He died about 1985. He was a great man. There was no better a pilot. He demonstrated unsurpassed leadership. I can't say enough about the man.
.
Q. What medals did you receive?
A. I received the Distinguished Flying Cross, Air Medal, and  a Purple Heart (see below).   I got the Purple Heart when flak came through nose and shattered plexiglass. A piece cut my face. Carl Moore got injured in the same manner and time. No stitches were required. Everybody got the Air Medal after 25 missions. (My research shows he also was decorated for participation in the European Theater of Operations, a Victory Medal, and a Good Conduct Medal.)
.
Q. Your pilot, Tom Johnson got a Distinguished Flying Cross for the May 28th 1944 mission to Amiens. Were you on that mission? Did you receive an award too? What happened that day?
.
A. I can't remember that.
.
Q. Tom got an oak leaf cluster added to his Distinguished Flying Cross for his leadership during the September 19, 1944 mission to bomb the marshaling yards at Düren, Germany. What happened that day?
.
A. I received the Distinguished Flying Cross for that mission as well. The weather was bad and most of the planes in the formation turned back. We ended up leading just 6 planes that completed mission from first flight. We did something very dangerous. To get over clouds we flew at to 19,000 feet.  We did this without oxygen. It was clear over target, so I was able to see to drop the bombs from 19,000 feet. (See Decompression Handwriting Test) Rest assured we still had flak.
.
Q. How did you feel about Korkowski belly landing Toms Tantalizer? Some things I've read suggest your crew was unhappy about it.
.
A. We were ok with that. Anything written to the contrary isn't true.
.
Q. What plane did you fly while it was being repaired?
.
A. We flew whatever they gave us. Before the belly landing by Corky we used Tom's Tantalizer most of the time. After that we never flew in it again even after it was repaired.
.
Q. Can you tell me about any other close calls or interesting occurrences?
.
A. I was hit with a thumb-sized piece of flak. Fortunately it didn't penetrate my flak suit. The same thing happened to other guys too.
.
Q. I have a wedding picture. Can you tell me about it?
.
A. The picture was from Carl's (Moore) wedding in Texas after they got back to the states.
.
Q. Hopefully I will see you at the reunion.
.
A. Maybe. It depends on where it is being held.
Click for George Eldridges memoires of his ETO experience .
Eldridge's Navigator Carl Moore wrote an excellent book, Flying the B-26 Marauder Over Europe. Link to Amazon summary and offering.
Click for excerpts from Moore's book that describes his relationship with George Eldridge and information about their crew.
Below is Moore's description of 1st Lt. Eldridge;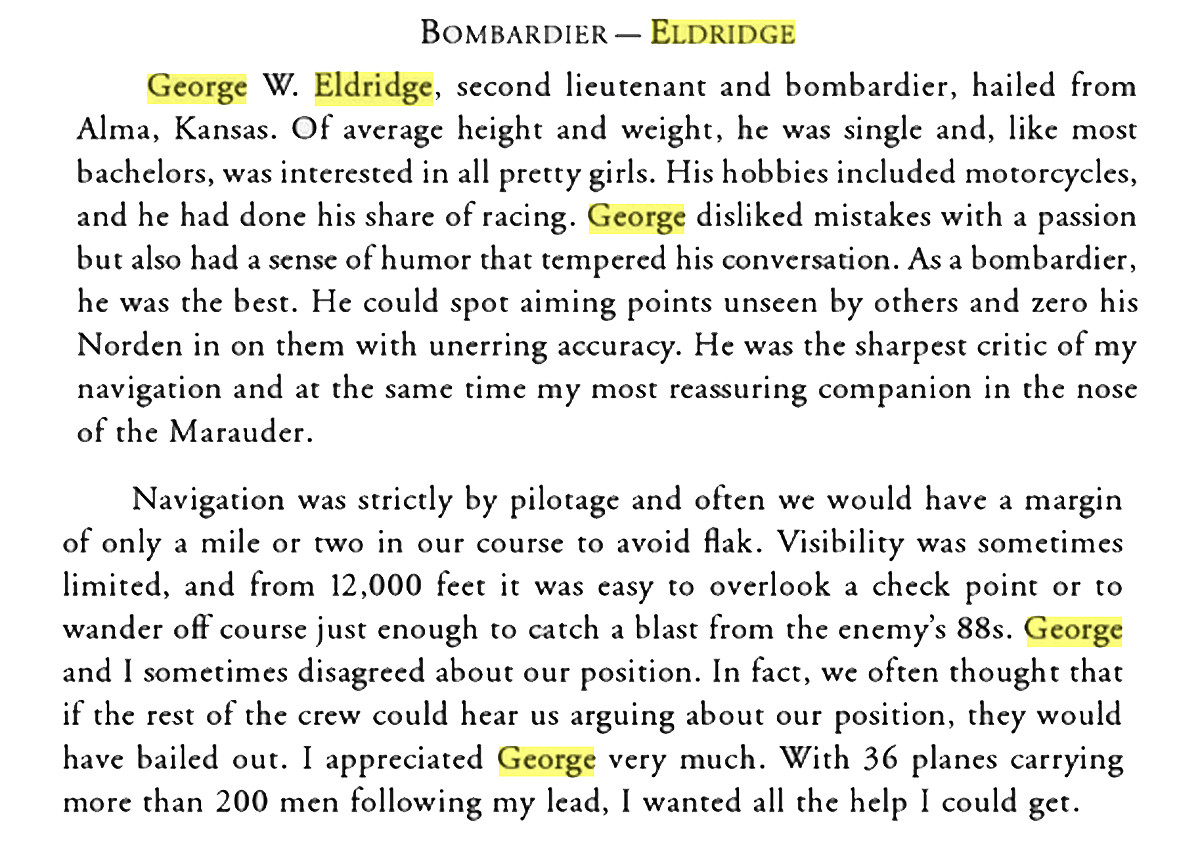 George Eldridge came down with hepatitis just before he and his crew were to be sent overseas. While the crew went ahead, Eldridge spent six weeks in the hospital and eventually met up with the others via the ocean liner Saturnia.
Eldridge's crew picked up their assigned B-26B Marauder Serial 42-95977 in Savannah, Georgia and flew it over the Atlantic to Morocco via South America. Mechanical failure forced their plane down at Tindouf airfield Algeria. They flew from there to Marrakech, French Morocco where they picked up another Marauder, Serial 42-107573, which was christened "Tom's Tantalizer". The crew arrived in England in February 1944 and soon started flying combat missions.
The Crew:
Tail gunner, S.Sgt
Joseph Castoro
Turret gunner, S/Sgt
Charles W. Calkins
Radio /waist gunner
T/Sgt Dorr E. Tippins
Crew Chief T/Sgt
Michael Ondra

Bombardier 1st Lt.
George W. Eldridge

Navigator 1st Lt.
Carl H. Moore*

Asst Crew Chief
S/Sgt Marini

Pilot Major
Thomas F. Johnson
.
Eldridge's Pilot: Tom Johnson was awarded the Distinguished Flying Cross (DFC) for his action on the 28 May 1944 mission to the railroad yards at Amiens, France. Despite the fact that the formation he led had no fighter escort, he decided to attack, in adverse weather and heavy anti-aircraft fire, his Unit succeeding in dropping their bomb load effectively on the target. He maneuvered his "Tom's Tantalizer", badly hit by Flak, to enable other flights to regain their position for the return flight to the base. He led the 494th Squadron on D-Day, 6 June 1944 in "Tom's Tantalizer" and was promoted to Major later the same month. A Bronze Oak Leaf cluster was added to his DFC for his leadership during the 19 September 1944 mission to bomb the marshalling yards at Düren, Germany. Thomas Johnson attained the rank of Lt Colonel and is credited with nearly 50 combat missions. Having finished his combat tour, he returned to the United States, arriving at the home of his parents in Tilly Foster, NY on 21 July 1945. From there he left to rejoin his wife Mary and their young son Timothy in Le Roy, Genesee County, NY.
Eldridge's Plane: Tom's Tantalizer II 42-107573 flew 61 missions as K9-B, plus 36 missions as K9-H. The plane was delivered from the Martin Omaha plant. The aircraft was flown overseas to the UK via the Southern Ferry Route (Listed as Caribbean Wing), departing the USA on January 25, 1944. On February 19, 1944 it was assigned to the 344th BG. Aircraft and named after the pilot, 1st Lt. Tom Johnson, by her ground crew. The nose art was painted by the crew chief, Mike Ondra. This aircraft was collected at Marrakech by Lt. Johnson, after his own aircraft flown overseas developed engine trouble and was abandoned at Tindouf, Algeria for repairs. 1st Lt. Johnson was later promoted to Major. Lt. Korkowski crash landed the plane after the hydraulics were damaged on a mission on September 11, 1944. The undercarriage would not lower and the aircraft belly landed back at base. Lt. Korkowski had borrowed this aircraft from its regular combat crew. The aircraft which suffered Cat.B damage was sent to the service group for repair, and was returned to the squadron on January 14, 1945, where it was recoded K9-H. The aircraft flew 61 missions as K9-B, plus another 36 missions as K9-H. The record card lists, GLUE 9AF CON ALS on 13/9/44, and GLUE 9AF REPAIRED on 6/11/44. This infers that the aircraft force landed at an Advanced Landing Strip (where?), not it's home base, and was repaired. This ties up with the time frame of the belly landing, so needs confirmation. The final entry on the record card lists, GLUE CON SAL FEA (9th AF) on 22/1/46.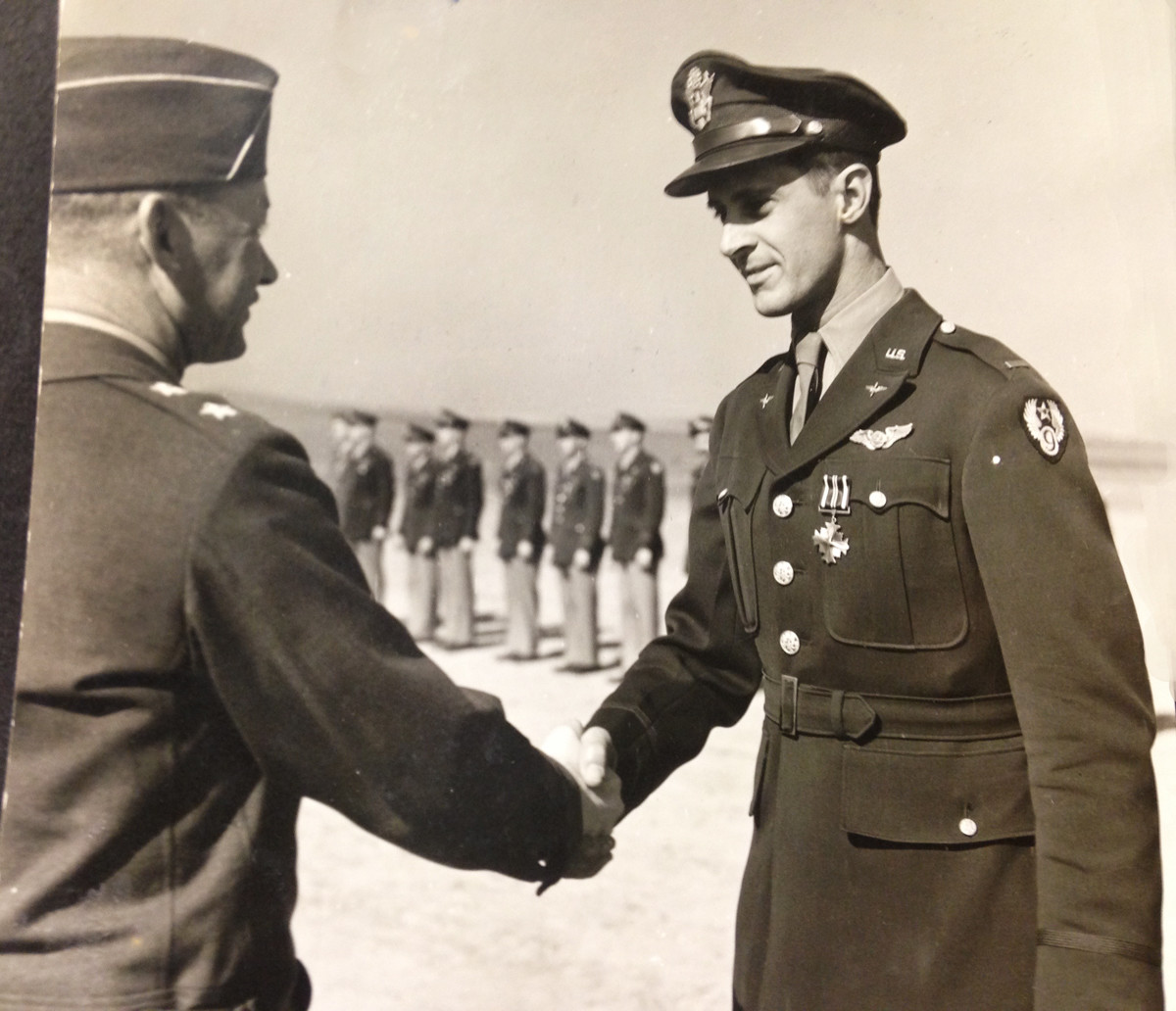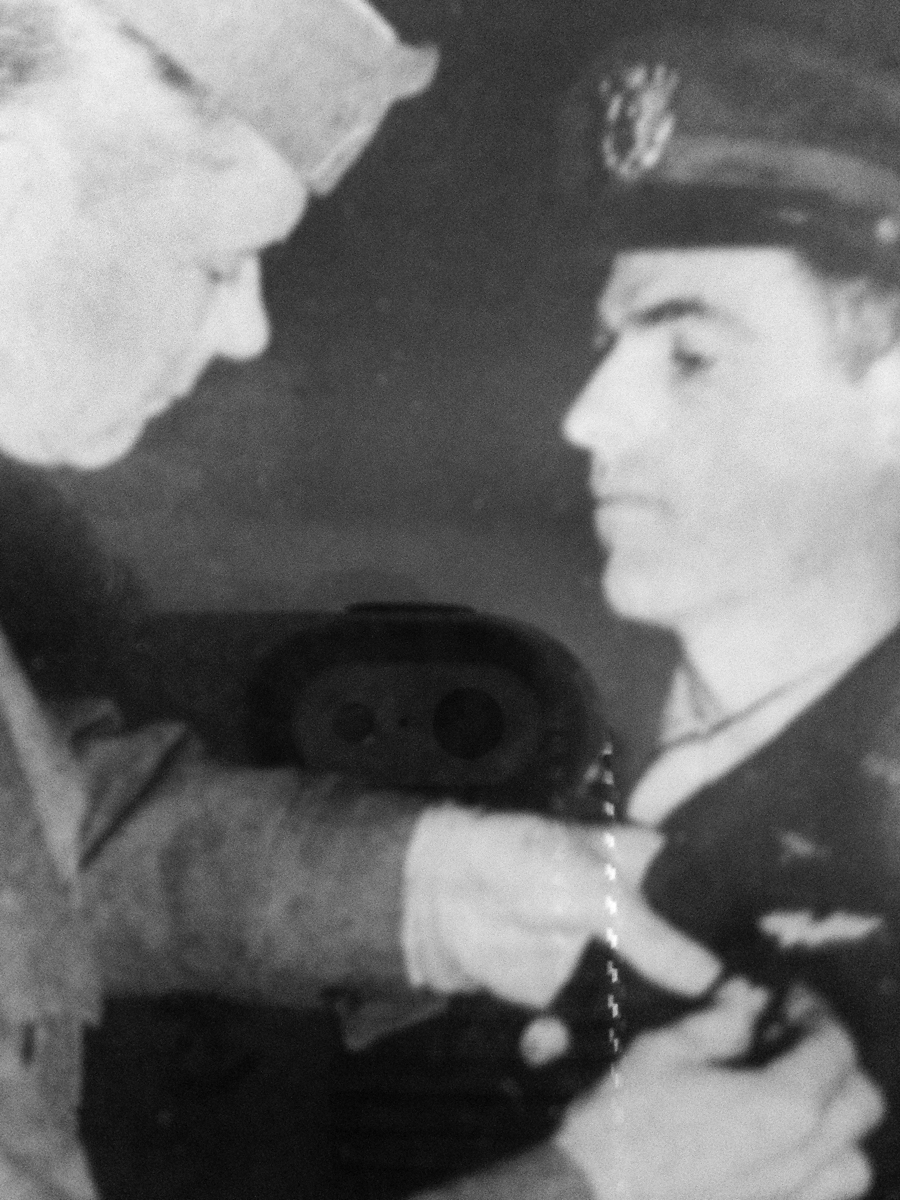 Eldridge and his fellow Maraudermen meet for a reunion each yer. Photo below is from 2010.