Lucius D. Clay, Jr.
Lucius Clay, Jr. rose through the ranks of the 344th BG and eventually became the group commander. My father Frank Carrozza, had nothing but praise for the man. One story my dad talked about is as follows;

"Captain Lucius B. Clay Jr. would visit all the planes in his jeep just to make sure everything was ok before a flight. One time Harrison (Carrozza's crewmate) had forgotten his gloves. It gets very cold up a few thousand feet so you've got to have gloves. Clay didn't yell at Harrison. Instead he gave Harrison HIS gloves. Harrison returned them later. That Clay was a West Pointer. West Pointers were real gentlemen."
Just before Frank Carrozza arrived at the 495th Bomb Squadron, Clay had been forced to belly land the Shopworn Angel. While the plane was being repaired, its original crew was shot down while using another plane. Carrozza and crew were then assigned to the plane.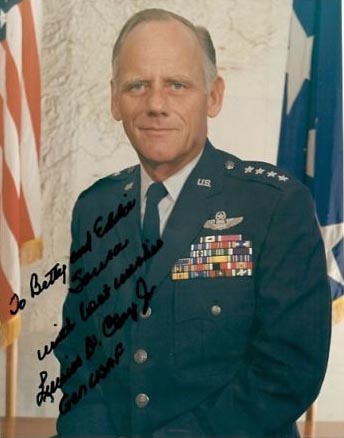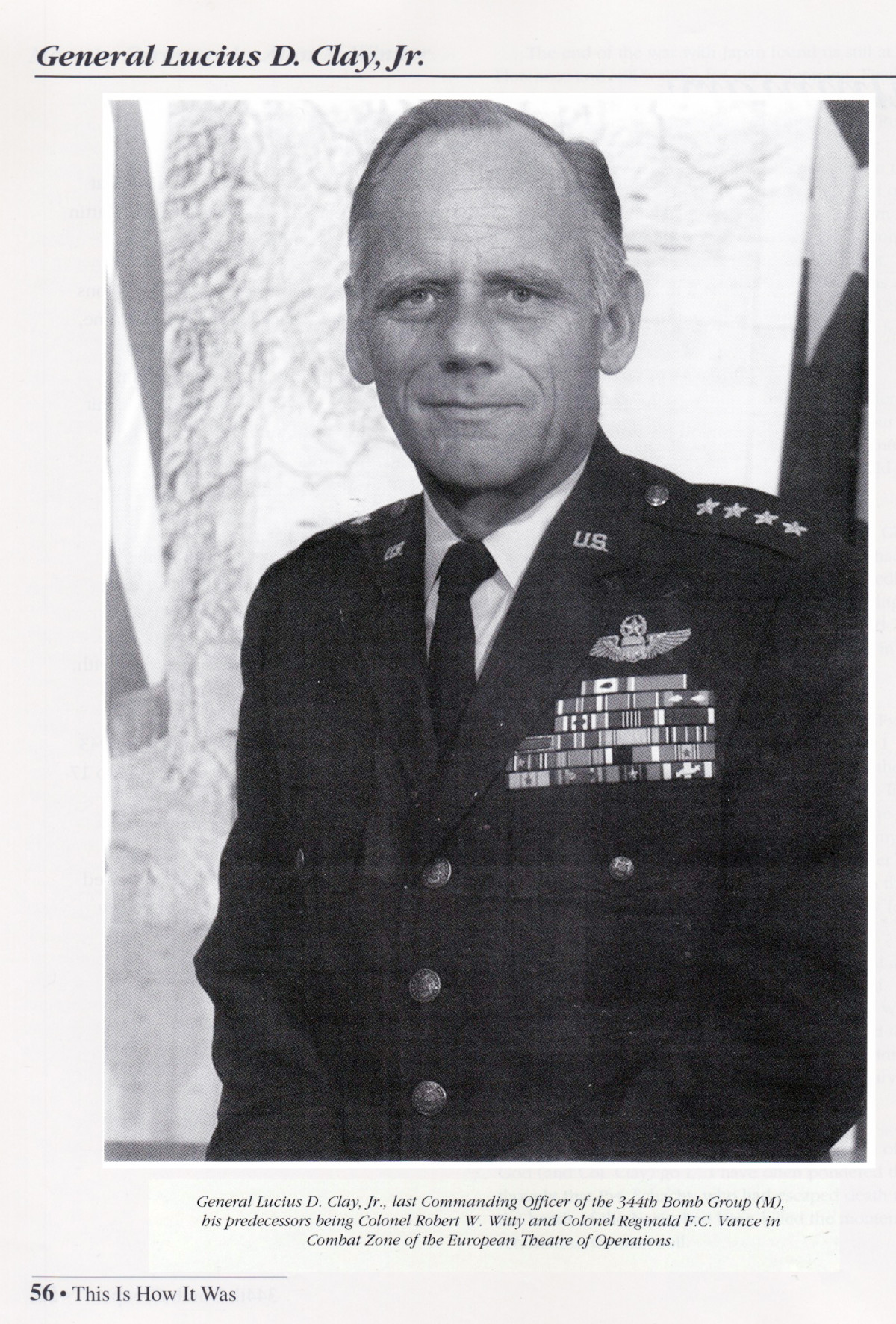 Biography

(Photo from 344th Bomb Group by Lambert Austin)
Clay was born in Alexandria, Virginia in 1919, the son of then-2nd Lieutenant (later General) Lucius D. Clay, Sr., U.S. Army. He graduated from Western High School, Washington, D.C., in 1937, and from the United States Military Academy at West Point in 1942. He then entered flight training and received his pilot wings at Lubbock Field, Texas, in December 1942. He next attended B-26 Marauder transition school at Fort Worth and Del Rio, Texas, where he later became an instructor.
In June 1943 General Clay went to MacDill Field, Florida and assumed command of the 616th Bombardment Squadron, and two months later joined the 495th Bombardment Squadron as assistant operations officer. He moved with the squadron to Drane Field, an auxiliary airfield of MacDill in Lakeland, Florida, then to Hunter Field, in Savannah, Georgia, and finally then to the European Theater of Operations.
From June 1944 to February 1946, he served with the 344th Bombardment Group as operations officer, squadron commander, and group commander. Following World War II, Clay remained in Germany and served as deputy commander and deputy for base services with the European Air Depot, Erding, Germany.
In February 1947 he returned to the United States to serve on the staff of the Deputy Chief of Staff, Operations for Atomic Energy, Headquarters U.S. Air Force. From June 1949 to May 1952, he was assigned to the Air War College and Air University at Maxwell Air Force Base, Alabama.
Clay returned to the Pentagon in June 1952 as an Air Force member of the Joint Strategic Plans Group in the Organization of the Joint Chiefs of Staff. He later was assigned as chief of the Joint Plans Division, Deputy Chief of Staff, Operations, Headquarters U.S. Air Force. He went to Ramey Air Force Base, Puerto Rico, in July 1956 where he served as deputy commander of the 72d Bombardment Wing. In May 1958 he was assigned to Headquarters, Strategic Air Command (SAC) at Offutt Air Force Base, Nebraska, as chief of the Plans Division.
From February 1961 to August 1964, General Clay once again served with the Organization of the Joint Chiefs of Staff. His first assignment was as a member of the Joint War Games Control Group, and later he served as Deputy Director for Operations. In August 1964 he was transferred to Waco, Texas, as vice commander, Twelfth Air Force, Tactical Air Command (TAC), and in January 1966 he was named commander.
In July 1966 Clay returned to Headquarters U.S. Air Force to become director of plans under the Deputy Chief of Staff for Plans and Operations; in August 1967 was assigned as director of aerospace programs, Deputy Chief of Staff for Programs and Resources; in August 1968 assumed the position of deputy chief of staff, programs and resources; and in August 1969 became deputy chief of staff, plans and operations.
Clay was assigned as vice commander in chief, Pacific Air Forces (PACAF), from February 1970 to September 1970 when he assumed command of Seventh Air Force with headquarters at Tan Son Nhut Air Base, Republic of Vietnam. He also was deputy commander for air operations, U.S. Military Assistance Command, Vietnam. As Seventh Air Force commander, he was responsible for all Air Force combat air strike, air support and air defense operations in mainland Southeast Asia. In his MACV capacity he advised on all matters pertaining to effective use of tactical air support and coordinated Vietnamese air force and United States air operations of all units in the MACV area of responsibility. General Clay became commander in chief, Pacific Air Forces, in August 1971.
He assumed his position as commander in chief, North American Air Defense Command/Continental Air Defense Command and as commander, Aerospace Defense Command, October 1, 1973. He retired from the Air Force on August 1, 1975.
Clay Remembers D-Day
Synopsis
Awards and decorations
His military decorations and awards include the Air Force Distinguished Service Medal with three oak leaf clusters, Legion of Merit; Distinguished Flying Cross; Bronze Star, Air Medal with 10 oak leaf clusters; Joint Service Commendation Medal with oak leaf cluster; Army Commendation Medal, Purple Heart, Croix de Guerre Avec Etoile de Vermeil (France) with Gold Star; National Order of Vietnam, Third Class; Republic of Vietnam Air Force Distinguished Service Order, First Class; Korea National Security Medal; and Republic of Vietnam Cross of Gallantry. He was a command pilot.
Death and burial
Clay died at the military retirement community at Fort Belvoir, Virginia.[1] Clay was buried alongside his wife at Arlington National Cemetery.