1st Lt. Thomas F Johnson
Tom Johnson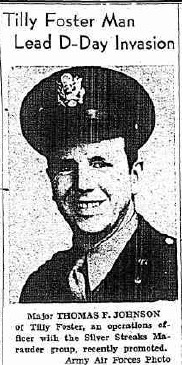 .
Growing up at the Spring Farm in Tilly Foster, Putnam County, New York, Thomas Johnson attended Brewster High School and received a B. S. degree in 1941 at Cornell University, where he was a member of the Round Up Club and of the varsity R. O. T. C. polo team. After graduating from the Agricultural College of Cornell University, he enlisted in the Air Corps in September 1941.
He began flight training at the Oklahoma Air College, Cimarron Field, Oklahoma City, Oklahoma the following month and was later transferred to Randolph Field for basic training. Graduating on 29 April 1942 from the multi-engine advanced pilot training school at Ellington Field, near Houston, Texas, he received his pilot's wings and a commission as a second lieutenant. After completing his flying training he worked at Patterson Field, Dayton, Ohio, where he helped to conduct tests on early model B-26 Marauders, and was an Instructor at the replacement training unit at Barksdale Field, Louisiana.
In January 1944, promoted from 1st Lieutenant to Captain, Thompson and his crew picked up their assigned B-26B Marauder Serial 42-95977 in Savannah, Georgia and flew it over the Atlantic to Morocco via South America. Mechanical failure forced their plane down at Tindouf airfield Algeria. They flew from there to Marrakech, French Morocco where they picked up another Marauder, Serial 42-107573, which was christened "Tom's Tantalizer" 42-107573 K9-B.
The crew arrived in England in February 1944 and soon started flying combat missions. Tom Johnson was awarded the Distinguished Flying Cross (DFC) for his action on the 28 May 1944 mission to the railroad yards at Amiens, France. Despite the fact that the formation he led had no fighter escort, he decided to attack, in adverse weather and heavy anti-aircraft fire, his Unit succeeding in dropping their bomb load effectively on the target. He maneuvered his "Tom's Tantalizer", badly hit by Flak, to enable other flights to regain their position for the return flight to the base.
He led the 494th Squadron on D-Day, 6 June 1944 in "Tom's Tantalizer" (mission box grouping shows different plane K9-S) and was promoted to Major later the same month. A Bronze Oak Leaf cluster was added to his DFC for his leadership during the 19 September 1944 mission to bomb the marshalling yards at Düren, Germany. Thomas Johnson attained the rank of Lt Colonel and is credited with nearly 50 combat missions.
Having finished his combat tour, he returned to the United States, arriving at the home of his parents in Tilly Foster, NY on 21 July 1945. From there he left to rejoin his wife Mary and their young son Timothy in Le Roy, Genesee County, NY