Captain Thomas F. Johnson
Tom Johnson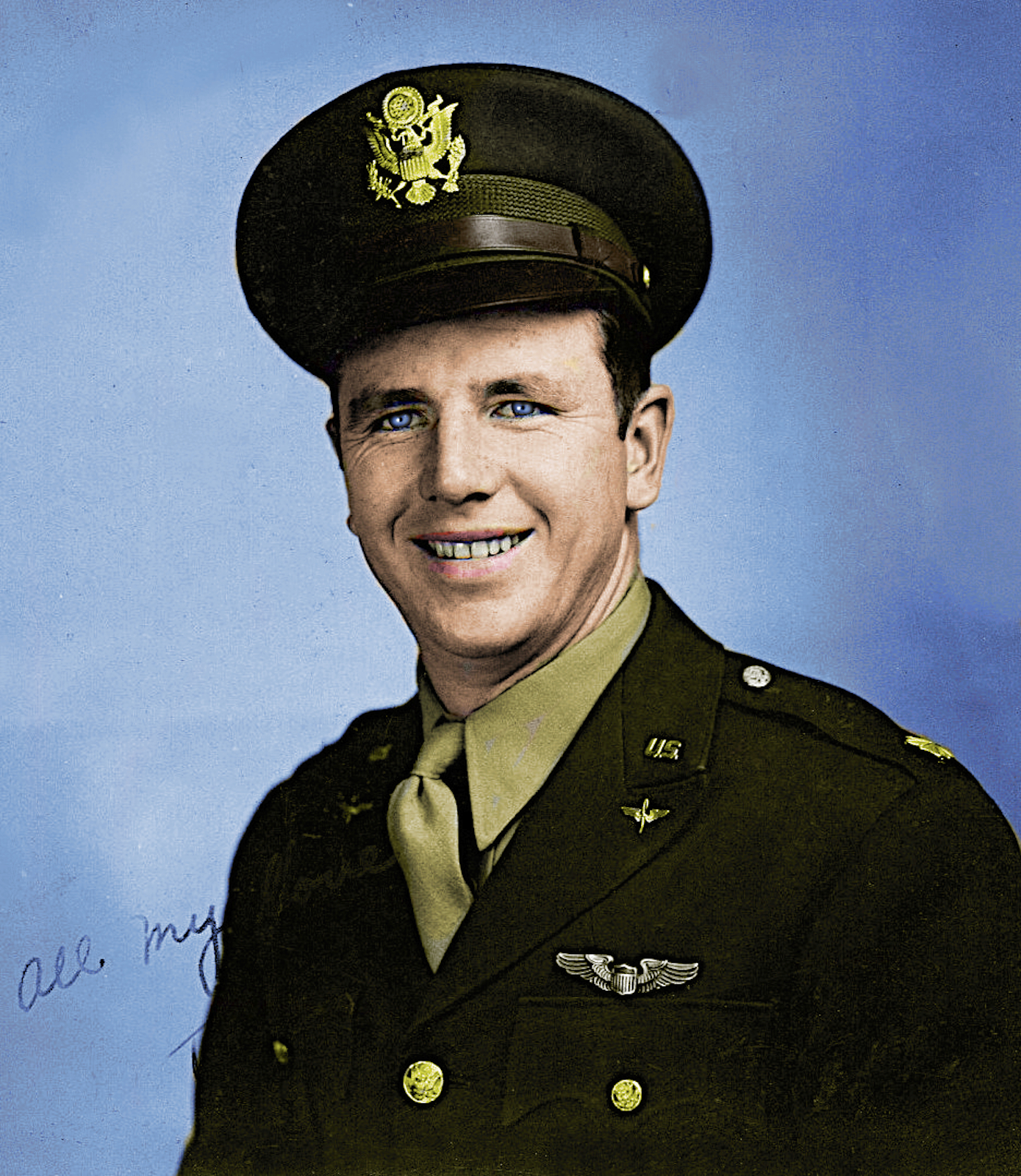 Below is the same portrait animated.
Growing up at the Spring Farm in Tilly Foster, Putnam County, New York, Thomas Johnson attended Brewster High School and received a B. S. degree in 1941 at Cornell University, where he was a member of the Round Up Club and of the varsity R. O. T. C. polo team. After graduating from the Agricultural College of Cornell University, he enlisted in the Air Corps in September 1941.
He began flight training at the Oklahoma Air College, Cimarron Field, Oklahoma City, Oklahoma the following month and was later transferred to Randolph Field for basic training. Graduating on 29 April 1942 from the multi-engine advanced pilot training school at Ellington Field, near Houston, Texas, he received his pilot's wings and a commission as a second lieutenant. After completing his flying training he worked at Patterson Field, Dayton, Ohio, where he helped to conduct tests on early model B-26 Marauders, and was an Instructor at the replacement training unit at Barksdale Field, Louisiana.
Two of Tom Johnson's crew mates wrote flight books. They provide a great running narrative of many of the missions. After looking at the two links, you can correlate them with the documents following that include formations, load lists, and pilot's debrief of several of the more memorable missions. I have included excerpts from Moore's log with official records of several missions.

From the log of Carl Moore-
"March 19, 1944 mission number one To Bois de Huit Rues (N.E. of St. Omer). The mission was against enemy V-1 sites. The crew was Captain Johnson, Captain Graves, Lieutenant Curmode, Lieutenant Moore, Sergeant Castoro, Sergeant Calkins and Sergeant Tippens. We flew in the number four position in the first flight of the second box. 
Our first mission! We had been on the loading list for 11 consecutive days and had loaded into the airplane on seven of those days only to have the mission scrubbed. We were flying deputy lead in the second box and so had little to do except stay in formation. It was strictly a milk run with no flack and no fighters. The target was in an area where flight could be expected but we saw none and immediately decided this war wasn't so bad after all. Our reaction at our first view of the continent of Europe- France in particular- could best be described as a mixture of curiosity and fear. From our few map study classes we knew what the coast line would look like and probably were a little surprised that it looked exactly like we expected it to. We saw nothing whatsoever on the ground and passed within sight of Dunkirk where, for a fleeting moment, we remember the faithful days a few years ago when we had first heard of Dunkirk."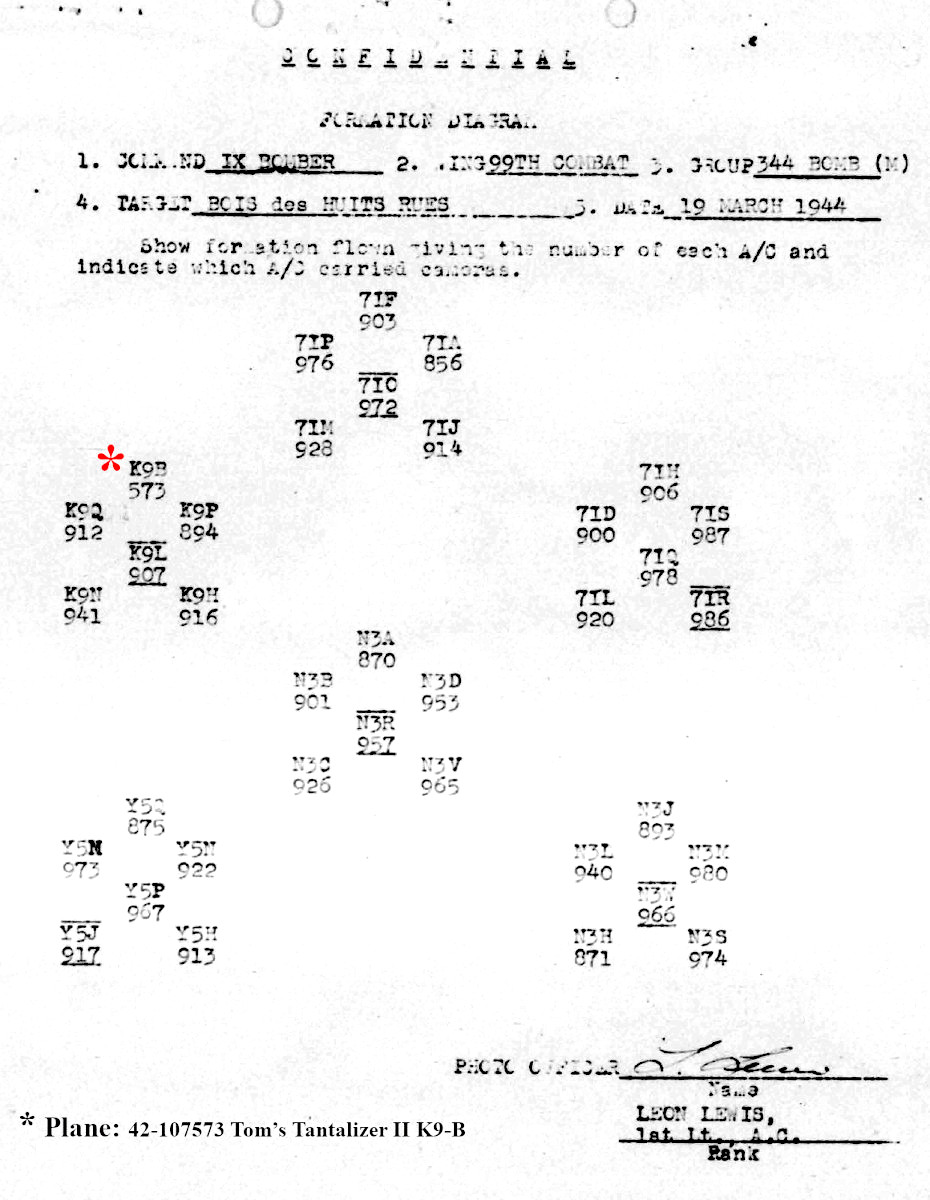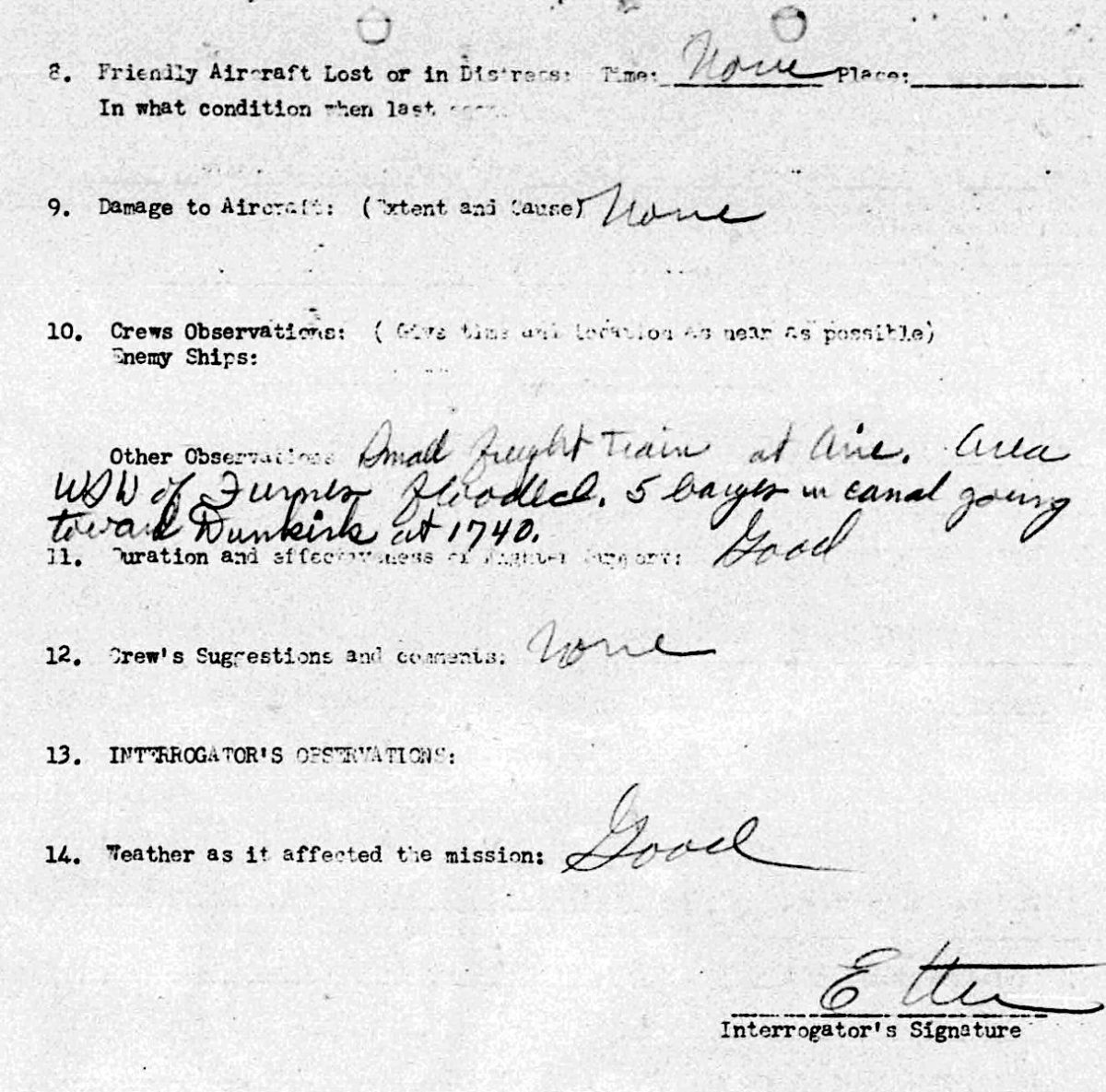 From the log of Carl Moore-
"Mission was to creel marshaling yards 30 miles north of Paris, The crew was Johnson, Willms, Curmode, Moore, Castoro, Calkins, Tippens, and Velleco. Our position was deputy number four to Hale in the first box.
We were flying deputy lead to Hale again and so, more or less, went for the ride. The extra radio man stayed at the radio and the other one at the waist guns- a new wrinkle in our routine. This time we made landfall near Dieppe, another now famous place that looked so insignificant from 12,000 feet. Some flak was thrown at us just after we crossed the coast but very little and from my position, in the navigators compartment, I saw none. It was a beautiful day and we could see for miles. Making our turn into the target we were only about 15 miles from Paris but could not quite see the town. Our bombing run was good and McConnell did a good job. Hudgens, up in the high flight, released early and quite by accident hit a bridge. Other bombs hit well in the area and the second box hit a surface mine of some sort down to the left of the target. And uneventful trip and one more mission on the chart."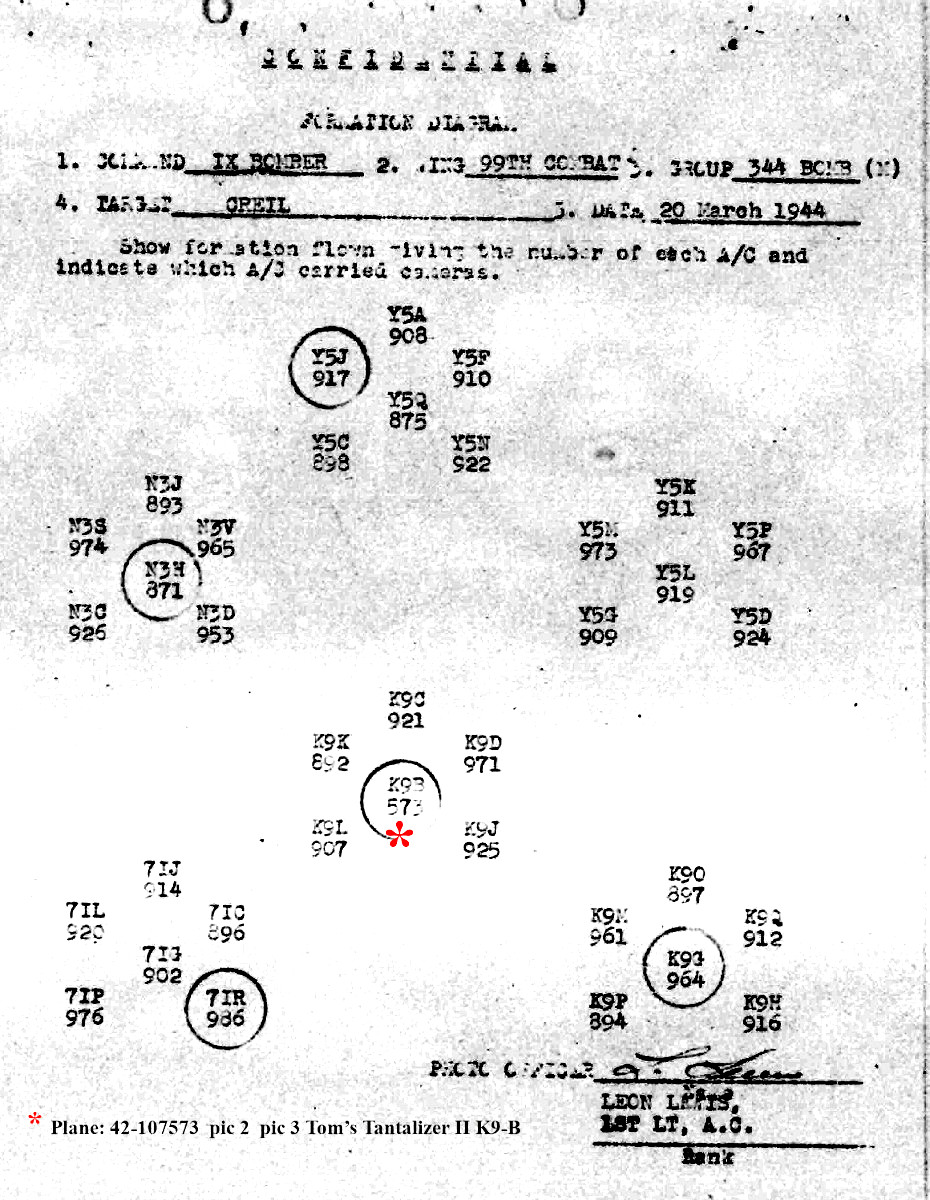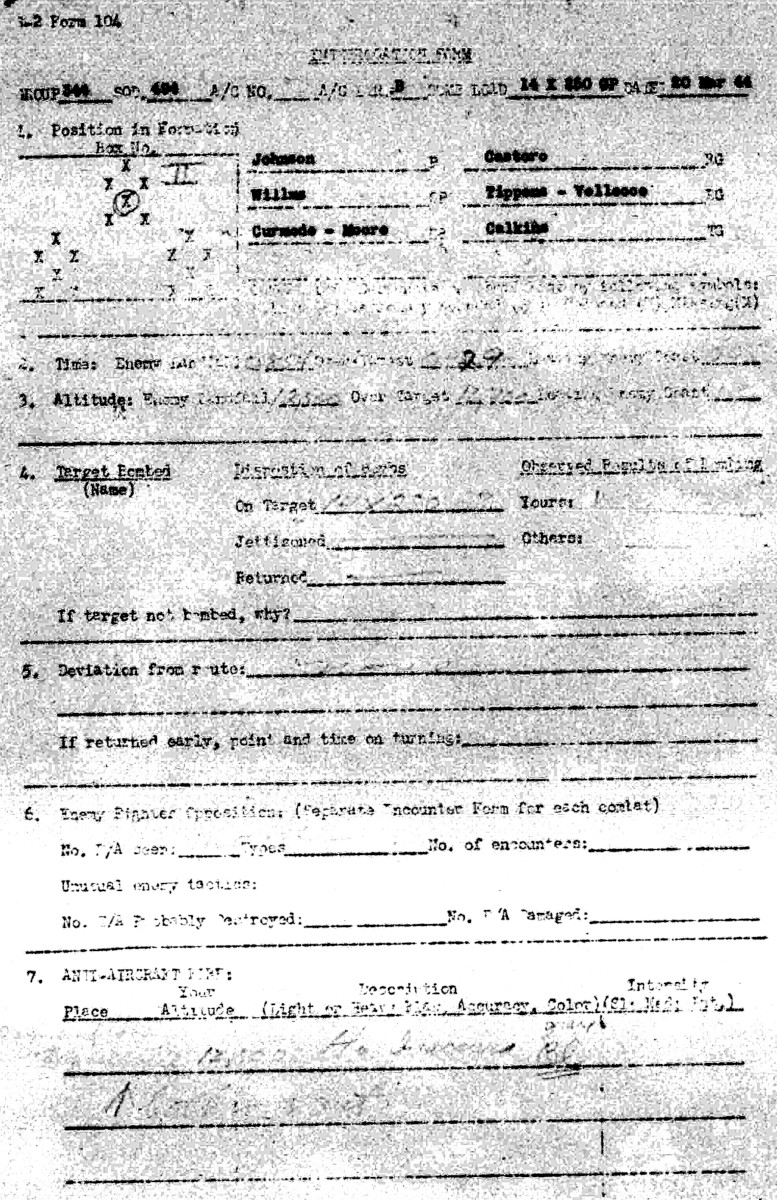 From the log of Carl Moore-
"March 26, 1944- The target was Imjuiden E-boat pens. The crew was Johnson, Wilms, Curmode, Moore, Castoro, Calkins, and Tippens.
We flew in position 3-1-4.
This was a maximum effort mission and all medium bomb groups in the ninth Air Force (700 marauders) were sent to the same target. Personally, I wasn't interested because I was coming down with a case of the ETO laryngitis. We were flying deputy lead to Hale in the third box and so I didn't bother to work very hard. We were briefed that the target would be well defended and on the bombing run made from the sea, I wrapped up in a flak suit and watched the bombs drop. They hit short and right. They said there was a solid cloud of flak and I did hear and feel some of it but didn't get up to watch it. No one was hurt and we made it home OK. I went to see Dr. Seelinger after the mission and he put me in the hospital for a week. Although 14 direct hits were made on the pens by the attacking force, no apparent damage was done to them. Surrounding buildings were hit and destroyed."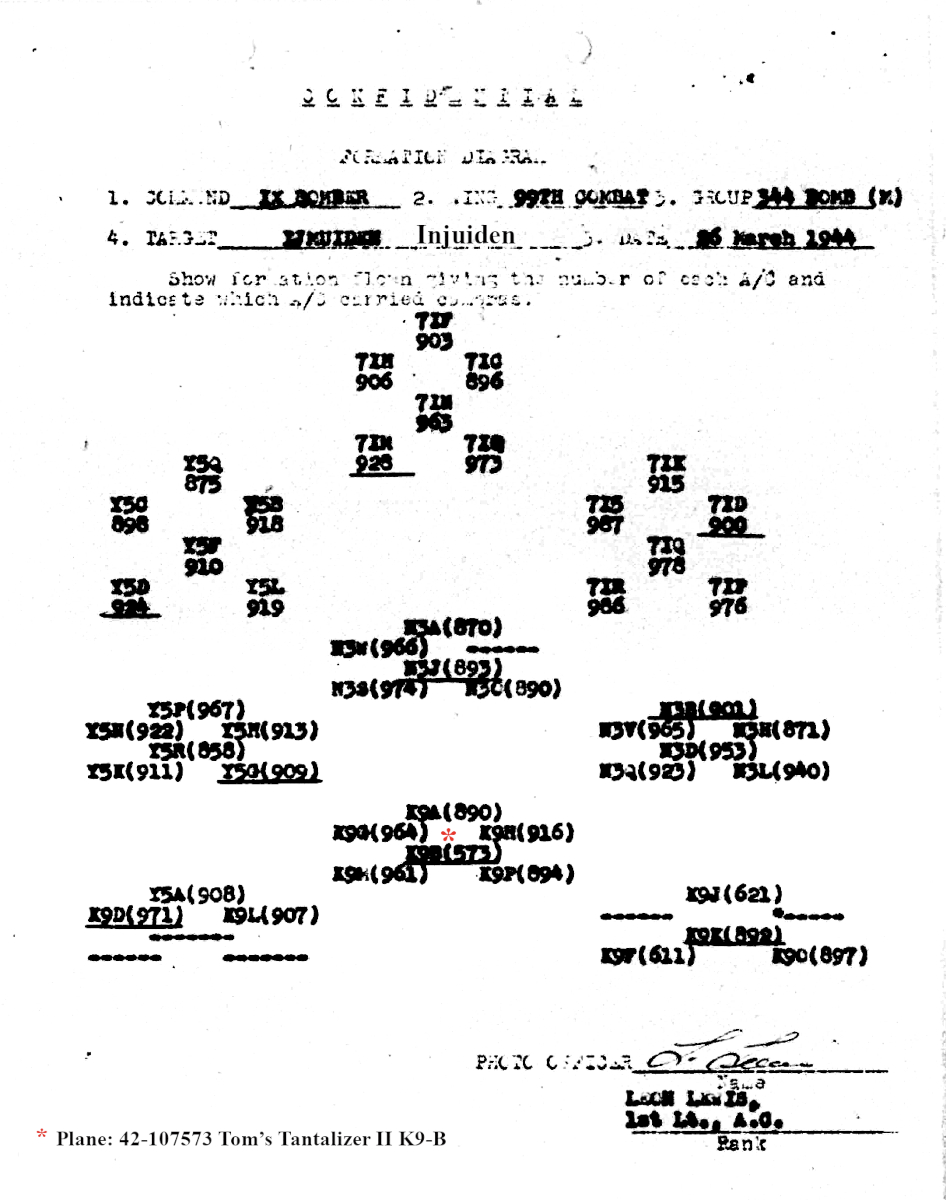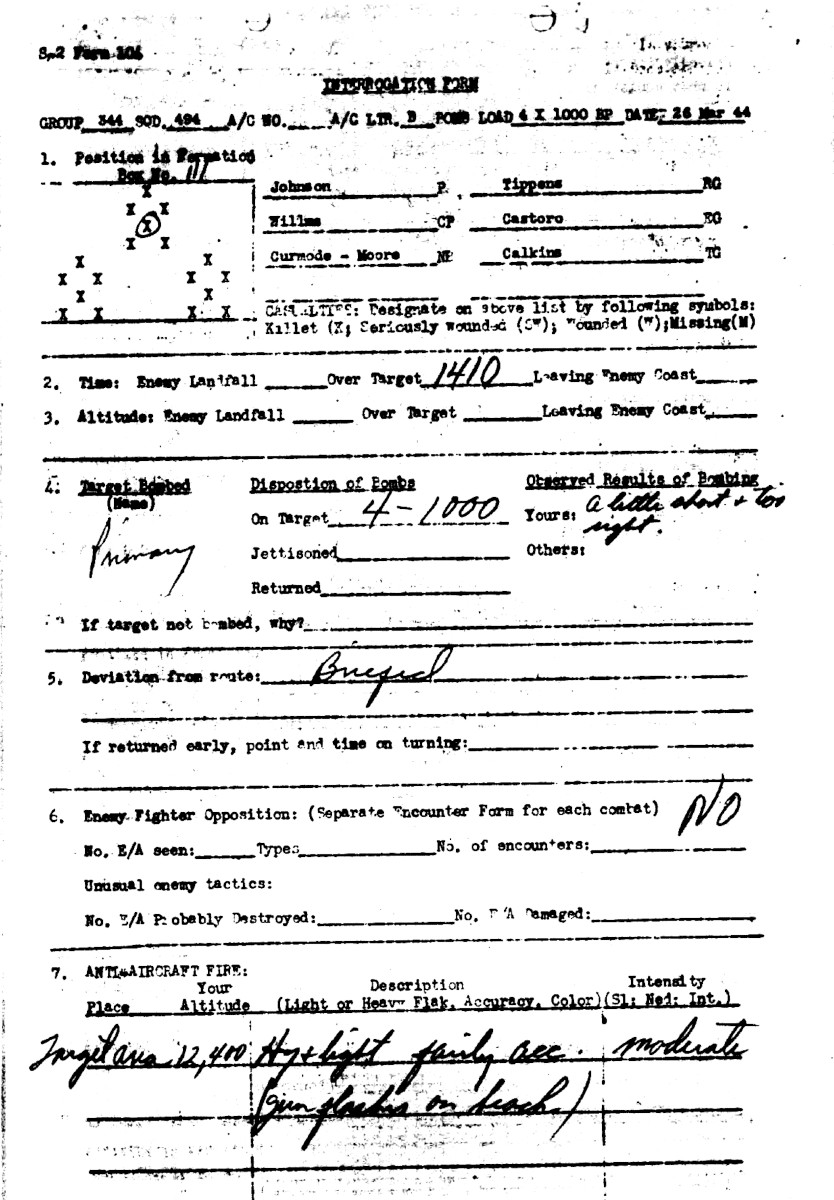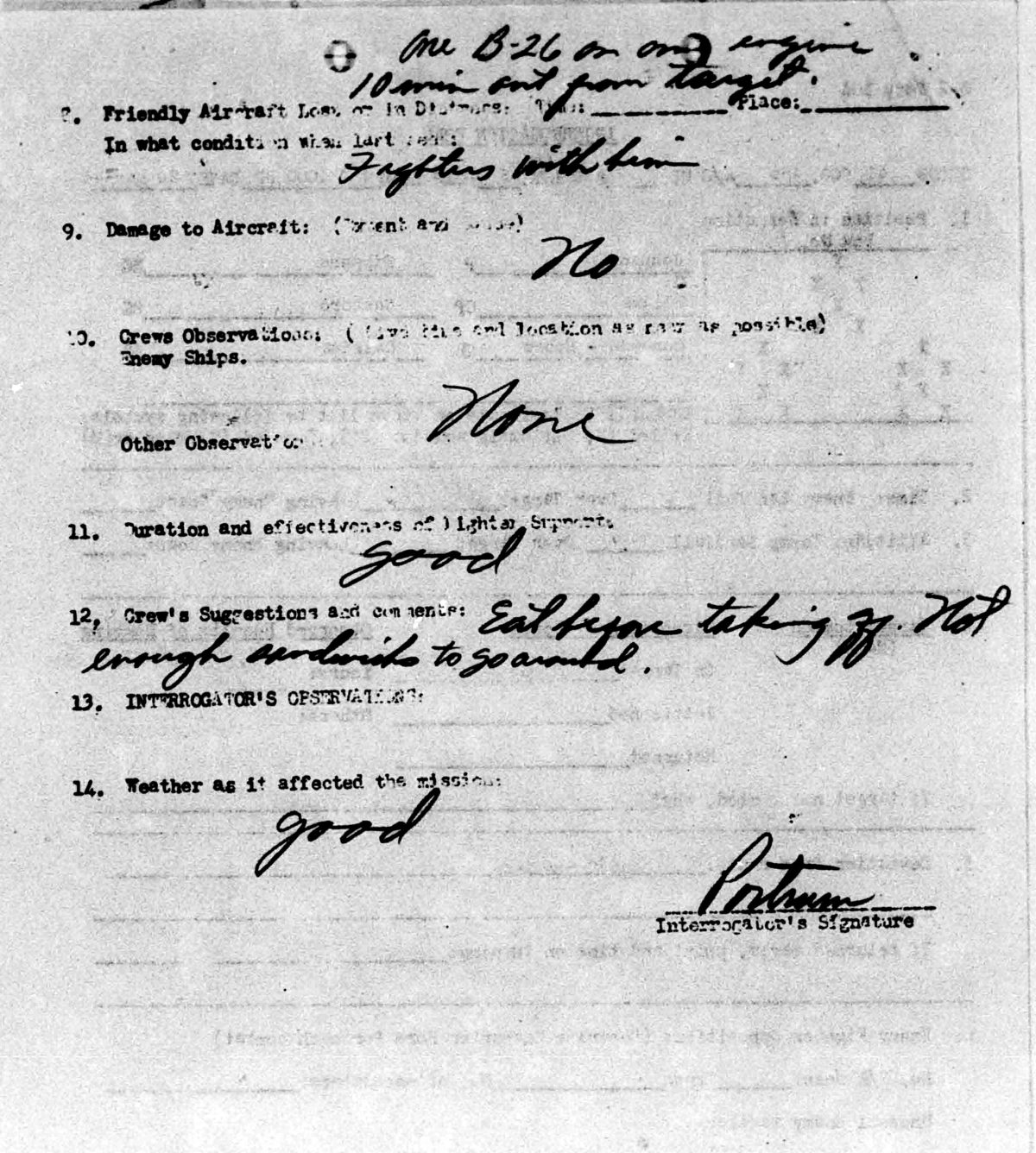 From the log of Carl Moore-
"March 25, 1944- The target Hirson marshaling yards in Northeast France. Crew: Johnson, Wilms, Curmode, Moore, Castoro, Calkins, Tippens and Campbell.
Position 1-1-4

This was quite a deep penetration and not far from the German border. We flew deputy lead to Hale and followed the 322nd group. Weather was good and we saw a lot of France. I'm afraid they were times when the towns all looked alike to me though. Coming out of the 322nd went over Mondidier and lost two ships from flak. I didn't see either of them but heard the gunners describe them. The war immediately took on a more realistic aspect. Previous to this time, Tom and Wilms had not put on their flak helmets because they were a little uncomfortable. But when those ships went down I immediately saw two arms reaching back for helmets. Our evasive action increased 100% from that point on. Sam Ackerman who was navigating for Hale took us out and we didn't have any more flak thrown at us but the mission had made the war more real and made us all firm believers in a evasive action.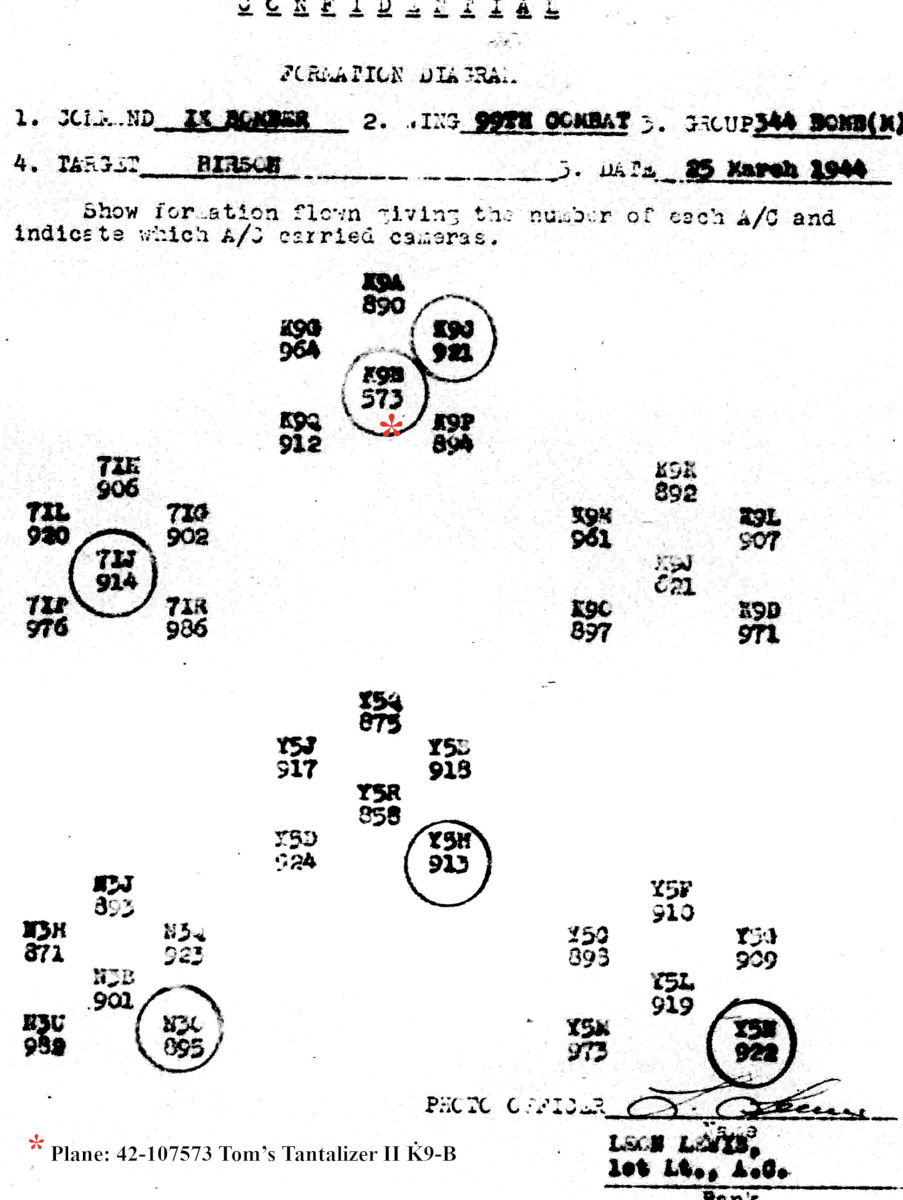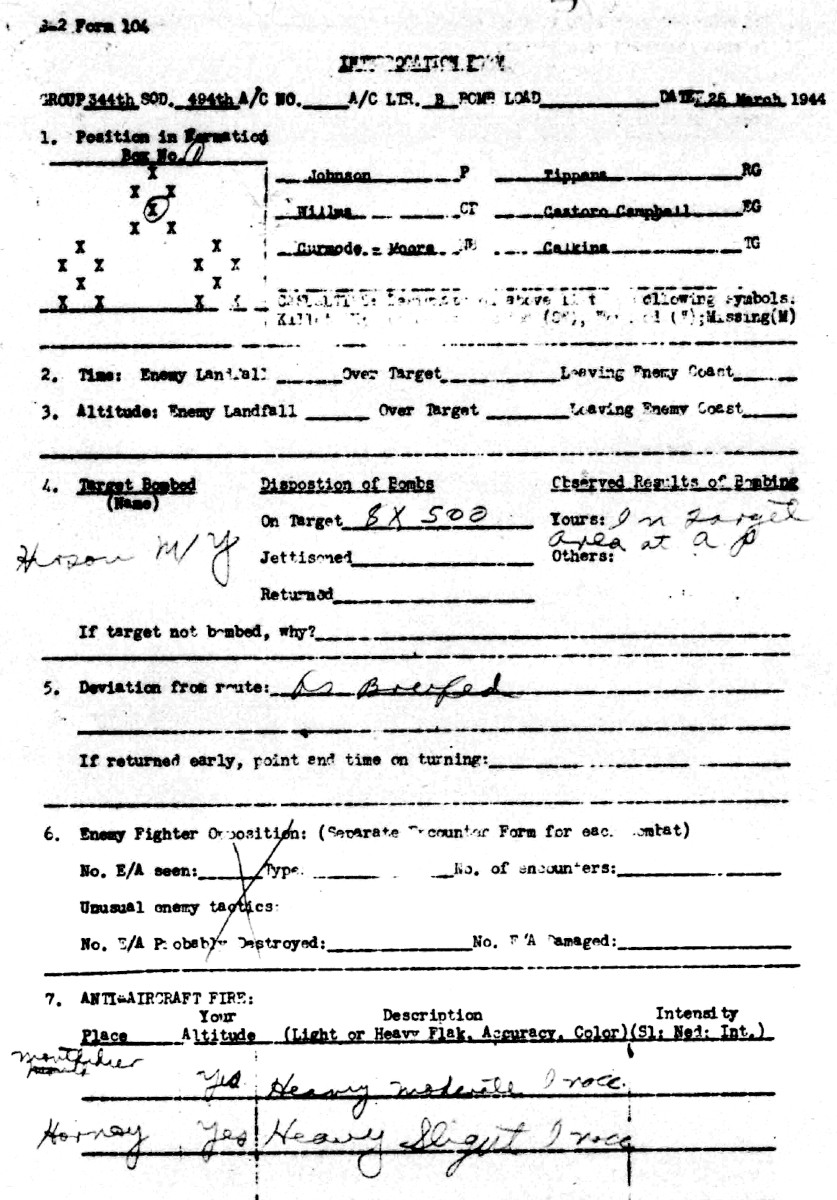 From the log of Carl Moore-
"April, 18, 1944- The target Monceau-Sur-Sambre marshaling yards in Charleroi.
Crew: Johnson, Sandstrom, Eldridge, Moore, Castoro, Calkins, Tippens and Murphy.
Position: Deputy lead
The target was on the Southwest side of town and the run was uneventful. We bombed as briefed with excellent results. On return to the field we left the formation because the left engine was losing power. Nothing serious. No fighters. No flak."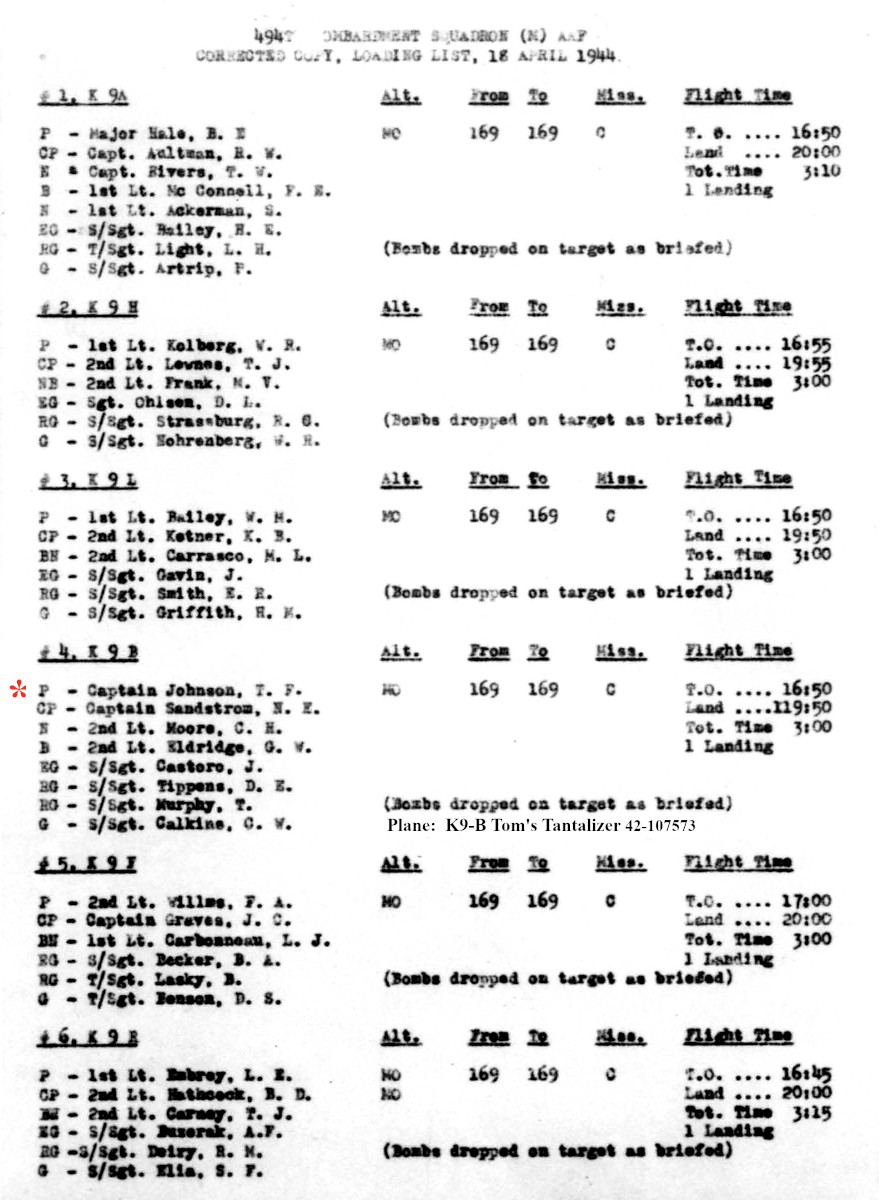 Carried 8- 500lb bombs at 12,500 ft.

From the log of Carl Moore-
"December 24, 1944- The target was Konz Karthaus Rail Bridge
Crew: Johnson, Ballinger, Eldridge, Moore, Mason, Pames, Schneider.
Position: Lead group (Maximum Effort)
Take off: 1130 Landed: 1442
The German breakthrough was in its eighth day today and this was the second day of good weather since the start of the offensive on 16th of December. The weather turned cold and the skies cleared. Yesterday the Luftwaffe came up in strength and our wing lost about 20 ships to fighters. Our group was the only one that didn't get jumped.
As a result of all this we were not a little apprehensive about the whole situation. However, pre-briefing was not until 9:15 and we had time to eat and shave. The target was about 5 miles beyond the bomb line and was just south of Trier. The railroad was a supply line for the seventh German army opposing our 10th army division. Weather was CAVU.
As we joined our box, the tower called and said to make another 360 to pick up the third box. At the last minute they had been ordered to put up maximum effort. We went on course after making two 360s. We were all still five minutes early and dog legging to kill time. The weather was perfect except for a ground haze. I stayed on the Gee box and also looked out the window. It was the first time we could use this procedure on a visual mission.
At fighter rendezvous we could not contact any fighters. We were five minutes early and so made a 360. Still no fighters so we made another. Just as we had about decided we would have to give it up, the fighters appeared and we went on in. Gee took over from the I.P. He took a few evasive turns and used a 35 second run. At bombs away, I tried to give evasive action but the interphone was so bad that Tom couldn't read me. Geo took it and I went up in the cockpit where I could use sign language. We had a 60 miles an hour wind from the east and we're soon back over our own lines. There was some flak on our left and low.
Back at Luxemberg, the rally point, we made a 360 to tighten up our formation. The third box led by Seebalt, didn't stay with us so we headed back to base.
Results were excellent according to crew reports. We got the bridge next to the real Bridge but someone else got the real bridge.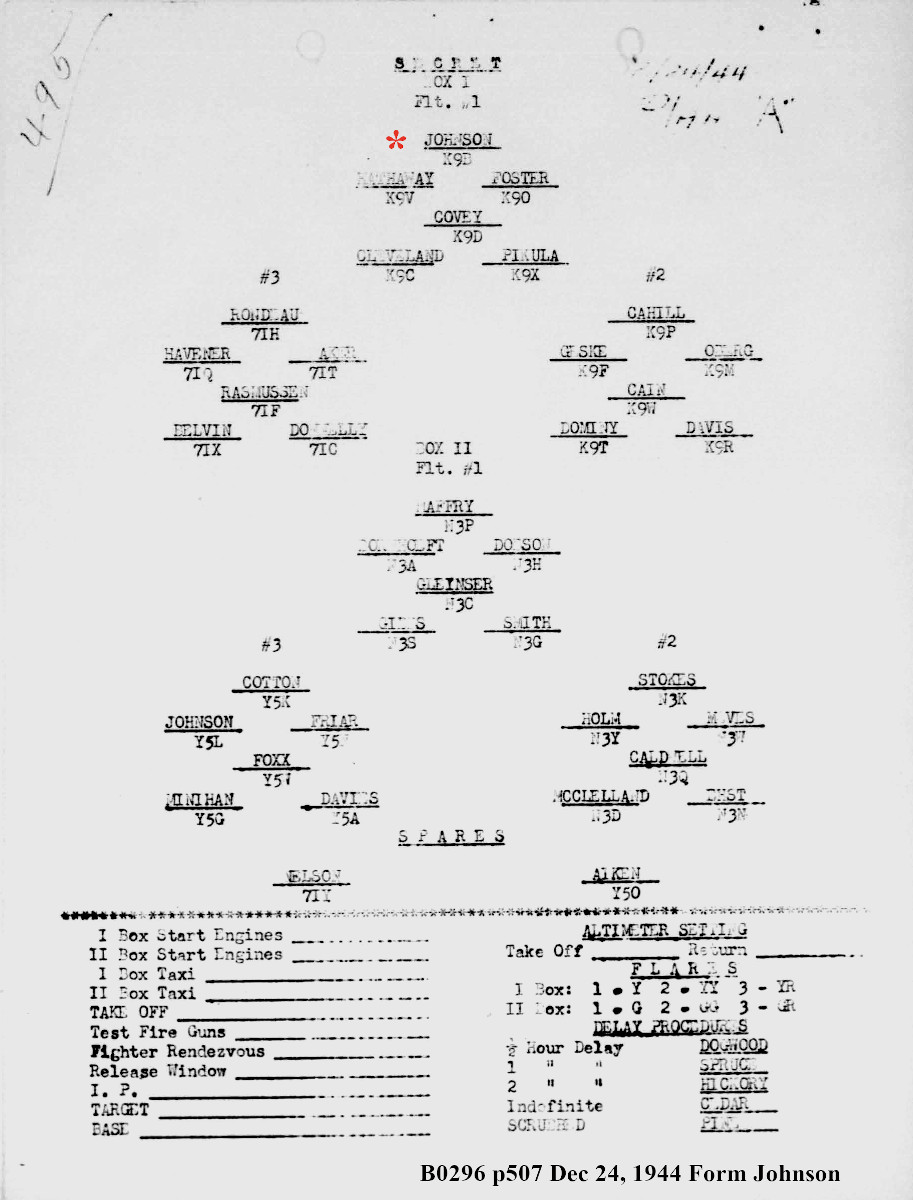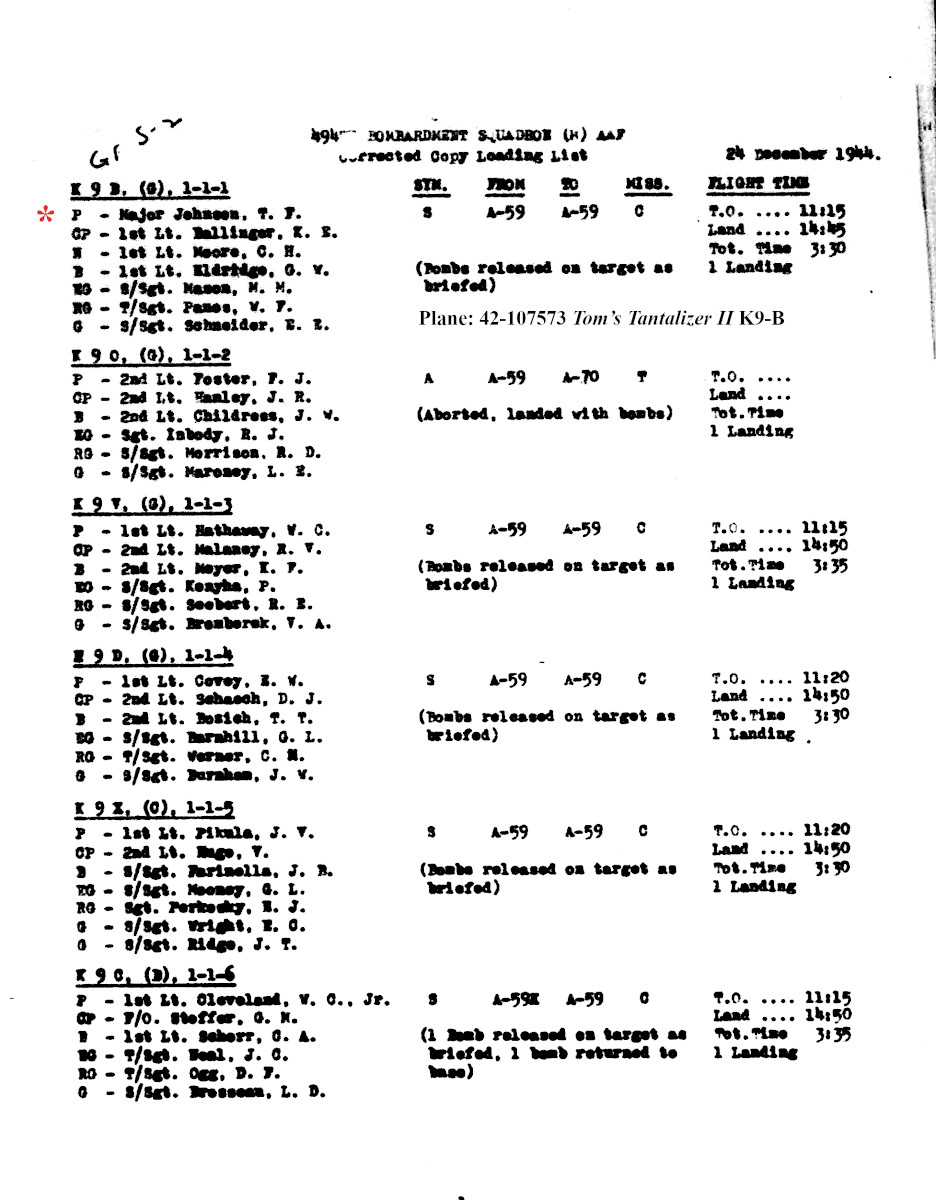 .
In January 1944, promoted from 1st Lieutenant to Captain, Thompson and his crew picked up their assigned B-26B Marauder Serial 42-95977 in Savannah, Georgia and flew it over the Atlantic to Morocco via South America. Mechanical failure forced their plane down at Tindouf airfield Algeria. They flew from there to Marrakech, French Morocco where they picked up another Marauder, Serial 42-107573, which was christened "Tom's Tantalizer" 42-107573 K9-B.
The crew arrived in England in February 1944 and soon started flying combat missions. Tom Johnson was awarded the Distinguished Flying Cross (DFC) for his action on the 28 May 1944 mission to the railroad yards at Amiens, France. Despite the fact that the formation he led had no fighter escort, he decided to attack, in adverse weather and heavy anti-aircraft fire, his Unit succeeding in dropping their bomb load effectively on the target. He maneuvered his "Tom's Tantalizer", badly hit by Flak, to enable other flights to regain their position for the return flight to the base.
.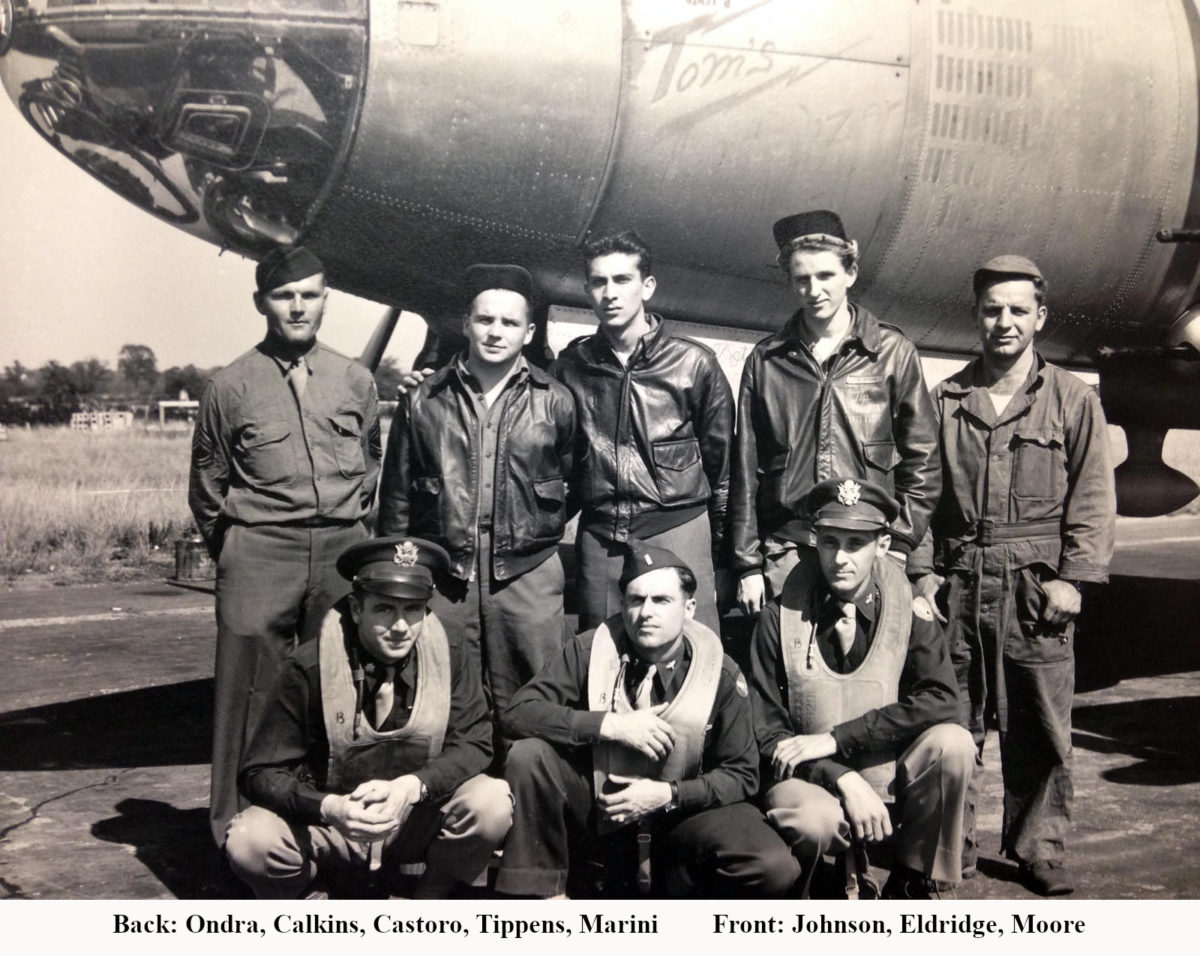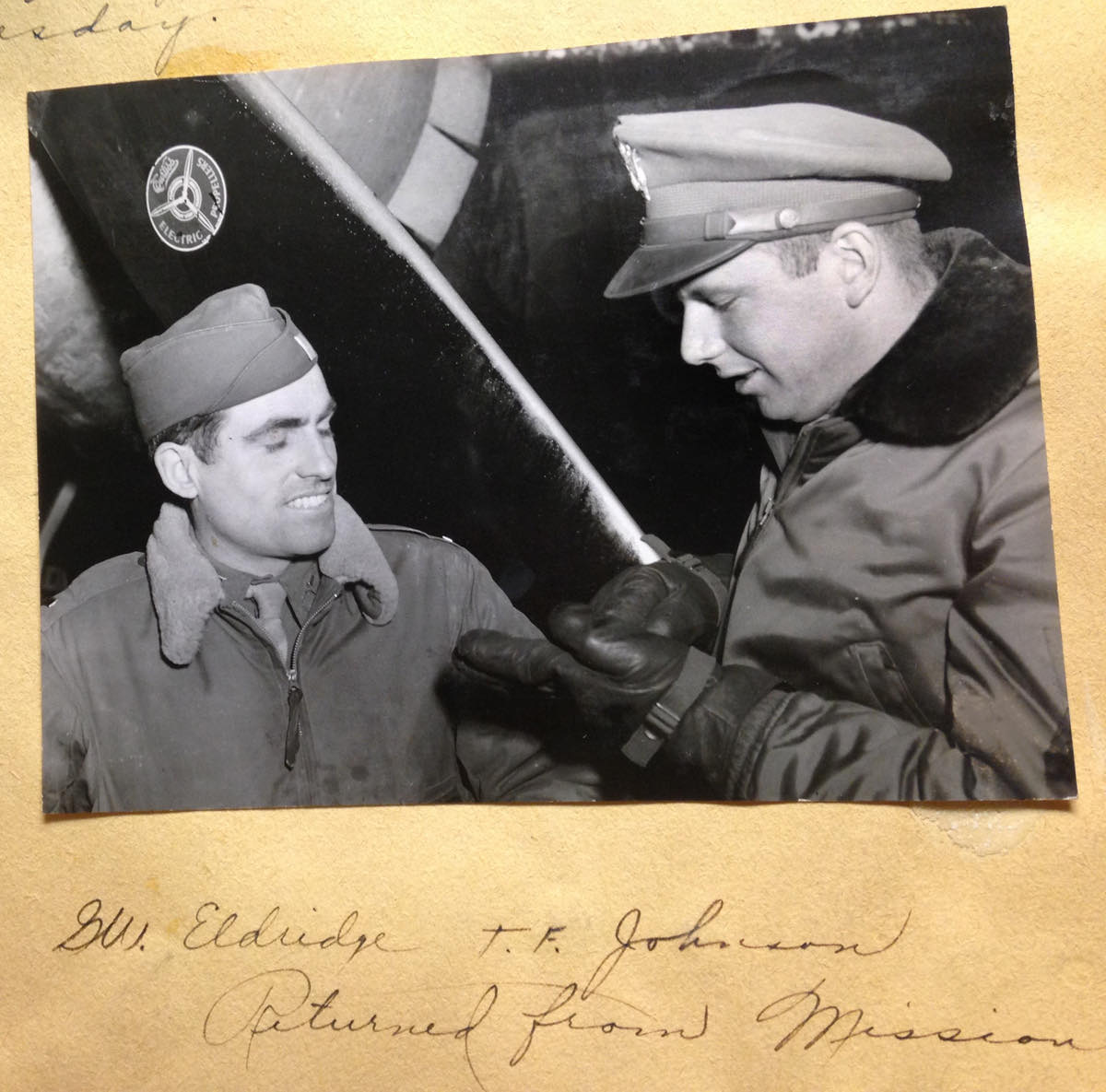 .
He led the 494th Squadron on D-Day, 6 June 1944 in "Tom's Tantalizer" (mission box grouping shows different plane K9-S) and was promoted to Major later the same month.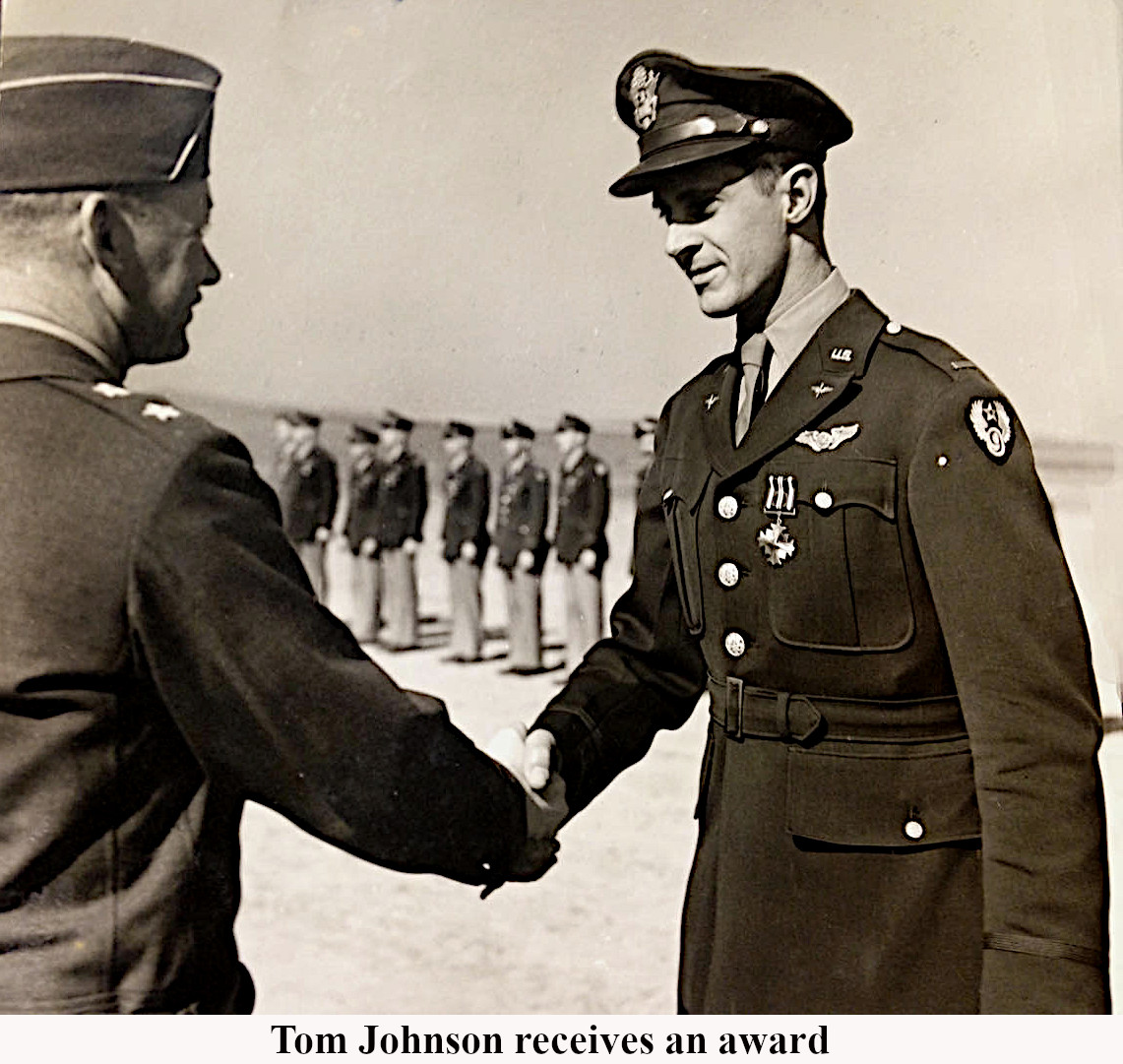 The following are records for Tom Johnson's D-Day mission.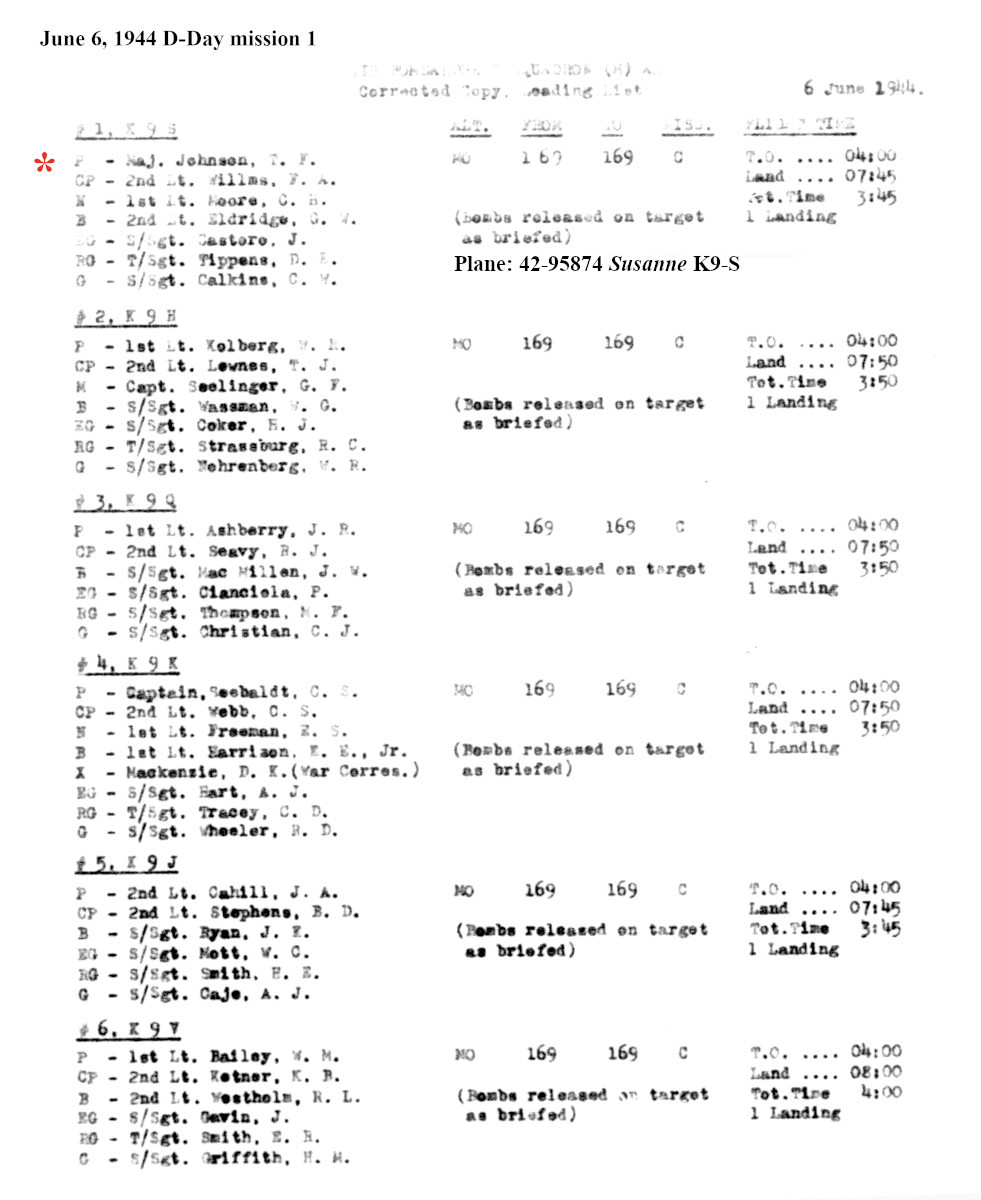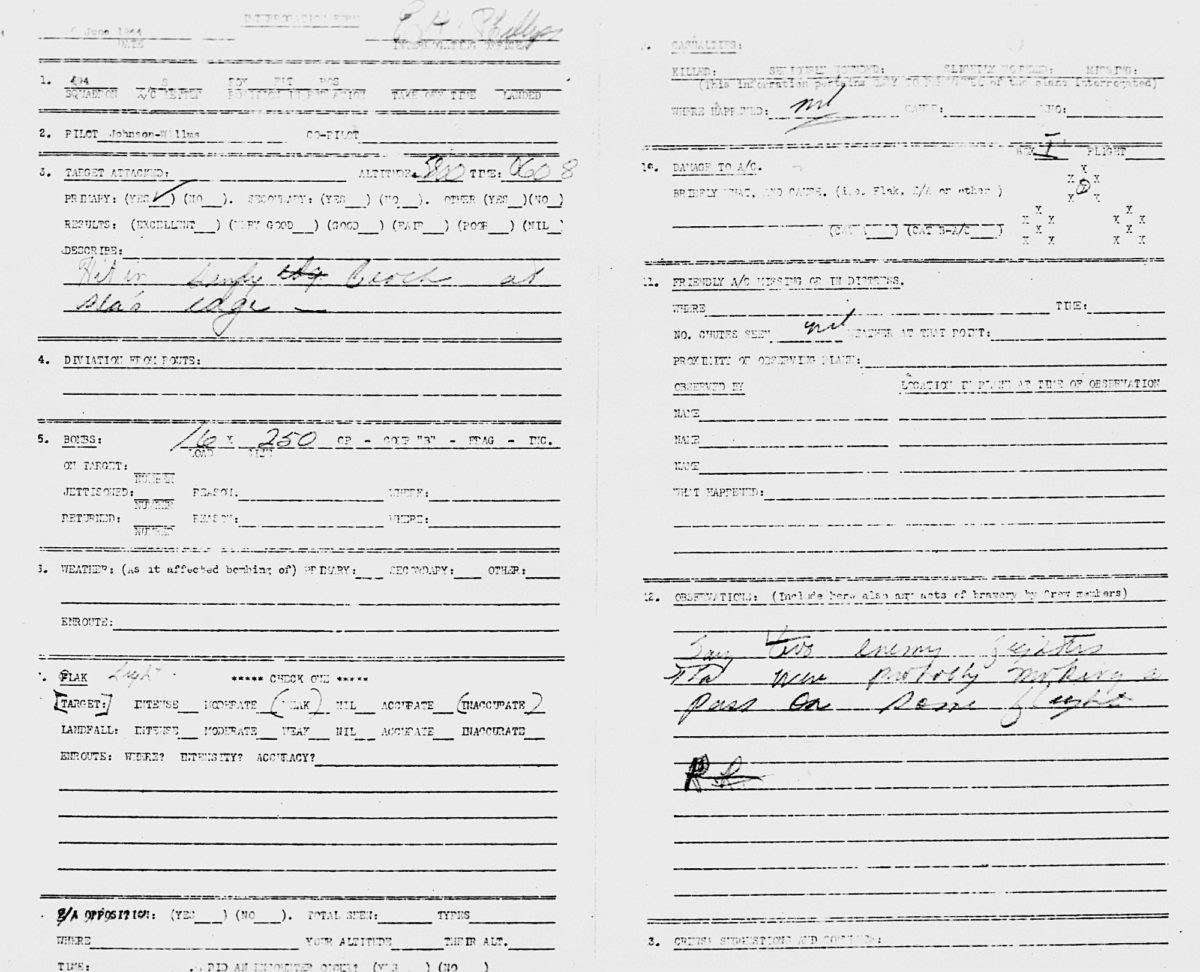 .
.
A Bronze Oak Leaf cluster was added to his DFC for his leadership during the 19 September 1944 mission to bomb the marshalling yards at Düren, Germany.
Tom Johnson and commanding officer Witty lead the formation. No load list is available. The plane is believed to be Mary Sue III.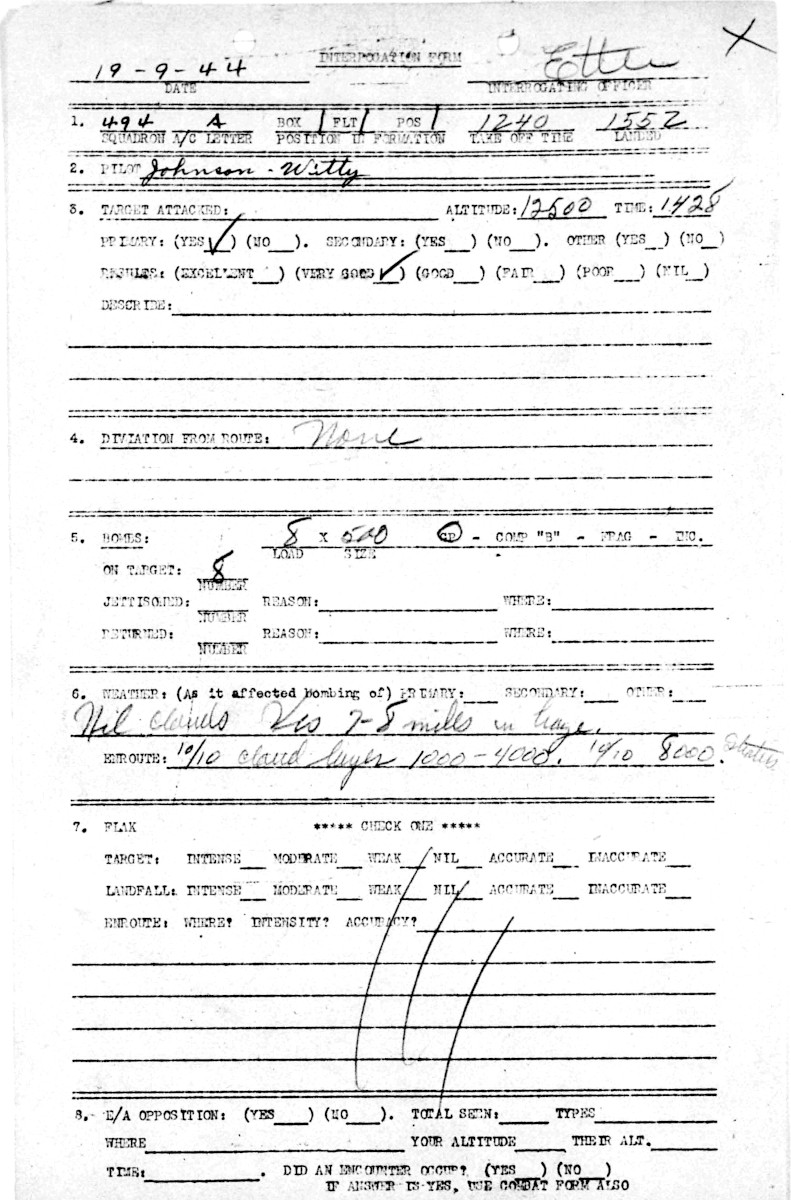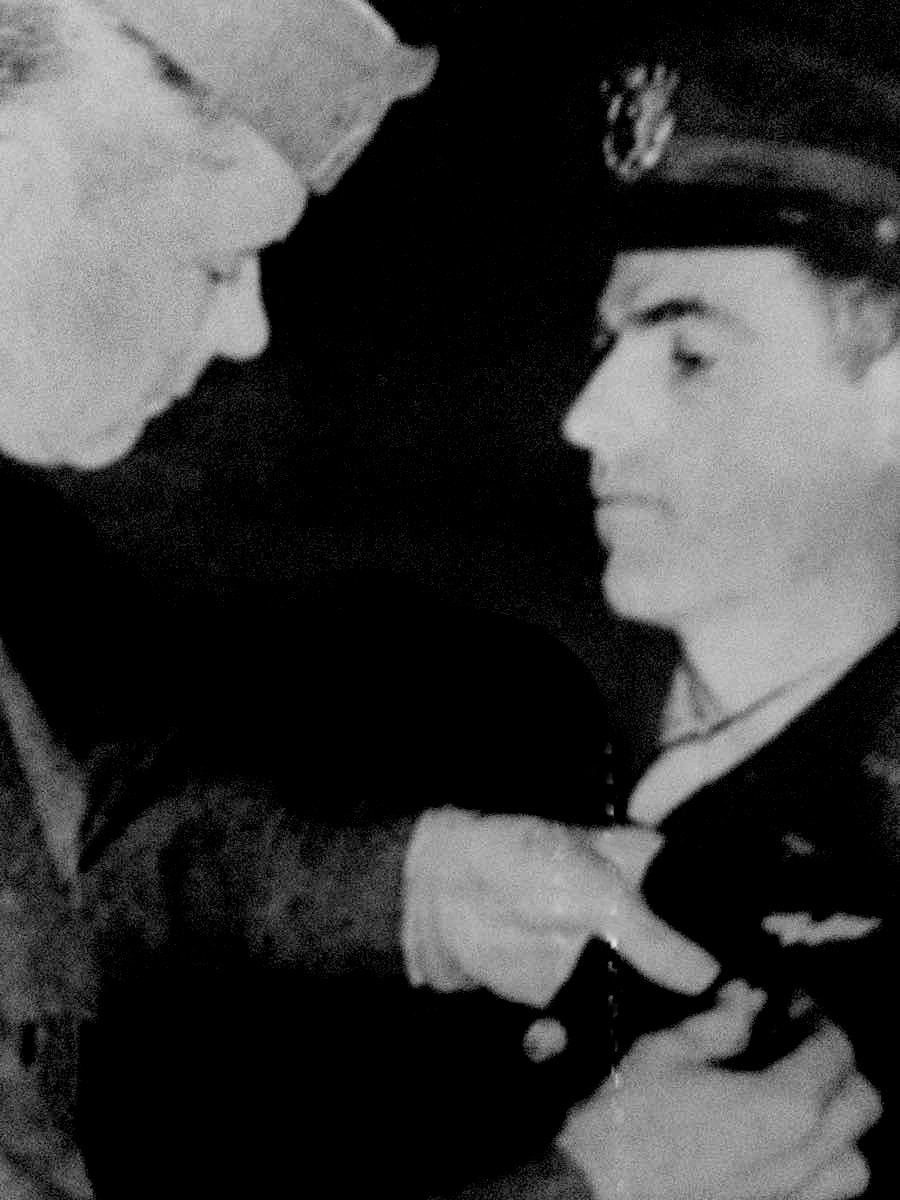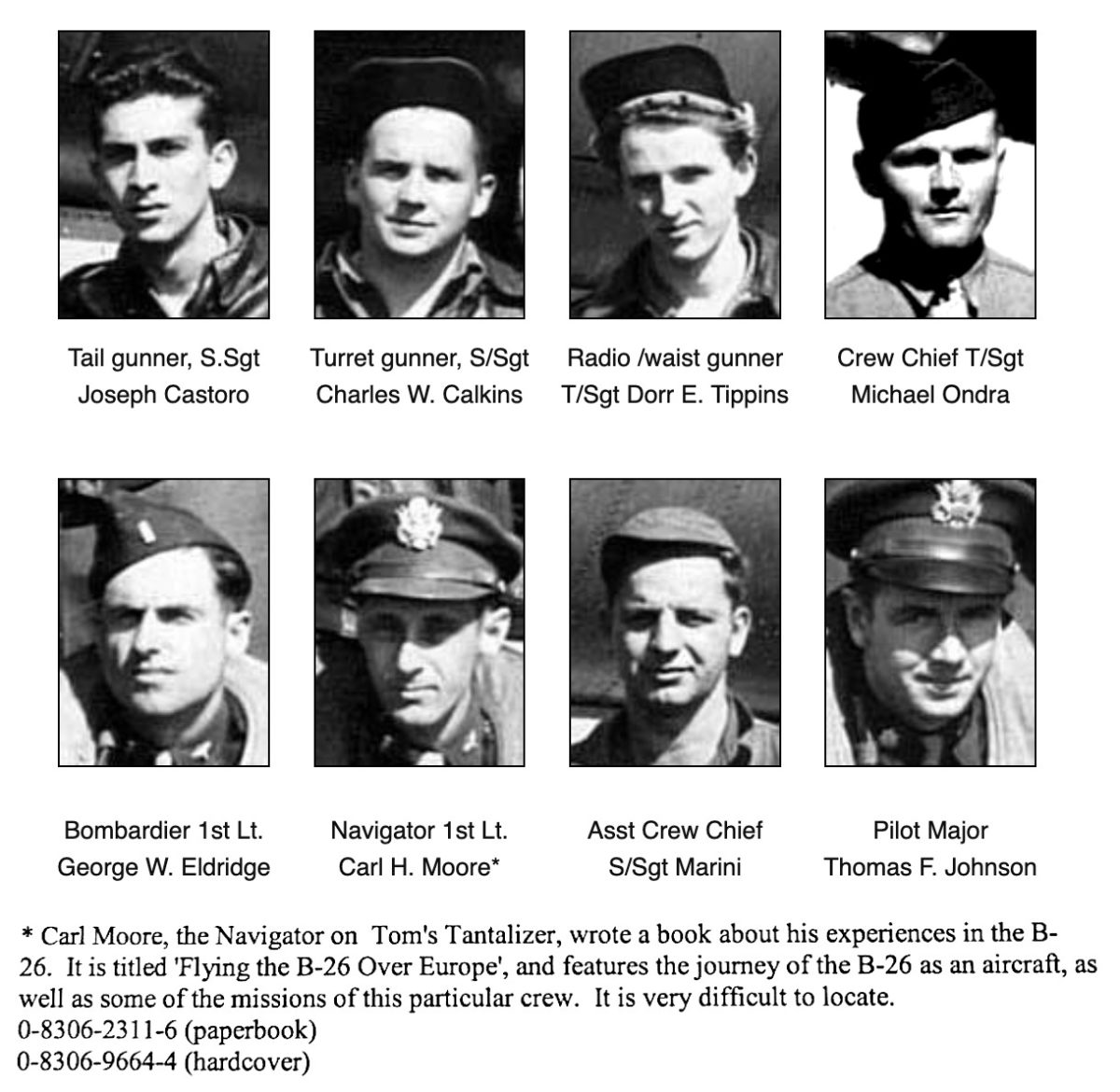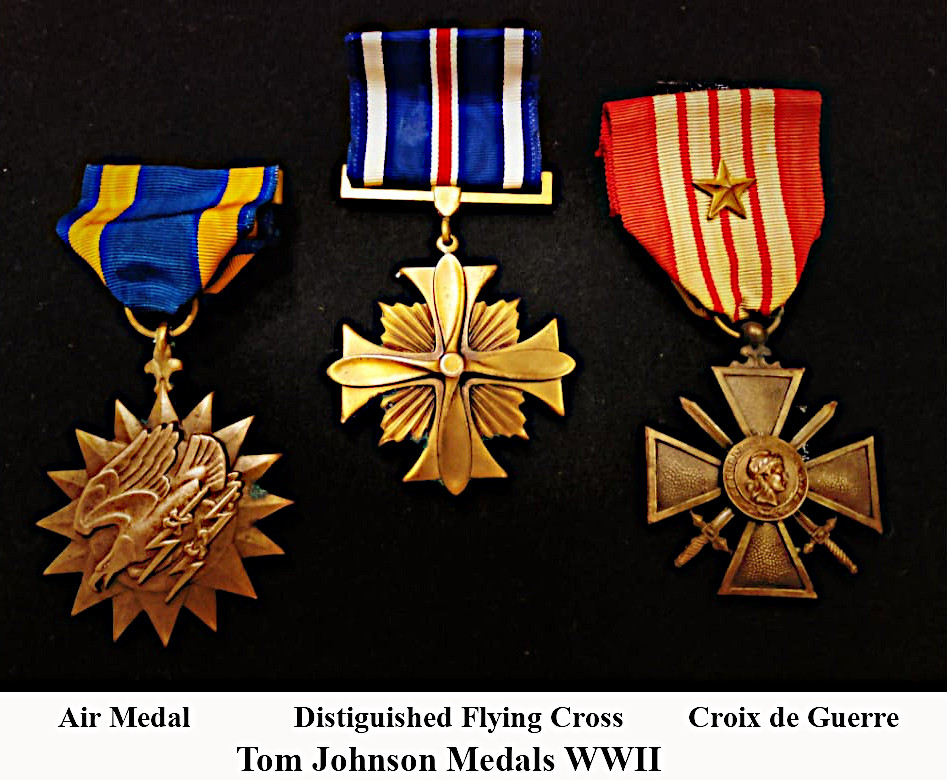 Thomas Johnson attained the rank of Lt Colonel and is credited with nearly 50 combat missions.
Having finished his combat tour, he returned to the United States, arriving at the home of his parents in Tilly Foster, NY on 21 July 1945. From there he left to rejoin his wife Mary and their young son Timothy in Le Roy, Genesee County, NY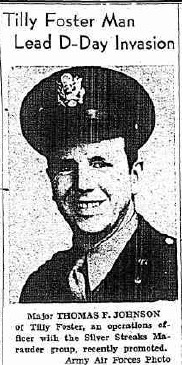 .