Lt. Edward William Horn 344th BG 497th BS
Ed Horn was born and raised in Charleroi, PA and graduated from high school in June 1942. He was 18 yrs of age.
He wanted to fly. The Navy didn't accept him due to an overbite the would make it difficult to use an oxygen tube.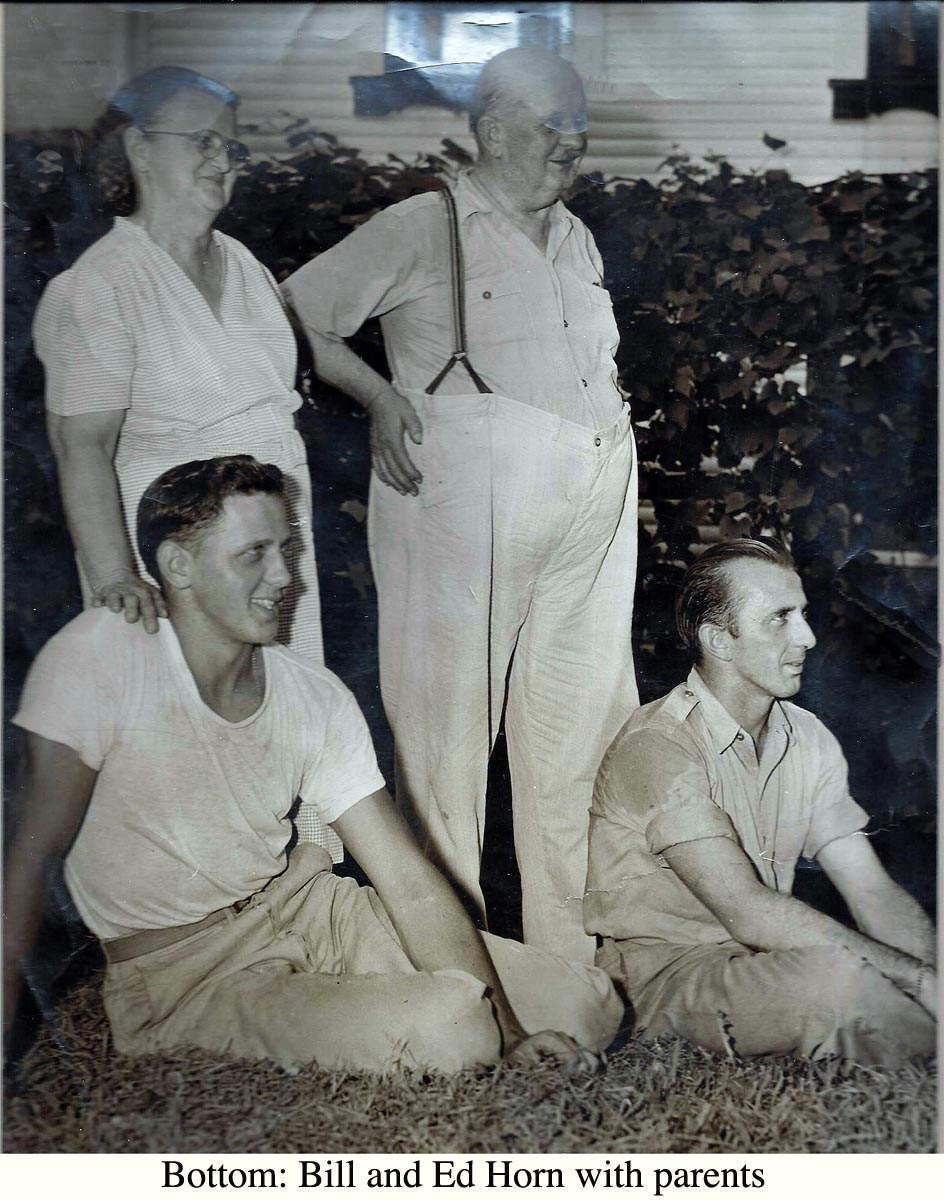 Instead, Horn enlisted in the Army Air Corps in Pittsburgh, PA in August 28, 1942. He graduated from pilot training and was commissioned a Second Lieutenant in October 1, 1943 at Ellington Field, TX. Horn was just 19 years old at the time. He was assigned to a B-26 Operational Training Unit at Lakeland, FL and learned to fly the "INFAMOUS" B26 Martin Marauder, from the middle or October to December. Next he was sent to Savannah Army Airfield to pick up a brand new B-26 Marauder with twin R2800 engines (I believe this was the "Bad Penny" see below). Horn had to sign for the $192,000 plane. He was nervous about being responsible financially and was told the sergeant "The plane is expendable and so are you". This foreshadowed the future where Ed Horn and his plane would get shot down.
In December 1943 he was assigned to Morrison Field (PBIA) in West Palm Beach, Fl. to prepare for overseas duty. In January 1943 he flew a B-26 to Stansted, England using the 9000 mile Southern Route (W. Palm Beach – Puerto Rico – British Guyana – Brazil (Natal) – Ascension Island – Liberia – Stansted, England) and arrived in February.
He began combat operations over Europe in March 1944 with the 344th Bomb Group (Mediums) 497th Bomb, Squadron of the 9th Air Force.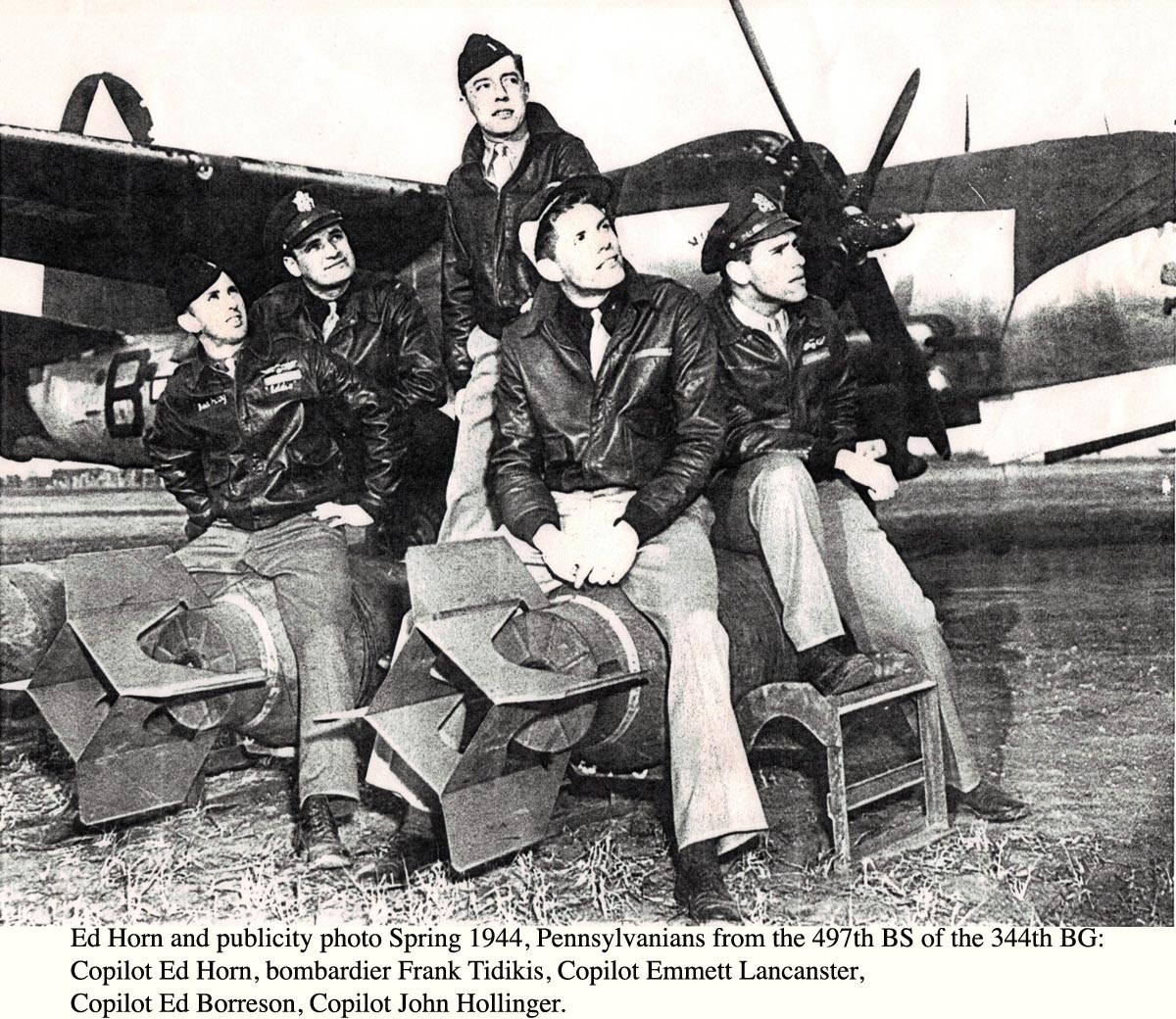 Click to see MACR 5140 report of this crash.
On May 28th, 1944, at 7 pm, on a beautiful, warm, spring evening over German occupied France, 2nd Lt. Edward W. Horn, bailed out of a burning "Smilin' Joy" 4295920 7I-L over Abbeville. It was Horn's 23rd mission and second mission of the day. The 19 year old co-pilot and his crew were hit by flak in the right engine while over over the bomb target, the marshaling yard in Amiens, France. With a P-47 escort, and the damaged plane under control, they headed for the English Channel. They were not able to maintain altitude nor extinguish the engine fire. The bombardier, 2nd Lt. Joseph Johnson and gunner, Tech/Sgt George Coon, bailed out and were picked up by the French underground. After three months of evasion, they returned to England. 2nd Lt. Horn and Staff/Sgt Samuel McDowell Coon, were captured and became POWs.
.
.
.
The pilot, 1st Lt. James Reynold, a West Point graduate, was shot by machine gun fire while trying to parachute to the ground. Cpl Leonard Norris Pew, the tail-gunner, is still listed as MIA. Incidently, this was the second mission of the day. Four others planes were shot down by anti-aircraft guns (88 mm) on the first mission.
Ed Horn was captured in Abbeville, France. He was transported to Oberursel, Germany. He was in solitary confinement for 10 days, fed only bread and water. Next he was sent to an interrogation center. There he was "interviewed" by an instructor from Floyd Bennett Field who spoke better English than Horn. Horn heard about D-Day at interrogation. The interrogator had a complete dossier on Ed Horn that included such things as his hometown and flight training. He was sent to a place Southeast of Berlin about 100 miles from Poland called Stalag Luft III. It later became the setting for the movie, "The Great Escape". He remained there until January, 1945. Horn hoped to be liberated by the advancing Russians. Instead the 10,000 prisoners were evacuated. They were marched more than 60 kilometers in the cold. Many, including Horn suffered frostbite in their hands and feet. Then they were transported by cattle car for several days they prisoners were only let out once. Many suffered from diarrhea and other problems. The cars were meant for 40 people. The Germans squeezed in 70. The final destination was Stalag 13B, near Nuremberg. They were near the marshaling yards (a prime target for U.S. and RAF bombers) and got bombed by friendly forces until they figured out the prisoners were there. Because that area was soon to be liberated, the prisoners and Horn were moved yet again to Stalag 7A. It was meant for 30,000 prisoners and now contained 130,000.  In total Horn was a POW for 11 months in four different prison camps. General George Patton and the 14th Armored Division of the Third Army liberated Ed Horn and the rest of the prisoners on April 29, 1945. Ed Horn says he saw "Old Blood and Guts" Patton and heard him say, "I bet you bastards are happy to see me." (which they were).
They were taken to a rehabilitation camp in Le Havre, France. There they were deloused, given physicals and received uniforms and money. Horn had started the war at 150lbs and now weighed 105! They were sent home on a troop ship to Boston (Fort Miles Standish) in May, 1945. They were given 90 days leave. Finally Horn was sent to San Antonio, Texas and eventually released. For him the war was over.
The prisoners were allowed to send a small number of cards home a month. He remembers being demoralized by a card he received. A Red Cross group from Buffalo, NY knitted sweaters and Ed received one. He wrote a card to them thanking them for the sweater that was keeping him warm in the harsh conditions. Horn received a return post card that said, "If we'd known we were knitting these for cowards we wouldn't have done it." Even when he returned home many people felt that POW's were cowards. This saddened Horn beyond words.
Rations were limited to bread, water, and potatoes. While in Stalag III, the prisoners received Red Cross parcels that helped supplement their rations. Still Ed lost 50 lbs in 11 months. Activity included volleyball and softball. Generally it was very boring and several people went "off their rocker" and crossed ran to the walls to get machine gunned by the guards. They left one hanging from the fence for several weeks to serve as a reminder that escaping was not an option.The Red Cross sent musical instruments, so they had a band. They even had a theater. Ed recognizes that some POW's had things far worse such as beatings and torture. Horn explained that Gehring (the general in charge of the Luftwaffe) convinced Hitler to allow him to be in charge of Air Force and RAF captives. He decided to treat fellow airman better than the ground troops were treated under other jurisdiction. After leaving Stalag Luft III, things got progressively worse including the forced march in the cold, the cattle car experience, and being kept in an unmarked camp susceptible to friendly bombing and straffing. Still, Horn feels very fortunate.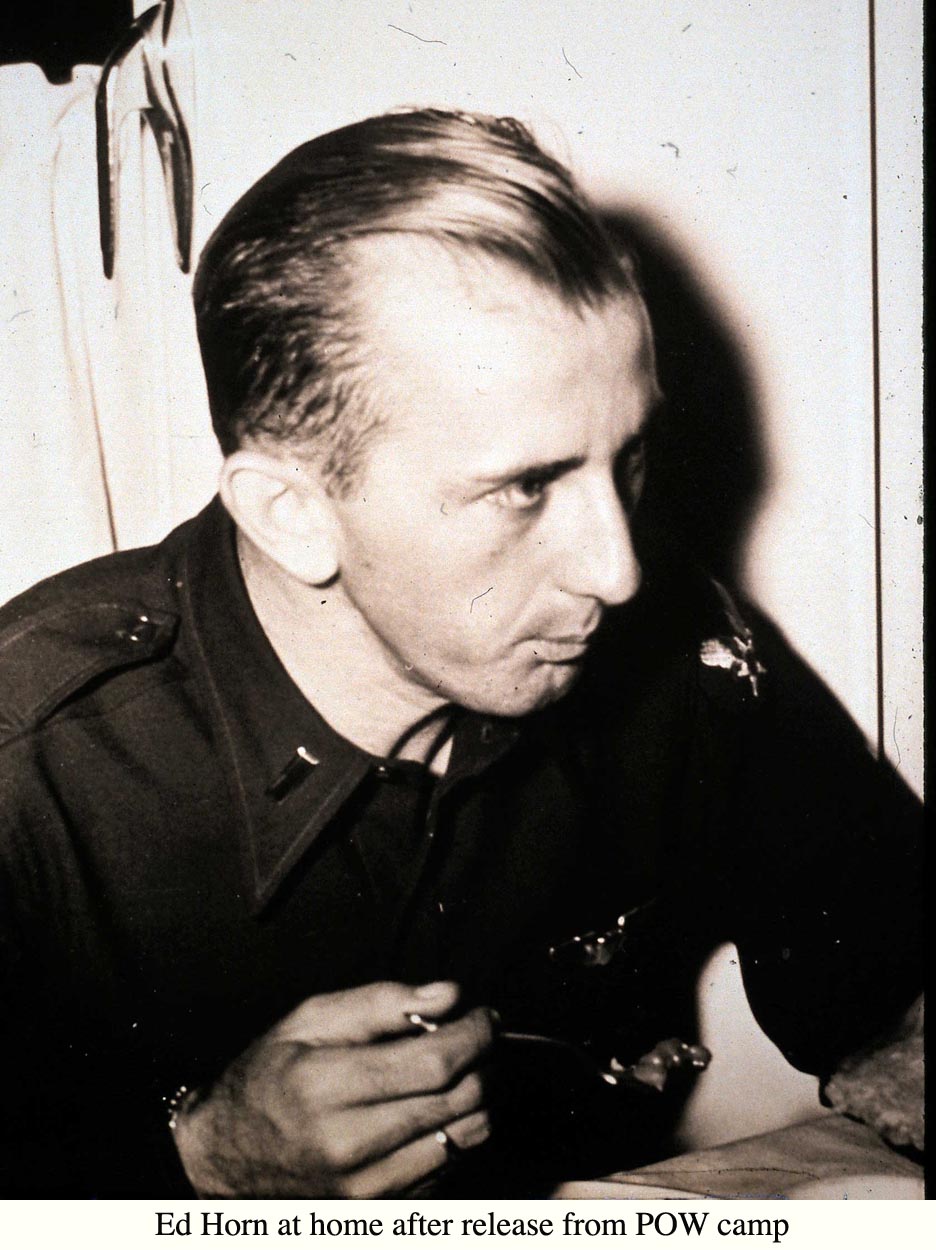 He separated from service in December 1945 and accepted a reserve commission in March 1946. He then attended Pennsylvania State University under the "GI Bill", graduating in June 1949 with a Bachelor of Science Degree in Aeronautical Engineering.
Major Horn's wife Virginia, his soul mate and supporter of 60 year married in June 1949 in North Belle Vernon, Pa. She is a graduate of the University of Dayton in Education and was an elementary school teacher. They have one son, Christopher of Douglas, GA. who was a Quality Control Manager in a food processing plant. Virginia Horn passed away on Nov. 20, 2009. Chris Horn Takes care of his father at their home in Palm Beach Gardens, FL.
Ed became an employee of the United States Air Force at Wright-Patterson AFB, OH as an aero propulsion Engineer in July 1949, retiring in Oct 1979 after 30 years of service.  He was called back into service for two years during the Korean Conflict from 1951-1953. He retired from USAF after 20 years of service (5.5 years active duty).  He joined Pratt & Whitney in November 1979 working on the F100 Engines in the USAF F-15 & F-16 aircraft until his retirement in January 1991.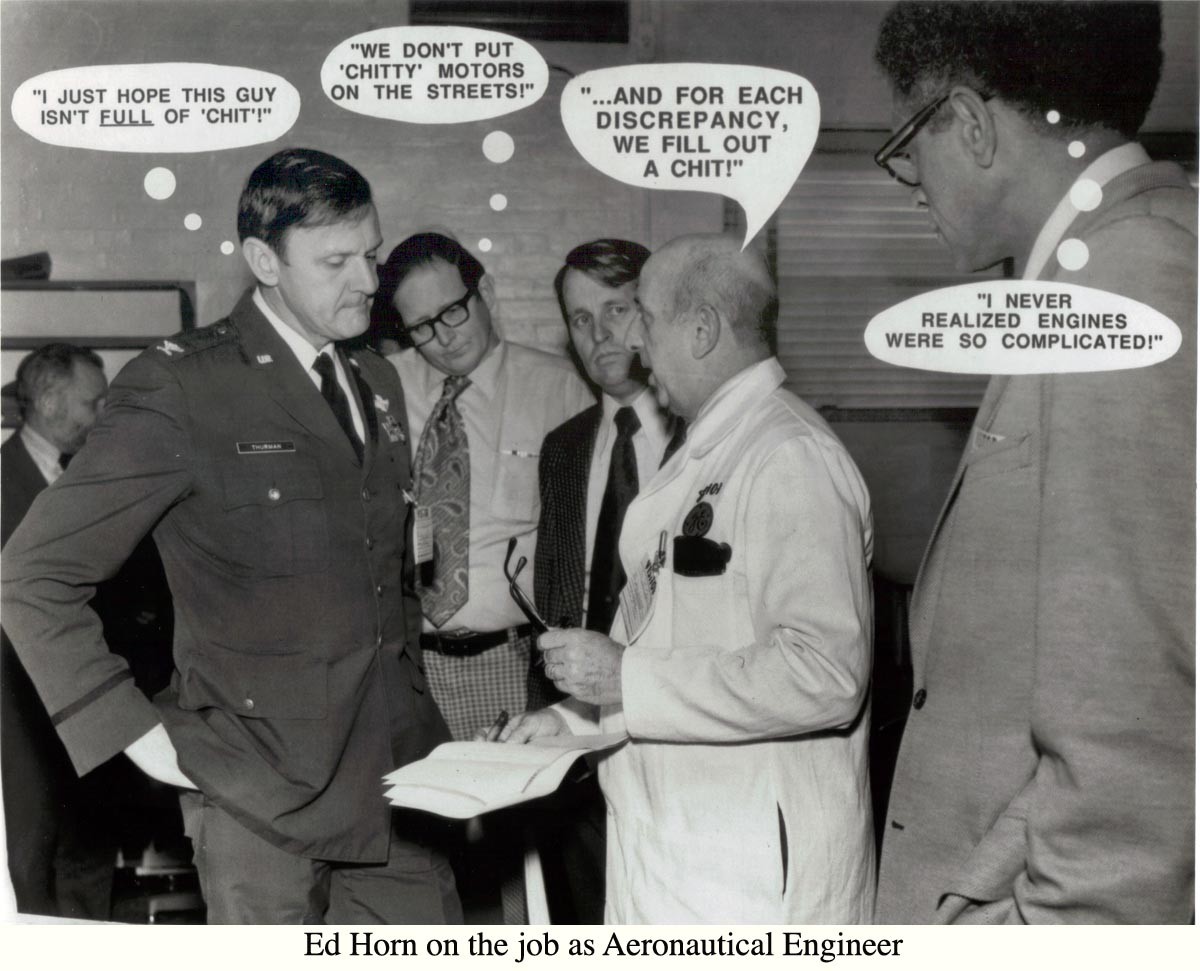 He is a member of Military Officers Association of America, the Order of Daedalians, the Caterpillar Club, and The American Ex-POWS and was past Commander of the Suncoast Chapter of the American EX-POW's. He is also a volunteer at the West Palm Beach Veterans Administration Medical Center.
About his planes:
42-95902 71-G The Bad Penny 344th 497th  pilot 1st Lt. James F Reynolds co-pilot 2nd Lt. Edward Horn
Original 344th bomb group aircraft flown overseas by 1st Lt. James Reynolds, 2nd LT. Ed Horn and crew. It was lost on the 6/6/44 on the D-Day mission to bomb coastal gun batteries overlooking Utah beach on the Cherbourg Peninsula, France.  The Bad Penny was the only 344th plane shot down over Utah Beach on D-Day. The aircraft flown by 2nd Lt. James Burton McKamey was hit by flak as it crossed the French coast on the way to the target which damaged the right engine and set the rear bomb bay on fire. Three parachutes were spotted before the aircraft crashed and exploded just offshore from Moutebourg. Although three chutes were spotted which came down in the water, there were no survivors. The aircraft supposedly carried no nose art, only a nose name, but this needs confirmation. According to MACR 5656, the crew included pilot 2nd Lt. James Burton McKamey (killed), co-pilot F/O. John F Kechley (killed), Sgt. Jess McIntosh Scott – tail gunner flying as bombardier (killed), radio/gunner S/Sgt. Salvadore Joseph Zuniga (killed), turret S/Sgt. Manuel Huerta Larini (killed), Sgt. Howard Letford Finn (ordnance ground crew flying as tail gunner (killed)
42-95920 71-L Smilin' Joy 344th 497th. According to MACR 5140, the crew included pilot 1st Lt. James Foster Reynolds (killed), co-pilot 2nd Lt. Edward Horn (POW), Bombardier/Navigator 2nd Lt. Joseph Johnson (bailed out and evaded capture), Radio/Gunner T/Sgt. George Henry Coon (bailed out and evaded capture), Engineer/Turret Cpl. Leonard Norris Pew (MIA), Tail gunner S/Sgt. Samuel McDonald Gold (POW)
Smilin' Joy was flown overseas to the UK via the Southern Ferry Route (Listed as Carribean Wing), departing the USA on 22/1/44. The aircraft record card then lists, SOXO A (Europe – 8th AF) on 22/1/44, and SOXO R (Europe – 8th AF) from 19/2/44. An original 344th bomb group aircraft, it was named by 1st Lt. Sterling J Roberts after "Smilin Joy" Joyce L Wade, whom he met and married while at MacDill, Florida. The plane took a direct flak hit in the right engine over Amiens on the 28/5/44 mission to the Amiens Marshalling yards. Four chutes were spotted before the aircraft crashed 1 km SE of Mayenville, 8 km SW of Abbeville, France. The pilot was 1st Lt. James Foster Reynolds who was flying the aircraft after the regular pilot & crew were on an R & R break. He was killed by the Germans as he descended by parachute. Two of the crew evaded capture and made it back to allied lines, two were captured, and two were killed. This was the aircraft's 41st and last mission.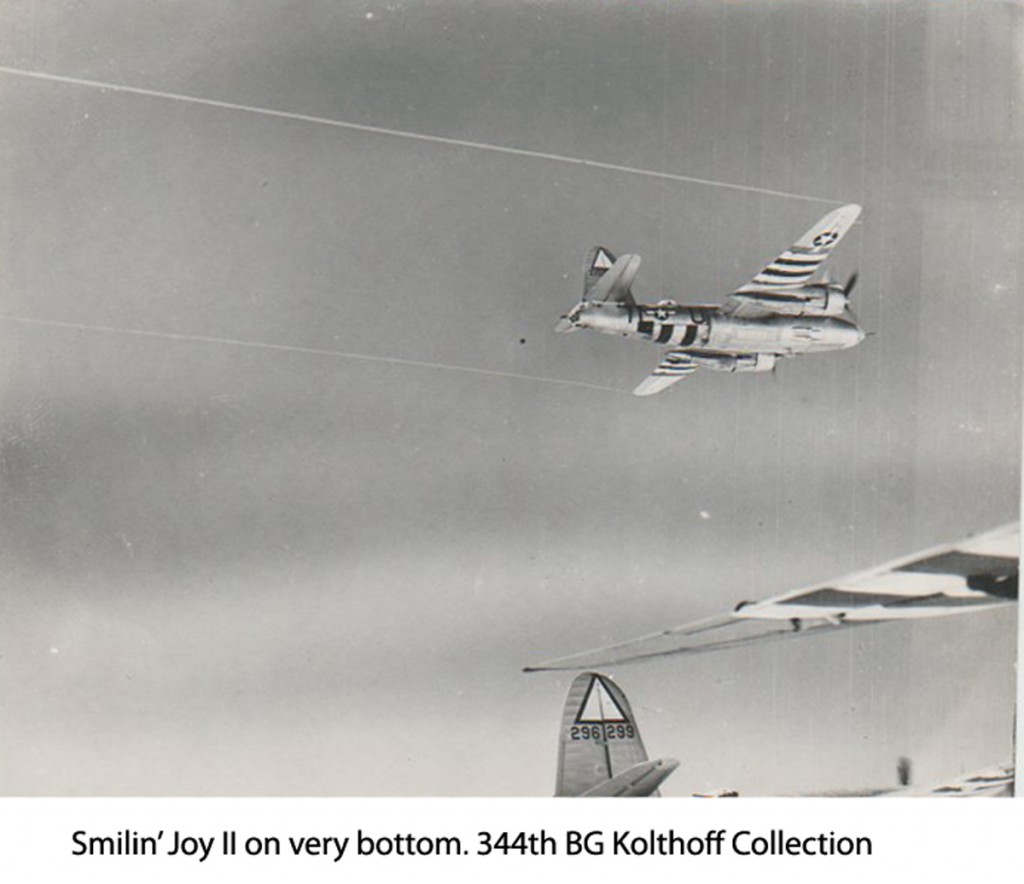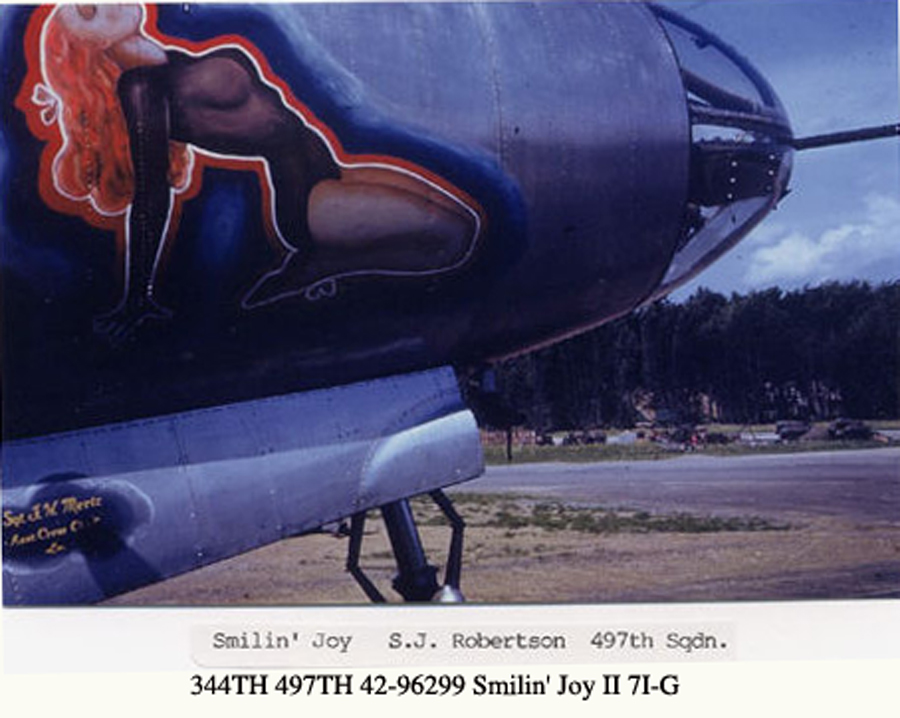 2 Responses to "Lt. Edward William Horn 344th BG 497th BS"