Lt. Herbert Moore
Hi Carl,
I love your site. I just found it last night. My mother met 1/Lt. Herbert Holbrook Moore, Jr at Barksdale where he was a pilot-instructor in late 1943 or early 1944. Lt. Moore lived in a converted garage apartment where my mother and her friend lived as boarders in the main house. This was in Shreveport, LA just off Barksdale AFB. My mother, whose name was Pat, went over to "borrow" some ice from "the pilot's" apartment. She and her friend only had a room and no refrigerator and they figured he was out flying anyway. So my mother softly knocked. When no one answered she slid her small hand through a crack in the screen with her long, beautifully manicured nails painted a dark red. Herbert grabbed her by the wrist and said, "Who's breaking into my house?" She jumped and tried to wrest her hand free. "Who's got ahold of my hand?" came her indignant reply. "I asked you first!" Now, really annoyed, she said," Cathy!" Just then he swung the door open and saw her. "If you're Cathy, then I must be Heathcliff." And so they were from then on, Cathy and Heathy to each other. Sadly prophetic that he chose to name them after the doomed lovers in Wuthering Heights.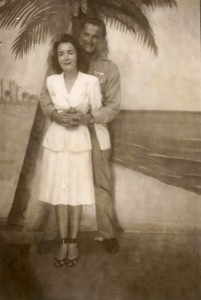 Heathy & Cathy, Miami Jun-1945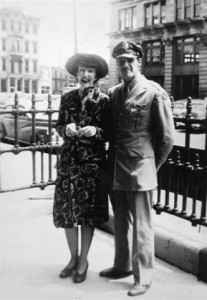 Herbert and Virginia Moore 1943



Stansted, England Aug. 8, 1944


Sadly, Mr. Moore is no longer living. He died April 5, 1946, before my mother and he could marry. After he was released from the military, he moved home to Louisville and reentered law school at U of L. His father was a very prominent attorney in Louisville. My mother went and spent Christmas 1945 with his family. He begged her to marry him then, but she was afraid he would feel the pressures of having to support a wife and not finish law school. He told her, "If something happens and we don't marry, I'll haunt you the rest of your life." He attended a party at a very prominent family's home on February 10, 1946. He and some friends were examining the owner's gun collection. He was shot by an "unloaded" handgun, through the right hand, right shoulder and the bullet ricocheted into his abdomen striking his liver. (I'm guessing that someone pointed the "unloaded" gun at him and he instinctively put up the palm of his right hand and half turned away as the gun went off. That would line up his palm, arm and liver.) He survived the initial injury, only to die six weeks later, the day before he was to go home, of an internal hemorrhage. The last word he spoke was my mother's name and it was as he placed his signet ring in his sister's hand. (There is quite a bit more, but this is the gist of the story.) I have that ring and his Caterpillar Club pin. I have not made it to the B-26 archives yet to research the first downing. I had a very good relationship with Stan Akers when he was there. He helped me figure out which BG and squadron Lt. Moore was in. He became interested in the "whole" story and published it in the Marauder Voice several years ago. Since then, I have been able to fill in a lot of the gaps and correct some errors that were in that original story due to a very amazing turn of fortune. My mother died in 1999 and I started really seriously researching Lt. Moore as a tribute to her. I had done a little superficial work before her death but not huge amount. It's along story but, I came into the possession of a large quantity of letters, V-Mails and a few pictures, from the war years, that none of us (including my mother) knew existed. My grandmother had hidden them away in an old trunk. It is through them that I can date fairly precisely that first crash landing. It occurred between August 23rd and September 6th 1944. By September 6th he is in the hospital with a broken left ankle. I have e-mailed the archives twice asking about the availability of either paid or volunteer researchers and have not received a reply. Stan was always good about at least acknowledging the e-mail even if he didn't have the answer you sought. According to an article in his hometown newspaper, the Louisville-Courier Journal, October 18, 1944, "In a previous battle in August, "Jumbo's (college nickname) plane collected three cannon shells and more than one hundred bullet holes…" By the fact that they were able to count the holes, I'm guessing he made it back to somewhere safe. The second time was October 6, 1944 trying to bomb Arnhem Bridge after Monty's folly, 'Market Garden'. From the MACR the crew that day was: 1/Lt. Herbert H. Moore, Jr.- pilot 2/Lt. Albert Allen – co-pilot 2/Lt. Edward Sadula- bombardier, navigator S/Sgt. Norman Traux- radio/ gunner S/Sgt Bernard Bielinski- Eng.-gunner Sgt George Boyer – TG Sgt. Einar Nielson- radio/gunner The plane was "Nick's Chick" 42-95918 as you have no doubt noticed it is but one digit off the serial number of "The Shop Worn Angel" (42-95917). From the MACR they were "(the) last plane in formation Number 5 position." They were hit by heavy flak immediately after dropping their bomb load from 12,500 ft. Sgt. Einar Nielson "…smelled gas and told them over the intercom phone." Lt. Moore ordered everyone to bail out. Navigator/bombardier Lt Sadula refused to come out of the nose until he had plotted a course back over enemy lines. Lt. Moore told S/Sgt Traux to open the door leading to the bomb-bays but the smoke forced him back. The tail fell off and the ends hurtled through space. It exploded at about 4000 feet, freeing Lt.'s Moore and Allen. Unfortunately, Lt. Sadula was in the pilot's compartment and his parachute was in the radio compartment. Boyer and Traux also went down with the plane. Bielinski received severe burns and a back injury, Allen had a broken leg and burns and Moore re-broke his left ankle and was hit with shrapnel in his right knee. They were all picked up by the Dutch Resistance.
See Dutch report of the crash with translation here. Info from Mr. von Bon.

Interestingly, of the seven crew members on " Nick's Chick" that day, only two survived past 1950 when Bielinski, too died. Since Nielson is the one filling out the reports and is the only one not in the hospital, I'm guessing he was the first off the plane. It is very possible your father and Lt. Moore knew each other. Lt. Moore was at Stansted from about July 1944 (could be earlier but doesn't admit he's in England until August 14, 1944) until they moved to France. But he was only in France until October 6, 1944 when he was shot down.  So it was , "Cathy," that was Heathy's final word. I ride and train dressage horses and the humans that ride them. But as you see, I still take lessons to continue my own progress. I have several horse but the two I am showing currently are both International level, both just a bit below the Olympic level. But we're still headed up through the levels and hope to debut at Grand Prix next year. My husband grew up in Greenvale. He graduated from North Shore High School in Glen Head. It's a small world! We live in Abilene, TX where my husband is a doctor. We both love history and this has been a labor of love on both our parts. I guess we kind of adopted Heathy and his sister and parents because they were the end of that line of Moore's. Heathy's father died only 15 days after he did at the age of 55. My mother said he died of a broken heart. His sister married and divorced but had no children. This is a way of keeping them alive, by sharing their story. I am writing a book about Heathy and Cathy. My dad was a career Army officer. He was in Intelligence. He was a cryptographer, a code breaker. He was stationed at Pearl Harbor after the attack. He helped break the Japanese code. Until 1967, none of us knew what he did during the war. He couldn't tell us. He too has passed on. This has been quite an interesting journey. We've been to Louisville (Heathy's hometown) twice. We've actually taken loads of pictures of 1464 St. James Court, where Heathy lived. I haven't been brave enough to go up to the door. I have tracked down a neighbor who knew them. She is now 86 and I have sent her a letter and several clippings and pictures. I will have to call her if I don't hear from her pretty soon. The U of L Archives are extensive and they were loads of help. They searched with us after hearing the story. From them I found out that Heathy was already a pilot when he joined the Army Air Corps. He was certified to fly every plane in their arsenal with over 1000 flying hours. He became a pilot instructor as soon as he graduated and was commissioned. I had not thought of Googling the other crew members. That's a great idea. I'll try it. Thanks for a great site!
I look forward to hearing from you,
Best Regards, Katie Ryan
The following are a string of e-mail communications regarding Lt. Moore and Nicks Chick:
Date: Thu, 23 Aug 2012 13:58:28 +0000
Subject: [Shopworn Angel] B-26 42-95918
From: wordpress@shopwornangel.imaginarynumber.net
To: damonbok@hotmail.com
Ton van Bon <vanbon21@hetnet.nl>
Hello.
We found wreckage from B-26 42-95918 nickname;Nicks Chick.
> Edward Adam Sadula,Norman Harold Truax and George Milliner Boyer are first buried in a fieldgrave in Angeren.
> Later in American Cemetery Ardennes in Neupry,Belgium. G.M.Boyer later buried in Utah U.S.
> We like to come in Touchwith the family of the crew.Als we like to have pictures of the crew.
> We have pictures from wreckage and from a grave G.M.Boyer in Belgium.
> Gr.Ton van Bon
> Angeren,Holland
Sent: Saturday, August 25, 2012 1:08 AM
Subject: RE: [Shopworn Angel] B-26 42-95918 WWII not junk!
Mr. Van Bon,
Thank you for the information. What does the Gr. in front of your name mean? Were you involved with the investigation or recovery of this B-26?
Do you have any related pictures or diagrams or maps? I'd like to report on this in my web page if you don't mind.
Here's what I have found initially;
USAAF 42-95918 Martin B-26B-50-MA Marauder
USAAF serial number S/N: 42-95918 Martin B-26B-50-MA Marauder
1942095918, 42-95918 Martin B-26B-50-MA Marauder Fate: Shot down Unit: 344BG495BS Remarks: 344BG495BS Silver Streaks Code:Y5-? Lost Oct 6, 1944 when hit by AAA over Holland and crashed. MACR-9219, Disposal: 06-Oct-44
| | | | | | | | | |
| --- | --- | --- | --- | --- | --- | --- | --- | --- |
| O-765728 | Edward Adam | Sadula | 2Lieut | IL | 6 | 10 | 1944 | B-26B # 42-95918 |
The serial number is the very next one after my father's plane.
Carl Carrozza damonbok@hotmail.com
From: vanbon21@hetnet.nl
To: damonbok@hotmail.com
Subject: Re: [Shopworn Angel] B-26 42-95918 WWII not junk!
Date: Mon, 8 Oct 2012 19:12:39 +0200
The Gr. before my name means Greets or best regards.
We've got a little museum and we are digging wreckage from airplanes nearby Arnhem.
We've found little pieces of the B26 42-95918. I mail you some pictures from wreckage.
Maybe you can help me to contact Katie Ryan. I really like to have information about Herbert Moore jr.
and the other members of the crew. Maybe she has some pictures of them. I've got some individual casualty questionnaire
from the crew. I've got also the Missing Air crew Report. I've got pictures from the target, which they have to bomb.
I really hope, you've got some information for me.
On 10/8/2012 2:42 PM, Carl Carrozza wrote:
Katie,
This gentleman has found some things of interest to you and would like to get in touch with you perhaps you could e-mail him.
Date: Sat, 13 Oct 2012 16:42:43 -0500
From: dressage@camalott.com
To: damonbok@hotmail.com
Subject: Re: FW: [Shopworn Angel] B-26 42-95918 WWII not junk!
Dear Carl,
I have been out of town and just checked my email. Oh my goodness! I can't believe they've found parts of the wreckage!
I would love to talk with this man and will email him immediately. As you know I have extensive knowledge of the crew and in particular Herbert Moore, Jr and Einar Nielsen (radio-gunner), who is still alive.
To a little coda to the story: last year I got an email from a 93 year old British (at the time) Lt. He was an intelligence officer in a forward slit trench. He saw the plane hit, watched the first two bail-out as one floated right over his head. He saw the tail fall off and the plane explode. He then sent me his original 1944 maps of the area detailing where he was and where Sgt.Einar Nielsen landed. I had a copy made of the map.
My husband and I have been to visit him outside of Bristol, UK. We went to return those precious 1944 maps. He is sharp as a tack. We are planning on seeing him again later this month.
What are the odds I'd find someone who saw this happen??
Now to be contacted by someone who has found parts of the plane? All I can say is, WOW! And thank you for your website.
I'll keep you posted.
Katie Ryan
On 10/13/2012 7:19 PM, Carl Carrozza wrote:
Katie,
It's like a miracle to have this information come to you. The relics are a stupendous find. I've had a few these miracles also and I'm I like to think it is more than coincidence that these unlikely finds come our way.
I've been in contact with a Marauder Man, Hasey Casey. See the info on my page. He flew many ot the same missions as my father, so I'm anxious to read his book.
If you send me a scan of the map, I could put it on your section of my web site.
Carl
Date: Sun, 14 Oct 2012 15:40:12 -0500
From: dressage@camalott.com
To: damonbok@hotmail.com
Subject: Re: [Shopworn Angel] B-26 42-95918 WWII not junk!
Hello Carl,
I absolutely believe in miracles. What are the odds I'd find someone who saw the plane go down?? Infinitesimal. Until he contacted me, I'd have even said impossible. And now to be in contact with someone who found the plane? It truly is a miracle. I emailed him last night. I hope that he gets back to me soon because I am dying to hear from him.
The map is quite large. About 18″ by 2'6″. It is actually two maps that (sometimes Lt – by his own words) Oliver Perks attached together. I took the originals back to him, but had a copy made. I think he was afraid I wouldn't be able to lay them together the proper way and they would not make sense. They are in pristine condition and very detailed.  They show every road, elevation, drainage ditch, hamlet, house, orchard, building, dike and even the jetties in the two rivers, the Waal and the Neder Rijn (Rhine) Rivers that form the so called "Island." It was done by the US Army GSGS (Geological Survey?) and is dated 10/10/44. I'm not sure if they would be categorized as BIGOT maps, but they are nearly as detailed. I will see if I can have it reduced to a size. I can either mail to you or email it. For you to get the amount of detail, I may need to mail it. Then you can decide how to put it up on your site.
Mr Perks has a website set up by his daughter with pictures from his time in the ETO.  Just Google: Oliver Perks.
Thanks again.
Katie
On 11/7/2012 9:01 AM, Carl Carrozza wrote:
Katie,Here is a running conversation we've had (see attached). I hope to soon boil it down to an update on my web page. As you go through it, we talked about some pictures that you may have for me…ie Shopworn Angel on wall, the pub, etc. I don't think I ever got those.Hope all is well with you. I am adjusting to retirement!Carl

From:

dressage@camalott.com

To:

damonbok@hotmail.com

Subject: Re: [Shopworn Angel] B-26 42-95918 WWII not junk!

Hi Carl,

I apologize for not getting back to you in a more timely manner. I have been corresponding with Mr. Ton van Bon.About Nicks Chick and her crew and her circumstances.I have the IDPF files for both Lt. Edward Sadula (Bombardier/Navigator) and S/Sgt Norman Truax.(Radio Operator) NARA had "misplaced" Sgt. Boyer's IDPF  but there was the dental record they used to identify the body included in Sadula's IDPF. There seems to be some confusion on the part of the Dutch as to which man was buried where and when.  Two bodies were initially found near the cockpit wreckage. No dog tags on either as the German's "plundered " the bodies immediately according to eye witnesses.  They were identified by laundry marks as: E.A. Sadula and L. M. Langlois and buried under those names about five days after the plane went down.. This was very puzzling as there was no L.M. Langlois on the plane nor in the Marauder Archives as having ever been associated with the B-26. The third body was not found until May 1945 when the Dutch were allowed to go back to their homes. (The retreating Germans took the Dutch as human shields when they left.about October 16, 1944.) The third body was not found until May when the Dutch were plowing. The three were eventually identified as: 2nd Lt. Edward Sadula ; Langlois was found by dental records to be Sgt. George Boyer (tail gunner) and the 3rd  body as S/Sgt. Norman Truax (radio). The Dutch have always thought that Langlois/Boyer was S/Sgt. Truax because of their relative positions in the plane in flight.To recap: Nicks Chick  6 October 1944, was in Box II Flight 3. Probably due to poor visibility over the target (Arnhem bridge), they did not drop their bombs and asked (but were denied) permission to go around again.They circled back anyway and Lt. Herbert H. Moore's plane, in position five, after "bombs away" was hit through the back bomb bay by flak. Sgt. Einar Nielsen (acting as waist gunner) smelled fuel and radioed the pilot. He called for everyone to bail-out. Sgt. Einar Nielsen (who is still alive) was the first out, quickly followed by S/Sgt. Bernard Bielinski (turret-gunner). Sgt. Boyer (tail gunner) came running forward and indicated with his hand that he was OK. In the front, 1st Lt. Herbert Moore Jr. ordered 2nd Lt. Sadula out of the nose. He refused to come out until he had plotted a course back over enemy lines.Lt. Moore sent S/Sgt. Truax (radio) to open the door to the bomb bays but he was forced back by the smoke and shut the door. At that point the tail broke off. The plane was quickly engulfed in flames and the velocity of the fall pinned the men in their places. At around 6000 feet the fire hit the fuel tanks and the plane exploded. This blew the pilot (Lt. Moore) and the co-pilot (2nd Lt Albert J. Allen) out of the plane in their seats. They had to unbuckle their seat belts before they could pull the ripcord on their seat parachutes. (This I learned from the regular "Moore Crew" co-pilot, 2nd. Lt.Frank Pollak, who was on another plane that day.)  Unfortunately, the others fell out without their chutes and were killed. I know for sure that Lt. Moore and there's a very good possibility that Lt. Allen, were picked up by Dutch resistance and safely gotten away from the area.Until communicating with Mr. van Bon, I did not know that the tail fell some distance away and the three bodies were actually pretty close together. I was always under the impression that Boyer was in the tail when it hit the ground. The only explanation I can come up with, is that either his body was moved from where the tail landed (which is highly unlikely due to the intensity of the fighting in that area), or he made it

past the  breaking point in the back bomb bay and

far enough forward  to the front bomb bay to fall with the cockpit. Mr. van Bon has told me that the man who found them several days later and who buried them is still alive! He lives in Idaho.I hope to speak with him soon. He has been sending me information and I am preparing a large packet of information, pictures etc. for him.

We were recently in England, which is part of the reason for such a tardy reply. We went out to Bristol to visit my little British Lt. Oliver Perks who saw Nicks Chick hit, the parachutes emerge, the tail break off and the front part explode. He saw the other two parachutes emerge, "over enemy lines."  He was very happy to see us and share his memories with us. He was still sharp as a tack, though he was quite frail this year. Last year he was quite robust. Sadly, he passed away four days after we saw him. I couldn't believe it. He was 92.

I need to search my picture files for the picture of  the print of "Shopworn Angel" from The Ash Pub outside what was Stansted AAFB- S 169. I remember I had to stand on a chair to get the shot because it was pretty high up.

None of the above is speculation except as noted. It is either from one of our many National Archives, the British Archives at Kew or  oral histories from veterans or citizens who were there.

Sincerely,

Katie

Katie,

A special force has been with you the whole time you have uncovered this story! The latest being Mr. Perks surviving just long enough for you to see him. How did you find out about Perks to begin with? I will have a few more questions from you soon. It's early morning and I just wanted to send this quick reply. You've given me so much information now and previously that I want to;

have the whole story straight in my mind
think of how to format this for the web page.
we should work together on this. You are a good writer and I think it would be a good experience for us both.

Carl

I'm flattered. And I'd love to!
There are so many strange things that have fallen into place that I know there is a special force helping me. It's hard to believe some of the things that have happened.

I am hosting a riding clinic here (I train and teach dressage riders and horses) that I will be quite busy through Sunday. But after that, I'm available.

Mr. Perks (well his daughter) had read an account I had put on Philip Reinder's Dutch website about Market-Garden. My husband and I were literally waiting to board a flight to London when I got the email he dictated to her. I was completely gob-smacked as they'd say in England. I called him and spoke with him while we were there and first visited him last year in November.

It's been an amazing journey that I would be more than happy to share.

Katie .
↑ Back to "Roster of the 495th Bomb Squadron with Links"