2nd Lt. Otto Kirkpatrick 344th BG, Pathfinder Navigator
Recipiant of the Distinguished Flying Cross Award Citation:
Note from webmaster, Carl Carrozza:  I have read a great homemade Journal written by Otto Kirkpatrick with the help of family. I borrowed the journal from Marauderman,
Santo Endrizzi.
   I also, talked to Otto and his lovely wife Rosemary by phone. This is one of the times where I have the priviledge to gather information first-hand.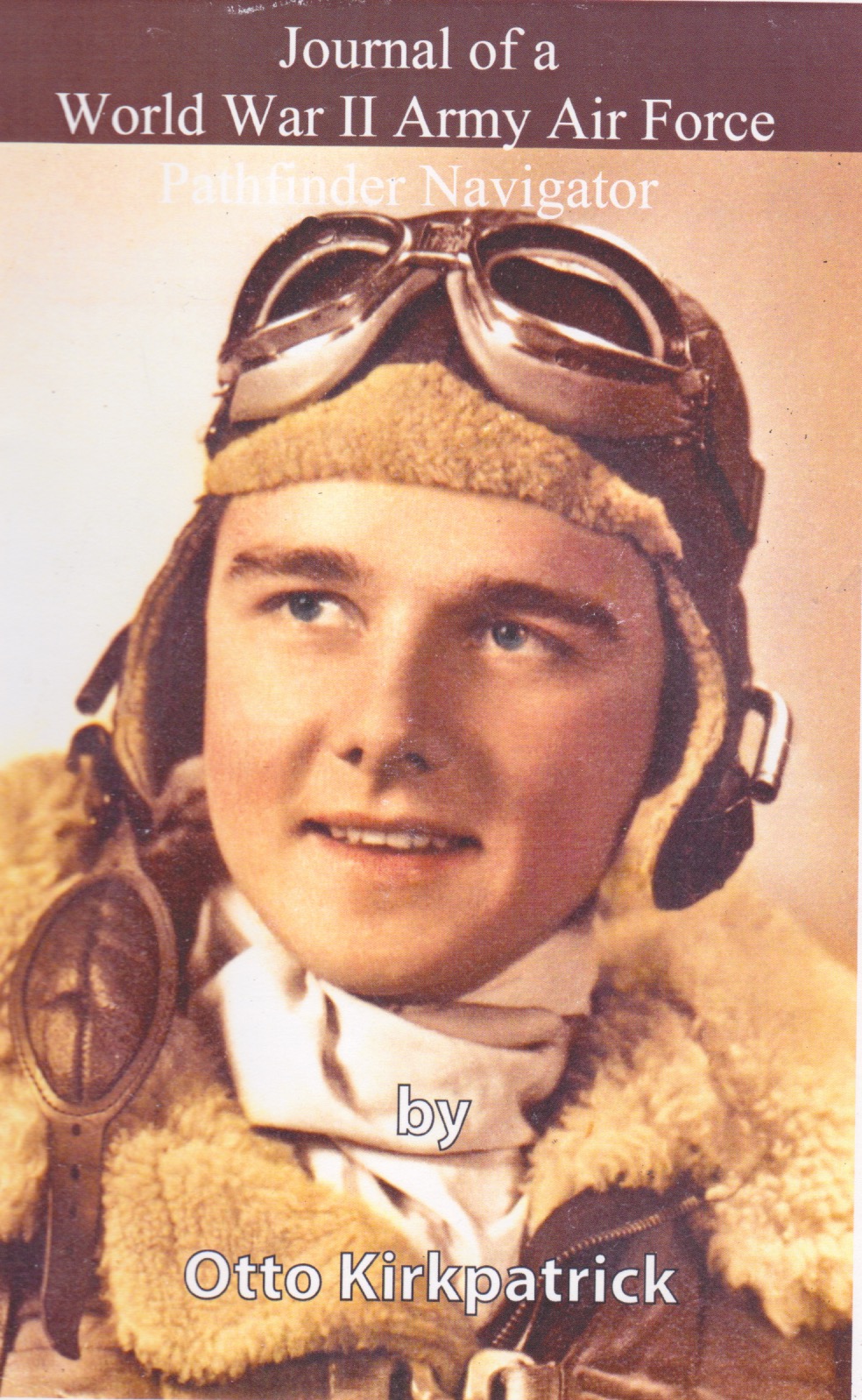 Enlisting immediately after Pear Harbor was attacked, Kirkpatrick trained to be a navigator and bombardier. He only served in combat as a navigator. In January 1944, 2nd Lt. Kirkpatrick was assigned to Bishop Stortford AB in England. He did not fly D-Day but the day after. After 6 wing missions with the 344th in his plane called "Yeah It Is"
_ _-_ _859
  , his crew and plane were detached to the
1st Pathfinder Squadron (provisional)
, a new and highly secretive group that pioneered the rise of radar in tactical bombing. Kirkpatrick was one of the few trained to use the Top Secret OBOE system.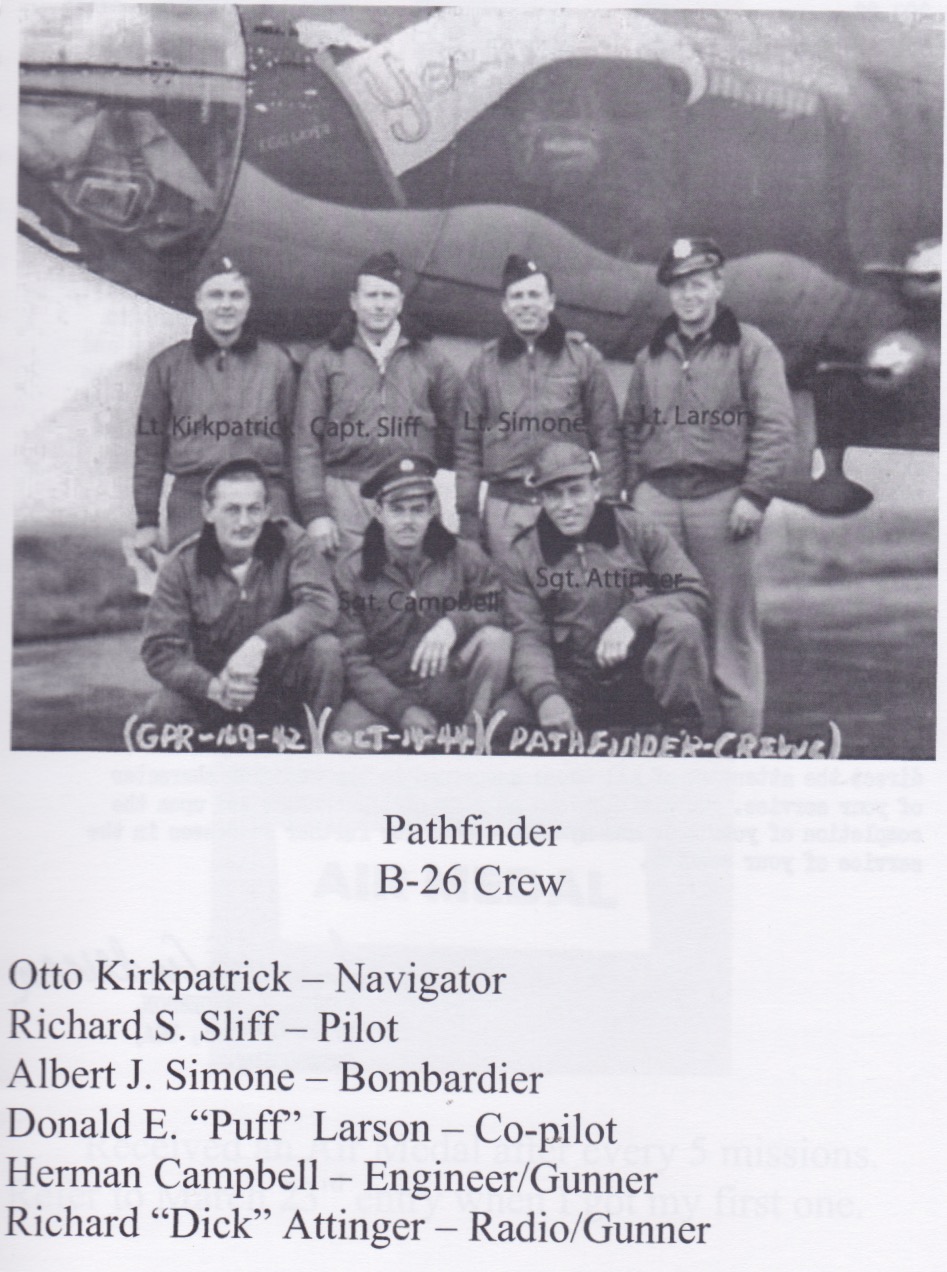 They led bomb groups, in darkness or cloud cover and when near Friendly forces where utmost precision was required.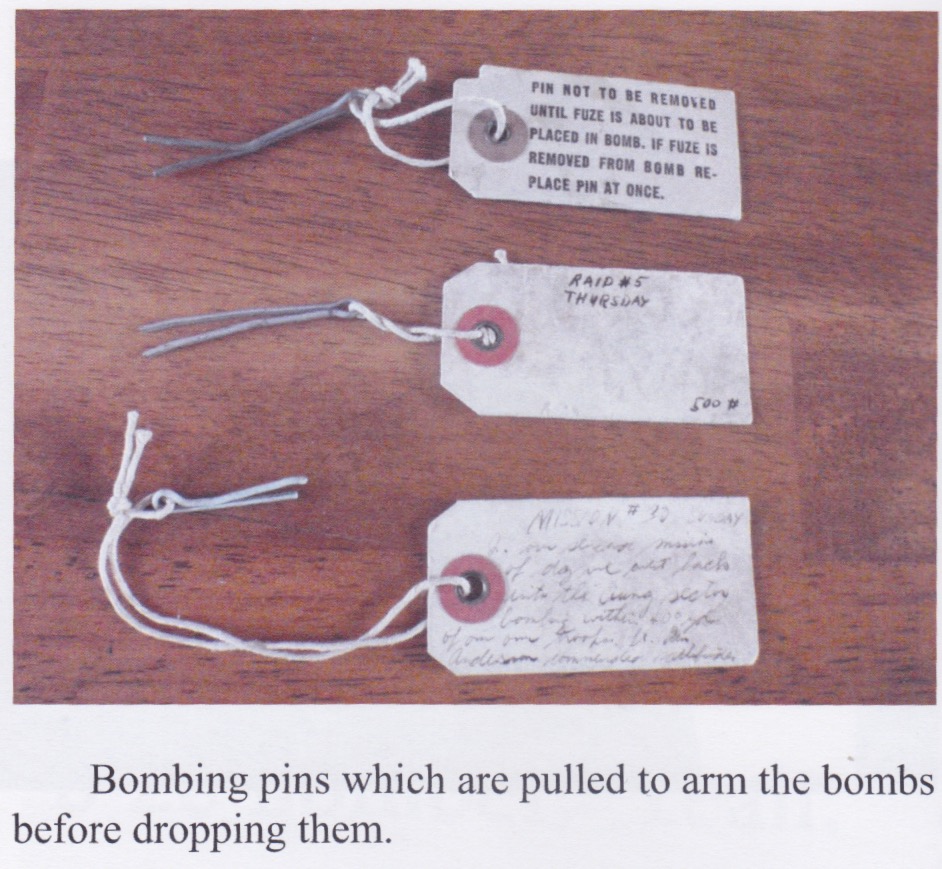 As formation lead navigator, Kirkpakick led 866 bombers on 44 missions over enemy territory. His crew flew 5 additional missions. As a result of this combo-service, Otto was awarded the European-African Middle Eastem Theater Campaign Ribbon with 6 bronze stars, five Distinguished Flying Cross medals and the Air Medal A with l0 Oak Leaf Clusters. The French government bestowed upon him the Citation Order of the Brigade and the Cross of War with the Bronze Emblem.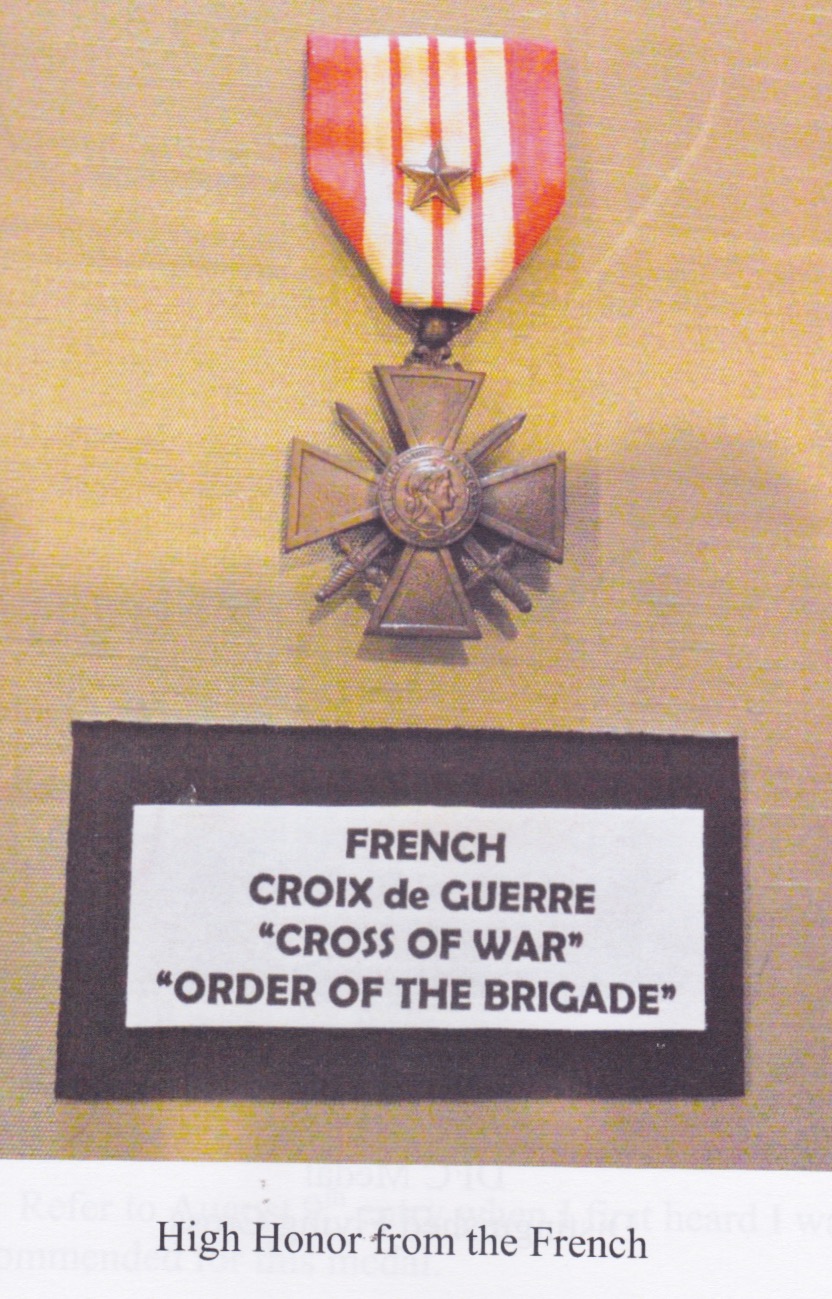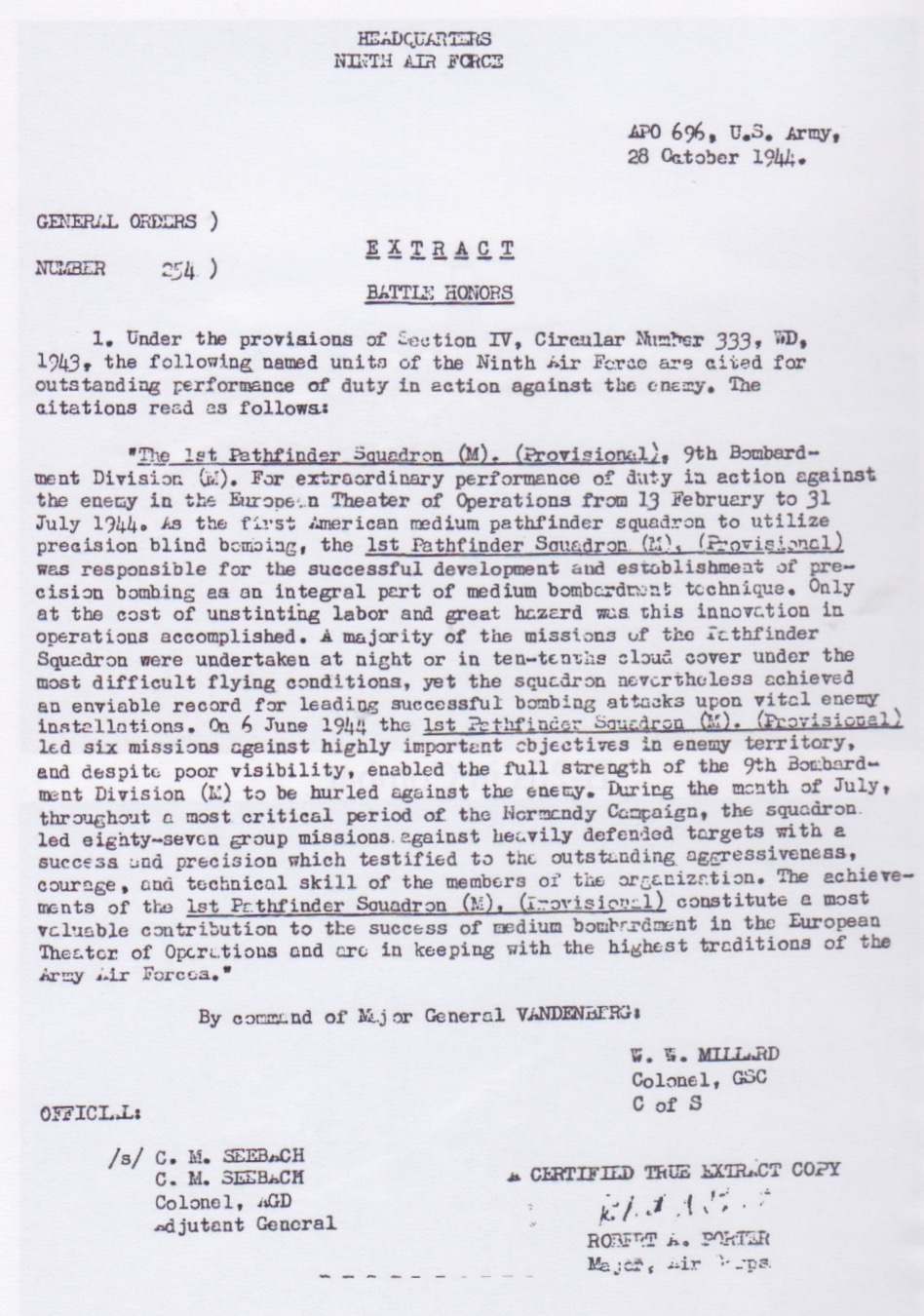 One of the more memorable combat experiences came on the evening of July 9th, 1944, during a night mission over France at medium altitude flack, searchlights and night fighters, along with the disadvantage of full moon visibility that resulted in a loss of 11 of the 36 planes. On the mission, Otto's plane received forty holes from enemy fire, but kept flying and was credited with downing the first enemy night fighter in the European Theater.
After being promoted to Captain, Otto was discharged from active duty in  November 1945.
Otto was interviewed for the "In Their Words"  AETN's WWII Oral History Project. Here are the links to that interview;
Here is an excerpt from the interview;
What happened when you heard about Pearl Harbor?
He said most young people didn't know where Pearl Harbor was, but they learned quickly about the war.
Were you emotional about the beginning of the war?
He said it was hard to understand what going to war meant. He said there was alot of excitement and planes flying overhead.
When did you decide to join the Air Corps?
He joined in spring 1942. He said he was tested on his aviation skills. He said he passed all the tests and decided to be a navigator. He became an officer because he passed his tests, he said those who didn't pass became gunners.
Why did you chose the Air Corps?
He said he joined because flying had an exciting mystique. Aviation was a new technology. He said it was rare to see a plane on the ground.
What was it like saying, "Goodbye" to your family?
He said it worried his mother the most. He said through prayer he was able to eliminate his fear before he left. He said he was determined to come home. Although he would get anxious, he said he only experienced fear on his last mission because he was so close to coming home.
What was training like?
He said there were two phases. In ground school they learned how to compute using a computer, celestial flying and dead reckoning.
When did you find out where they would be sending you?
As they were taking off from Florida, he said, they were handed orders to be opened en route. He said soldiers usually weren't told until reaching Africa. Orders were kept secret until they were out of the States. He said on that morning they were told their orders were changed, but in reality they weren't. This was probably to give any informants mis-information.
What was your first mission like?
He said when they landed in England he was told he was going to Pathfinder. They were to do five bombing missions as part of the formation. He worked out the navigation just as practice. However, at the last minute they needed a bombadeer in a different plane. He said that during the mission his original plane was in an accident. Later they were forced to land at a British base due to the weather. He said this is when he realized that his former crew wasn't there. The next day he attended their funeral in Cambridge.
What is flak?
Flak is a shell that is made to be fired upward with accuracy. It would explode into many pieces. He said by sensing the level of flak hitting the plane one could tell how close they were to the gunner. So he developed a pattern of evading gunners. He said one small piece of flak could be detremental to the plane.
Could you say a little more about the formation of the planes?
He said there were either 16 or 18 bombers. He said the lead plane had special navigation equipment which sometimes made it more vulnerable to attack.
What is an IP?
He said "IP" stands for "Initial Point" — the point where you stop evasive action and start a bomb run. They received a dot or dash to indicate whether to go left or right. When they had good cloud cover only radar was effective and this technology was still rare.
What were the letters like between you and your family?
He said he couldn't tell them very much. His mother sent a post card pre-stamped for every day. Although he didn't send one every day, he said, he was in touch often. Because Pathfinder was top secret he had to be careful what he wrote.
What were the Pathfinders?
He said the Pathfinders were a squadron geared towards blind bombing abilities. The Pathfinders were more accurate flying through the clouds than others. The British did the night bombing and were ahead of the US in this technology.
What was this new technology you were using?
He said it was radar — code named "oboe" or "musical instrument." He said there were two ground stations. They did the majority of the bomb missions.
What was R & R like?
He said they didn't have true "rest & recuperation." In the beginning, he said, there were R & R programs where after a certain number of missions one could go home to the states, but this didn't happen later on.
Where were you on VE Day?
He said he was in London when it was announced and was able to celebrate with the crowds. Churchill and the Queen made the official announcement from a balcony that night.