Airplane Spotter Playing Cards & Icelandic Cards
Found among Frank Carrozza's WWII keepsakes are a well worn set of playing cards which feature the silhouette of Allied and Axis planes.;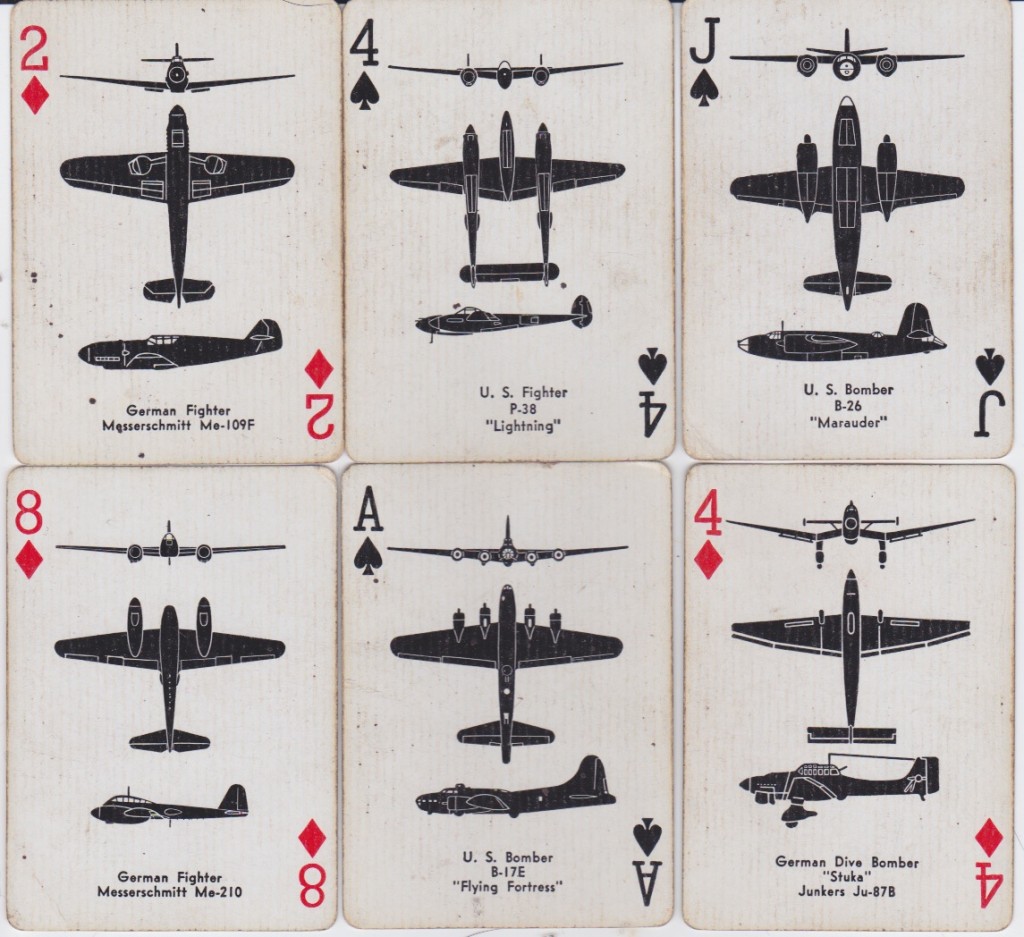 "This special pack of spotter playing cards has been prepared to assist in learning the characteristics of the Unite Nations and Enemy Aircarft". It also reads "Thus you will be acquiring information of extreme value whether you are a soldier or a civilian, with or without direct appointment as Aircraft Spotter in your Civilian Defense Organization".  The aircraft on the playing cards represent US, Japan, Britain and Germany. The cards are as follows:
Spades feature United States planes: P-38 Lightning, F4F Wildcat, OS2U Kingfisher, F4U Corsair, P-40 Tomahawk, P-39 Airacobra, SB2C Helldiver, TBF Avenger, A-20 Boston, B-26 Marauder, PBY Catalina, B-24 Liberator, B-17 Flying Fortress.
Hearts feature British planes: Spitfire, Hurricane, Fulmar, Swordfish, Whilrlwind, Defiant, Beaufighter, Boston, Hudson, Wellington, Sunderland, Halifax, Stirling.
Clubs feature Italian planes: Macchi 200, Macchi 202, Savoia Marchetti 85; and the Japanese planes: Zero, Type 97 CB, Type 97 FB, Type 99 CB, Type 97 light bomber, Type 97 Torpedo Bomber, Type 98 Patrol Torpedo, Type 96 Heavy Bomber, Type 97 Heavy Bomber, Type 97 Patrol Bomber.
Diamonds feature German planes: Focke-Wolf 190, Messerschmitt 109, Junkers 87, Dornier 17, Focke-Wolf 187, Messerchmitt 110, Junkers 88, Dornier 217, Arado 196, Junkers 52, Heinkel 115, Blohm-Voss 139, Heinkel 111.
Icelandic Playing Cards
Dad also acquired Icelandic Playing cards. I saw the same set on e-bay claiming to be from the 1940s. Click the info sheets to see them full size. The picture cards include famous people going back to the Vikings.