Photos of Frank Carrozza's Bomber Jacket & Medals
Note that the front of the jacket has bombs painted on it to signify 65 missions. It also says "Paul" (Frank Paul Carrozza was called Paul by close friends and family).
The back of the jacket has a painting of the Shopworn Angel. I was able to get the serial number of the plane from the jacket. I couldn't seem to find it on any of the records thus far. The painting included the "nose art" which helped me to identify the picture below of the Shopworn Angel in flight.
My siblings and I also commissioned a fully restored replica of my fathers bomber jacket. That story can be read HERE.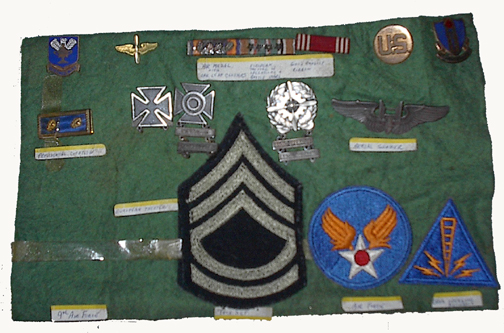 Above is a somewhat rustic array of Frank Carrozza's patches, medals, and awards. I'll try to label them better in a future update.