Mr. Tomoyuki Maruyama's Model of the Shopworn Angel
Below is an excerpt from initial e-mail from Mr. Maruyama: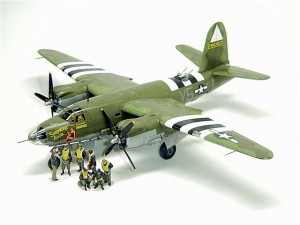 Now, my hobby is making A/C models, and I would like to start up constructing "Shopworn Angel". So I want to research her full mission records and her painting schemes (especially circa D-Day or her final days). Would you mind telling me where I can get those references ?
Best Regards.
I sent him whatever useful info I could muster for a model maker. The following was the result some months later, and his description of the process!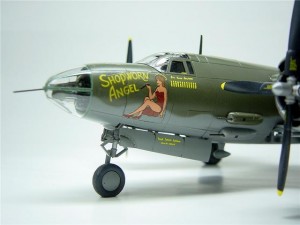 Then, let me tell my modelling.
I have made model planes ofmainly WW2 period. I enjoy imagining "What air-crew thought of their aircraft, and how they used it.", So, To know "Who boarded the aircraft and what happened on them" gives me great motivation for modeling their aircraft.
In my high school days (over 30 years ago!), I, by chance, saw an illustration of B-26 "Shopworn Angel" on a magazine. There were no nice B-26 kit those days, but the name has attracted me so much since then. And a few years ago a new nice B-26 kit appeared at last, also I came to know your web page (by chance, again), these events led me to build "Shopworn Angel" model.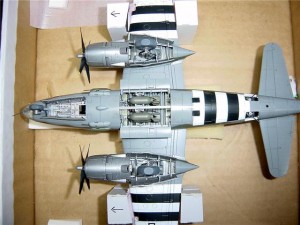 The kit is HASEGAWA 1/72 "B-26B". Its outlines are very good, so I have detailed mainly interiors. My detailed areas are Cockpit, Bombardier's compartment(with Norden bomb sight), Radio/Navigation compartment, Nose gear bay, Bomb bay, Waist gunners area, and Main gears. Especially on camouflage and markings, I have estimated its pattern according to pictures form Mr. Carrozza and other 344th B-26 pictures. Contrast between freshly applied invasion stripes and slightly faded camouflage is intresting, I think.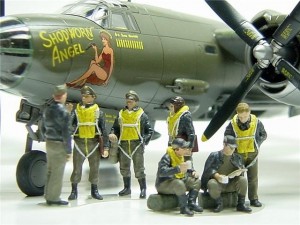 Also, I add figures imaging following situation, On D-Day,"Shopworn Angel" and her crew standing-by for the 2nd mission of the day. Some guys are discussing on battle situations, other guys are absorbed in reading flash news. Those figures were taken from military model accessory, remodeled with their pose, costumes. (Some of them were "transferred" from German infantry!) Radio/Navigation compartment is fully hand-made with plastic sheets, plastic stickes, metal wires.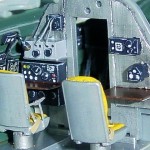 Finally, I would like to express great thanks to you and your father for giving me a great chance of building "Shopworn Angel" model and happy hobby days.
Now, I attach a "Tobanaikai" member's picture to this mail. At the right side of the centre circle plate, a man with a neck-strap is me.
Best Regards,
Tomoyuki Maruyama