The Story of Frank Carrozza's Restored Bomber Jacket
Commemoriating The 60th Anniverary of the D-Day Invasion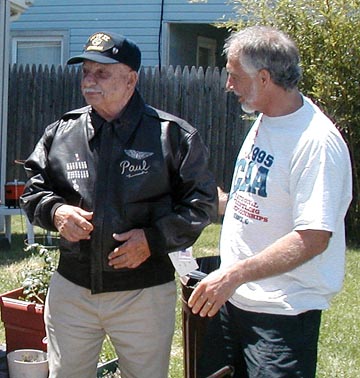 June 6, 2004 marks the 60th anniversary of the invasion of Normandy: D-Day – the momentous event that would change the course of World War II and the history of the world.
My father, Frank P. Carrozza was a typical young man from Brooklyn, NY. He is the son of Italian immigrants and part of a family who managed to survive the Great Depression and life in the thirties and forties.
At just 21 years of age he heeded the call of "Uncle Sam." Leaving behind his soon-to-be war bride, Lucy, Frank soon found himself in Stansted, England and a member of a B-26 bomber crew.
Over the past few years I have become interested in learning more about my father's role in World War II. Together, my father and I looked through his old paperwork and keepsakes. Perhaps the most notable keepsake was his hand painted bomber jacket. When I first saw it I of course noticed the artwork depicting his plane, known as the "Shopworn Angel." Dad explained about how the bombs painted over the front pocket of the jacket symbolize the 65 bombing missions he managed to survive in spite of enemy antiaircraft fire, German fighter planes, and an airplane of suspect design. I also noticed the jacket's size! The dried out, attic dwelling, leather jacket was made to fit a much younger and lighter Frank Carrozza. Dad lifted weights in the parks of Brooklyn and kept himself in shape at 150 lbs. There was no way dad could even try on the jacket today. I vowed to do something about that.
I also decided to make a web page to document the material that dad keeps on hand. I went on to add information I could find using the internet.
Here's some things to know; History on television most often acknowledges the 8th Air Force's B-17s "Flying Fortress" and its huge role in the eventual victory in Europe during WWII. Generally, very little is known or publicized about the vital role the Medium Bombers such as the B-26 of the 9th Air Force contributed to that victory.
During World War II, Medium Bombers flew 129,943 sorties and dropped 169,380 tons of bombs. Even though the B-26 bomber's loss ratio was the lowest of all types of bombers they lost 911 aircraft and 5,861 aircrew lives were lost.
As a member of the 495th Bomb Squadron, 344th Bomb Group, Frank Carrozza's B-26 formations were among the first to attack Utah Beach, in France during the D-Day invasion of Normandy bombing coastal gun emplacements. The D-Day invasion and subsequent follow-up victories were, in part, due to the excellent bombing accuracy and ground troop support aided by the fighter-bombers.
Frank Carrozza kept a log book of all 65 of his missions. He also has a list of all the men in the 495th Bomb Squadron, 344th Bomb Group during the time he served, complete with their 1944 home addresses. I posted on the website the roster and the mission log book. The log book has lots of interesting factual information but it doesn't include any of the anecdotes I heard while growing up. I felt this information needed to be documented so I interviewed my dad on several occasions. I had a lot of questions about the occurrences and the people involved in his war experience.
Many of his remembrances are now part of the website. Here are a few regarding my dad's role in the D-Day Invasion;
"That morning we were escorted by M.P.'s to the mission briefing room. This was not the usual procedure. There was no way they were going to let details of the up coming D-Day invasion leak out.
Colonel Vance started the meeting…'All right men, this is it. We are going out at all costs! We have painted stripes on all of our aircraft for identification. If you see a plane without them, shoot it down!
The mission was to bomb Utah beach in advance of the landing craft. Perhaps we might knock out some pill boxes or machine gun installations, but mostly the craters we created would serve as foxholes for the troops.
As we set out on the mission I saw so many of our ships in the English Channel that it seemed that you could walk to Normandy! That day the clouds were very low. Normally that would cause a mission to be scrubbed. We were directed to go in at all costs and so we flew under the clouds and were much closer to the ground than expected. This left us subject to greater danger. Over our intercom someone on the crew yelled, 'Hey they're shooting at us from the ground (not flak, but hand held machine guns)!'
Captain Shepherd answered, 'What are you waiting for? Shoot back!' We shot back at the source of the tracer bullets coming from their machine guns."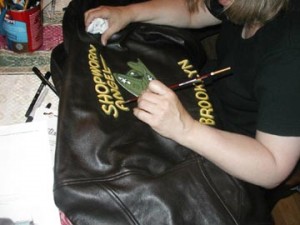 As the 60th anniversary of D-Day approaches, I kept thinking about the venerable bomber jacket that my dad would never again be able to wear. With some research I was able to find a company that sells the same model jacket. Getting one in his size was the easy part. How was I going to get the new jacket painted to match the original? I am fortunate to know Ellen Mahnken. She is a local artist who is known for her fine painting and ability to work with a wide variety of surfaces including leather.
Ellen's talent is well known, but I was overwhelmed with the strength and accuracy of her painting on the replica jacket. All I could think about was how exciting it would be to present dad with the jacket. Thank you Ellen Mehnken.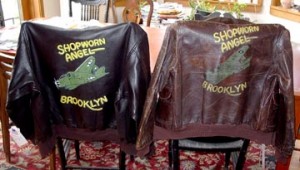 As soon as possible, I made my way from my home in Catskill, NY to Levittown, Long Island to the house that mom and dad have shared for over 50 years. In the presence of my siblings, who helped finance and support this project, I presented dad with his new bomber jacket. The look of pride in his eyes was one I'll never forget.
My thanks to all of you who served in World War II. Sadly, time is taking you from us at a rate of 1000 a day. It is important that you know that your bravery and sacrifice are appreciated by those of us that have enjoyed the freedom that you protected.
L to R : Lucy Carrozza (mom) Frank P. Carrozza (dad) Nancie Kasin (sister #2) Carol Carrozza (sister #2) Carl Carrozza (behind) Frank P. Carrozza III (not present)